Board Games #2
Search a Classic Game: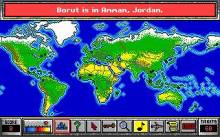 Bush Buck - Global Treasure Hunter 1991
Application software experts PC Globe Inc. made an advance into the gaming sector in the early 90's within their field of expertise: geography. With a back catalog of several installments of the then-leading world atlas and almanac software, PC Globe, the company turned snippets of country-specific info into an educational...
---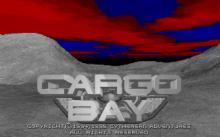 Cargo Bay Deluxe 1995
In the game you are some kind of minesweeper, who knows how to clear cargo bays of Altair-217 station from irradium explosive devices, which were planted by criminal group. You are only hope of colonists, whose lives are depended on you logic....
---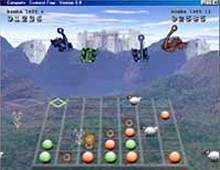 Catapults 2002
The game has two modes, the 'classic' turn-base game and the-real time game. The idea is very simple - to connect 4 balls in a row. In real-time mode you can win by getting "4 in a row" 6 times, hit 50 sheeps and fill 3/4 of the grid. If...
---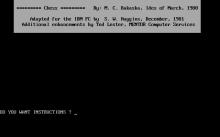 Chess (1981) 1981
Chess is one of the oldest PC games ever made: it was written in March, 1980 and converted to IBM PC in December, 1981. This is probably the very first chess game running in MS-DOS.Taking it's age into account, it's no surprise that the game features only text-mode graphics. The...
---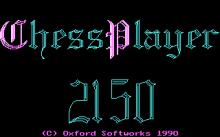 Chess Player 2150 1990
Chess Player 2150 is a chess program which played well against the other chess programs of the day and won the 1989 British Open Personal Computer Chess Championship (according to a post in ST Report International Online Magazine, November 13, 1992, No.8.45). The author was not shy about his program's...
---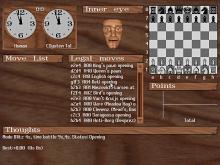 Chess System Tal 1997
Chess System Tal is a Chess game that allows you to play Chess against your computer. It is the sequel to Complete Chess System. Different from most Chess games, Tal doesn't try to play the best and most safe move every time, but instead it has its own personality based...
---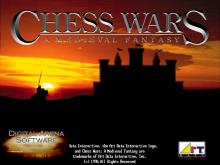 Chess Wars: A Medieval Fantasy 1996
Chess Wars: A Medieval Fantasy is a chess game very similar to Battle Chess, but with full motion video cutscenes for each piece capture.As in most chess programs, the player can change the board perspective and pieces between 2D and isometric 3D.It comes with 8,000 openings and classic games with...
---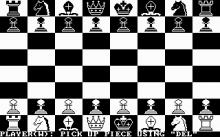 Chess88 1984
This has got to be one of the oldest PC Chess games ever written and probably one of the the most popular in those days.A standard chess game of human player vs computer player with up to 6 difficulty levels. The game only recognizes two keys: The "Del" key to...
---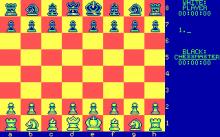 Chessmaster 2000 1986
This iteration of the Chessmaster series offers a strong chess opponent at 12 skill levels, catering for novices to grandmasters. Its many features include an opening library built around 71,000 moves and the ability to print out the move history. To help novices there is a teach mode showing all...
---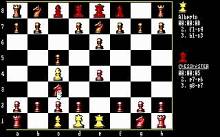 Chessmaster 2100 1989
An update/modification to Chessmaster 2000, adding 640x200 graphics for nicer displays, many tutorial and "expert" options, and a plethora of other features too numerous to mention here....
---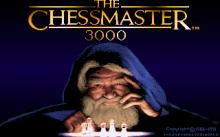 Chessmaster 3000, The 1991
Chessmaster 3000 provides a strong chess opponent with 168 openings and different types of playfields (2D, 3D, and War Room). The game can suggest moves and determine the player's rating. It also contains 151 replications of classic real-world matches, and a Mentor feature which can act as a personal chess...
---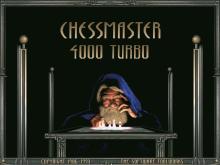 Chessmaster 4000 1995

---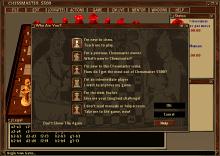 Chessmaster 5500 1997

---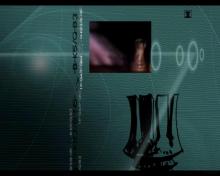 Chessmaster 8000 2000

---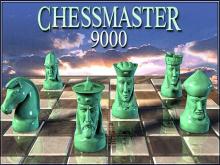 Chessmaster 9000 2002

---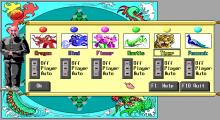 Chinese Checkers 1991
A translation of traditional Chinese Checkers.If you ever played "Argo Checkers" or "Hexxagon", do not dare to enter into this confusing realm of checkers. First of all, you have twice more checkers, and there can be up to six players, which is more than enough to mess up your life....
---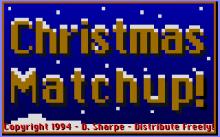 Christmas Matchup 1994
Christmas Matchup is a Concentration game about the Bible. The cards are images relating to stories of the Bible and are meant to teach the player some about the Bible.The game is played just like other Concentration games. 1-3 players take turns, turning over cards and trying to find matching...
---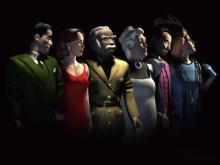 Clue: Murder at Boddy Mansion 1998
If you've ever played Clue for any length of time, you'll be amazed at how good this translation to the PC really is. In fact, this is probably more fun than playing the board game.If you've never played Clue at all, the basic setup goes like this: Six characters are...
---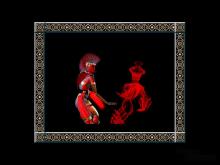 Combat Chess 1997
Combat Chess by Empire Interactive is a decent clone of Interplay's venerable classic Battle Chess that is long on glitz but short on computer intelligence – the most important aspect of a computer chess game. The 3D-rendered animated pieces are fun to watch, and the fantasy theme is evoked quite...
---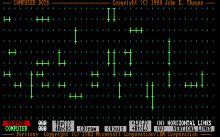 Computer Dots 1984
Computer Dots is a fun little would-be coffee-break game.Basically a PC version of the game "Dots", the game was written in 1984, and is somewhat of a jewel for that fact alone. For those as of yet uninitiated, here's the game in a nutshell as written in the games' own...
---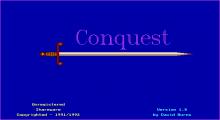 Conquest 1992
Conquest is a Risk clone which uses the same game rules as the original game. The player places his/her army on the given map and must conquer the majority of the lands to win. Attacks can be made to adjacent lands and are made in turns. Once a battle is...
---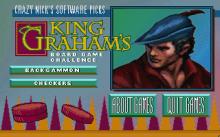 Crazy Nick's Software Picks 1993
Crazy Nick's Software Picks was a series of games inspired by or culled from popular Sierra titles.Includes:King Graham's Board Game ChallengeRoger Wilco's Spaced Out Game Pack (Not Pictured)Leisure Suit Larry CasinoParlor Games with Laura BowParlor Games with Leisure Suit LarryRobin Hood's Game of Skill and Chance...
---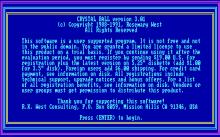 Crystal Ball 1988
Crystal Ball is a shareware program that makes predictions about the future! This game features two modes. In the first mode, you may select from a list of predefined questions to see what the crystal ball thinks will happen. Political elections, the future of science, and advances in health and...
---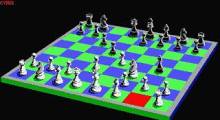 Cyrus 1985
One of the world's first chess games designed for experts, Cyrus is also unfortunately one of the least known due to limited distribution.The IBM version can be played from a isometric 3-D perspective, or a traditional boring 2-D overhead view.There is a clock, which can be turned on or off....
---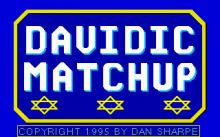 Davidic Matchup 1994
Davidic Matchup is a Concentration game, focusing on the teaching of David, from the Bible.Gameplay is similar to Concentration, where you find matching pairs of cards that are facedown. The cards are related to stories of David. 1-3 players can play and the winner is the one who matches the...
---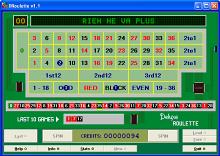 DeLuxe Roulette 1996

---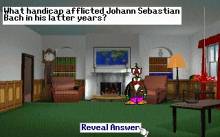 Deluxe Trivial Pursuit 1992
Deluxe Trivial Pursuit is an improved new version of the classic Trivial Pursuit.Over 3,000 new questions, SVGA 256-color graphics, music and sound effects, a fully animated quizmaster and more....
---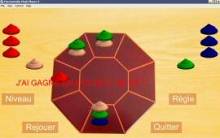 Diam 2004
Diam is a cool Flash version of a neat abstract board game for 2-4 players that makes an ingenious use of the third dimension (i.e. height). The goal of the game is to place 2 pawns of identical color on 2 diametrically opposed spaces - and at the same height....
---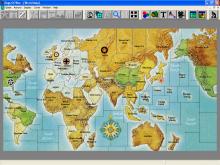 Dogs of War 1997
Hot seat multiplayer games seem to be a relic of the past. Most of the games nowadays being real time, you can play over LAN or the internet, but that's just not as much fun as playing a cool game while sitting in the same room. So when you've had...
---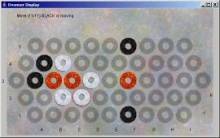 Dvonner 2005
Dvonner is a great Windows game that features tough AI opponent for the game of Dvonn, a fun and unique tile-stacking abstract board game invented by Kris Burn in 2001. From the official site: "DVONN is a stacking game. It is played on an elongated hexagonal board, with 23 white,...
---