Old-Games.com: 9000+ Games to download
Search a Classic Game: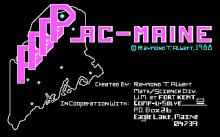 Pac-Maine 1988 Educational
This a game Pac-Man clone oriented to encourage you to seek a college degree. No kidding! You run around in the maze, and instead of dots, you have to collect as much as possible A's, while avoiding the following monsters: Goofoff: Bad study habits advocate Chicky: Applier of peer pressure Boozer: Drunken 'waste case' Junky: Drug dealing 'slimer' Oh, and remember: "This diskette may only be copied in its entirety and only for the purpose of encouraging youth to seek a college education." ...
---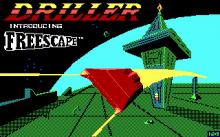 Driller (a.k.a. Space Station Oblivion) 1988 Arcade action
After releasing many solid 3D action/adventure games, Incentive broke new ground with this, the first game developed using its revolutionary Freescape™ engine that may well be the very first *patented* 3D engine. Now, in addition to the standard 3D movement, every object in the game can be viewed from any direction. This translates into a fluid 3D world with great graphics and many more physical puzzles than Incentive's earlier efforts. You are on the mining moon of Mitral, tasked with releasing the gas build-up under and around the surface by roaming the moon and signalling drilling rigs to be sent...
---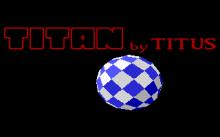 Titan 1989 Arcade action
An early game by Titus, Titan is a fairly unorthodox Arkanoid / Breakout clone that unfortunately doesn't play as well as the concept would lead you to believe. The best way to describe Titan is to think of Blockout playing field stretched in all four directions, so that it becomes a two-dimensional playing field (with width and height) instead of one-dimensional (with only height). Instead of controlling a paddle at the bottom of the screen that bounces the ball up and down, in Titan you control a block that can move in any direction on the screen. Your task is to...
---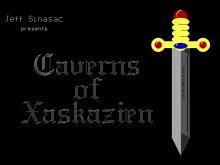 Caverns of Xaskazien 1995 Role playing
A one player hack and slash role-playing game, this one depicts an adventurers struggle through thirty levels of randomly generated dungeons to confront the arch-demon, Xaskazien. ...
---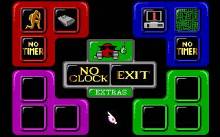 Spot 1990 Strategy
Spot is a fun Othello-style game starring 7Up's Spot character. In this board game for one or two players, your objective is to occupy as many tiles as possible by placing your pieces on the board. You can either move one or two spaces at a time. When you move one space, your piece will multiply itself into the new tile; jumping two spaces means simply moving your piece. Whenever you land on a tile next to your opponent, all his/her adjacent pieces become yours, changing to your color. The pieces morph into 7Up mascot when you move them, but...
---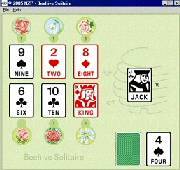 Beehive Solitaire 2005 Strategy
Beehive Solitaire is a solid PC implementation of an original solitaire game by NZP. From the official blurb: "This good and little-known solitaire is easy to play, and can be won reasonably often. But it's not unusual for a game to get blocked just when you least expect it! In this solitaire, the cards represent "bees". The object is to combine all 52 cards in sets of 4 (such as four Queens, four Kings, etc.). The cards can only be combined within the "flower garden"; an area comprised of 6 foundation cards." The game is perhaps a bit too easy...
---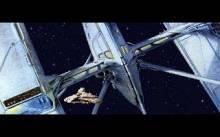 Protostar 1993 Simulation
Protostar stands out as one of the better games Tsunami produced in their short career. Designed by Starflight designers who intended to market the game as Starflight 3 but could not win the rights to the name from EA, Protostar is a fun space trading / exploration game that's set in the grand Starflight tradition, although unfortunately it was much less well known than the predecessors -- Tsunami was not allowed to use Starflight name, since it is a trademark of Binary Systems/Electronic Arts. Despite the lack of name, Protostar more than deserve to be called Starflight III. All the ingredients...
---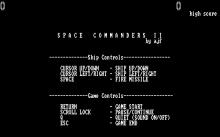 Space Commanders 2 1985 Arcade action
Monochrome version of Space Commanders actually. Since not everyone had a CGA card in 1984, AJF had to make a monochrome version of a rather popular game of that time. The legendary Space Invaders was transported onto PC platforms in 1983 by a company named AJF, but the name had to be changed. It was named Space Commanders and here it is now. Control your spaceship and shoot at alien creatures as well as their ships at the highest screen levels. Nice and easy. ...
---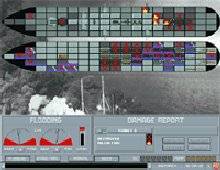 Great Naval Battles 4 1995 Simulation
A disappointing fourth entry in SSI's Great Naval Battles series. M. Evan Brooks, veteran wargame reviewer, says it all in his capsule review of the game: "The series returned to the European Theater of Operations, only to find that there was nothing left to do. Instead of starting something new, SSI attempted to obtain blood from a turnip, only the gamer turned out to be the turnip. A modified interface coupled with air operations and numerous bugs and semi-complete patches led to unnecessary frustration. If it could have only been left to rest in peace ..." Ouch ;) ...
---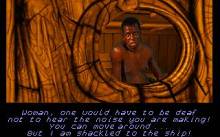 Lost in Time 1993 Adventure
This is yet another excellent adventure that was made by Coktel Vision (they're the makers of Inca and Inca 2) and in their style the plotline is somewhat strange, yet very intriguing! Now most plotlines which include time travel tend to get overcomplicated or are simplistically silly. Now the plot here might not be fully original, but it's still very good. I mean a villain who wants to prevent some events by altering the past is not exactly the most original idea in sci-fi, but I haven't seen any other such computer adventure around. You being only an innocent bystander, who...
---