Old-Games.com: 9000+ Games to download
Search a Classic Game: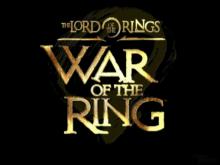 Lord of the Rings, The: War of the Ring 2003 Strategy
Published in three volumes between 1954 and 1956, J.R.R. Tolkien's Lord of the Rings trilogy is perhaps one of the most influential works of literature. It was the Lord of the Rings that popularized the fantasy genre, resulting in the fantasy boom during the 1970's. Tolkien's work lead to the development of war games with a fantasy setting, which in turn catalyzed the creation of modern role playing games. The Lord of the Rings also inspired an animated motion picture in 1978 and more recently the full motion pictures based on the trilogy. Around the time the first and the second...
---
Nancy Drew: Message In A Haunted Mansion 2000 Adventure
There is nothing particularly original about Nancy Drew: Message in a Haunted Mansion, as it plays very similar to other mystery adventures of this type. Players simply use the mouse to move a cursor around the screen and click on various objects or people. This is not a drawback, as many games of this nature (such as Myst) have had great success using this style of gameplay. Besides, it isn't the gameplay that makes or breaks a game in this genre; it's primarily the story as well as the setting. The story in Message in a Haunted Mansion should be able...
---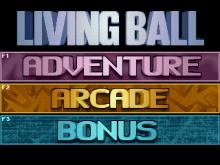 Living Ball 1995 Arcade action
Living Ball boasts of "the largest pinball table ever created", and can back it up with the 99-level table "Wasteland", along with two others of smaller size. While the level of quality may be higher in more traditional pinball games, the sheer size of the tables is quite impressive. The game features three modes. Adventure, in which the three tables are connected; arcade, which is the traditional style allowing you to select any of the three tables; and bonus, allowing you to play the six bonus stages. While the Arcade and Bonus modes require no explanation, the adventure mode does. It starts...
---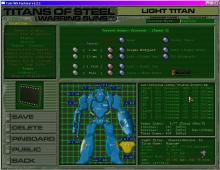 Titans of Steel: Warring Suns 2003 Strategy
Players can create or modify their own mechs via a factory module or simply choose a suitable one from the vast choice available. Due to the sheer variety of options available, just mucking around in this area can take up a large amount of your time, although it is fun trying to come up with that perfect design. The learning curve on Titans of Steel is steep to say the very least due to a somewhat unconventional command mode. The manual does go a fair way to making this a bit easier and you also have the option of digging deeper...
---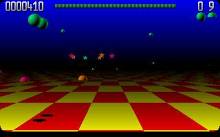 Vaxine 1990 Arcade action
A unique 3D shooter with frustrating gameplay, Vaxine plays like a cross between Alpha Waves and Spectre. The object of the game is to survive each level by destroying all the enemy cells that appear before they bond together and destroy all of your base cells (which appear as half domes on the floor). The game ends if all of your bases are destroyed, or if one of your three ammo streams reaches zero. Your score is then displayed along with an option to, god forbid, start over. Vaxine is played on attractive 3D VGA grid, which you can move around...
---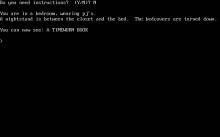 African Adventure 1997 Adventure
This game was originally made for the good old Commodore 64, but about a decade later it was ported to PC DOS, which seems somewhat strange since by the year 1997 MS-DOS was already being pushed aside by other operating systems. Still Tony Baechler and Audrey De Lisle have done just that and thus gave us this nice little C64 classic. This game can only handle two word commands, so don't try to make sentences - it won't understand it. Also, for some reason, you need to write all the commands with capital (BIG) letters. The walkthrough included is meant...
---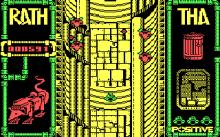 Rath-Tha 1992 Arcade action
Rath-Tha is a vertically-scrolling shoot-'em-up. In the far future the human race built a long tube that absorbed all of the rubbish generated by the planets in the system. T'ufo - a planet notorious for its dirtiness - has sent a rat-shaped ship called Rath-Tha to destroy the tube. The game commands a ship to destroy Rath-Tha. The game consists of four phases. Starting off inside the tube, the player fights off swarms of enemies. The ship can be moved to any part of the screen while shooting. Next, there is an area with megatronic generators. In the third phase...
---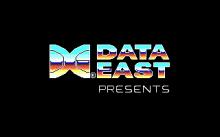 Super Hang-On 1987 Sports
This is a conversion of Sega's popular motorcycle racing arcade game. In this game you race a motorcycle around the world, completing each section of track within a time limit. There are other bikes on the road, but beating this is not important, so they can be thought of as moving obstacles. Each continent is a different difficulty level: Africa is beginner, Asia is junior, the Americas are senior, and Europe is expert. This is a very simple and straightforward game, viewed from behind the bike in 2D (so the screen does not tilt with the bike). The right/left controls...
---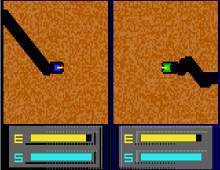 Tunneler 1991 Arcade action
Tunneler is an early two-player, split-screen tank game. Two players are randomly placed underground. The object is to destroy your opponent before your opponent destroys you. Unfortunately, you have to find your opponent first. Being underground, you must tunnel your way around in search of your opponent. If you happen to find your opponent's tunnel system, you can follow it to where your opponent is... if you choose to go the right way down the tunnel. Your opponent will be trying to do the same things, so making your tunnel have dead ends and switchbacks can be a useful strategy. Remember, that...
---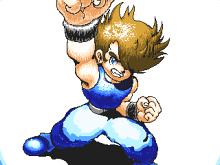 Metal Saver 1994 Arcade action
Metal Saver is a fun arcade-style game from Korea that plays like a cross between Bubble Ghost and Dinosaur Balls. Controlling either a male or female fighter (or play both in 2-player mode), your job is to blast all the enemies on each level without getting killed. The graphics are cutesy anime style, and the action is quite fun and varied, with many different power-ups and hidden secrets. If you enjoy mindless but fun arcade games, Metal Saver is a good candidate. Recommended, but make sure you use a slowdown program to play the game. ...
---