Old-Games.com: 9000+ Games to download
Search a Classic Game: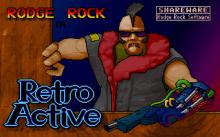 Rodge Rock In Retroactive 1995 Arcade action
Side-scrolling shooter. You are Rodge Rock and must collect power-ups and shoot everything in sight. ...
---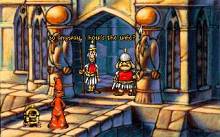 Discworld 1995 Adventure
This adventure game puts you in the shoes of Rincewind, a wizard whose sole purpose in life is to stay alive. He appears to be very good at it as well, because apparently the universe has decided to continuously challenge him. The game takes place in the insane fantasy world created by Terry Pratchett, one of this world's most humourous authors, and is generally nuts. ...
---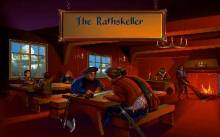 Patrician, The 1992 Strategy
The Patrician is set in medieval times, focusing on the trading efforts of the Hanseatic League. You (and up to 3 other players) struggle for money and respectability. You should build up sea routes between the 16 cities in the North and East Sea, and your ultimate goal is to be governor of your hometown. For this you need a lot of money and high respectability. The game ends, when you are elected to ─ltermann - the highest rank in this century. You earn money by buying goods cheap and selling them for higher price. With the profits you can buy...
---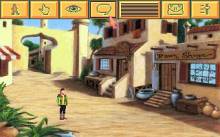 King's Quest 6: Heir Today, Gone Tomorrow 1992 Adventure
Prince Alexander is still haunted by memories of the lovely Princess of the Green Isles (see KQ5), and when the magic mirror shows him her whereabouts, he sets out to find her at once, with only the stars for navigation. Time passes, and eventually he and his crew have sailed far beyond any known lands and are in uncharted waters, but Alexander refuses to give up hope. Looking at the stars, he knows he is nearing his destination, and soon land is spotted on the horizon. Filled with hope, he commands the ship into the bay, not knowing how treacherous...
---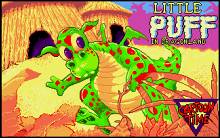 Little Puff in Dragonland 1989 Amiga
A simple platform game, where you play Puff, who is in Dragonland (you never thought right? :)) So you have to help him out. The game was also released on C64 in 1990. The graphics in Amiga version was a little bit upgraded, but the games are almost the same. ...
---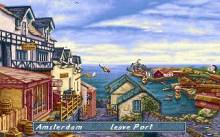 High Seas Trader 1995 Simulation
High Seas Trader puts you in the shoes of an 18/19th century trader, when Britain had colonies in India and the American colonies were free. You have a ship, few men, a map of Western Europe and 5000 cash. Gradually you have to recruit sailors, buy better ships, get maps and trade! HST isn't just about trading. You have to navigate, fight off pirates, kill enemies of your country and avoid hostile cities. For example, if England and Spain suddenly become enemies, you were English and your trade route was Liverpool-Bilbao, you would have to rethink it all. Is trading...
---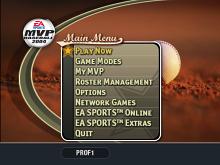 MVP Baseball 2004 2004 Sports
EA SPORTS comes running onto the field with the sophomore release in its MVP Baseball series, MVP Baseball 2004. At the plate, the new "Pure Swing System" is designed to give players improved control, with the ability to swing for the fence, pull the ball down the baseline, or swing for an opposite field; players have command of each type of swing for every situation. With this edition's new character control system, called "Big Play Control," players will be able to leap walls to rob home runs, drop down for a hook slide to avoid being tagged out, and even...
---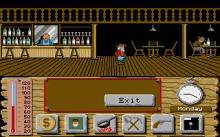 Lost Dutchman Mine 1989 Action adventure
The game puts You in role of a gold miner looking for a legendary Lost Dutchman mine. This is based on a true story of a German immigrant that found gold in The Superstition mountains in Arizona. It was never found but with this game You may change the history. Now, help the poor guy in his search and try to stay alive during that time. ...
---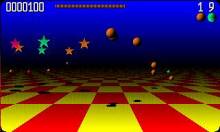 Vaxine 1990 Amiga
Conditions are terrible, it's five to a cell! That cry will be heard the length and breadth of the country any day now. Thing is, it won't be prisoners complaining about conditions, but your very own body. Unknown, unseen and unexpected a virus is attacking mankind, but luckily the Assembly line has come up with the Vaxine. For all its medical trappings Vaxine is a shoot-em-up, puzzle game hybrid. The world you patrol is packed with half-spheres sticking out of the floor, the healthy cells you're out to protect. Floating around are huge balls of three different colours - these are...
---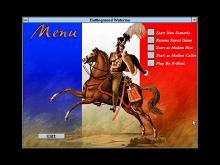 Battleground 3: Waterloo 1996 Strategy
The Napoleonic Era, with its pomp and splendor, has always proved fertile ground for war game designers. Of course, as the centerpiece of the period the Battle of Waterloo has received extensive coverage, but never with such masterful treatment as the grognards at Talonsoft have managed with Battleground 3: Waterloo (BGW). With the third release in their Battleground series, Talonsoft has produced a game befitting the most grandiose period in European history. As is the case in all nine titles in the series, BGW is a turn-based, hex-grid format war game that follows many of the traditional conventions of board wargaming....
---