Old-Games.com: 9000+ Games to download
Search a Classic Game: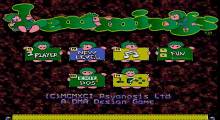 Lemmings 1991 Puzzle
Lemmings is a puzzle game that is very cool, original, refreshing, and interesting in every way! Yeah, you get the picture - I like this game A LOT. The concept is very cute: on each level, your task is to save as many lemmings as possible. Lemmings are small creatures with green hair that wobbles back and forth while they walk. You can accomplish various missions by giving your lemmings some special abilities. For example, you can provide them with umbrellas, make them dig, climb, build stairs, explode ... you practically control their existence. Each level consists of an entry point...
---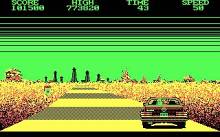 Crazy Cars 1987 Simulation
Little race game. Drive with your mercedes down the road. Get checkpoints and points. Looks a bit like Out Run, but this game as also some good music tracks! ...
---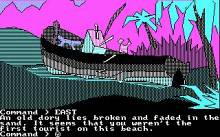 Mindshadow 1984 Adventure
At the beginning of Mindshadow you find yourself on a lonely beach in a lifeless hut. With a headache and no memory. The object of the game is to completely regain your memory. As you progress in the game a word or phrase will trigger memories of the past. Like most adventure games the fun of the game is centered on discovery of you and your surroundings. ...
---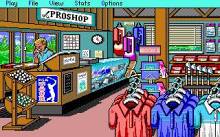 PGA Tour Golf 1990 Sports
I've always been fascinated by the game of golf, but I must admit, I haven't been very good at it (although I've only tried it twice in real life). I guess that's one of the reasons why I love computerized golf games so much. They represent the thinking part of the golf game (choice of clubs, aiming, calculating the strength...) and not the physical part (how well you actually execute the shot). PGA Golf Tours (no it's not a war game actually called Gulf Tour of Duty) is one of the best examples of 90's computerized golf games. The...
---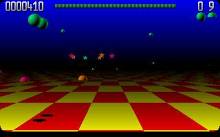 Vaxine 1990 Arcade action
A unique 3D shooter with frustrating gameplay, Vaxine plays like a cross between Alpha Waves and Spectre. The object of the game is to survive each level by destroying all the enemy cells that appear before they bond together and destroy all of your base cells (which appear as half domes on the floor). The game ends if all of your bases are destroyed, or if one of your three ammo streams reaches zero. Your score is then displayed along with an option to, god forbid, start over. Vaxine is played on attractive 3D VGA grid, which you can move around...
---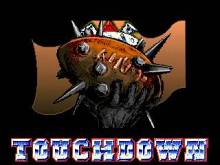 Blood Bowl 1995 Board
This computer adaptation of Games Workshop's board game brings a fictitious and violent sport to life. The Champions of Death, The Underworld Creepers and The Elfheim Eagles are among the tough sides contesting single matches or a full league. In each match you give the orders and watch your players act them out. Pitch invasions and referee bribes are among the features on offer. After successful matches they will receive new powers at random, although the special cards from later versions of the board game are not present here. ...
---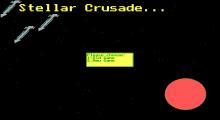 Stellar Crusade 1988 Strategy
Stellar Crusade is a two player game of exploitation and conquest on an interstellar scale. Two rival factions, The League and The People's Holy Republic, compete over a span of decades for control of a small, but richly endowed, star cluster in a remote arm of the galaxy. The league is always controlled by the human player while the PHR may be either human or computer controlled. Each game turn represents three months and is divided into three phases with the PHR going first in each of the first two phases. The economic phase is where you do all your...
---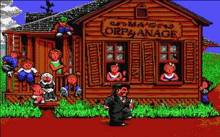 Three Stooges, The 1987 Arcade action
Stars of television and cinema, and now stars of their own video game. Join Moe, Larry & Curly (in no particular order) who must collect $5000 to try and save an orphanage and the young children who live there from the evil banker, all while keeping pie out of their face. Featuring platform level designs based on classic Stooge scenes from their many TV episodes and movies and level objectives re-living many of their antics plus original Stooge voices and Stooge trivia. ...
---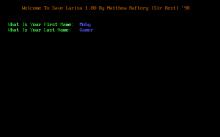 Save Larisa 1998 Arcade action
Larisa Oleynik (teen actress from The Secret World of Alex Mack) has gotten herself trapped in a hellish ASCII chemical factory, alternatingly filled with gapped walls and seven rooms between them containing moving spikes. As dashing Hunter Reeves (character from the same show, played by Will Estes), it is your job to maneuvre with arrow key presses through the gaps in the walls while avoiding the thrusting spikes, in hopes of reaching the bottom of the screen and retrieving Larisa... then to bring her back to the top and glorious freedom! ...
---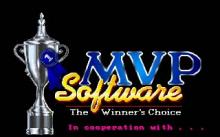 Pickle Wars 1994 Arcade action
Aliens that look like giant dill pickles are about to conquer the human colony of Arcadia. Five hundred years of continuous peace led to complete disarmament, and humans find themselves unprepared for war. Only a brave lad named Dave, armed with a Salad Shooter, can face the murderous pickles. His task is to find ancient weapons and put an end to the war.Pickle Wars is a platform game using dual parallax scrolling. Dave jumps, shoots, and climbs his way through the large levels, locating weapons and unlocking areas. The game came in a trilogy of three episodes: Invasion of the...
---