Old-Games.com: 9000+ Games to download
Search a Classic Game: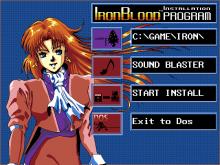 Iron Blood 1996 Arcade action
One of the most underrated and obscure 2D platform games ever made, Iron Blood offers fast and furious arcade-style fighting in well-animated backdrops, against a surprising variety of "bosses." Gameplay essentially is identical to a typical side-scrolling platform game, except that the robots and enemies in the game are very well drawn in Japanese anime style. You have 2 players (Roy Fregun piloting the RG-104 Cyber-Troll and Sedrin Cleis piloting the SG-43 Ripple) to choose from in Iron Blood, each with his/her own special abilities and weapons. The game is equally fun with both, although the RG-104 Cyber-Troll's jet booster was...
---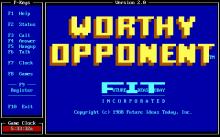 Worthy Opponent 1988 Sports
Worthy Opponent aims to provide just that, dispensing with the problems of computer AI and instead serving up a collection of a dozen low-bandwidth mini-games designed for competitive two-player challenge, some turn-based, some simultaneously, through direct computer connection via modem. Its ANSI textmode graphical display allows low latency through the internal terminal software (which also permits during-play chat and taunting) even on the relatively slow modems of its era, the late '80s. ...
---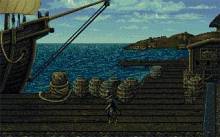 7 Cities of Gold 1993 Strategy
7 Cities of Gold is one of the most overlooked computer games of all times. That's probably because it was originally made for Commodore 64 and Amiga computers and PC players had no real chance to play it. It is set in the 15 century, in the era of great voyages to the new world. You were sent by the Spanish crown to discover and conquer the New World. As you may have already noticed - you're actually playing a role of Christopher Columbus! As the game starts you will have to gather crew, buy some goods and set sail...
---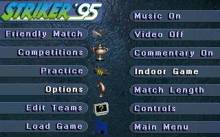 Striker '95 1995 Sports
Striker 95 was made in 1995 by a company called Rage Software. It is a soccer game made for Dos, and Amiga but it can also run in Windows 95. In this game you can use either the keyboard or the joystick. Rage Software wanted this game to be competitive with Actua Soccer, Vr Soccer and Fifa. If you like soccer games you will love this one, because here you only need to pass and shoot and hope to win the game, but this game was also improved, because in it you can edit names, tactics, and many others things....
---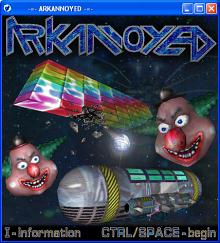 Arkannoyed 2002 Arcade action
This game is a windows clone based on the old game Arkanoid. Due to the newness of this clone, the graphics are quite stunning and requires a fairly decent machine, but there is also an option to change the detail so that the older machines can handle it, too. So, what is the aim of this game, you may ask? The aim is the same as any other arkanoid, simply deflect the ball into the bricks, earning powerups as you go along to build up your paddle's ability. Clear all the bricks off the screen, and advance to the next...
---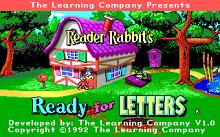 Reader Rabbit's Ready for Letters 1992 Educational
Reader Rabbit's Ready for Letters is another superb release in The Learning Company's excellent Reader Rabbit edutainment series. Tailored to pre-schoolers, this program contains six activities designed to improve kids' cognitive and early language skills. The activities include: Music Pond, in which kids must find the musicians and direct the animals in familiar songs; Grandma's Kitchen: find and match ingredients that complete a recipe in Grandma's cookbook; Mix-and-Match Bedroom: match designs and patterns; ABC Bathroom: match Letters; Picture Parlor: practice working with location and comparison words; and finally Grandpa's Workshop (in my opinion the best activity): a matching game that...
---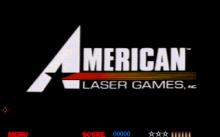 Last Bounty Hunter, The 1994 Arcade action
The Last Bounty Hunter is a simple shooter in the tradition of American Laser Games's Mad Dog McCree. Fairly simple in design, it features a video background with which you interact - you use your mouse or a light gun to literally shoot your foes and protect the innocent.The story is this: you're a bounty hunter, one of the last, who come to a crime-infested Wild Western town to aid its Sheriff in getting rid of the criminals. ...
---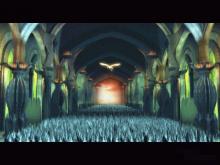 Black Moon Chronicles 1999 Strategy
Not to be confused with the more recent MMORPG of the same name, Black Moon Chronicles is a fun fantasy real-time strategy game based on "Chroniques de la Lune Noire," a French comic series of the same name. Developed and published by Cryo Interactive, the game is reminiscent of Warhammer: Dark Omen, except it is not as compelling. Veteran reviewer Tim Chown says it all in his review: "...[The game] can be played in two ways. You can either play a skirmish game against the computer, choosing the forces and maps to play on, or you can embark on a...
---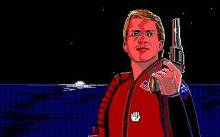 Codename: Iceman 1989 Adventure
The next time you feel like playing an adventure game that requires a decent amount of reasoning and even a little research give Codename: ICEMAN a try. This game has a little bit of everything in it. The beginning of the game will remind you of Leisure Suit Larry as you go beach combing and do your best to pick up babes at the local pub. Things will get serious in a hurry after that, however, as you are called to duty to rescue a kidnapped US Ambassador and to uncover the perpetrators and plot behind the kidnapping. You will...
---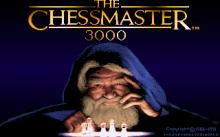 Chessmaster 3000, The 1991 Board
Chessmaster 3000 provides a strong chess opponent with 168 openings and different types of playfields (2D, 3D, and War Room). The game can suggest moves and determine the player's rating. It also contains 151 replications of classic real-world matches, and a Mentor feature which can act as a personal chess tutor through a variety of practical techniques. ...
---