Old-Games.com: 9000+ Games to download
Search a Classic Game: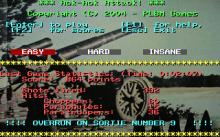 Ack-Ack Attack! 1995 Arcade action
A game where the object is to shoot down enemy paratroopers as they drop from planes. The player takes control of a turret and can change its angle. It is however fixed in the middle of the screen. There are three difficulty levels. ...
---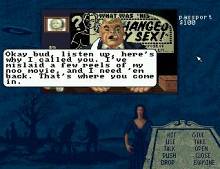 Plan 9 From A Other Space 1992 Amiga
Producing a worthwhile computer game based on a very worthless subject is a tough goal to aim for but Gremlin haven't gone for the obvious options of making a straight forward adventure based on the script of the film or some form of basic arcade/platform affair that features the films main characters. Instead they have opted to write something that keeps the spirit of the movie alive without sinking to its level of ineptness. You are a private investigator and the game begins with you in a mooting with a dodgy director. He has hired you to travel around the world...
---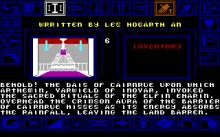 Shard of Inovar 1987 Adventure
Another solid fantasy adventure based on the Kobyashi Naruengine, Shard of Inovar is a more traditional adventure. You are a royal wizard who must invoke various rituals to reconstruct the cairnrue, a magical barrier that protects the earth from pestilence that falls from the sky. The game's interface is basically identical to Inovar, but with additional verbs and more logical placement of verb icons (thank goodness). The puzzles are easy and fair, and the plot is interesting enough to warrant playing to the end. Overall, a pleasant adventure that doesn't offer anything new, but is competent at what it does. ...
---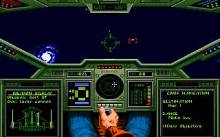 Wing Commander 1 1990 Simulation
Wing Commander surely is one of those few groundbreaking games each genre has. One of those defining games like Civilization, Elite, Monkey Island - to make it short: future games will (and have been) measured against this. What makes this game so special then? Well, it is an involving mixture of action and science fiction story. You do not just fly one dull mission after another - you interact with other pilots, you see what's going on - you even got this nice game in the game (the arcade shooter - good for training!). The story around the battle with...
---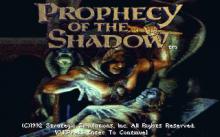 Prophecy of The Shadow 1992 Role playing
Prophecy of the Shadow is a fantasy role playing game from SSI, published in the post AD&D era of the company. A long foretold prophecy is about to be fulfilled. The Shadow Lords are on the verge of entering our world. The player has to find a way to break the string of events, that are foretold by the prophecy. Magic is dying in the land, and the use of it is illegal -- practitioners are hunted by Mage Hunters. Instead of killing the Ultimate Bad Guy, most of the game is figuring out how to bring the Bad Guy...
---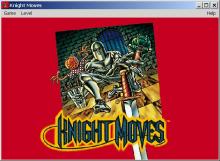 Knight Moves 1995 Puzzle
The company's blurb is right this time: "Knight Moves successfully combines stunning computer-generated characters with mind-boggling, addictive gameplay. The playing piece is a noble knight with its signature one-over-two-up "L" move. The object of the game is to maneuver the knight from one part of the board to another, capturing swords, avoiding the monster opponents, and advancing to the next level." In the best Pajitnov tradition, it's not as easy as it seems, although it is easier than his other creations in a sense that there is no time limit, unlike Tetris. Overall, this is a fun puzzle game despite...
---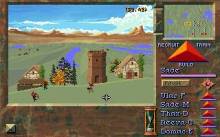 Stronghold 1993 Strategy
What a game! Think of Sim City in a fantasy-world. Great graphics and - that's what I really like - you can talk to your people! They tell you what they want and what they worry about. You create characters to lead your people and develop the land to finally defeat your enemies. REALLY good concept and fun for whole nights! The D&D-RPG-System meets a masterpiece of a building-sim. ...
---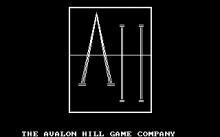 Battle for Midway (a.k.a. Midway Campaign) 1983 Strategy
Midway Campaign is a computer simulation of the Battle of Midway Island in June 1942, arguably one of the most decisive battles in the history of warfare. They computer controls a huge force of Japanese ships whose objective is to invade and capture Midway Island. You command the badly outnumbered and outranged American forces with your only advantage being the element of surprise. The game ends if either all of one sides Aircraft Carriers are sunk, or any part of Japanese TF exits map to west or US TF exits map to east with no airstrikes in the air. At...
---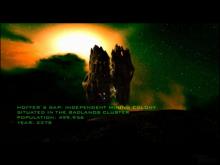 Independence War 2: Edge of Chaos 2001 Simulation
Players return to deep space for futuristic piracy and warfare in Independence War 2 from Particle Systems. The 1998 release of the original Independence War distinguished itself from many other space combat simulations by incorporating realistic physics into the gameplay and by striving to tell an engrossing story as the player progresses through its missions. This second full release in the series is designed to expand and enhance those features with new characters, a new plot, and a new game engine created from scratch for this title. The player takes the role of Cal Johntson, an able spacefarer and a man...
---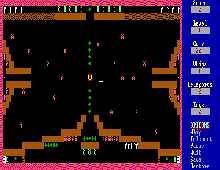 Complete Kroz Series, The (a.k.a. Kingdom of Kroz) 1988 Adventure
A text-mode action/puzzle game. You have to get to the exit on each level, which is made more difficult by obstacles such as trees (which can be destroyed) and monsters. Various puzzles (in the form of one-off objects) are also used. ...
---