Old-Games.com: 9000+ Games to download
Search a Classic Game: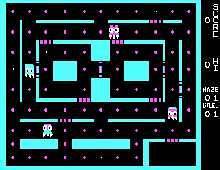 Snack Attack II 1982 Arcade action
Gobble up gumdrops and other foodstuffs while avoiding getting eaten yourself in this enhanced Pac Man clone....
---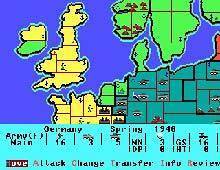 Storm Across Europe 1989 Strategy
Storm Across Europe is a fast, exciting game that allows you to simulate World War II on a grand strategic scale - in as little as one evening. Every part of the raging conflict is covered - from North Africa to Sweden, from Gibraltar to the Ural Mountains in Russia.Each game turn represents three months of action. You control every facet of the war. Move armies across the map to conquer territory. Mount amphibious landings. Launch huge U-boat campaigns in the Atlantic. Carry out strategic bombing strikes against enemy production centers. Srnd raiding fleets to cripple your opponent's shippong. And...
---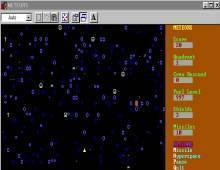 Meteors 1989 Arcade action
Another excellent ASCII game by Scott Miller of Apogee game, Meteors was included on Softdisk's "Big Blue Disk" number 30. Here's a summary of plot and gameplay from the game's instructions:"A terrible catastrophe occurred only minutes ago... an urgent distress signal from the USS Sagan, our largest scientific space station, stated that they were being torn apart by an uncharted meteor storm. Your scout ship is the closest vessel to the region. Your mission is to fly your ship to quadrant B32 and rescue as many of the survivors as possible. Hurry, their air supply will not last long.To navigate...
---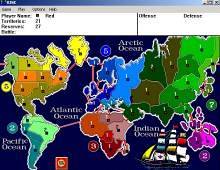 Risk (1991) 1991 Board
Risk is a strategy game based off the 1959 Parker Brothers game. When you play, you take on the mantle of a general, and you are tasked with the noble goal of world domination. The game is designed to be played against five other opponents, with each general's armies being represented by a different color. In the beginning, your armies will be randomly spread throughout the forty-two countries and over the six continents. Each player will receive a certain amount of armies, depending on how many players are in the game.Cannons represent ten armies, cavalry represents five, and infantry represents...
---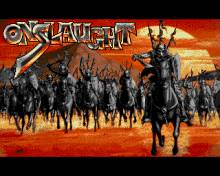 Onslaught 1989 Amiga
Onslaught is a bit on the epic side. It's set in the land of Gargore, where dozens of warring kingdoms are at each others throats and armies of 1000s are being slaughtered by the minute. You're cast as a Fanatic, a solitary warrior with the strength of a whole battalion. Your aim is to beat up as many people as possible and nick all their land. Study the map-screen, decide where to have a crack at the enemy and the game flips into scrolling mode.The idea is to clear the battlefield of enemies but before this can be achieved, you...
---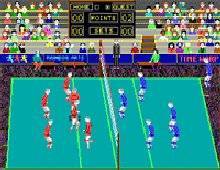 Volleyball Simulator 1988 Sports
Old but good volleyball game by Time Warp. There are not that many other computer volleyball games I remember, except the great Beach Volley by OCEAN for the Amiga and Kings of the Beach by Electronic Arts, both being beach volley games. Blocky graphics/player animations make Volleyball Simulator a fairly poor simulation of the sport, although it does offer a good range of realistic options, including different ball controls (lob, spike, etc.) and play strategies. The game even includes a tactics editor-- something quite rare for its time. Overall, probably not the best volleyball game ever made (well, if there...
---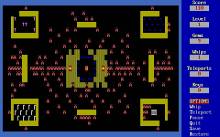 Dungeons of Kroz 1989 Adventure
Dungeons of Kroz is the second installment of the Kroz trilogy - this game is very similar to the Kingdom of Kroz, only differing in level design and puzzles....
---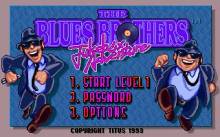 Blues Brothers: Jukebox Adventure 1993 Arcade action
Jukebox Adventure is the sequel to The Blues Brothers. Once again, the player has to choose a favourite Blues Brother and take him through different side-scrolling platform levels. He needs to collect records and use them as defence by throwing them towards enemies. There are also power-ups that can be gathered until the jukebox to progress to the next level is found....
---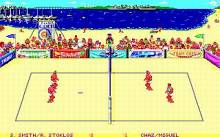 Kings of the Beach 1988 Sports
You play volleyball on the beach, either doing singles or doubles, and you can also enter in Tournaments. It also had a chance to go and practise some of your plays, such as the Spike. This game has pretty good graphics considering the time it was made, and is a pretty challenging game. I'd recommend this game for anyone that as interest in sport, as it has pretty good movement and realism....
---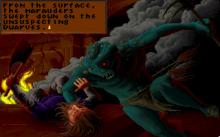 Bloodstone 1993 Role playing
Based on the same engine as Magic Candle 3, Bloodstone is IMHO a much better game than its better-known cousin (Magic Candle 1 is a true classic but the sequels were disappointing). Magic Candle fans will feel right at home with the ability to control your party members separately, a good turn-based combat system, lots of spells, and the epic scope. Despite cliche "kill the big woozle" plot, the game has many interesting side-quests and treasures to find....
---