Old-Games.com: 9000+ Games to download
Search a Classic Game: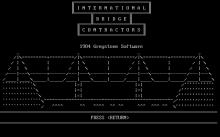 International Bridge Contractors 1985 Strategy
Simulating an industrial concern a bit more high-stakes than a lemonade stand, this game puts the player behind the accounting ledger of a company that builds bridges, which are large, complicated objects whose construction requires many resources and much labour. Coordinating supplies of both leaves a bit of money left over for research & development, which may yield one-time dividends or permanently lower some costs -- if not necessarily paying for itself except on a long-term scale. Random events in the business world may find their way to the player's desk, arbitrarily benefiting or penalizing their company -- some ~25...
---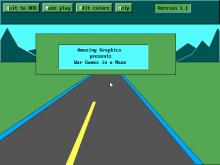 Maze Wars 1992 Arcade action
Maze Wars is a strange cross between Wolfenstein 3D and Pacman. You navigate around a 3D maze, shooting and running from enemies that are represented by wireframe pyramids. Once all enemies are dead you can exit the maze and move on to the next one. If you run out of ammo you lose. If you bump into an enemy you lose. If you run out time you also lose. There are 11 progressively harder mazes to play through. The game also allows you to modify color of the walls and enemies, depending on your preference. ...
---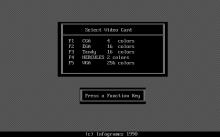 Full Metal Planete 1990 Board
Tie-in of the rather unknown but truly brilliant board game of the same name. Up to four players land on a planet with their motherships, trying to gather as much ore as possible within 24 game rounds. This almost sounds like a happy, idyllic round of pick-the-flowers... if it wasn't for the truckload of tanks and destroyers that each players happens to have in the cargo area of his mothership. So the players usually spend an equal amount of time picking up ore and bashing their contenders' heads in. The computer game is an extremely accurate conversion of the board game -...
---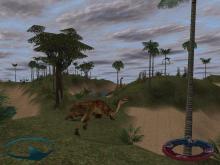 Carnivores 2 1999 Arcade action
Arguably the best "hunting simulator" ever made, Carnivores 2 is an excellent budget game that proves that not every hunting game is Deer Hunter clone. PC Gameworld says it all about what makes this a FPS well worth a look: "Among other things, Carnivores 2 is a very good hunting simulator on the market. Why? Because it comes dangerously close to feeling like a pure FPS shooter at times. The idea is to hunt for dinosaurs on a Jurassic Park-type island. From a true gamers point of view it is much better to be hunting (or being hunted by) an eight ton...
---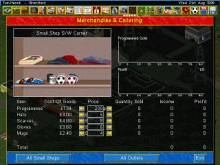 Ultimate Soccer Manager 2 1996 Sports
Ultimate Soccer Manager 2 is the followup of USM and mostly a graphical improvement over the DOS and Amiga AGA versions. Now sporting a 640x480 resolution, all of the offices menus (from where all options are selected) are crisper and some of them were merged together to simplify navigation. New features include team and individual training, player personality (meaning that a team of talented players can still be unsuccessful if key players are either psychologically weak or flawed), better catering and merchandising options and setting up plays. The game is packed with both English, French and German leagues, although all run from...
---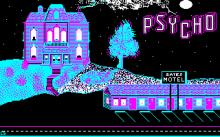 Psycho 1988 Adventure
Psycho is a graphic adventure game with a key-based verb interface. A set of jewels has been stolen. At the time of the theft, a curator was with the jewels, so he got stolen, too. And who's the suspect? Norman Bates, of course. The next night, a daring detective drives out to the sinister Bates Motel. His plan: a) find the jewels, b) free the curator and c) take a nice hot shower, should time suffice. Psycho is entirely controlled with the keyboard: direction keys for moving your character around, shortcut keys for performing actions. You need to stand close to an...
---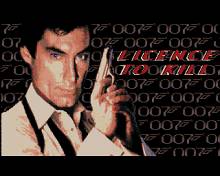 Licence to Kill 1989 Amiga
The world's most famous secret agent, James Bond, is once more appearing on a computer screen near you Licence to Kill, the game, is based on the film starring newcomer Timothy Dalton and faithfully follows the movie's plot. It puts you in Jimmy's shoes as he sets out on a personal vendetta against arch drug-smuggler and drowner of kittens, Sanchez. Ulp! The game has six distinct parts, involving all manner of violence and mayhem, and arranged into three main sections. The first part requires you to pilot a heli- copter along a vertically-scrolling roadway, trying to blast Sanchez who's making an...
---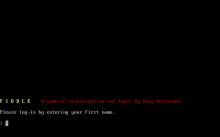 Fiddle 1992 Puzzle
Fiddle is an excellent variant of Tangram, coded by the same designer who designed Cyberbox, a very clever freeware brainteaser. In Fiddle, each level is a collection of pieces which you must slide and rotate to make a square. All of the pieces provided with each level go into exactly completing the square; there are never any extra pieces or unit squares. Although it sounds simple, the game is harder than it looks, because you can only rotate or slide a piece if there is room for the destination piece. A piece cannot slide through walls or other pieces, and it...
---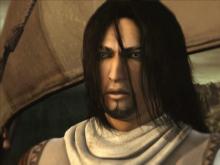 Prince of Persia: The Two Thrones 2005 Puzzle
Prince of Persia: The Sands of Time marked a comeback for Jordan Mechner's classic PC franchise that (save for one abortive revival attempt) had been languishing for years. The classic puzzle-solving gameplay of the original made a seamless transition to 3D, and if the game's combat wasn't all that great, it was more than made up for by the fun of running up walls, sliding along ledges, dodging fiendish deathtraps, and solving room-sized conundrums. The series seemed to lose its way a bit with the sequel, The Warrior Within. While the combat had been improved and the puzzles were even tougher,...
---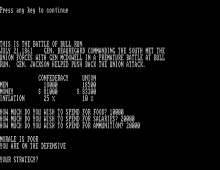 Civil War 1983 Strategy
Civil War is a below-average BASICA game distributed only among IPCO members. Due to limitations of the BASIC language and early 1980 hardware, the game amounts to little more than a quirky piece of PC nostalgia. From the MobyGames description: "Civil War is a war strategy simulation. You play as the confederacy in the Civil War, and need to allocate funds and decide on a strategy to win as many battles as you can. Each turn will provide a brief overview of the battle, and allow you to allocate funds for food, salaries, and weapons as well as choose the...
---