Old-Games.com: 9000+ Games to download
Search a Classic Game: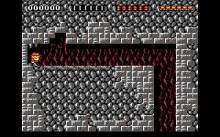 Rick Dangerous 1989 Arcade action
What's in a name? If I were to make a game and call it Ultimate Game, would it be the ultimate game? In Rick Dangerous, the name suggests that there's a character named Rick, who is dangerous. That's partially correct. There is a character named Rick. The thing is ... it's his surroundings that are terribly dangerous. Rick Dangerous is an adventurer from the first half of the 20th century. He lives in London, but goes out exploring or fighting bad guys, such as the invading aliens. He does that armed with a set of explosives and bullets, with the...
---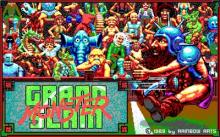 Grand Monster Slam 1989 Arcade action
Every five years the various races inhabiting the fantasy world of GHoLD meet for the Grand Monster Slam tournament to discover which is supreme. You must win a total of 9 matches to prove yourself, with two sub-games to negotiate (Revenge of the Beloms and Faulton Feeding - fortunately these can be practiced from the main menu) as well. The basic game sees you and your opponent start with a row of six Beloms (small round creatures) which must be kicked across the pitch quickly enough to leave your opponent with all 12 at his end. When this happens you can...
---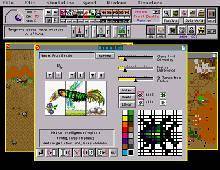 SimLife for Windows 1992 Simulation
In many ways, it could be said that SimLife is the ultimate way of pretending to be your favourite omnipotent deity. Long before "Black and White", and taking a completely different spin on playing god, this game gives you the real tools of life, the ability to control physics and biology. SimLife is a simulation game based around creating and nurturing life on the world of your choosing. You are given a wide array of tools to do this, from being able to alter the characteristics of each animal or plant, to changing the climate and the lay of the land. A...
---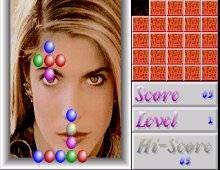 X-Rock (a.k.a. Rockin' Magic Ball) 1990 Puzzle
X-Rock (a.k.a. Rockin' Magic Ball) is a thoroughly average Tetris variant from Softworld, Taiwan's most prolific gaming developers. Probably the only reason anyone might want to play this game over numerous other excellent Tetris games (including Triptych, Nyet 3, and Lose Your Marbles - all reviewed on this site) is to check out digitized photos of nude females that are 'exposed' gradually as you clear the screen. The gameplay is very basic, and is actually easier than most falling-block games: all you have to do is line up three balls of the same color in either the vertical or horizontal...
---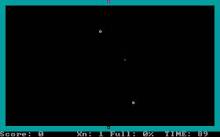 Xonix v1.0 v2.2 1984 Puzzle
Same game as Styx. ...
---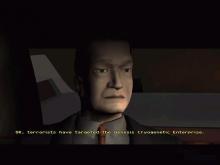 Nightlong: Union City Conspiracy 1998 Adventure
Walking out of 2002 and into the industrial age of 2099 I find myself puppeteering a retired lieutenant from the International Control Military by the name of Joshua Reev. Slightly reminiscent of Kojak, minus the sucker and plus a pair of cool shades, Reev has been summoned out of retirement by Governor Hugh Martens to repay a debt for saving Reev's life. Terrorists are threatening Martens's position and have gone on the attack. The subversive organization has already pulled off a major assault on one of the town's main industrial subway installations ... If you like intrigue and espionage, and...
---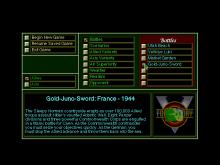 V for Victory: Gold Juno Sword 1993 Strategy
The company's blurb, in contrast to normal hyperbole, is an accurate description of these games: "The V for Victory series sets a new standard for computer wargames. It is the most complete, accurate, and realistic simulation of large scale WWII ground combat ever produced. Yet V for Victory is remarkably easy to learn and play." Great AI, interface, and plenty of units and historical variants make these Atomic Games' breakthrough games and designer Keith Zabalaoui a household name in wargaming. Must-haves for every wargamer's arsenal. Atomic's description of the Gold-Juno-Sword, fourth and final game in the series: The sleepy Norman countryside has...
---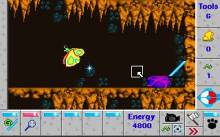 Creepers 1993 Puzzle
At first glance it would be easy to mistake Creepers for a Lemmings clone. Chunky, colourful graphics, toe-tapping music, levels dotted with pistons, flaming torches and obstacles for a six-pixel protagonist. Fortunately, Destiny SP have created a game which is original, interesting and versatile - probably owing more to Sierra's Incredible Machine than to the Lemmings saga. Your job is to assist a group of caterpillars as they make their ponderous way towards a hatching pot. To do this, you use a quantity of tool points to build ramps, walls, fans, trampolines and other handy items. If you are successful,...
---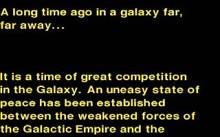 Star Wars Chess 1993 Strategy
Star Wars Chess is a chess game where the pieces are characters from the Star Wars universe. When pieces are taken, an animated battle is shown, much like in Battle Chess. ...
---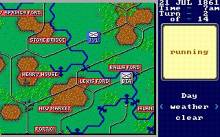 Decisive Battles of American Civil War Vol. 1 1990 Strategy
The American Civil War has been a popular choice for wargamers for some time now. Board games abound, covering everything from individual conflicts to the entire theater of war. When viewed as a whole, it seemed that the Union had all the advantages, with abundant manpower, resources, and infrastructure. Yet the Confederacy demonstrated time and again their superiority on the battlefield. The deciding factor in each battle was the leadership that drove the conflict. In Decisive Battles of the Civil War, you get a taste of what it was like to be a battlefield commander, with victory or defeat stemming...
---