Old-Games.com: 9000+ Games to download
Search a Classic Game: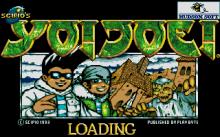 Yo! Joe! 1993 Arcade action
Graffiti artists live a hard life. Joe and Nat are always on the run, trying to escape New York's police. When they reach a mysterious castle, there's no way of knowing they're in deep trouble already.Yo! Joe! Beat the Ghosts is a platform game featuring two characters. The protagonists can jump, crawl, kick, beat, slide, and swim. They are even able to hold their breath when under water. If you are playing the game solely, "Joe" is your character of choice. A friend can take on Nat's part at the same PC. The game's purpose is to get rid of...
---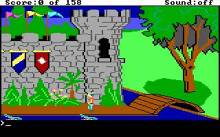 King's Quest 1 1986 Adventure
The story in the game is quite short and it only contains one page of text, making it very short. You start as Sir Graham, just outside the castle and when you met King Edward, he tells you that you must go on a quest, because King Edward is dying and if you manage to complete this quest you will inherit the throne and also because your kingdom is weak and poor and if you get these 3 things, your kingdom will become strong and wealthy. You have to get a magic mirror which can tell the future, a...
---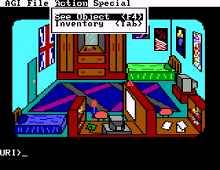 URI Quest 2000 Adventure
One of the best fanmade, and most obscure, AGI games ever made, URI Quest (short for University of Rhode Island Quest) is a fun game by Jeff Carroll that chronicles his life as an URI undergraduate. The game consists of four chapters, each starring Jeff or one of his roommates: Ed, John, and Ziggy, as they explore the URI campus looking for ... well, you'll have to find out for yourself :)A bit of an intro is in order for those who don't know what AGI stands for. Basically, it's the game engine behind Sierra's classic 16-color EGA games in...
---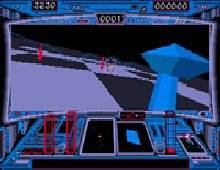 StarGlider 2 1989 Simulation
More space combat and strategy in this sequel, which challenges you to collect the elements to form a bomb to destroy a resistance force, before delivering them through heavy fighting. Each planet has its own characteristics, with differing inhabitants and features. As well as flying through space, you must dart through tunnels under the planets, which restricted your movement range but are where most of the weapons are. As you go along you'll have to obtain objects from people, and trade them so as to be able to complete your main objectives.The biggest advance from the original Starglider was seen...
---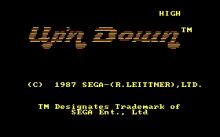 Up 'n Down 1987 Arcade action
This is a home port of a 1983 Sega arcade game that was distributed by Bally Midway.The object is to drive around a twisty course and collect all the colored flags. You can jump over gaps and over or onto other cars. If you land on another car, you kill them and collect points. You can also collect things like balloons and ice cream cones for bonus points. The faster you collect all the flags, the bigger a time bonus you get.In later levels, there are dead-ends or gaps and a vehicle that is carrying a flag you need, so...
---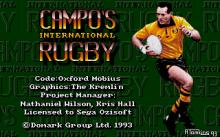 Campo's International Rugby (a.k.a. International Rugby Challenge) 1993 Sports
This is one of those rather unknown classics which I would really count with the best. As the name can tell you, this is a rugby game. A real realistic rugby game.It uses the same idea as all the FIFA soccer games, you control the man that is closest to the ball. It's very hard, this one, especially when you still have to learn about all the controls. I don't know if I know all of them either. This game is challenging and that's what I like.This game wants you to go further than just playing rugby, if you're playing...
---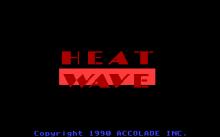 Heat Wave: Offshore Superboat Racing (a.k.a. Powerboat USA) 1990 Sports
Heat Wave is a fast and furious superboat racing game features cool 3-D polygonal superboats, lots of courses to race on, and 4 boat designed you can choose from. What I like about this game (apart from the first-person perspective and 3-D graphics) are random weather and water conditions during the race. This game is one of my most favorite Accolade games....
---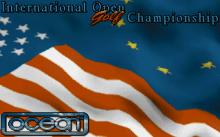 International Open Golf Championship 1993 Sports
Ocean presents in association with Pringle of Scotland an international open golfing experience. The game features many and varied forms of golf including skins, foursomes, matchplay, strokeplay, practice and fourball with the action taking place over a wide variety of terrain and locations. All of the expected levels of difficulty are also available starting of as an amateur, working through to professional standard and for the few amongst us even master level. The landscape is realistically portrayed in real-time 3D, with bird's eye tracking shots of your strokes giving the player the full story on each and every shot allowing...
---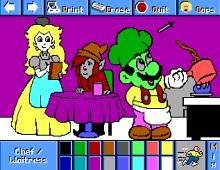 Electric Crayon: World of Nintendo 1992 Educational
This computer coloring book is another part in the Electric Crayon series and it has 29 pictures of different Super Mario Bros` and their friends` occupations to color.Pictures could be colored from a palette of 16 colors. A mix button would "mix" the current color with the 15 other colors and give a total of 256 colors. Choosing a color and clicking in the picture do a color fill in the area clicked. The finished, or in progress, coloring was automatically saved to disk. Player may also remove all colors applied previously to start coloring from the very beginning.Each picture...
---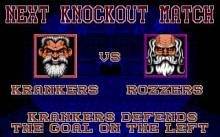 Brutal Sports Football 1993 Sports
A good blend of fantasy football and soccer game that isn't very original, Brutal Sports Football still offers plenty of knuckle-blistering action. Lead a team through increasingly difficult matches to win the championship. The game's sole focus on furious action and the lack of in-depth play tactics makes it appealing to both action gamers and football fans looking for a quick distraction from complex sports titles....
---