Old-Games.com: 9000+ Games to download
Search a Classic Game: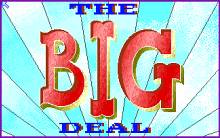 Big Deal, The 1987 Amiga
A simple platform arcade game, where you control a kitchen robot. Simple graphics and music, but nice gameplay. The game was also released on C64, so the Amiga game is a conversion with enhanced graphics. ...
---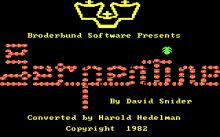 Serpentine 1982 Arcade action
In Serpentine you control a multi-segmented snake in a maze; your goal is to survive and earn as many points as possible. At the beginning of each level, three enemy snakes will also enter the maze. To complete the level, you need to eat all of the enemy snakes. If an enemy snake has more segments than your snake, you can only eat segments that form the tail of the snake; a collision with the head is lethal! Each time you eat a segment, the enemy snake will become smaller until eventually you can devour it completely. For enemy snakes...
---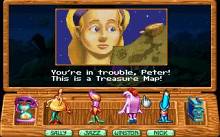 Peter Pan 1993 Educational
One of the best releases in Electronic Arts' short-lived EA*Kids line, Peter Pan is a fun interactive storybook designed for kids aged 4-8. The excellent review at Quandary says it all: "Peter Pan is an animated adventure where children can really get involved and influence the story in several delightful and often unexpected ways. The game's controls are friendly and easy to use so that children as young as four will have little trouble coming to grips with them, even though the game is recommended for six to ten year olds. The story opens with Peter thwarting Captain Hook by stealing his...
---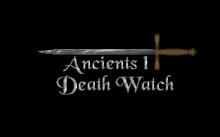 Ancients 1: Deathwatch 1991 Role playing
Ancients: Deathwatch reminded me of a classic pen-and-paper RPG with all the fighting in the game. It's more-less 90% fighting and 10% searching and talking. Gather a group of 4 heroes and venture into dangerous dungeons beneath a city. ...
---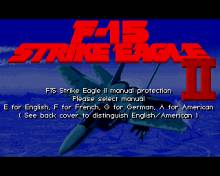 F15 Strike Eagle 2 1991 Amiga
Very cool combat simulator game, with many missions and places to fight (featuring campaigns in Lybia, The Persian Gulf, The Middle East and, Vietnam). It has good graphics, many external and internal cockpit views, fast vector graphics, etc. F-15 Strike Eagle 1 was released in 1985. ...
---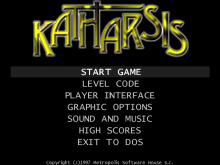 Katharsis 1997 Arcade action
Katharsis is a game with classic side-scrolling shooter gameplay. It has 3D backgrounds, colorful graphics and an integrated storyline. The game starts in 2616, when the ship leaves Earth with 1,000 settlers on board. Eighteen months later Earth loses contact with the ship. The action moves to 4720. One of Earth's cities is attacked by an unknown spacecraft. The player is one of the few survivors of the massacre.The game consists ten space levels and ten underwater levels where player needs to protect a special bomb designed to destroy the enemy base. The player uses a whole arsenal of different...
---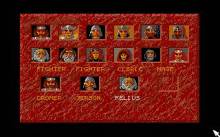 Abandoned Places 1992 Role playing
In this RPG, you play the role of four heroes whose mission is to save their world, Kalynthia, from the evil arch mage Bronagh. Most of the time, while exploring the over world, the game is shown in a 2D top-down view. It gives you much freedom: there's more to do than just stick to the main quest. Towns have a static interface where you reach the wished location by pressing the according symbol. e.g. a church for healing up or a sage for hints. During dungeon crawls the game switches to a 3D view and plays similar to Dungeon Master....
---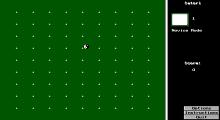 Satori 1990 Board
Satori is a solitaire board game, which is played on a 10x10 board. In addition to the board, the play pieces or tiles, of which ammount to 60 different tiles have on it a path segment. Each path segment consist of one color from the five availabe different colors: Red, Yellow, Green, Blue and Violet. The tiles appear randomly from the stack or deck as you play the game. The objective of the game is to place the tiles on the board in such a way to create the longest connected path possible. This is done by placing any given tile...
---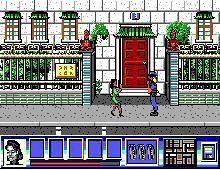 Crime Does Not Pay 1991 Arcade action
Crime Does Not Pay is "Officially Endorsed by the Mafia." In this game the player can play as the Godfather, femme fatale, or the Killer. The player can use mobsters in order to bribe, blackmail, or fight. Play as either the Chinese or Italian gangs to get money and power. The player will be up against punks, cops, killers, and rival gangs. ...
---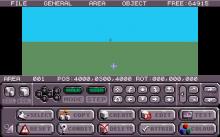 3D Construction Kit (a.k.a. 3D Virtual Studio) 1991 Utility
This package allows users to create their own 3D worlds, using technology related to the Freescape universe seen in games such as Castle Master and Driller / Space Station Oblivion. Pull-down menus allow objects to be created and positioned, with movement loops and simple animation defined. A network of rooms can be created. A simple BASIC-style language is integrated to allow puzzles and conditions (open a door when a key in placed into it, for example). You can also include enemies which must be shot. At any moment you can enter the gameworld to test it. ...
---