Old-Games.com: 9000+ Games to download
Search a Classic Game: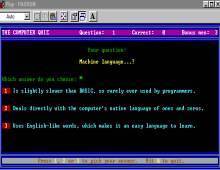 Computer Quiz 1988 Puzzle
Another excellent ASCII game by Scott Miller of Apogee game, Computer Quiz was included on Softdisk's "Big Blue Disk" number 21. Here's a summary of plot and gameplay from the game's instructions: "Okay, you've bought a PC, or at least begged, borrowed, or stolen the use of one to run BIG BLUE DISK. But how much do you really know about computers? This quiz lets you test your knowledge about computers, to see if you qualify for the inner circle of computerdom. In the process you might just learn something about how your PC works." If you like trivia games, then this...
---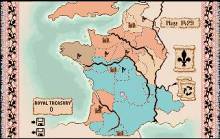 Joan of Arc 1989 Amiga
In this hard game you play Joan of Arc herself and has to invade other territories and make your way through countries and defend what you practice and preach. ...
---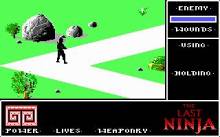 Last Ninja 1988 Action adventure
Ninjas were always feared by eveyone, even the noble Samurais. But not even they are unbeatable. Evil Shogun Kunitoki wants to get Ninja powers and combine them with his own dark powers in order to rule the world. During one annual meeting, he summons evil forces on the Ninjas and kills them all. But one of them survived and is getting ready for the vengeance! Every true fan of Commodore 64 games remembers this game. It is a true legend and together with it's two sequels makes a great collection for eveybody. The graphics are great and so is the action...
---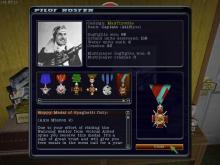 Airfix Dogfighter 2000 Simulation
Based on the popular brand of models, Airfix Dogfighter lets you pilot detailed, miniature versions of World War II aircraft through a large, 3D-rendered house. Fly for the Allies or the Axis, each with a home base in a different room of the house. Dogfights take place in the yard or throughout a house full of curios, knick-knacks, canisters, and decorations, many of which can be destroyed or contain special power-ups. ...
---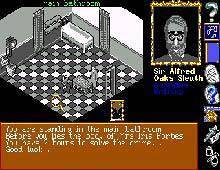 Murder 1991 Puzzle
Murder is a curious little game, which is loosely based on Cluedo. What started out as a typical dinner party, has ended up with some poor soul being murdered. You are the budding super-sleuth, and your task is to figure out who the murderer is, with which weapon and which location. That is as far as the similarity to Cluedo goes. The game itself is a real time 'puzzle/adventure' where you wander the mansion, speaking to people, examining objects and collecting evidence. Compare fingerprints, cross question other guests etc.. Murder is an enjoyable little game, particularly as on the harder levels, the...
---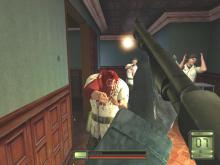 Soldier of Fortune 2: Double Helix 2002 Arcade action
Soldier of Fortune II: Double Helix isn't just a solid shooter -- it's a huge leap over the original, both technically and in terms of gameplay, and contains a number of advancements that may influence the genre for years to come. As in the original game, SoF2 casts you as John Mullins, a real-life mercenary-for-hire working for a covert anti-terrorism outfit known as the "Shop". Don't expect to see many other ties to the original game, however -- this time around, you're tasked with investigating a terrorist group bent on unleashing a deadly bio-weapon somewhere in the U.S. The plot is...
---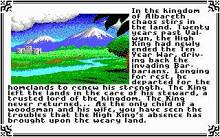 Times of Lore 1988 Role playing
A simple action-RPG following the adventures of a young warrior (strong barbarian, armored knight, or quick valkyrie) to assist a weakened kingdom from various threats, and to recover special Artifacts that once made the kingdom strong. Gameplay consists of moving your character in real-time through various terrains, like forests, towns, and dungeons. The player gathers basic items, like health and magic potions, and increasingly powerful weapons as you progress through the story. Conversations are handled through keyphrases. Combat is real-time as well, against a few types of creatures (skeletons, orcs, rogues) of which there can be various flavors. ...
---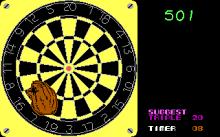 World Darts 1987 Sports
Very addictive game. You just want to win. We are talking of course about darts. The game is quite easy: You have to move your 'shaking' hand across the board. You can control the hand using your cursor keys. To throw your darts press the space bar. You have to press fire within 20 seconds, otherwise you automatically throw the darts at the position your hand is. Just play 501 against a computer or against a friend. When you play the computer you just have to win one leg in order to go to the next character to play against....
---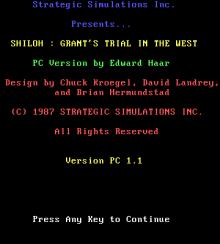 Shiloh: Grant's Trial in The West 1987 Strategy
The major battle in Western Theater of American Civil War fought on April 6-7, 1862 near church Shiloh in Tennessee was the bloodiest battle between Union and Confederate forces. Historically Union forces lead by Maj. Gen. Ulysses S. Grant won in the battle and finished Confederate's hopes to block the Union invasion of northern Mississippi. The game is played as Confederates, as Unions, both sides, or having the computer choose. Two scenarios are available: the Campaign Scenario April 6-7 (Confederate's attack and Union's counterattack after Union supporting forces arrival) and First Day Scenario April 6 (Confederate's attack only). There are three...
---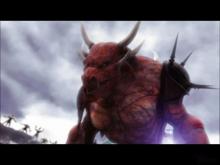 Dungeons & Dragons: Dragonshard 2005 Role playing
This real-time strategy game is based on the Dungeons & Dragons fantasy role-playing system and set in the officially sanctioned campaign world of Eberron, where magic and machine represent competing paths to power. Players lead one of three factions: the righteous Order of the Silver Flame, composed of humans and other good peoples of the land; the chaotic Umbragen, a vengeful people exiled from their ancestral home; or a third, mysterious race that seems to draw its strength from pure rage. Dragonshard is presented in full 3D. Battles can take place in caves and dungeons beneath the surface of the...
---