Old-Games.com: 9000+ Games to download
Search a Classic Game: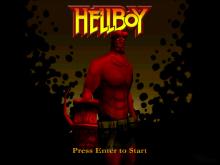 Hellboy: Asylum Seeker 2000 Arcade action
Here he comes, the one and only - Hellboy! Ah, don't get all enthusiastic and start thinking this is some mind-breaking comic-like adventure game. You'll probably spend a single evening on walking through this one. The game is, as you might already know, a conversion of Mike Mignola's Dark Horse comics (1993), and it introduces the bone-chilling quests of the main character - an ex hell-demon who became a paranormal investigator, dedicating his life to solving mysterious crimes and peculiar mythological puzzles. Developed by Dark Horse Interactive, Hellboy: Dogs of the Night takes you through the world of ancient graveyards...
---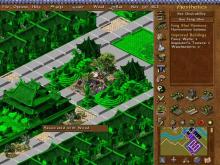 Emperor: Rise of the Middle Kingdom 2002 Strategy
The historically themed city-building made popular in Impressions games such as Caesar III and Zeus: Master of Olympus moves from the Mediterranean to the Far East with this release set in ancient China. Emperor: Rise of the Middle Kingdom takes players behind the Great Wall to nurture a metropolis that will stand the tests of time. This release was developed by BreakAway Games, the studio that created the Cleopatra: Queen of the Nile expansion for Pharaoh. As in earlier Sierra releases under the Impressions label, this building game is infused with history and culture. Players begin under the Xia reign...
---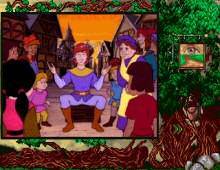 Kingdom: The Far Reaches 1995 Adventure
In this adventure game, step into the shoes of Lathan Kandor, a young boy, to defeat the evil Black Wizard. Lathan will find help from his mentor, the mighty magician Daelon. Explore the fantasy lands of the Far Reaches and retrieve three of the five pieces of the ancient relic called The Hand of Mobus. Talk to a variety of characters, collect objects and solve adventure type problems and puzzles. Kingdom: Far Reaches features mouse control, video animations, cartoon-like graphics, an in-game travel map and original music which can be turned off if desire ...
---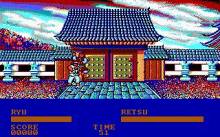 Street Fighter 1988 Arcade action
Street Fighter games were highly successful on C64 and Amiga (not to mention arcade machines) so Capcom decided to port the game to PC as well. Was it a mistake? Well, the game is alright, not the best but playable. The graphics could have been better, after all - this is PC! Anyway, select a character and do your best to beat the rest. You will fight other masters of martial arts on your way to fame and glory. A lot of great moves, kicks and punches are featured. Now get out on the street and show them who's the boss! ...
---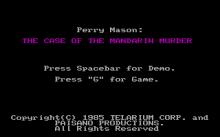 Perry Mason 1985 Adventure
One of my most favorite IF ever, Perry Mason: Case of The Mandarin Murder is so well-designed and entertaining that, for once, I gleefully put up with Telarium's limited parser. As the shrewd defense attorney Perry Mason, you are hired to defend a woman accused of murdering her husband. In the process, you must investigate the murder, interrogate suspects, analyze clues, then present your case in court to the skeptical jury. Perry Mason is not only addictive because it showcases a well-written plot and believable characters, but most of all because its depiction of court procedure is so realistic it could...
---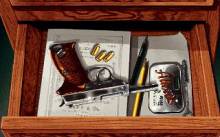 Motor City 1994 Simulation
This is one of my personal favourites! The game idea is a bit like Detroit, but this one is way more complicated and way more advanced than the game Detroit. You own a company, a car factory. Your goal is to build cars that everyone wants so you can make lots of money out it. What you first have is an almost empty lot, with an administration building and a warehouse. A train track is leading straight through the middle. Build things like a research department, a factory or a storage place. You climb your way up from the most simple...
---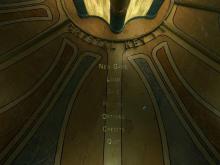 Crystal Key II: The Far Realm 2004 Adventure
Your name is Call from the planet Evany. A mysterious illness is affecting your planet's inhabitants, and only you seem immune to the effects of the disease. While you're trying to decide what to do, a mysterious stranger arrives through a portal and claims she has information about the cause of this mysterious condition, but before she can say more, two men grab her, and all that she leaves behind is a journal and a crystal key. So begins your next adventure in the Crystal Key series by developers Earthlight Productions. While it's not necessary to have played the original title...
---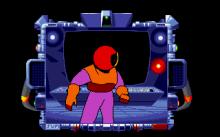 Super Space Invaders 1991 Arcade action
PC conversion of Taito's 1990 arcade game Super Space Invaders '91. As you would expect, it's the classic shoot'em up you all know, updated with lots of different extra weapons, various background graphics, a co-operative two-player mode and a fun bonus level called "Cattle Mutilation". It's decent, although as usual the great music of the arcade original is absent, considerably lowering the atmosphere factor. Fans of original Space Invaders will have a lot of fun, though, although it gets repetitive quite quickly with mundane enemy ships and level backgrounds that aren't up to par with Silpheed. ...
---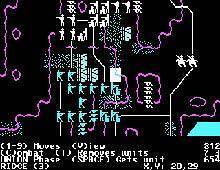 Battle of Antietam 1986 Strategy
Not a really good strategy wargame from SSI. It's actually rather poor. You start the game by adjusting what the game should run like as game colors, screen resolution etc. which is rather annoying. Second the control is very bad as the control is not very logical setup. The game is about killing all the computer's units. One of the good things in Battle Of Antietam is all the units included. But the thing that really brings the game down is the lack of good controls and the very poor graphics. ...
---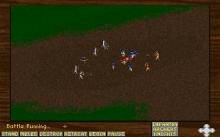 Castles 2: Siege and Conquest 1992 Strategy
Castles II expands on the original by changing the interface and adding video cutscenes on the CD-based versions. You choose to be one of five feuding lords vying for the Crown. Conquering, spying, sabotage, diplomacy, whatever it takes--as long as you keep the Pope and your people happy. You have to reach 7,000 points to petition the Pope for the throne, and then you have to maintain those points for 4-5 game months to win the game. However, your rivals will attack you as soon as the Pope declares his support, so be sure you have a strong military before applying...
---