Old-Games.com: 9000+ Games to download
Search a Classic Game: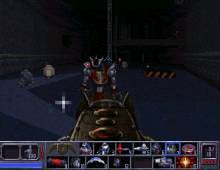 Eradicator 1996 Arcade action
Three distinct characters are on offer in this shoot 'em up - choose from Kamchak the lizard or humans Dan and Eleena. The game's path varies depending on which character you choose. The planet Ioxia is vital to your society, as nowhere else provides the vital element Mazrium. However, its long dormant alien forces have been woken up, and must be destroyed by a one-man army. You must fly into the Citadel to destroy its power source.Eradicator combines pure action and puzzle solving, with 1st-person and 3rd-person views to switch between. There are 20 different weapons, with the missiles you...
---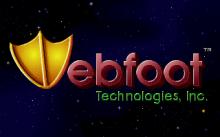 Bluppo 1997 Puzzle
Bluppo is a great clone of Boulderdash that offers a lot more features than the First Star classic, including new ideas, excellent graphics and sounds, 160 large and tricky levels, a lot of colorful characters, and more. The goal of the game is to collect certain number of fish in order to exit to another level. In the meantime, you must avoid falling boulders and nasty sturgeon. And if that's not bad enough, you also must conserve oxygen. The scrolling playfield features great graphics and music and supports two players simultaneously. The early levels are easy, but the game becomes difficult...
---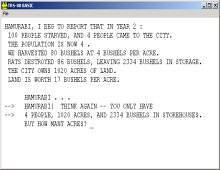 Classic Basic Games (a.k.a. Best of Creative Computing) 2002 Puzzle
This is a real blast from the past :) Anthony Wood of AW Software has kindly programmed and released, for free of charge, a wonderful Microsoft BASIC interpreter for Windows. Included in this download is not only Wood's interpreter, but also dozens of classic BASIC games - including all of the best games from David Ahl's wonderful Creative Computing magazine. In addition to the author's own creations, you will find classic BASIC games including Wumpus, Hammurabi, Super Star Trek, Eliza, Lunar Lander, and many more. As the author says, "...[each] game included in this collection is an original, un-cut classic...
---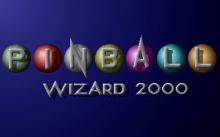 Pinball Wizard 2000 1995 Non-English
Pinball Wizard 2000 is an excellent application that allows you to create and play your own pinball tables. Although the English version was never made, this German game is not difficult to understand and use, thanks to the fact that most menu items are in English. Compared to 21st Century's better-known Pinball Construction Kit, Pinball Wizard 2000 is a bit harder to use, but it is a more powerful and versatile program once you become familiar with the interface. You can use your own graphics to decorate the table after choosing the general layout. The game features an ingenious way...
---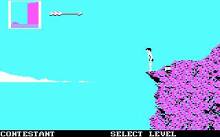 World Games 1986 Sports
World Games challenges you to compete in a variety of sporting events at locations around the globe. The game allows you to compete in one, some, or all events. You may also practice each event. The game allows up to 8 players to compete against one another. The players are allowed to enter their own names and select the country which they will represent. Medals are awarded at the end of each event. The events and their locations are: Weightlifting in Russia, Barrel Jumping in Germany, Cliff Diving in Acapulco, Slalom Skiing in France, Log Rolling in Canada, Caber Tossing in...
---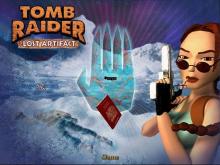 Tomb Raider 3: The Lost Artifact 2000 Action adventure
The Tomb Raider series debuted five years and since that initial release, we've witnessed a half dozen of Lara Croft's adventures. The latest adventure is an expansion pack for Tomb Raider 3 entitled The Lost Artifact. Like many of the previous sequels and add-ons we've seen for Tomb Raider, The Lost Artifact stays true to it's roots and offers relatively nothing new or unique to the series. Eidos Interactive seems satisfied with the formula that got them this far but its wearing very thin on this particular gamer. The Lost Artifact commences immediately where the previous Tomb Raider 3 finished off....
---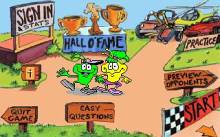 Quarky and Quaysoo's Turbo Science 1992 Educational
Quarky & Quaysoo's Turbo Science was released by Sierra On-Line in 1992 as part of the Sierra Discovery Series. It's a quiz game suitable for kids aged 9 to 14, with a huge range of topics taken from physics and chemistry. The setting is a weird world where humans and aliens are holding a 'Turbo Science' race, in which you have to reach the goal before the opposing team does. The race leads you around a map with several sites, each dedicated to a certain topic. There are areas related to everyday physics, but also specific ones dealing with aerodynamics,...
---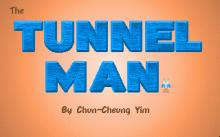 Tunnel Man, The 1994 Arcade action
It seems like you're caved in. Now you have to find your way out! TunnelMan is a story about a miner who experiences one of those bad days at work, in this case he has to find his way out of the mines. In order to do so, he must find the emergency exit that will get him to the upper levels. But it seems that the emergency exit is wielded shut, if not humanly impossible to open with your bare hands. That means, you have to gather dynamites and the detonator available at each level to blow that emergency exit...
---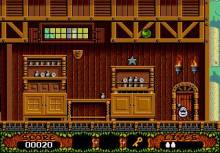 Dizzy: Fantastic Adventure of Dizzy 1994 Action adventure
Another game featuring the world's most famous egg - Dizzy. This one is the best in series of great games made by Codemasters. Diasy (Dizzy's girlfriend) has been captured by the evil wizard Zaks. Only Dizzy is brave and clever enough to rescue her from a terrible fate. Leaving the safety of Yolkfolk's treehouse village, Dizzy sets out on his greatest adventure - introductory story copied from the game. ...
---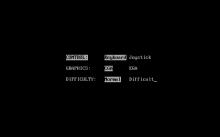 Ninja Gaiden 1990 Arcade action
Ninja Gaiden begins with a cinematic animation in which 2 ninjas duel to the death; one goes down. It is revealed that the doomed ninja is the father of Ryu Hayabusa. When Ryu learns of this, he embarks on a quest to find out who killed his father and why. This quest takes him to America to find an archaeologist with whom Ryu's father was working. From there, Ryu becomes embroiled in an evil, supernatural conspiracy involving a villain named Jaquio who has plans to use an ancient castle and some relics to unleash a terrifying evil upon the world.In...
---