Old-Games.com: 9000+ Games to download
Search a Classic Game: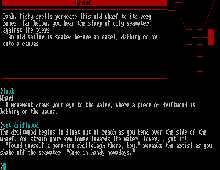 Beyond Zork: The Coconut of Quendor 1989 Adventure
Beyond Zork, subtitled The Coconut of Quendor, attempts to bridge two of Infocom's text adventure trilogies by combining ideas from Zork's gameplay with Enchanter's style of storytelling. It also tries to marry text adventures with role-playing by making visual cues a meaningful part of the text adventure experience. Although not entirely successful at these innovations, the game contains enough good material and elements to recommend it to gamers. The innovative gameplay is obvious from the very beginning, as you must first create your character by dividing a number of points between six attributes: Endurance, Strength, Dexterity, Intelligence, Compassion, and Luck. Combined...
---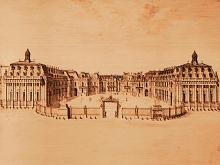 Versailles 1685 1997 Adventure
In this historical game you are some sort of security guard at the court of Louis XIV. You have to prevent a destruction of such a lovely place as Versailles, where you search for bomb and the person, who want to activate it. Talking with characters, searching for clues and studying the Versailles, which is museum at present, you have to serve your King in the name of France. The game is made with Omni-3D technology, which allows you to turn yourself in 360 degrees. ...
---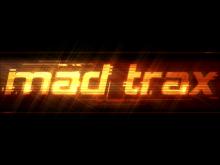 Mad Trax 1998 Sports
Mad Trax, released in Europe, is a gem. The course and car designs, the action and just about everything else is, for the most part, top-notch. One notable aspect that grabs your attention immediately is the cars. They're all equal in ability, a fact made very apparent from the beginning of your race. You receive 150 attribute points to apply to three categories and, although they're distributed evenly to start, you can spread them around as you please. This matters because it allows races to be close. Normally, up until the last second, your place is not determined unless you really...
---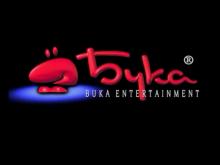 Midnight Nowhere 2002 Adventure
When it comes to adventure games, I just can't get enough of not knowing who I am, where I'm at, and what I'm doing there. There's nothing like a little atmospheric amnesia to move the wary sufferer deep into the bowels of the unknown to solve his own riddle. As a gamer, I can find few things more appealing than working through a complex, well-paced story in such a way. As cliché as it is, what makes this such a reliable approach is the amount of latitude it lends the narrative - as long as it's tied together in the middle,...
---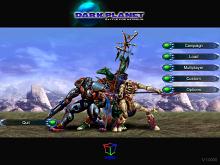 Dark Planet: Battle for Natrolis 2002 Strategy
Dark Planet: Battle for Natrolis, from Scottish developer Creative Edge Software, is one of those games that probably sounded good when it was on the drawing table. I mean, I can picture a project manager saying, "Hey, we'll have these three races fighting for a planet, and we'll do interesting things with the units and resources, and we'll wrap it up with a snazzy 3D engine. What do you think?" And then the money person might have responded, "Sounds great! Go for it!" But then something went horribly, terribly wrong during production, and, as a result, Dark Planet is one...
---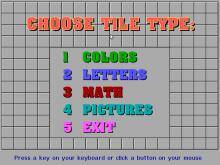 Teaching Tiles 1997 Educational
Teaching Tiles is a shareware, educational, tile matching game for DOS. The game is plated on a grid and the object is to reveal all the tiles. The player clicks on a cell and the tile is turned over revealing a colour, a letter, or a number etc depending on the game. The player then clicks on another cell and this turns over also revealing a colour, letter etc. If the two tiles do not match the game resets them to their un-revealed state and the player tries again. If the two tiles match they the player is rewarded with a message...
---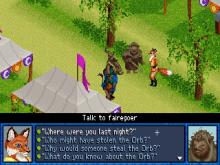 Inherit the Earth: Quest for the Orb 1994 Adventure
In this game you are Rif, a young fox, who is falsely accused of stealing the magical orb of storms. This orb is capable of predicting when storms will arrive. Obviously this is important to farmers, but it is just as important to the boar tribe, for their supply of mud. You'll have to find the Orb and the real thief, to clear your name, save your girlfriend and prevent war with the boar tribe. While your doing this you'll encounter a much larger mystery: What is the origin of the tribes? Legend has it that the humans gave the animals...
---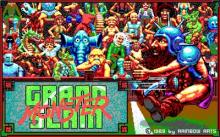 Grand Monster Slam 1989 Arcade action
Grand Monster Slam is yet another fun game. You can choose between several different disciplines including games like a kind of soccer where you kick to small living balls. There are other things you can play. In each discipline you can play in knockout mode and you can compete against several different opponents. Overall a pretty good game to waste some time with but nothing more than that. ...
---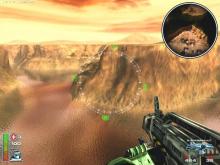 Breed 2004 Arcade action
It's probably not a good thing when the developers and publishers blame each other for creating an awful game, but this is exactly what happened with Breed. Once dubbed a Halo-killer, the first person shooter was marred with various problems that the developers (Brat Designs) claimed the publishers (CDV) added at the last minute. The publishers admitted to tampering with the game, but they said they improved the game from a nearly unplayable state. No matter who's to blame, this is far from the Halo-killer it was originally envisioned to be. Since the game inexplicably takes a few minutes to start...
---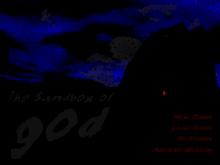 Sandbox of God 2004 Simulation
The Sandbox of God is a fun "god simulation" from Mr. Chubigans that is inspired by Grow, a fun on-line Flash game coded by Japanese group EYEZMAZE, although Mr. Chubigans curiously chose not to credit this inspiration in the README file but only at the end of the game. As to the game itself, Sandbox of God has a lot to offer, especially for fans of Grow who wished the game were longer. The review at Gamemakergames.com says it all: "Sandbox of God isn't exactly dead-on accurate in it's representation of life/evolution on earth, but it's a fun, light-hearted, and;...
---