Old-Games.com: 9000+ Games to download
Search a Classic Game: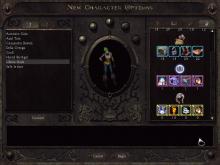 Lionheart: Legacy of the Crusader 2003 Role playing
Long renowned for such legendary titles such as the Fallout series, Baldur's Gate series, Planescape Torment, as well as the Icewind Dale series, Black Isle studios has become synonymous with the role playing genre. So when Interplay announced that Lionheart: Legacy of the Crusader was on the way, and that Black Isle was involved in its development, gamers everywhere eagerly waited for the next great thing from one of the best in the business. The excitement became even greater when it was learned that Lionheart would use the SPECIAL system of character creation and development made famous in 1996's Fallout,...
---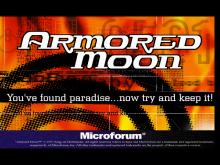 Armored Moon 1998 Strategy
Armored Moon is a real time strategy game with a very similar theme to Command & Conquer: Tiberian Sun. The story revolves around the year 2040 when earth has ran out of resources and the big evil corporations try to take over the last of the remaining valuable resources located on the moon. You lead your rebel forces in 10 increasingly difficult missions to take back control of the moon. You start each stage with a allotted amount of funds and units, your forces gain experience and become stronger with time. ...
---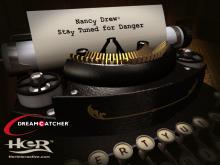 Nancy Drew 2: Stay Tuned for Danger 1999 Adventure
HerInteractive has created another point-and-click graphic adventure, and that means Nancy Drew has another mystery to solve. This time, dreamy soap opera star Rick Arlen is receiving death threats. Strange, bizarre, scary death threats. To get a better look at this mystery, Nancy goes undercover as an extra on Arlen's show, "Light of Our Love." The backstage perspective reveals a lot about the nature of television production, as Nancy investigates dressing rooms and offices in search of clues. To save the day and release the hunky Rick Arlen from this continuing harassment, Nancy must discover and expose the person making the...
---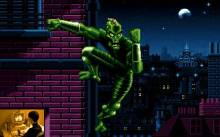 Bargon Attack 1992 Adventure
Bargon Attack is one of the less known adventures from Coktel Vision, though it was one of the first that introduced the unique interface that was used in many Coktel games that followed. It was also one of the first of Coktel's games to use FMV technology in cut-scenes. The gameplay is a mix of science fiction, cyberpunk and comedy elements. It takes place in the near future when an alien race named Bargon conquered the Earth and enslaved its people. You take a role of the young programmer who decides to put an end to the cruel aliens. You'll travel...
---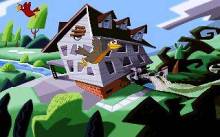 Day Of The Tentacle 1993 Adventure
This review will probably be a biased one since I'm personally a hardcore fan of all LucasArts adventures produced in the nineties. Day of the Tentacle is simply marvelous. The game is packed with humor, witty sarcasm, interesting characters and even-more-interesting scenery and places. It's immensely fun to play, and to solve it you'll need to let your imagination run wild. The user interface is standard - you have some basic commands at your disposal and you'll have to work your way around by using them. The storyline is excellent and will keep you busy and entertained at all times. As...
---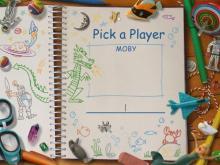 I Spy Fantasy 2003 Educational
Children exercise their thinking skills as they search detail-rich screens for hidden objects in I Spy Fantasy. This latest CD-ROM in the I Spy software series (and based on the popular I Spy books) may be the best yet. Three fantasy environments are theirs to explore, and each area offers kids an intriguing theme, plenty of trademark I Spy riddle screens (such as the one pictured at right), and three levels of content and difficulty. Not only that, each environment includes its own mission -- find pages of a mermaid's book, search for fuel crystals to fuel up a spaceship, and...
---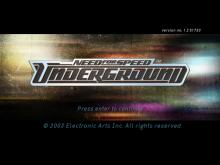 Need for Speed: Underground 2003 Simulation
EA Games' vaunted Need for Speed series, which first hit the gas in 1995 on the 3DO platform, continues with the multi-platform release of Need for Speed: Underground. As the title suggests, players are embroiled in the shadowy world of illicit street racing. Players will enlist in various underground events held on city streets at dusk. While battling rivals in drag races or more conventional pursuits, players can earn cash used to purchase an assortment of vehicle modifications. Over 20 licensed cars are available to tweak and customize from such manufacturers as Mitsubishi, Toyota, and Suburu, among others. Developed by...
---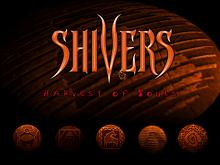 Shivers Two: Harvest of Souls 1997 Adventure
The seedy town of Cyclone resides somewhere in the southwest deserts of the United States. You arrive - to catch up with your fellow band-mates - only to find that almost everyone has mysteriously disappeared. As your adventure continues, you'll soon learn that the fate of your friends, the Cyclone residents, and the world, rests in your hands. No pressure. If you've played the original Shivers, game play will be familiar. You have a band of life essence along the bottom of the screen that represents your current state of health. There's the usual eyeball, inventory and toolbar along the bottom...
---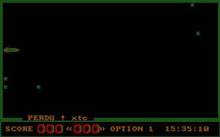 Serpy 1986 Non-English
French worms. ...
---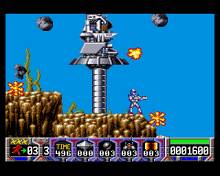 Turrican I 1990 Amiga
Just when you thought platform games could go no further, along comes Turrican, to be instantly showered with awards and accolades by the cartload. But is the finished product worthy of all this hyperbole? Yes, most definitely. It is technically superb yet low on originality - it borrows all of its game plan from various recent coin-ops, but the resulting mixture turns out to be an arcade style game worthy of merit. Turrican leaves the other two platform offerings on this page for dead. Whilst Flood and Prophecy are mainly about re-popularising cute platform games on 16-bit machines, Turrican is...
---