Old-Games.com: 8000+ Games to download
Search a Classic Game: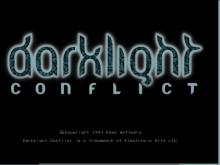 Darklight Conflict 1997 Arcade action
A space combat game like Wing Commander; you control space ship, as the lone man trying to save humanity from not one, but two alien races. It also has multiplayer modes like Race and Tag for IPX network users....
---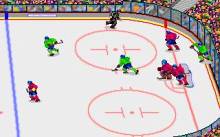 Face Off 1989 Sports
A great ice hockey game developed by Canadian sports games experts MindSpan (makers of Hardball series and Joe Montana Football). Faceoff! was MindSpan's first game, and was instantly touted (although not loudly enough in my opinion) as one of the best ice-hockey games of its time for the IBM-PC.What makes the game an instant classic? Although good graphics doesn't guarantee a good game, great graphics goes a long way toward making an ice hockey game an action-packed, "total immersion" experience. And immersion is what Faceoff! offers in spades. Even more so than Konami's classic Blade of Steel, Faceoff! offers very...
---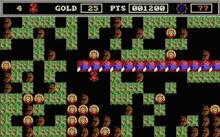 Rockford 1987 Puzzle
Boulder Dash, according to the article on Wikipedia, was one of the very few games that were designed first for the home PC and only later remade for the arcade, and not the other way around. Rockford was the home conversion of the officially-licensed arcade game.The game has been expanded from a simple diamonds-and-rocks game to feature five characters in five different settings: an explorer in the South American jungle (the toucans were a dead giveaway), a cook, a cowboy, an astronaut and a surgeon. There are four levels to each of the worlds. You collect coins while dodging or...
---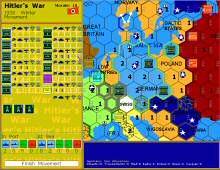 Hitler's War 2004 Board
Hitler's War is a solid fanmade translation of Avalon Hill's tabletop war game for Windows. In this "introductory level" wargame, you can lead the German army as Hitler against human players in hotseat, LAN, or Internet modes. There is no computer AI, so the game is useful only if you can find someone to play against. Since the game is very faithful to the board original, the excellent blurb and user review from Boardgamegeek.com apply to this PC version just as well: "The game examines the war in Europe at several levels. Operation Barbarossa concentrates on the great ground struggle...
---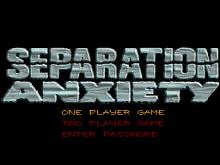 Spider-Man & Venom: Separation Anxiety 1995 Arcade action
Spider-Man & Venom: Separation Anxiety is the sequel of Maximum Carnage, one of the best superhero action games ever made. Unfortunately Maximum Carnage was never released on PC, so PC gamers will have to take comfort in the fact that while Separation Anxiety is inferior to its predecessor in every aspect, it is still a much better game than many other beat'em ups in the market.Much like its predecessor, Separation Anxiety places you in control of either Spider-Man or Venom, a criminal vigilante who possesses Spider-Man's powers and even greater strength. Both characters have different strengths and attack moves. Spider-Man...
---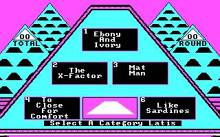 $100,000 Pyramid, The 1988 Puzzle
$100,000 Pyramid is a Game Show. You can have 1 to 4 player games and choose from 2 difficulty settings. "In the One Player Game the player selects one of 6 categories and then tries to guess one of the three best clues for each word given on the screen. There are 7 words in each category to guess best clues for and the player bonus round. For each correct clue entered the player must get 30 of the 42 possible clue correct or 20 in Beginner Mode" - $100,000 Pyramid Manual. This is an ok game, but it runs...
---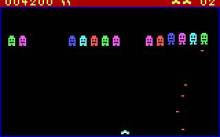 Round 42 1986 Arcade action
A traditional space shooter involving 42 rounds of battle against invading alien ships (hence the name). Each round of aliens has different movement and firing patterns. Against such odds, you are provided with two weapons: An auto-fire cannon, and a single-fire targeting laser. Extra ships and shots for the targeting laser are earned one per successful completion of a round (the auto-fire cannon has unlimited ammo)....
---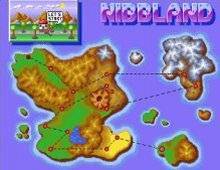 Super Nibbly 1993 Arcade action
Here's another cute clone of the famous snake, only this time instead of a snake you control a worm. Well, I guess you all do remember Nibbly anyway. You must collect all the dots in a limited time period. Every time you eat/collect one, you become larger. You must navigate through the screen and avoiding biting your own tail (you're not the perpetual snake - even if the game is a snake clone).The game itself is very colorful (although the colors of the screenshots don't exactly match those seen in the game). I especially liked the cute little intro. It's...
---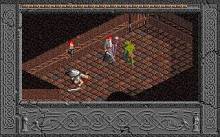 Immortal, The 1991 Action adventure
A game made up a bit like Cadaver, released in the same year. But the graphics show a different style - more mystic... Your task is to rescue Mordamir, your master - playing a young apprentice magician you have to get down 6 levels of this dungeon, where he is held prison. On your way you fight against orcs, acid, shadows, dragons, worms and other creatures. The fights are - hm, let's say a weird strategic/action-mixture, but once you understood the basical idea of it you will be able to manage your fights quite well, even against stronger enemies. Unlike...
---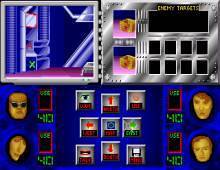 ShadowForce 1994 Adventure
ShadowForce is a decent sci-fi adventure game published as shareware in 1994 by MVP. You control a four-person "ShadowForce" team, futuristic police force who has been called to investigate a space station called Icarus. Similar to 90% of other sci-fi stories, you discover that something went wrong immediately as soon as you arrive: dead bodies everywhere, and crazy security robots bent on killing everything in sight. You must find the reactor and shut it down before the station explodes, then go on to solve the mystery in the next two episodes that were available only in the registered version (which...
---