Old-Games.com: 9000+ Games to download
Search a Classic Game: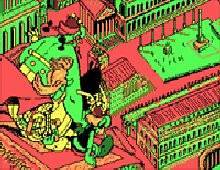 Asterix im Morgenland 1987 Non-English
An interactive comic with some little action sequences based on the popular comic book Asterix chez Rahazade. The Schneider CPC version of Asterix was one of the first computer games I ever played, and I remember being blown away by the beautiful graphics back then. In comparison, the PC version looks quite awful with its CGA graphics, but it was nice to see the game again. Might require a slow-down util as the action sequences run too fast on modern computers. Note: The in-game text is in German. ...
---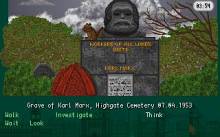 Clue!, The (a.k.a. Der Clou!) 1994 Adventure
The Clue! is an original mix of adventure and strategy. You are Matt Stuvysant, a young criminal wannabe trying to strike it rich in London... through robbery. Adventure elements include talking to other people for clues on potential targets and recruiting accomplices and getaway car drivers, while strategy involves planning every detail of the burglary, including escape route and more. Great game overall, but difficult due to the wealth of information and names you must keep track of. Still, if you like adventure games that successfully combine elements from other genres, or just unique games in general, The Clue! is...
---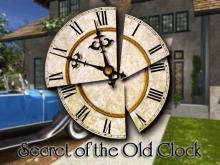 Nancy Drew: Secret of the Old Clock 2005 Adventure
Over the years, Nancy Drew has happily made friends with generation after generation of girls, helping many of them while away numerous happy afternoons spent curled up under a tree, in a comfy chair, or on the beach meticulously piecing their way to the end of one good mystery after another. Along the way, the Nancy archetype -- loyal friend, clever puzzle solver, intrepid adventuress -- has evolved with the times. In the '70s, she was the fieldstone that Velma from Scooby Doo was built upon. For the new century, she has become the inspiration that characters like Veronica Mars have...
---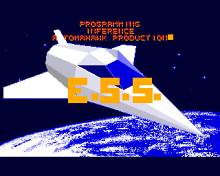 European Space Simulator 1989 Amiga
Rather than set it in the present day Tomahawk have decided to use the 2010 as their setting for a shuttle launch. Unlike the Arthur C Clarke novel, technology has hardly progressed. Shuttles are used for much the same purposes as they are nowadays: transport, research and repair. The only thing now is that laser guns are standard fitting and useful for blasting crippled satellites before they spread themselves over the Aussie outback. The game starts with you preparing your shuttle for launch on New Year's day 2010. It's a matter of sorting out what crew members are coming with you,...
---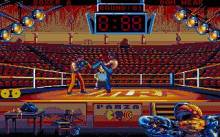 Panza Kick Boxing 1990 Sports
Endorsed by André Panza, this video game adaptation of Thai kick boxing features over 35 moves. Use the training gym to build up your character's abilities until you feel ready to take on an opponent. You also have the ability to customize your attacks. When you are ready, go to the ring to take on various opponents as you try to become the best kick boxer in the game. ...
---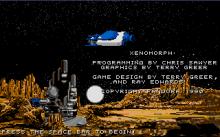 Xenomorph 1990 Role playing
You have landed your crippled ship at the Atargis mining station. The platform was deserted and no one answered your radio calls. Now you are forced to enter the station and find a way to get off the asteroid. Hopefully whatever happened to the 200 personnel in the labyrinth of mines under the station won't happen to you too. Xenomorph is a first person RPG. Like the Dungeon Master series everything happens in real time. You move around in 10 foot steps and can turn 90 degrees. You have two hands to fight and use items with, a belt and holster...
---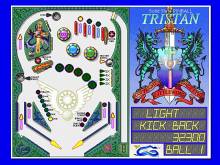 Tristan Pinball 1991 Arcade action
Solid State PINBALL Tristan by Amtex, is... Well it is a Pinball as we all can guess. And the game is from 1991/1992 and the first picture that pops up when you start up the game is a blue screen, but no worries it isn't the famous blue screen of death ;-) It's just the start-up screen where the music comes with a fanfare of horns, and about a moment later you are in the game. Where you control the two flippers with the left and right shift buttons. And you shoot your ball out by holding down the enter button...
---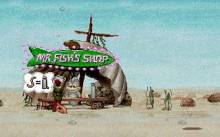 Curse of Enchantia 1992 Adventure
A good example of the "good concept butchered by poor execution" syndrome, Curse of Enchantia's only feature that is worth mentioning is the fact that it was one of the first CD-ROM adventure games ever released (although it took little advantage of 640MB storage, adding only a longer animated introduction than the floppy version). Way back in 1992, the game was bundled with many first CD-ROM drives, but its real use as a coaster will become apparent soon after one installs the game. The plot isn't half bad-- it's a typical hero-boy-kills-an-evil-witch story, which, as Roberta Williams has proven, can make...
---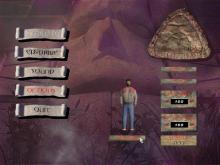 Ark of Time 1997 Adventure
In this third-person point-and-click adventure game you play the sports journalist Richard Kendall. In the summer of 1997, an expedition of four explorers have set out into the abysses of the Atlantic Ocean to find any traces of the mythical sunken city of Atlantis. They are the archeologist Professor Caldwell, the scientist Helen, the sponsor of the journey Mr. Blower and his nephew Simon. When they suddenly stop communicating Richard is the one whose task it is to find them. He would much rather stay in London and cover football matches but his editor insists and he complies. His search takes...
---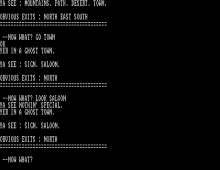 Lost Dutchman's Gold 1982 Adventure
Lost Dutchman's Gold is a below-average BASICA game distributed only among IPCO members. Due to limitations of the BASIC language and early 1980 hardware, the game amounts to little more than a quirky piece of PC nostalgia. From the MobyGames description: "Lost Dutchman's Gold is a text based adventure game. Your goal in the game is to find the legendary lost Dutchman's gold. You begin the game in a miner's shack; searching about, you find a map which seems to indicate where the lost gold is located. Now you'll set out on a dangerous quest through deserts, mountains, and even...
---