Old-Games.com: 9000+ Games to download
Search a Classic Game: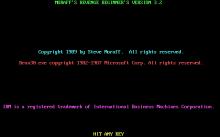 Moraffs Revenge 1988 Role playing
Moraff's Revenge is the first of Moraff's classic dungeon crawls. Choose to be a fighter or a wizard. The player runs about in four-color dungeons, returning to the top of the dungeon every once and awhile to climb up ropes into shops and inns. The game features a map which fills in as more territory is explored. The "Beginner's Version" includes 17 levels before registering to have the full 70 levels available for play. ...
---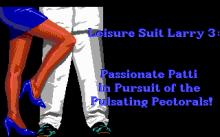 Leisure Suit Larry 3: Passionate Patti in Pursuit of the Pulsating Pectorals 1989 Adventure
Larry has settled down on Nontoonyt Island with his wife, whom he married in the second game. He has a job and a house, and life is treating him well - until the day his wife throws him out, leaving him for a girl. Poor Larry! His world crumbles around him, and he falls into a deep despair ... until he remembers that he is the one and only Larry Laffer! Join Larry as he once again goes out looking for female companions. The game introduces a completely new feature in the genre: the ability to switch between characters in mid-game!...
---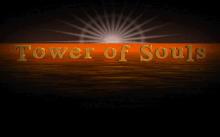 Tower of Souls 1995 Role playing
Tower of Souls is set in the land of Chaybore in which seven crystals are responsible for the well being of its citizen. But the evil demon Baalhathrok has taken them and so the player controls Treeac to retrieve them. In an isometric view, Treeac has to conquer the seven floors of Baalhathrok's tower. The player controls a ball with his mouse and clicks where Treeac should go. Fights are initiated with left clicking on the enemy, for other actions the right mouse button has to be hold while choosing a symbol on the bottom of the screen. Besides of fighting...
---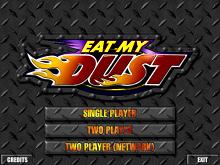 Eat My Dust 1997 Sports
One of the most little-known games published by Sierra, Eat My Dust by Funnybone Interactive is a decent racing game for kids that in many ways merits its obscurity. Games Domain says it all in the review back in 1997: "Eat My Dust is very much in the vein of Mario Kart, with the basic aim of the game being to reach various checkpoints in the allocated time, whilst finishing the race in the highest position and fastest time possible. Although this seems pretty straight forward, each of the tracks contain various roadside obsticles, and you have a number of...
---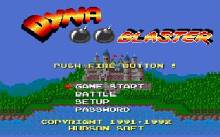 Dynablaster 1992 Arcade action
The black spaceman kidnapped Bomberman's beloved and brought her to his chambers in the castle, far beyond his reach, over the rivers, forest and mountains. Bomberman's job is to save her, battling the sea of the enemies, with only bombs at his disposal. The range of Bomberman's bomb explosions can be upgraded with time, but if he dies, the range resets back to the minimum range and Bomberman loses his previous skills. Some updates can make Bomberman walk through the walls, increase his speed, and give him some other assets to aid him in his quest to save the woman he...
---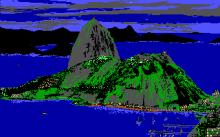 Emmanuelle 1989 Adventure
This adventure is licensed from an autobiography of the rather sordid life of Maryat Rollet-Andriane. It centres around a man's efforts to attract her - suffice to say, he doesn't do so by offering her a can of Pepsi, and the game is not aimed at the young or prudish. Most of the game involves using multiple-choice dialogue to produce the correct outcome. You will visit bars, beaches, and many glamorous cities. There are also several sub-games, as you visit a casino, fend off love rivals, and face down smugglers. ...
---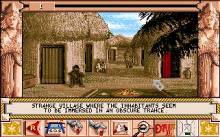 Chrono Quest 2 1990 Amiga
Ever spent the better part of an afternoon looking for a shop that you thought you roughly knew the location of? Well, Psygnosis' new graphic adventure game, Chrono Quest 2, will strike a familiar chord for such forgetful readers. Any new re-lease by Psygnosis is usually worth looking at for the stunning graphics if nothing else. This one, well, the graphics (which are mostly still-screen) aren't too bad, but they won't have you waking up Dali to tell him the news. The situation follows on from Chrono Quest 1, which wasn't exactly a high-profile game, at least by Psygnosis' standards. If...
---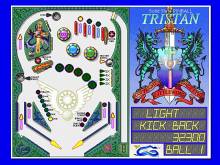 Tristan Pinball 1991 Arcade action
A decent pinball game from Amtex that is short on graphics and animation but long on gameplay, Tristan Pinball is billed as a "solid state pinball simulation," and it actually comes quite close to that claim. The game brings many innovations in real pinball tables to the computer screen for the first time, including Multiball, Double Scoring, Time Features, and many surprises. Ball physics are reasonably realistic, and the manual even includes primer on basic pinball skills (e.g. double flip, deflect pass, beat down, and nudging) that can be used in the game. There is only one table, and a...
---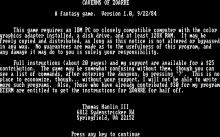 Caverns of Zoarre, The 1984 Role playing
Caverns of Zoarre is a dungeon crawl role playing game similar to Telengard. You may choose to be either a fighter or a sorcerer as you explore the multi-leveled caverns for gold and treasures. Your view of the maze like caverns is top down, and only the area near you is visible. Throughout the caverns are many different types of enemies you'll encounter; you can try to bargain or run to get out of trouble, or fight and use spells to defeat enemies. You can also optionally enable real time fighting instead of turn based. As you explore and (hopefully)...
---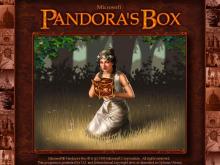 Pandora's Box 1999 Puzzle
Pandora's Box combines elements of 3D puzzles with paintings, pictures and artwork ranging from city landscapes to renaissance masterpieces. The story mode lets you search after seven "tricksters" who have escaped from Pandora's Box. These mischief makers include Anansi, Puck and Eris. Each one of these evil creatures has their own story and background as well, which is told through cutscenes and text. On your search for the tricksters, you will go to different cities around the world. Each location's puzzles are represented with landmarks and cityscapes in them. You might have to do a jigsaw puzzle of the Statue...
---