Old-Games.com: 9000+ Games to download
Search a Classic Game: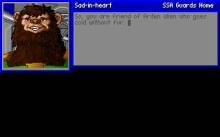 Nomad 1993 Simulation
One of the most overlooked classics of all time, this is essentially Starflight with a much more developed and interesting plot (although with less sophisticated details and interface): an alien ship that mysteriously crashed into earth suddenly gives mankind the hyperdrive technology. As captain, you must pilot the craft into unknown worlds to find out its origins. Despite ridiculously simplistic combat, the game has many memorable alien characters and trade goods. It's also very non-linear, and there's *plenty* of dialogues and sub-plots....
---
Journey to The Center of The Earth 1988 Strategy
One of the most obscure strategy games ever made, Journey to The Center of The Earth is an interesting but frustratingly difficult adventure/strategy/action hybrid based on the celebrated novel of the same name by Jules Vernes. As in the book, the game's plot is an intriguing blend of Victorian-era science and zeal for adventure. Upon hearing news of Prof. Lindenbrok' succesful trek to the center of the Earth, you decided to join his team on their second journey into the fastastic realm. You can choose your alter ego as one out of four eminent scientists in the 19th century (e.g....
---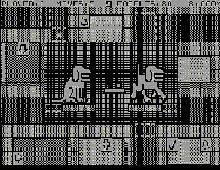 Fooblitzsky 1985 Strategy
Some remake of a strange boardgame. You're a dog and have to collect some items on a board. The game is unfortenately 2-color mode....
---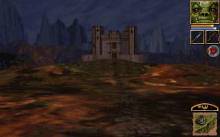 Anvil Of Dawn 1995 Role playing
Anvil of Dawn was one of the last "non 3D" first person role-playing games (i.e. Eye of the Beholder). The player starts out by picking from one of five characters (two female, two male and one lizard!). The player then proceeds to training with a wizard who teaches the player a basic spell in the discipline of the player's choice (earth, wind, fire, water, lightning). The party then sets off on a quest to destroy an evil warlord. The adventure will take the player through castles, dungeons and shipwrecks....
---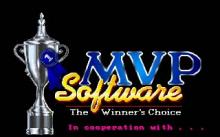 Pickle Wars 1994 Arcade action
Aliens that look like giant dill pickles are about to conquer the human colony of Arcadia. Five hundred years of continuous peace led to complete disarmament, and humans find themselves unprepared for war. Only a brave lad named Dave, armed with a Salad Shooter, can face the murderous pickles. His task is to find ancient weapons and put an end to the war.Pickle Wars is a platform game using dual parallax scrolling. Dave jumps, shoots, and climbs his way through the large levels, locating weapons and unlocking areas. The game came in a trilogy of three episodes: Invasion of...
---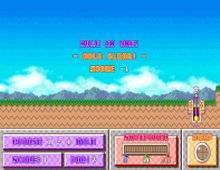 Kimaru 2001 Sports
This is a strange little golf game, played with a side view, and holes resembling more the screens of platform games. Using Left and Right arrow keys, you must decide the power of the shot, and with Up and Down you choose the type of bouncing, until you find the desired trajectory of the ball, showed by an outline. Then, you press the Z key, and you will have to re-press it when the power bar and the jump indicator reach the level you chose. If you succeed, you will get the desired shot; if not, try again, but like...
---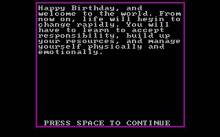 Alter Ego: Male 1986 Simulation
Alter Ego is a "life simulator" that presents you with a series of life experiences that take you from infancy through old age. You can live out your own life, or the life of someone else, possibly someone you wish you could be. You can live out fantasies without risk, relive your childhood, or maybe see the world from your kids'/parents'/spouse's eyes.The life situations you encounter have the ability to change or become eliminated based on previous decisions you make. While the life you live is a fantasy, the actions you take have very real and thought-provoking responses....
---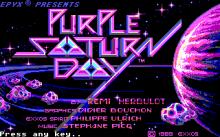 Purple Saturn Day 1989 Sports
Master of innovative sports games (California Games etc) returns to form with this strangely compelling futuristic first-person intergalactic olympics game designed by Exxos (a team of French programmers that would later form Delphine). The game features weird alien cars, interesting courses (both space- and land-based) and the same knuckle-blistering fun as in other Epyx games.The games you can compete in are all, as befits Exxos, wacky and hard to describe. In "Tronic Slider Test," the goal is to get the "energy ball," shoot it with laser, and gain points by collecting pieces it leaves behind before your opponent does. "Ring...
---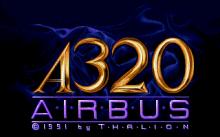 A320 Airbus (Edition USA) 1993 Simulation
A320 Airbus (Edition USA) is to successor of A320 Airbus (Edition Europa) which focuses on a realistic simulation of flying. The main difference is a new flying area which covers the USA between the Western and Northeastern coasts with about 240 airports. Additionally the flight physics are further improved. During gameplay the player has to fly specified routes and navigate himself by using the supplied map. There is also a training mode available....
---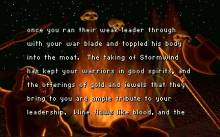 Warcraft: Orcs & Humans 1994 Strategy
One of the true classics. Like Command & Conquer, Warcraft helped forming one of the largest fan groups for the strategy genre. With its unique and exciting gameplay Warcraft showed how well dome a game could be developed and no other game was near what the developers had achieved with Warcraft. The game is taking place in a fantasy world with orcs and humans fighting each other. Depending on whom you decide to play as you will have to defeat your opponent during several different missions and of course it gets harder and harder for every mission.In the first mission...
---