Puzzle Games #11
Search a Classic Game: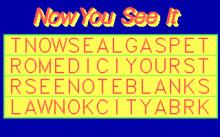 Now You See It 1990
In this simulation of the famous TV game show, the questions are asked, and players must find the answers, which are hidden in a letter grid. Players win points by finding the answers before their opponents do. The first player to earn 1000 points is the winner, and goes on...
---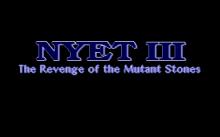 Nyet 3: The Revenge of The Mutant Stones 1993
One of the most original and best Tetris clones ever made, Nyet 3 makes the basic align-the-falling-blocks gameplay of Tetris much more fun with the addition of money, which you collect when beating a level, and many power-ups. MobyGames' more extensive description says it all: "At it's heart, Nyet 3...
---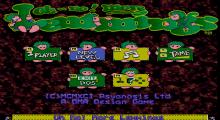 Oh No! More Lemmings 1991
Although a standalone game, Oh No! More Lemmings is basically an add-on to Lemmings. The game features 100 new levels, and all new graphics and music. ...
---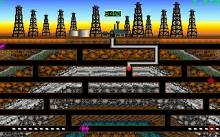 Oils Well 1990
Guide your drilling bit through the underground tunnels and collect the dots of oil. Be sure to avoid the underground pests in the eight levels and beyond. With each completed level you get to see a small movie of Slater the "Petrosaur" in his antics in this remake of the...
---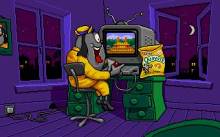 One Step Beyond 1993
The star of the game is Colin Curly, a dog, who loves Quavers (snack). It was a stormy night and Colin was playing his favorite game Pushover. Accidentally, Colin has been digitized and curlified into his computer at the moment he completed the final level of the game. Colin has...
---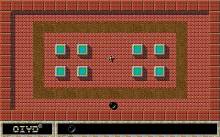 Oxyd 1992
You control a black orb that is trapped in a puzzle like labyrinth. A level is called a landscape and there are 200 landscapes to solve. The main gameplay element consists of opening the so-called oxydstones. You can bump against a oxydstone and a colored symbol will appear. Uncover two...
---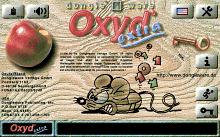 Oxyd Extra 1994
The gameplay is very simple: you control a small black ball with your mouse, you have to bounce it against blocks which display a symbol. Now you have to find the matching symbol. The game can be seen as a mixture of Marble Madness and good old Memory. The levels...
---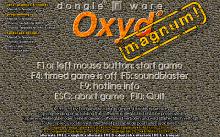 Oxyd Magnum 1998
Oxyd Magnum is a fun shareware puzzle/action hybrid that plays like a cross between Marble Madness, Macintosh classic Crystal Quest and Chip's Challenge. The game even boasts a plot: overnight, the (digital) life-supporting Oxyds have closed up and no longer emit vital oxygen. As a result, the digital world is...
---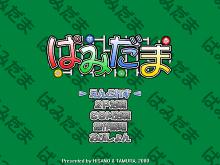 Pamidama 2001
Pamidama is a fun reflex-based puzzle game featuring characters from several anime series. The idea: catch all the balls that roll from the top of the screen in the right container whose color matches the ball's color, by switching two containers at a time. It is not hard to predict...
---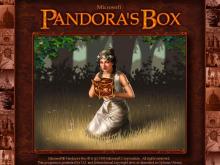 Pandora's Box 1999

---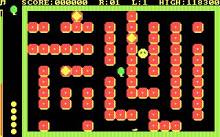 Pango 1983
Pango is a clone of the arcade game Pengo. The player controls Pango, a penguin like character, in a maze made of ice blocks which can be moved around or destroyed. Also in the maze are bees which chase the player and will cause a life to be lost if...
---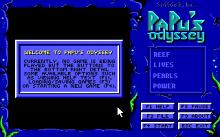 Papu's Odyssey 1993
Papu's Odyssey is a fun puzzle game in the same style as Epyx's popular Chip's Challenge game, except that you are now a fish fighting to save the reef. Your job is to open the gate that opens the way to the next level. To do that, you need to...
---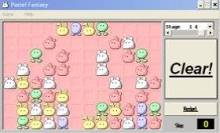 Pastel Fantasy 1998
Pastel Fantasy mainly looks like a kid game as both the colours and things within the game reminds me the most about toys. Behind all of this you will find a very addicting puzzle game though where you have to clear the game screen for pastel creatures. At the beginning of...
---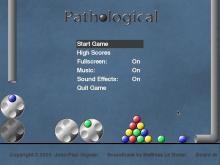 Pathological 2003
Pathological is a very polished enhanced fanmade remake of Logical, a neat brainteaser by Rainbow Arts. The official website says it all: "Pathological is a puzzle game consisting of marbles that roll along paths, and interact along the way with various devices and gadgets. The object of each level is...
---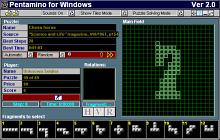 Pentamino for Windows 1998
Pentamino for Windows is an excellent computer version of Pentamino, a popular Russian puzzle game that plays like a variant of Pentagrams. Each puzzle displays a shape made up of 1x1 square tiles, and 12 pieces of various shapes. Your goal is to place those 12 pieces on the shape...
---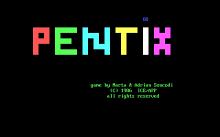 Pentix 1986
Tetris clone with difficult strange blocks. ...
---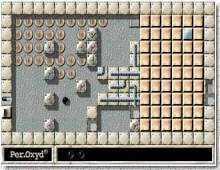 Per.Oxyd 1993
The Oxyd series is a fun shareware puzzle/action hybrid that plays like a cross between Marble Madness, Macintosh classic Crystal Quest, and Chip's Challenge. The game even boasts a plot: overnight, the (digital) life-supporting Oxyds have closed up and no longer emit vital oxygen. As a result, the digital world...
---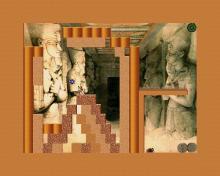 Pharaoh's Ascent 1997
Pharaoh's Ascent is one of the most challenging and most innovative arcade-style puzzle games ever made - too bad the game remains unknown to most gamers due to limited on-line-only distribution on a shareware basis. The plot: you are an Egyptian soul who is going on a journey after death...
---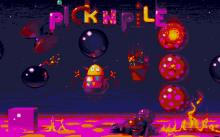 Pick 'n Pile 1990
Pick 'n Pile is a Tetris-style puzzle game. On each level there are a variety of symbols arranged in columns on the screen. By moving the symbols around, you need to create columns which contain identical symbols; once all the symbols in a column are the same, that column disappears....
---
Picture Hunter 2000
A fun computer version of well-known "spot the difference" games that were popular in kids' magazines, Picture Hunter features dozens of images to. Gameplay will be familiar to anyone who grows up reading magazines or the Sunday papers: you are given 2 pictures/photos that look almost identical. Your job is...
---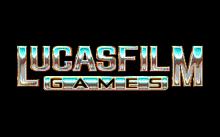 Pipe Dreams (VGA) 1989
Each level of this abstract puzzler challenges the player to set up a network of pipes to allow an unspecified substance known as 'flooz' to flow through as many of those as possible. The pieces are offered in random order, and there are seven different types - straight lines going...
---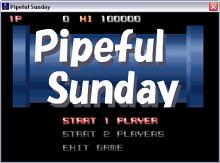 Pipeful Sunday 2002
Pipeful Sunday is a nice freeware Pipe Mania clone. While it doesn't show off any revolutionary concepts or push the envelope, it is a well-coded, fun, and challenging puzzler. Your goal on each level is to lay different pipe segments to create a secure pipeline from the "IN" tile to...
---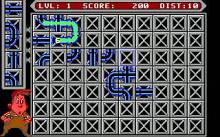 Pipemania 1989
Pipe mania is a very small and addictive puzzle game. It is the European release of LucasFilm's original Pipe Dreams. The objective of the game is to connect pipes with each other so the water can flood through them. The graphics are a little bit simple and boring, but...
---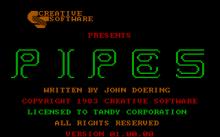 Pipes 1983
Pipes is an educational game for children. Your mission is to figure out the shortest, most economical way to get the neighborhood hooked up to the water supply system. Decide what kind of pipe to buy and where to put it. Remember that your budget is limited so you don't have...
---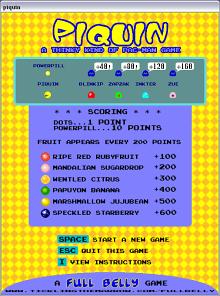 Piquin 2003
Piquin is a neat and unique game from Ancil Anthropy, game designer who kindly made this game open source as well as freeware. If you think you have seen and played every kind of Pac-Man game, Piquin will surprise you with its original concept and delight you with its gameplay....
---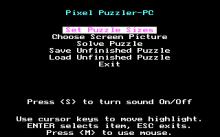 Pixel Puzzler 1990
This program takes graphic files, splits them into squares and shuffles the squares around. By selecting two squares with the keyboard or mouse, the player can swap their locations on the screen. The object is to reassemble the image to its original appearance. A variety of now-obscure graphics formats are...
---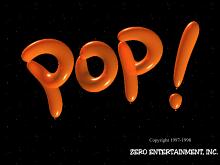 POP! 1996
POP! is an addictive and unique action/puzzle hybrid from Zero Entertainment that combines lots of hot air with humorous and brain-teasing scenarios. Your job is to guide Pop, a cute balloon dog, to the moon. This deviously demented puzzle game features 87 levels of cartoon mayhem. Jumping from balloon to balloon,...
---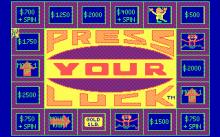 Press Your Luck 1988
Based off of the 80s game show of the same name, Press Your Luck allows you to play as one of three contestants in both a quiz round, and a shot at the "big board." Correct answers in the quiz round give spins for the board round. Spins give you...
---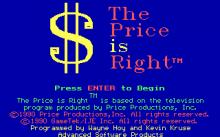 Price is Right, The 1990
GameTek's home version of the classic game show The Price is Right. Bob Barker and the Beauties are not present, but a multitude of pricing games from the show, as well as the wheel and the showcase, have been faithfully replicated. Four (or a maximum of eight, counting both rounds...
---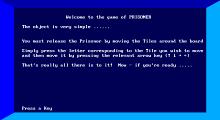 Prisoner 1988
Prisoner is a fun and (at first) rather difficult puzzle game.It was written by Jim Bates in 1988, and was done as an experiment with EGA graphics, then released as a Christmas present for The POWER Tower Bulletin Board which Bates ran in those days. It's basically a PC version...
---