Puzzle Games #12
Search a Classic Game: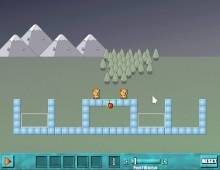 PuffBOMB 2003
PuffBOMB is a unique and fun puzzler by a lone programmer, coded as an entry in the third 48-hour game competition at Ludum Dare. The game plays like a stripped-down, tiny version of The Incredible Machine: get the hamsters to the exit area(s) on each level by placing bombs strategically....
---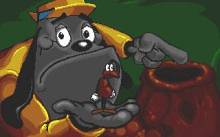 Pushover 1992
You're playing a small ant that is willing to help a friend in rather inconvenient situation. Apparently, your friend, doggie, likes to eat cookies that has his picture on their box, and he got himself so carried away that he lost the balance, and a bag of cookies fell deep...
---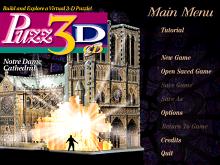 Puzz-3D: Notre Dame Cathedral 1997
Puzz-3D: Notre Dame Cathedral is the first entry in a semi-successful series of compurized versions of "Puzz-3D," Wrebbit's line of 3D jigsaw puzzles. As with the other titles in the series, Notre Dame is basically a 3D jigsaw game with some "extras" - in this case, the ability to walk...
---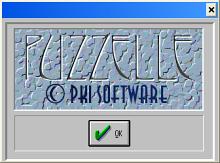 Puzzelle 1995

---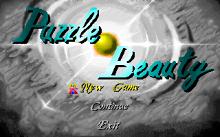 Puzzle Beauty 1993
Puzzle Beauty is a so-so Tetris variant developed by Dynasty International, famous (in Asia) Taiwan company whose Flame Dragon series consistently rank among some of the best-selling games in Asia. One of their first commercial titles, Puzzle Beauty is little more than Xixit with adult theme. Your job, as we...
---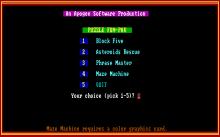 Puzzle Fun-Pak 1987
Puzzle Fun-Pak is a collection of four puzzle games:Block FiveAsteroids RescuePhrase MasterMaze Machine...
---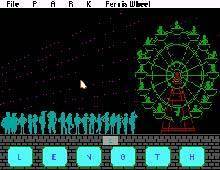 Puzzle Gallery (a.k.a. At The Carnival) 1990
The first and only game using "The Puzzle Gallery" engine, for which there were supposed to be multiple Puzzle Disks. Extremely similar in style to Are We There Yet? and The Fool's Errand, "At the Carnival" includes word searches, jigsaws, block puzzles, word squares, crosswords, jumbles, cryptograms, mazes, and more.Each...
---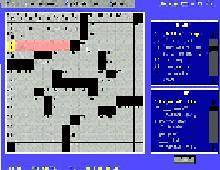 Puzzle Master 1991
Nothing fancy here, just a collection of good old crossword puzzles from the New York Times, implemented flawlessly. This game lets you print out the clues, save puzzles in progress, and even create your own crossword puzzles! With scoring system, this is the only crossword puzzle game you'll likely ever...
---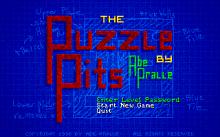 Puzzle Pits 1995
Puzzle Pits is an excellent, albeit relatively unknown, puzzle game that was criticized so heavily by most "professional" game critics that its shelf life was miserably short. Reading some of the reviews, however, I can't help but feel that critics who are assigned to review small games are those who...
---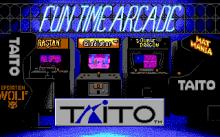 Puzznic 1990
The challenge in each level of Puzznic is to manoeuvre a selection of blocks into place so as to clear them all, by making them make contact with blocks of the same design. You control a cross-hair, which can move a block left or right, which can cause it to...
---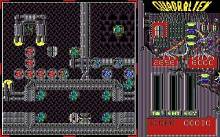 Quadralien 1988
Quadralien is a real-time puzzle game in the tradition of Sokoban.The future: Mankind's space stations throughout the solar system are powered by a huge space reactor, called Astra. Astra is about to break down. The enemy race of Quadraliens has captured the reactor; now, contamination is rising and total failure...
---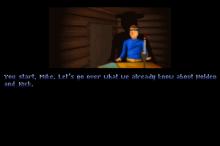 Quadrax 1996
Quadrax is a puzzle game where two characters have to be moved to a predefined place in logical levels. As the entire screen is filled with obstacles, the characters need to help each other get around by flipping switching, moving stone blocks, opening doors, and using lifts. It was originally...
---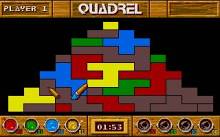 Quadrel 1990
Quadrel is a puzzle game in which you must fill each piece of the selected layout with different colored paints, without painting two adjacent pieces the same color.At the beginning of a game, you can select the desired image or layout, as well as whether you wish to play with...
---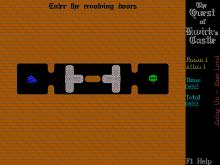 Quest of Kwirk's Castle, The 1991
In The Quest of Kwirk's Castle you are playing a green guy, Kwirk, who want either going up in the castle, or exit it. The gameplay is based on Kwirk; it's your job to help Kwirk reach the exit.The game offers two different game modes, "Going Up" and "Heading Out",...
---
---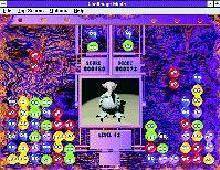 Qwirks 1995
This is a a good Tetris variation with difficult computer opponents, each with unique playing style. Players can manipulate the path of falling Qwirk, rotate its position, and speed up its rate of descent. When four Qwirks of the same color connect horizontally or vertically, they explode and are eliminated,...
---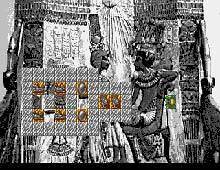 Ra 1990
The Curse of RA is a puzzle game where the player (Scarab) has to escape a pyramid by solving the riddles. The player needs to remove all stones on a board by finding a counterpart. Only two stones with the same symbol can be removed at a time and they...
---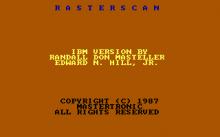 Rasterscan 1988
Controlling the spherical MSB, a repair droid which has lost most of its capabilities, only you can repair the Rasterscan spaceship and bring it back under control. The first job is to get the droid repaired, after which you must regain control of the power generator and the engines.The game...
---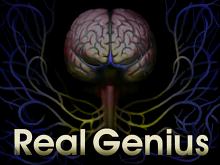 Real Genius 1997
Real Genius from Pro One is a decent compilation of 20 puzzle games, most of which are family word games we are all familiar with - games such as cryptograms, scrabble, and word builder. You get over 250 levels spanning across dozens of games, from math sliders to word sliders,...
---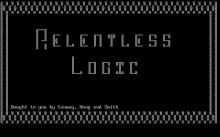 Relentless Logic 1985
Relentless Logic (also called RLogic) can be considered a fore-runner of the mighty Windows application Minesweeper, with some differences.For once, Relentless Logic actually has a bombastic patriotic background story: You play a private of the US marines who must get an important message over a mine field. The future of...
---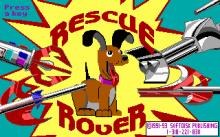 Rescue Rover 1991
Rover, your favourite pet dog, has been dog-napped by evil robots, and it's up to you to save your pup before something terrible happens. Explore 30 levels of mind-bending puzzles to solve and deadly robots to destroy....
---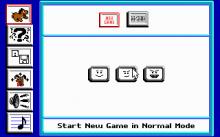 Rescue Rover 2 1991
Aliens have mistaken your dog Rusty for Earth's leader and sent evil robots to kidnap him. Now you must free him from a variety of doggie prisons in this puzzle game. Dognapped consists of a series of rooms containing forcefields, traps, robots and obstacles which you move through with precisely...
---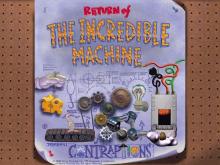 Return of the Incredible Machine: Contraptions 2000

---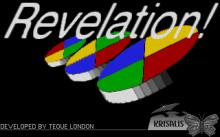 Revelation 1992
Revelation is an abstract puzzle game based around cracking codes on safes. Each of the 80-plus levels is a top-down view of an arrangement of locks and dials, which must be aligned so as to unlock each section by having identical colors touching each other. Not all locks can be...
---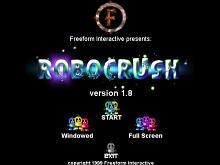 RoboCrush 1999
RoboCrush is an excellent Bust-A-Move-style game from Freeform Interactive, the now-defunct company behind the popular Ingava.com freeware site. You play RoboCrush 5000, a cute anime-style robot whose goals is to vault colorful creatures called "Bleeps" up to the sky with your hammer. Once you match 3 same-color Bleeps, they will...
---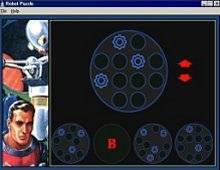 Robot Puzzle 2002
Robot Puzzle is a neat little brainteaser from NZP. The plot, which seems superfluous for this kind of games, goes as follows: "The POLARIS spaceship is rapidly approaching Mars. Captain Corbett prepares the XTR-4, earth's most advanced robot, for a surveillance mission on the planet's surface. A problem arises however,...
---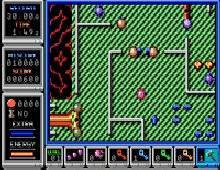 Rock 'n Roll 1990
DescriptionRock 'n Roll is a real-time puzzle game.You know, there's this ball, and it's stuck in a labyrinth for no apparent reason. Never mind -- let's just help him out, okay? You control the friendly, spotted ball with the cursor keys. It'll gain speed as it goes, bounce off when...
---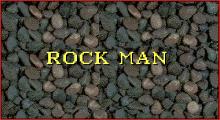 Rock Man 1994
You have to push the rocks around to form ladders to reach the butterflies. Once you have collected all of the butterflies the exit door will open. 15 puzzles with lots of items to assist you along the way including a rope and pick axe....
---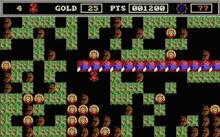 Rockford 1987
This is a rocks'n'diamonds style game. Play in six different worlds (as a explorer, cook, doctor, etc.) of increasing difficulty, and grab the coins/apples/hearts while avoiding the boulders. And there are enemies to make your life (even more) difficult....
---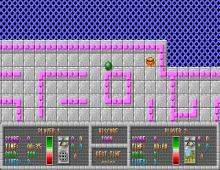 Rollin 1995
You're transformed into a ball by an evil scientist. Now you must roll your way through various mazes if you hope to survive.You'll encounter monsters, keys, doors, trampolines, acid to destroy walls, and more....
---