Puzzle Games #4
Search a Classic Game: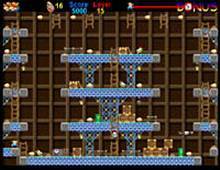 Chuckie Egg: The Next Batch 2001
Most of you weren't even born when original Chuckie Egg was made. It was 1983, the dawn of computer gaming. ZX Spectrum was just born, almost no games were made for it at all... then the legend arrived. Chuckie Egg, probably the best known Spectrum game of all time! And...
---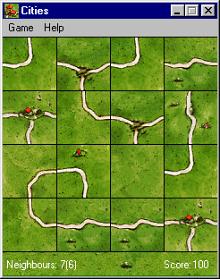 Cities 2001
Cities is a fun freeware brainteaser for Windows designed by Max Tillberg based on Carcassonne, an inventive board game from Hans im Gluck, a German publisher, published outside Germany by Rio Grande Games. There's even a little plot: as engineer in a small country, the King wants you to build...
---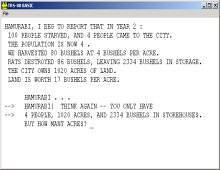 Classic Basic Games (a.k.a. Best of Creative Computing) 2002
This is a real blast from the past :) Anthony Wood of AW Software has kindly programmed and released, for free of charge, a wonderful Microsoft BASIC interpreter for Windows 95 and above. Included in this download is not only Wood's interpreter, but also dozens of classic BASIC games -...
---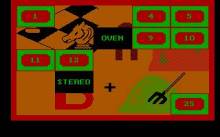 Classic Concentration 1988
Concentration was a popular game show in the mid-to-late 1980s, and this game was adapted from that television program.Two players can play against each other, or one person can play against a computer generated opponent. The answer to the puzzle is hidden by tiles. The tiles have words denoting game...
---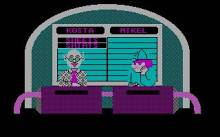 Classic Concentration 2 1989
Concentration was a popular game show in the mid-to-late 1980s, and this game was adapted from that television program. The sequel, Classic Concentration 2nd Edition, features the same interface with even more puzzles to solve. Two players can play against each other, or one person can play against a computer...
---
Classic Puzzles 2003
Yet another excellent coffee-break game for Windows from NZP of Canada. From the official site: "A collection of 4 classic puzzles. Each puzzle consists of a number of counters placed on a board. Your goal is to shuffle the pieces into their winning position using the smallest number of moves....
---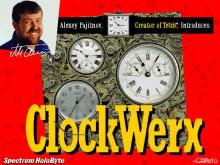 ClockWerx 1995
Clockwerx is a delightful action puzzle game of split-second thought and timing. The plot: someone must journey into the inner workings of the great Clock of the Universe to repair it. The player must maneuver a spinning clock hand from one part of a grid to a gateway that leads...
---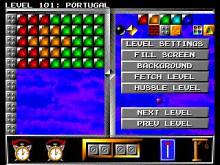 Clockwiser 1994
On each of Clockwiser's levels (100 on Amiga/Amiga CD32 and 110 on DOS), you are presented with a level layout, and a target layout, with the aim being to transform the former to match the target. The levels consist of a collection of cogs, which can be rotated either clockwise...
---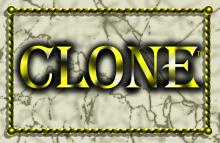 Clone 1997
Clone is a fun but very little known shareware puzzle game from Antares, published by LaserPoint Software in 1997. Since LaserPoint no longer existed, the full registered version is being distributed as freeware from the author's website. As the official blurb says, "...in Clone, you control a little blue hero...
---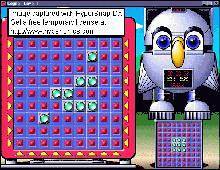 Cogito 1992
Similar to an old Milton Bradley board game, Cogito is a nice little puzzle game for Windows in which you must use the vertical and horizontal levers to arrange the pieces to match the given pattern. The number of moves you can make is limited, and levels get difficult very...
---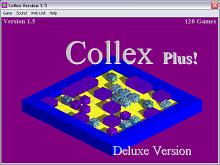 Collex Plus! 2002
Collex Plus! is the "definitive" version of A1 Collex, a fun and unique brainteaser. Your goal is to move your box around the board to collect all the numbered boxes in ascending order, as well as all the star boxes from the gameboard. This must be done under a strict...
---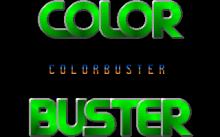 Color Buster 1992
Color Buster is a puzzle game, that, like all classic puzzle games is easy to get into but hard to master. On each level, you have a goal: Push color boxes of same color together to unite them, then push the resulting box into the exit tile. Each level is...
---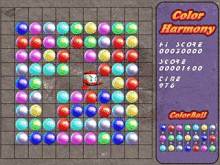 Color Harmony 2000

---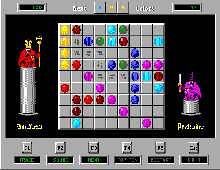 Color Lines 1992
This is the original Russian version of Lines. It is a turn-based board game. Each turn, three randomly colored balls fall on random grids of a 9x9 squares board. Your mission is to re-locate the balls (by moving one of them per turn) to form lines consisting of five or...
---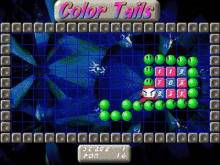 Color Tails 1998

---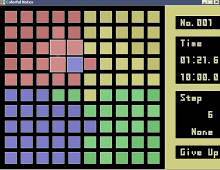 Colorful Notes 2005
Colorful Notes is a clever swap-the-tile puzzle game from Japan. Your goal: join same-colored tiles together by swapping them. There is a catch, though: some tiles cannot be moved, and some others can only be moved a certain number of times (the number of moves allowed is written on the...
---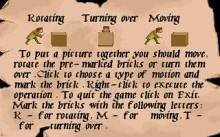 Columbus Discovery 1992
In the puzzle-game you have to gather the pictures divided on 30 fragments placed on sides of bricks. You are allowed to rotate the group of bricks in vertical plane, to turn them over in horizontal plane, and to move them to new places. Less moves you made the higher...
---
Columns 1991
Tetris like game. Original....
---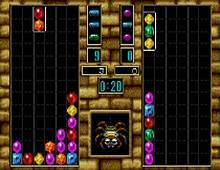 Columns III: Revenge of the Columns 2000
Dr. Robotnik's Mean Bean Machine and Columns III: Revenge of the Columns are two excellent Windows version of SEGA's popular SEGA Genesis puzzle games. The games are both Tetris-style "falling blocks" games, but with some differences. Dr. Robotnik is more similar to Puyo Puyo (and, in fact, SEGA uses characters...
---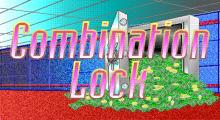 Combination Lock 1992
In the simulation of another CBS' TV gameshow with 1,000 questions you can play with a friend or challenge a computer-selected opponent. The gameshow was not aired at the times of game production and released for the first time as pilot in 1996.The object of the game is to earn...
---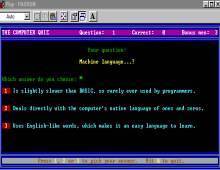 Computer Quiz 1988
This multiple-choice quiz game, published as part of Big Blue Disk #21, asks one hundred questions about computer hardware and software. Interestingly, the player is given three "men," and loses a man every time a question is answered incorrectly. Bonus men can be earned by answering ten questions correctly. At...
---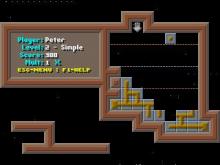 Connectris 1996
This is a puzzle game, and they tend to be difficult to describe. This one is no better.Basically it is a cross between Tetris and Pipe Mania. Pieces of pipe fall from the top of the screen, and you have to stack them so that all the exits are connected....
---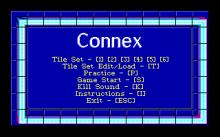 Connex 1992
Starting this game will remind you of Pipe Dream, but the gameplay is a bit different. You will still make a pipe using various pipe pieces that appear. However, you don't get points for how long your pipe goes or how many times you overlap the pipe. Instead, you get...
---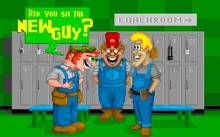 Contraption Zack 1992
It's Zack's first day on the job as a repairman at GadgetCo, and the whole factory is falling apart. He must navigate over 60 rooms, avoiding deadly traps, to find his missing tools and fix the incredibly complicated, interconnected machinery.Contraption Zack is best described as a combination puzzle adventure and...
---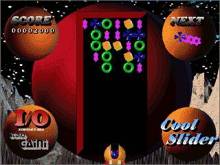 Cool Slider 1998

---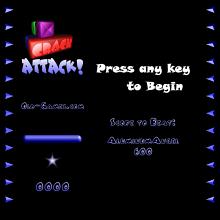 Crack Attack 2002
Crack Attack is a good remake of Nintendo's popular Tetris Attack game, offering both faithful gameplay to the original and LAN capability. If you have never played Tetris Attack, here is the summary of the rules: "Slowly, your stack of blocks grows from the bottom, and you've got to make...
---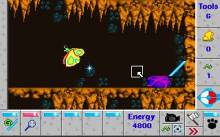 Creepers 1993
Help your worm change into a butterfly by getting past obstacles. You will use a lot of tools and your intelligence.Gameplay is similar to Lemmings, but now with bugs....
---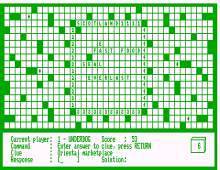 CrossCheck 1986
CrossCheck is an excellent and very rare PC version of TSR's board game of the same name, designed for 1-4 players. The game is a unique cross between a typical crossword puzzle and Scrabble. Four players (3 of which can be computer-controlled) write answers to crossword-style questions on an erasable...
---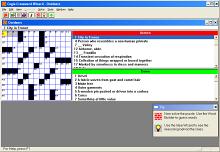 Crossword Wizard 1994

---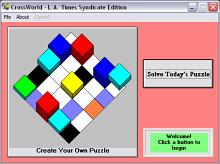 CrossWorld 2 1995
CrossWorld 2 is a superior sequel to GameTek's little-known CrossWorld, a great crossword puzzle program for DOS. This time, the game engine has been improved for Windows 95, with a clean user interface and two additional games. The original CrossWorld is included - same puzzles from the L.A. Times Syndicate...
---