Puzzle Games #7
Search a Classic Game: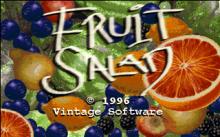 Fruit Salad 1997
Fruit Salad is a freeware single-player game in the style of Puzzle Bobble. The player is presented with a canon that fires different coloured fruit at a stack of fruit at the top of the screen. When three or more pieces of fruit of the same colour are stacked together...
---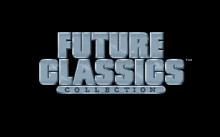 Future Classics Collection 1990
I'll let MobyGames' excellent rap sheet for this great action/puzzle collection speak for itself: "Future Classics Collection is a collection of five distinctly-themed, well-balanced games that stress action and strategy equally. Future Classics was created by past developers from Cinemaware and Microprose. The gameplay of the five games is extremely...
---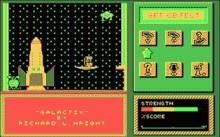 Galactix 1988
Platform puzzle quest game. CGA version. ...
---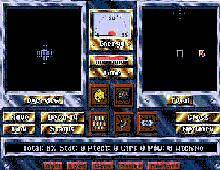 Game of Life 1992
The Game of Life is a real-time puzzle game. Calling itself modestly "the ultimate cell simulation", the Game of Life tries to recreate the processes inside a simple organic structure. This body consists of five different types of cells: The proto cells (the "flesh") will grow quickly and aimless, unless you...
---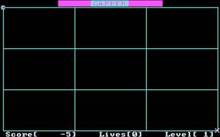 Gapper 1986
A straightforward Amidar clone, Gapper adds a little twist, acknowledged in its name. As in its predecessors, the goal here is to change the colour of a series of lines (here in a straight grid pattern of increasing complexity) by traversing all of them -- a dotless Pac-Man or...
---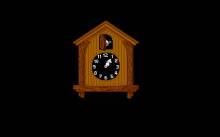 Gear Works 1992
This top-down puzzle game starts with a screen featuring a number of red cogs at different parts of the screen, and a grid of pegs (which become less complete on later levels). Your task on each level is to use a number of gears of one of 3 different sizes...
---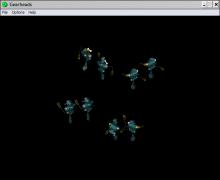 Gearheads 1996
This inventive puzzler sadly disappeared from stores in less than 6 months after its release. The premise is simple: try to get 21 wind-up toys over to your opponent's side before he can do the same to you. The difficulty lies in the unique abilities of toys, e.g. Clucketta the...
---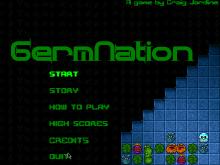 Germ Nation 2000
Germ Nation is a fun, addictive freeware puzzler that could have been inspired by SNES classic Dr. Mario and Bust a Move, but with many twists of its own. Similar to Tetris and its numerous clones, your goal in Germ Nation is to shoot out germs from a big pipe...
---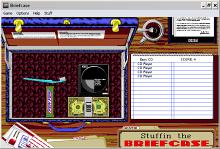 Getaway Entertainment 6 Pack for Windows 1992
Notable for being the last game from Epyx before the company folded, Getaway Entertainment 6 Pack for Windows is a fun collection of parlor/card games that much better than 1987's very ugly black-and-white-only precursor, Getaway Entertainment Pack. It is worth noting that the original was black and white only because...
---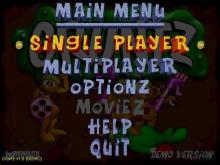 Gruntz 1999
Gruntz is an addictive but vastly overlooked puzzle game from Monolith. A bit like Lemmings but with the addition of combat and more focus on puzzles than real-time precision, Gruntz will definitely appeal to fans of turn-based puzzles like D.R.O.D.. Quandary Review's good review of this game explains the mechanics...
---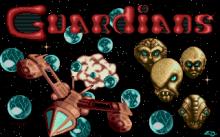 Guardians 1991
Guardians is a puzzle game in which the player takes the role of a guardian who is tasked with containing the so-called "Triffids", balls of pure energy. The game is played in a top-down perspective and has two plains. The upper plane is where the player is active and has...
---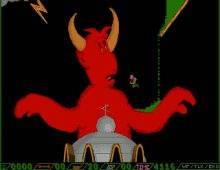 H2O 1996
H2O is a puzzle game similar to the classic Lemmings, where you guide pixel-sized droplets of liquid to an exit with the help of a humanoid cursor. You do this by deploying bridges, blowing up obstacles and building barriers to alter the course of the stream that falls from the...
---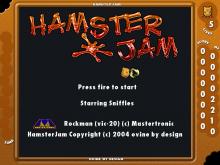 HamsterJam (a.k.a. Rockman) 2004
HamsterJam is a superb Windows remake of Commodore / Spectrum ZX game called Rockman, originally released by Mastertronic in 1985. As the official site explains, "...the idea of the game is to collect all the rings from each room while avoiding monsters, skulls and the deadly boulders. Upon completing a...
---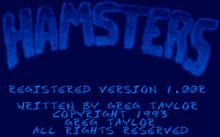 Hamsters 1994
Hamsters is a charming Lemmings knock-off, with the player again in charge of issuing instructions to individual members of a stream of little rodents toward the goal of ushering them toward a level exit (through 83 levels in the registered version!) and their continued survival, all under a time limit....
---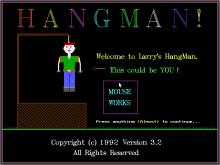 Hangman! 1992
Hangman is a word-guessing game based on the original paper and pencil version played by at least two players. The game shows you a series of blank spaces. You have a certain number of guesses; every time you guess wrong, a drawing of a hanged man will keep being drawn until...
---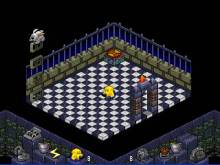 Head over Heels 2003
Head Over Heels is an amazing PC remake of out of the best Spectrum ZX games - indeed for all systems - ever made.Set in a pseudo-3D environment, Head over Heels is a unique game that offers an intriguing blend of puzzle and action genre, with a strong emphasis on...
---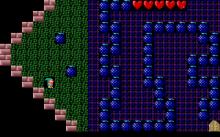 Heartlight Deluxe 1994
A game that's very similar to Boulder Dash - the basic idea of collecting things while avoiding being crushed is the same. The protagonist of the game is a dwarf named Mosiek, who decided to marry Rachel. A necessary condition, however, is showing the cunning and skill. He goes...
---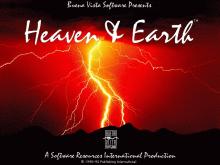 Heaven & Earth 1992
An original card game, a visual puzzle game and a physical pendulum puzzle rolled into one. Players can tackle hundreds of puzzles individually or in a sequential "Pilgrimage" where their progress is rewarded with zen koans. ...
---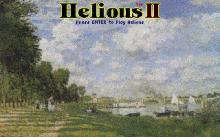 Helious 1993
Helious II is the second part of Helious. The first part was available without charge as a shareware "teaser" where you had to pay for the second part of the game, Helious II. Just as with Helious, you must maneuver a balloon through the different levels. Every maneuver releases air...
---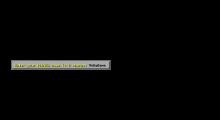 Hero's Heart 1992
Hero's Heart is a game where you play the role of a hero and you have to collect all of the hearts in a level before proceeding to to next level. There are 25 levels. To collect the hearts, you have to solve a series of puzzles such as, how...
---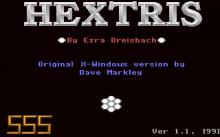 Hextris 1991
Hextris is an excellent Tetris clone that introduces hexagonal (beehive-shaped) blocks as the name suggests. The edges of the playing area are also hexagonal-shaped to fit the blocks. The game is more difficult as a result, since there are many more exposed edges that must fit with other tiles -...
---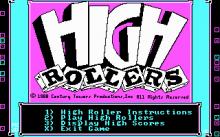 High Rollers 1988
The game is a computer adaptation of an American TV game show, where two competitors should win a game and money, throwing dices, eliminating certain numbers and answering trivial questions. The gameplay flows in real-time mode. For each roll of the dice a question must be answered. The first player should...
---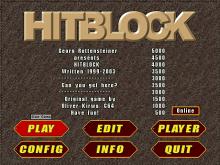 HitBlock (a.k.a. Crillion) 2004
HitBlock is a fun puzzle game that started life as a remake of C64 game Crillion but ended up offering much more than its predecessor. The premise is simple: use the arrow keys to bounce a ball around the screen, destroying all the blocks in order to go on to...
---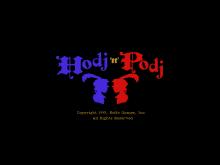 Hodj & Podj 1995
The legendary Steve Meretzsky (author of Spellcasting games, among others), turned his wacky sense of humor to this charming collection of puzzle games cleverly strung together in a big quest: as either Prince Hodj or Podj, compete with your twin to rescue the princesses. To gain clues and gold, you...
---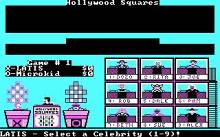 Hollywood Squares 1988
This is a GameTek conversion of the '80s version of the game show Hollywood Squares. Two contestants play a version of tic-tac-toe, with "celebrities" filling in for the squares. The selected celeb is asked a question, answers it, and the contestant must agree or disagree with their answer. A correct...
---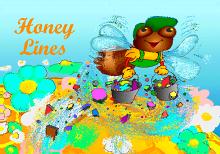 Honey Lines 1995
Honey Lines is a neat little puzzler from Russia's Nikita, one of the country's oldest and largest developers that went out of business in 2002. The game is a decent variant of Gamos' superior Color Lines: your goal is to swap pieces on the board to make them disappear. Whenever...
---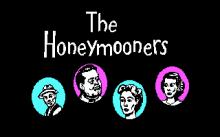 Honeymooners, The 1988
Based on the 1950s TV series of the same name, The Honeymooners is a series of mini-games. Ralph Kramden wants to hold the annual meeting of the Raccoon Lodge at Miami Beach. However the treasury is fairly empty and in order to make his dream come true, the Kramden's and...
---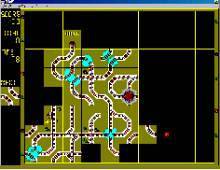 Hosen 1999
Hosen is a nice freeware puzzle from Japan that offers an innovative twist to Pipe Mania and similar games. Instead of connecting pipes together to channel water to the destination, your goal in Hosen is to connect rails of various shapes to establish a route that will take the train...
---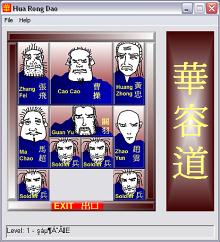 Hua Rong Dao 2000
Hua Rong Dao is a great PC version of classic Chinese sliding-tile puzzle game with a simple premise: on a 2D board, rearrange rectangular and square blocks of varying sizes to get the biggest square block to the exit. One of the oldest brainteasers in history, the game has been...
---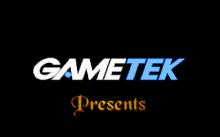 Humans 1 & 2 1993
The Humans is a Lemmings-influenced arcade puzzler, released on CD alongside its expansion pack, Humans 2. The gameplay of The Humans has similarities to Lode Runner and Lemmings. Your job in this action puzzler is to help prehistoric man to evolve by helping them discover tools, the wheel, weapons, or even...
---