Educational Games #4
Search a Classic Game: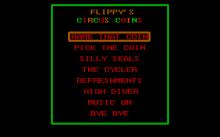 Flippy's Circus Coins 1988
This educational program, included in Big Blue Disk #26, provides several mini-games designed to teach children about change. "Name That Coin" and "Pick the Coins" simply deal with matching coins and their names. "Silly Seals" requires the player to choose coins thrown by seals in order to reach a certain...
---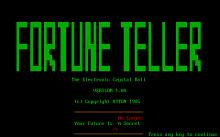 Fortune Teller 1985
One of the first - if not THE first - commercial fortune telling software for PC, Fortune Teller from Xyton Software is remarkable not only because it is old, but also because it is not based on Western astrology like most later programs. Instead, Fortune Teller is based on Hindu...
---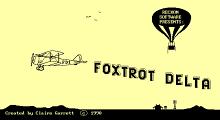 Foxtrot Delta 1990
Foxtrot Delta is a fun and unique edutainment game that teaches kids about Australia geography and history, as well as medical facts about major diseases. The game casts you as a doctor/pilot working for Australia's Royal Flying Doctor Service (RFDS), a wonderful airborne medical service founded by Reverend John Flynn...
---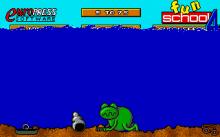 Fun School 4: for 5 to 7 Year Olds 1992
Freddy the Frog presents six games designed to help school-starting children build on their numeracy and literacy skills. The rules for each game are explained in the form of short stories. Controls primarily use the cursor keys and enter.Freddie is building a house, but can only add a log to...
---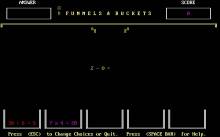 Funnels & Buckets 1984
Funnels and Buckets is a very old but excellent math game for primary school students aimed at teaching basic arithmetic. Your goal: type the correct answer to each math equation that is falling out of the funnel before it hits the bucket. When all the buckets are filled, the game...
---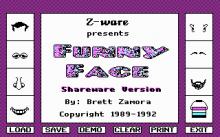 Funny Face 1990
A children's game wherein kids could make their own drawings by butting several parts of a face together. You could choose from a high amount of noses, mouths, ears and eyes, as well some haircuts. In version 2 there are double as much tiles to make faces off, as well...
---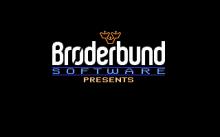 Galleons of Glory 1990
This historical simulation / adventure game recreates the voyage of Spanish explorer Magellan as he circumnavigated the world. Deal with rough seas, unreliable maps, rebellious crews, unfriendly natives, and other hazards of 14th-century voyagers. Features persons and situations based on actual history....
---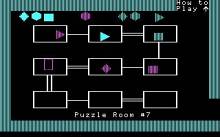 Gertrude's Secrets 1986
Gertrude's Secrets is, in brief, what you get when you take Warren Robinett's Adventure for the VCS (right down to the quacking dragon-duck!) and turn it into an educational object-sorting game for a younger audience than the earlier Robot Odyssey and Rocky's Boots.Gertrude is a benevolent goose who maintains what...
---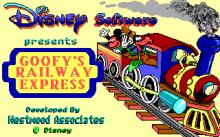 Goofy's Railway Express 1991
In Goofy's Railway Express, Goofy and Mickey are railroad conductors helping children with colors and shapes. This is done by a series of screens for young children to start visually identifying shapes and color matching while the train crosses colorful landscapes. When the train smoke stack produces colored shapes, such...
---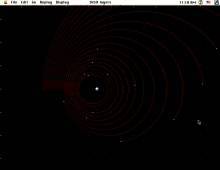 Gravitation Ltd. 1997
Gravitation Ltd. is a great edutainment software for the Macintosh, released as shareware in 1997. Billed as "solar system simulation," it can probably be more accurately described as a 2D gravity/orbital simulation. The program lets you build solar systems, gravity slingshots, or create your own asteroid belt. You can simulate...
---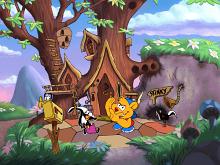 Great Word & Math Adventure, The 1996

---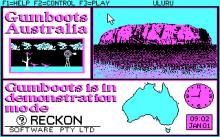 Gumboots Australia 1990
Head on down to Australia and help solve a plethora of mysteries as an investigator in Gumboots Australia. This graphic adventure game plays like a somewhat managerial click and find type of game. You start with almost no money and must travel from town to town looking for answers. Travelling...
---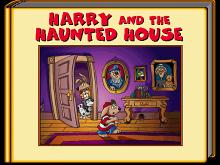 Harry and the Haunted House 1994
This is an "electronic book", a game designed for kids which consists of a linearly-told story through still screens filled with hot-spots where kids can click and get animations, sounds, etc.In this one, Harry and his friends Stinky, Earl and Amy are playing baseball when Harry hits one into the...
---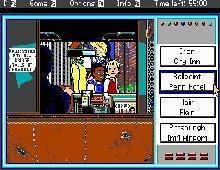 Headline Harry and The Great Paper Race 1991
As a new reporter for Headline Harry, the editor of the US Daily Star, you must prove yourself by going out and getting the story fast and right. You are up against Marvin Muckraker and his reporters for the Diabolical Daily, a sensationalistic tabloid paper, whose stories are quite funny,...
---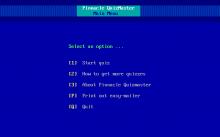 Hitchhiker's Guide to the Galaxy Trivia Challenge 1990
Test your knowledge of Douglas Adams' Hitchhikers' Guide to the Galaxy series (radio script flavour) with 60 questions in multiple-choice and fill-in-the-blank format....
---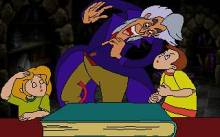 I.M. Meen 1995
The eponymous villain of the game I.M. Meen has a serious pet peeve-- he can't stand it when children study. Thus, he creates a magical book that, when read, traps children in Meen's evil labyrinth. As the player, you assume the role of one of 2 new children trapped in...
---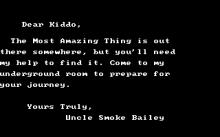 In Search of The Most Amazing Thing 1983
Your uncle, Smoke Bailey, was a great adventurer and explorer. In one of his adventurer's he found "The Most Amazing Thing", an item that holds the secrets of the universe. Unfortunately he lost it somewhere in the Mire. Now the wants you to take up the task and recover the...
---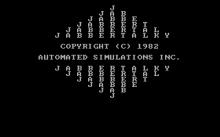 Jabbertalky 1982
Jabbertalky contains several educational puzzle games where you need to figure out sentences created by the computer. The game can be played by one or more players, and there are eight levels of difficulty are available in each of the game modes:Free Verse: This game mode isn't interactive; the computer...
---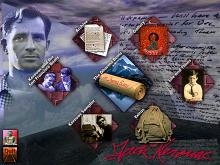 Jack Kerouac Romnibus, A 1995
Jack Kerouac, icon of the Beat Generation, novelist and poet, is one of the most influential writers of the twentieth-century. Not surprisingly, his thoughts have had a growing impact on today's Generation X (of which yours truly is a member). For those looking for more insight on this influential writer...
---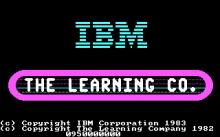 Juggles' Butterfly 1983
Juggles' Butterfly is an educational game for children ages 3-6. The game includes a keyboard template with two blue lines which will divide the keyboard into four sections. During the game you will be asked to press keys which are located above, below, to the left, or to the right...
---
Katie's Farm 1991
Katie's Farm is the last title (except for a remake in 1994 called The New Katie's Farm) in Lawrence Productions' highly awarded McGee series of games for preschoolers. Like other McGee titles, Katie's Farm is designed to familiarize toddlers with life and activities in the farm. Together with McGee and...
---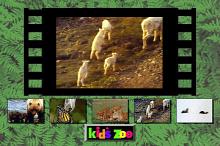 Kid's Zoo: A Baby Animal Adventure 1993
Kid's Zoo: A Baby Animal Adventure is an interactive book where kids will learn basic facts about baby animals.All the activities are presented as mini-games. For instance, "Who Am I?" is a guessing game that displays photographs of part of an animal."Photo safari" will challenge you to find one of...
---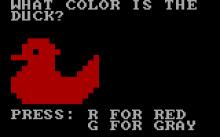 Kids on Keys 1984
This is a collection of three mini-games designed to drill in some basic reading and typing skills to the young microcomputer user of the early '80s. The first of the three games (each with four skill levels, demanding faster reflexes) presents the player with falling letters which must be typed...
---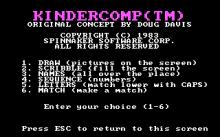 Kindercomp 1983
An early learning game for kids aged 3-8. This program is a collection of 6 learning games:Draw, Scribble, Names, Sequence, Letters and Match.Kindercomp helps children improve their reading and counting skills as well as familiarizing them with the computer keyboard....
---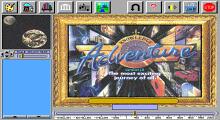 Knowledge Adventure 1990
The first in the successful "Adventure" series, Knowledge Adventure is a multimedia almanac that features clever hyperlinks from one screen to the next (long before the World Wide Web was born) in the spirit of James Burke's "Connections" TV series, and a comprehensive database.Grainy graphics is the only downside....
---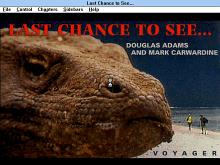 Last Chance to See 1993
We think of Douglas Adams as the author of the Hitchhiker's Guide to the Galaxy--in other words, as a superb chronicler of other-worldly life forms and one of the funniest people in the world. In Last Chance to See, Adams's habitat is earth and his subject is a serious one,...
---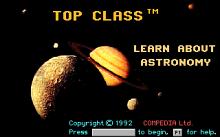 Learn about Astronomy 1993
Learn about Astronomy, Learn about the Human Body, and Learn the Alphabet are three excellent edutainment titles in Compedia's underrated 'Top Class' series. Each title combines concise lectures (complete with clear diagrams and illustrations), quizzes, and mini-games into a captivating learning environment for kids. Learn about Alphabets has more fun...
---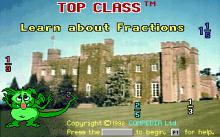 Learn about Fractions 1992
Learn about Fractions is a good educational title by Compedia, part of its excellent "Top Class" series. Like other Top Class titles, Learn about Fractions offers a series of multiple-choice quizzes. Although the scope of the program is limited to fractions, it is nonetheless a solid title that teaches most...
---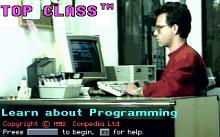 Learn about Programming 1992
Learn about Programming is yet another excellent entry in Compedia's long line of "Top Class" edutainment titles. As the title suggests, this little program teaches the basics of programming in concise multimedia lectures and fun multiple-choice quizzes. The graphics are crisp, the topic interesting, and the difficulty level is just...
---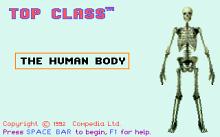 Learn about the Human Body 1993
Learn about Astronomy, Learn about the Human Body, and Learn the Alphabet are three excellent edutainment titles in Compedia's underrated 'Top Class' series. Each title combines concise lectures (complete with clear diagrams and illustrations), quizzes, and mini-games into a captivating learning environment for kids. Learn about Alphabets has more fun...
---