Educational Games #9
Search a Classic Game: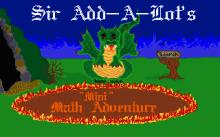 Sir AddaLot's Mini Math Adventure 1993
In the game you as a brave knight Sir AddaLot have to defeat evil dragon Scorch, who terrorize castles. To drive away dragon you must eliminate equal results of mathematical expressions, while walking from castle to castle. After freeing the land, king and queen rewards you with a fish for...
---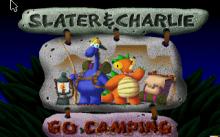 Slater & Charlie Go Camping 1993
This interactive storybook tells the tale of two friendly dinosaurs who are getting ready to go on an exciting camping trip. Gentle dialog and colorful, cartoon graphics set the tone. Each virtual page of the book features a different scene with a number of "hot spots," which children can click...
---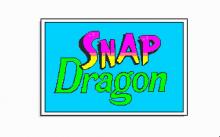 SnapDragon 1992
In this educational game you should help Snap Dragon, accompanied by his friend Teddy Bear, to make his photo album. Choosing one of the six locations (bathroom, underwater, farm, camping, bedroom, space), you should sort several items (4-10) on the screen and make a shots to add new photos to...
---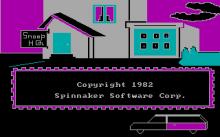 Snooper Troops 1982
The first in a series of 'edutainment' titles long before the portmanteau term was popularized by marketing executives, Snooper Troops had younger players trying to solve the mystery of "The Granite Point Ghost", an entity that is trying to scare the Kim family out of their new home. Using the SnoopNet...
---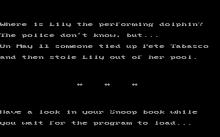 Snooper Troops 2 1982
Lily the Dolphin has been stolen from the Tobasco Aquarium. As an ace Snooper Trooper detective, it is up to you to find her. There are many suspects in the case, including a Hollywood director needing a dolphin for a role in a film, and a photographer wanting to take...
---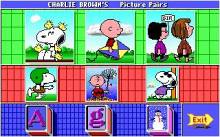 Snoopy's Game Club 1992
Snoopy's Game Club is a small collection (3 in total) of mini games for kids: SNOOPY's Animated Puzzles - are jigsaw-puzzles of animated pictures featuring Snoopy and the gang. You can choose how many pieces to break the picture in (from 4 - 64 pieces) and when completed, you will get...
---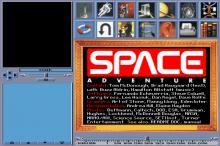 Space Adventure 1992
The universe is at your fingertips in this interactive adventure through space. Read about WWII rockets, eclipses, how humans might live in space colonies, and more. Watch Voyager flybys, Apollo launches, former President John F. Kennedy challenge America to go to the moon, computer simulations, and other videos. By clicking...
---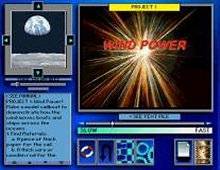 Speed 1993
This is an interactive movie straight from the IMAX movie "Speed". The film is about the never-ending quest that humans have to go faster. It starts out in prehistoric times, when all humans speed was restricted to how fast they could run. Other inventions appear and evolve, like the wheel...
---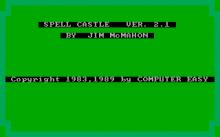 Spell Castle 1986
Spell Castle is an educational game designed to improve spelling and typing skills. During the game, words will appear from the top of a castle and float downwards. You need to type in the words correctly before they reach the bottom of the screen and destroy your drawbridge. There are...
---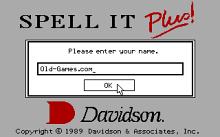 Spell It Plus! 1989
Solid edutainment program from Davidson & Associates.Design for age 9 to adult, Spell It Plus! helps students master of 1000 commonly misspelled words in a format that makes spelling so entertaining , they will want to spend hours at the computer. With five progressive learning activities, the game teaches common...
---
Spider Run 1995
Spider Run is a single player, shareware game for DOS that has elements of Pipe Dream in its game play. The game takes place on a grid that's six cells deep and eight cells across with the corner cells unused. Into this grid are placed web elements. These are right angle...
---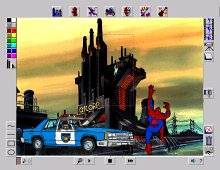 Spider-Man Cartoon Maker 1995
Spider-Man Cartoon Maker is a fun Windows application that brings Spider-Man and his universe to life on your computer screen. Designed primarily for kids, the program is easy to use, and the possibilities are staggering. You can create animated Spider-Man cartoons by choosing characters, scenery, and other objects, and then...
---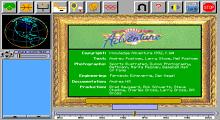 Sport Adventure 1991
Based on the same engine as Knowledge Adventure its first release, Knowledge Adventure (the company)'s Sport Adventure is a solid database of sport factoids and trivia, complete with hundreds of photos, intuitive interface, and timeline. Although it is more of an electronic database than a game, Sport Adventure does feature...
---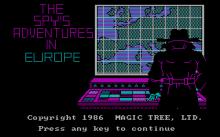 Spy's Adventure: Europe 1986
Another installment of Spy's Adventures is set in Europe this time. And as other games in the series, it is an educational adventure game similar to the Carmen Sandiego series of games. Jewel thief and smuggler extraordinaire, Dr. Xavier Tortion (aka Dr. X), is somewhere in Europe along with numerous jewels...
---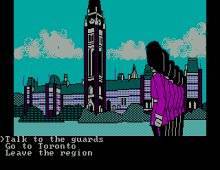 Spy's Adventure: North America 1987
Dr. Xavier Tortion (aka Dr. X), jewel thief and smuggler extraordinaire, is on the loose; intelligence reports he is somewhere in North America along with numerous jewels he's stolen. Your job will be to find the jewels and locate Dr. X! Adventures in North America is an educational adventure game...
---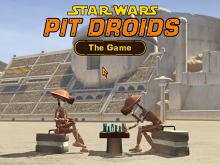 Star Wars: Pit Droids 1999
Star Wars Pit Droids is a great puzzle game from the fine minds at Lucas Learning. From the nicely detailed graphics to the intricate gameplay to the jazzy soundtrack, this one is sure to appeal to any Star Wars fan young or old. George Lucas has always been interested in using...
---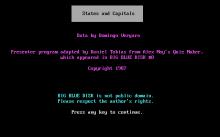 States and Capitals 1988
This simple quiz game, included in Big Blue Disk #20, is designed to help players remember United States capitals. It contains five data sets, each containing ten states and capitals that must be matched up. At the start of play, each state is matched with a random capital; by swapping...
---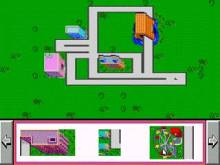 Stickybear Town Builder 1991
The game starts with a green expanse of land, awaiting development. The player selects different kinds of buildings to erect on the site, which the game instantly builds and automatically connects with roads. Then, in the two play modes, the player gets to navigate a little car through the lanes...
---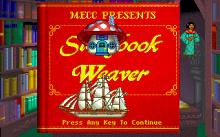 Storybook Weaver 1992
Yet another excellent edutainment title from MECC, Storybook Weaver is the perfect incentive for developing writing skills, allowing children to express their creativity with pictures and sounds. Storybook Weaver is designed for kids who want more than just a sheet of paper to jump-start their creative writing. Young writers choose...
---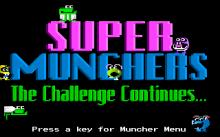 Super Munchers 1991
Super Munchers combines arcade action and trivia questions. Players must control their Munchers and munch the answer to questions while evading Troggles, who, when they can't eat Muncher, are perfectly happy to change the board's answers and make things more confusing. More than 10,000 factoids across 130 topics (Oscar winners,...
---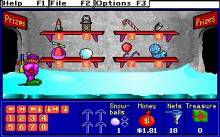 Super Solvers - Treasure MathStorm 1992
Treasure MathStorm! is an educational game designed for kids ages 6 to 8. The Master of Mischief has invented a machine that changes the weather and froze Treasure Mountain! Your goal is to restore the mountain by locating different treasures on the mountain and returning them to the castle at...
---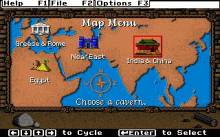 Super Solvers: Ancient Empires (a.k.a. Challenge of the Ancient Empires) 1990
As a Super Solver, your job is to recover the hidden treasures of the ancient world in 4 caverns (Greece & Rome, Egypt, India & China and Near East) to reach the fifth and final cavern where the ultimate challenge awaits you. Challenge of the Ancient Empires is a platform...
---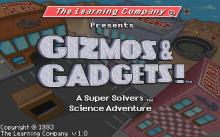 Super Solvers: Gizmos & Gadgets 1993
The object of this game is to defeat Morty Maxwell, the Master of Mischief by beating him in fifteen races. 5 of them in Automobiles, 5 in Alternate Energy vehicles, and 5 in Airplanes. Players have some leeway during the first races, but as the number of races they win climbs...
---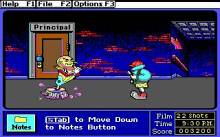 Super Solvers: Midnight Rescue 1989
The Master of Mischief is planning on making Shady Glen School disappear! He has invented disappearing paint, and turned five paint brushes into robots to paint the school at midnight. The Master of Mischief himself is disguised as a robot, and it is your job to find him. Hidden throughout...
---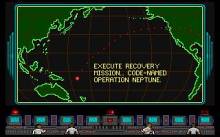 Super Solvers: Operation Neptune 1991
A crashed space capsule containing vital information from a space expedition is polluting the ocean. Your job is to pilot your submarine through an under sea maze, gather all the pieces of the fallen capsule, and uncover the mystery of the space expedition. While navigating your submarine you will frequently run...
---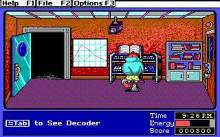 Super Solvers: Outnumbered! 1990
One of the education games aimed for older elementary students, from The Learning Company's classic Super Solver's series. The Master of Mischief is up to his old tricks and now is trying to take over the Shady Glen TV Station, with the help from his robot Tele. Now the Super Solver...
---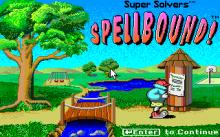 Super Solvers: Spellbound! 1991
The Master of Mischief is at it again. This time he has devised a great spelling be in which he will submit robots to win the spelling bee for him! When you first log in you will be asked to chose a category of words (Holiday, homophones, etc.).You are then...
---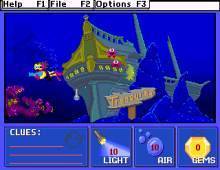 Super Solvers: Treasure Cove 1992
If your kids love the ocean or even just animals, they will love Treasure Cove!. Kids have to plug holes in the reef and find the jewels that made up Rainbow Bridge. They must reconstruct the bridge to Invention Island to bring The Master of Mischief to justice. Kids will start...
---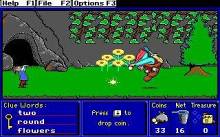 Super Solvers: Treasure Mountain 1990
Treasure Mountain is the forerunner to the popular kids game Treasure Cove. Both games pit kids against the Master of Mischief, a villain who thrives on creating what else but mischief. Players must wander through the levels of the mountain finding the elves who have a scroll in their hand. If...
---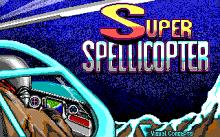 Super Spellicopter 1991
Super Spellicopter is a fun spelling game designed to help motivate kids aged 5 to 12 to become good spellers. The game expands upon the 1983 classic edutainment title, Spellicopter by DesignWare by adding several enhancements, most notably bright EGA graphics. The education is presented in a fun first-person flying simulation....
---