Old-Games.com: 10,000+ Games to download
Search a Classic Game: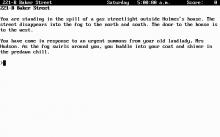 Sherlock: Riddle of The Crown Jewels 1988 Adventure
Bob Bates' first game for Infocom (before the much better Arthur and his more famous role as the founder and designer of Legend Entertainment) showcases his talent in writing and attention to detail, but sadly falls flat as a game due to very obscure puzzles and lack of direction. In this game that follows in the footsteps of the world's mose famous fictional detective, Sherlock: The Riddle of the Crown Jewels, lets you play the role of Doctor Watson, Holmes' trusted companion. You have received an urgent summons from the Prime Minister that is, naturally, of national importance: the royal...
---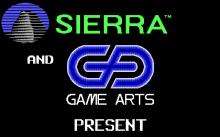 Silpheed 1989 Arcade action
I agree that this game doesn't have much to offer in terms of graphic, but bare in mind that this game is an old game. The fact that they managed to create such a smooth engine is in itself incredible, but when you take the addictiveness and fun ratio into account, the game scores a five mark. I wish I could give it more. Silpheed is a space shooter. You fly around and clear a route through enemy infested territory. It is a type of game we know too well today, but it was virtually unheard of in the days...
---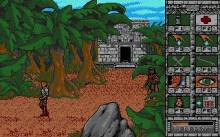 Le Fetiche Maya 1989 Arcade action
Silmarils' first action / adventure game is a great game of exploration and survival that sets the stage for many more survival games to come. As intrepid explorer, buy equipments and tools and head into the wild Yucatan jungles to find the mysterious Mayan fetish. The side-scrolling view changes to a cool 3D view when you drive the jeep, adding variety to the fun-but-frustratingly-difficult gameplay that combines arcade action with traditional puzzle-solving in the Mayan temples. ...
---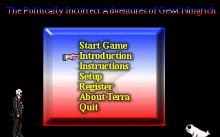 Politically Incorrect Adventures of Gewt Ningrich, The 1997 Arcade action
The Politically Incorrect Adventures of Gewt Ningrich is a satirical sidescrolling beat'em up. You play as Gewt Ningrich, who is racked with allegations of corruption, needs to invigorate his party, and raise cash to stay in power. To earn that cash Gewt has to kill polar bears, environmentalists and other conservative enemies. His ultimate goal is to get rid of his most hated enemy, President Clint Billton, so that his conservative revolution will finally be complete. ...
---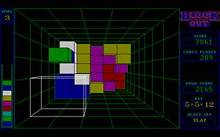 Block Out 1989 Puzzle
3D tetris, is it possible? Yes, and has it been done? Yes. Has it been done up to near perfection? Yes. This is a true classic. One of the games which made both me and my family go entirely nuts with game fever when it came out brand-spanking-new. My god, the hours we put into this. The sheer infinity of gameplay makes thisgame a gem. One of those gems that aren't made often. Three block sets, flat (standard tetris blocks), basic (with some awkward blocks) and extended (only for the hardcore players, these blocks are extremely weird), 10 levels, playing fields...
---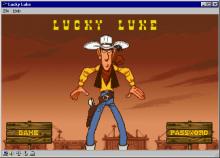 Lucky Luke 1997 Arcade action
Lucky Luke and Spirou are two relatively obscure 2D side-scrolling platformers designed by Infogrames based on popular Belgian comics. Lucky Luke is a Western cowboy, while Spirou is a bumbling bellboy who looks like he could be Tintin's younger brother. In Spirou, you task is to rescue the world-famous scientist Count Champaignac from the clutches of an evil organization intent on using his latest invention to take over the world, while in Lucky Luke your job as the good sheriff is to restore order to town. Both games sport colorful cartoony graphics, fluid animations, and funny antics that fans of...
---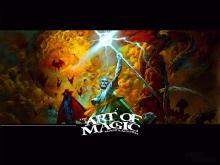 Magic & Mayhem 2: The Art of Magic 2001 Strategy
The Art of Magic is the sequel to Magic and Mayhem, and as the title suggests, spell casting and magic are what the game focuses on. The game is set during a time when the world's balance between good, neutral and evil forces have just become unbalanced due to the death of a powerful neutral wizard. The gamer takes on the role of Aurax, a young man who has just become awakened to the fact the he has the ability to use magic. As soon as he finds his new identity, he is forced into battle to restore the balance...
---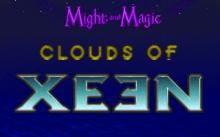 Might and Magic: Clouds of Xeen 1992 Role playing
Fourth installment of New World Computing's best-selling RPG-Series Might and Magic. This time, you control a party of 6 heroes to save the world from the claws of evil Lord Xeen. The game uses nearly the same interface and graphics as Might and Magic III - Isles of Terra. Only small enhancements were made, e.g. that you don't encounter any NPC randomly but have to select him via mouse click. All over the gaming world, there are pyramids which work as teleporters as soon as part five of the series, Darkside of Xeen is installed. Might and Magic 4 and 5 together...
---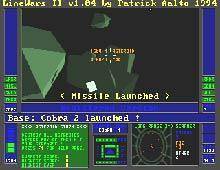 Line Wars II 1994 Arcade action
Line Wars II is a great update to the original Line Wars. The company line: "Play alone or battle your friends in modem and network play! Cruise through a true 3D environment in the Deneb star system, toasting pirate ships as you progress through 3 killer missions." The game boasts good graphics, excellent flight dynamics, and fun multiplayer modes. ...
---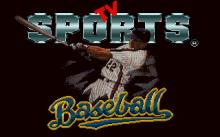 TV Sports: Baseball 1991 Sports
One of the best baseball games I have played on the Amiga. Too bad that the PC version isn't that good. You can control all the best teams from the top league with accurate players statistics and player names. You can play a single game or play a full league. Of course the game offer two player mode as well including very easy controls. The game doesn't use many different game screens. But that's the same with the other games in this series. This is actually a good thing all though it might not sound like it. The graphics is the...
---