Old-Games.com: 10,000+ Games to download
Search a Classic Game: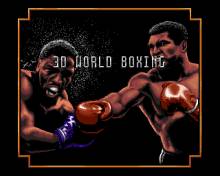 3D World Boxing 1992 Amiga
Terrible boxing game. In 3D. Summed up neatly by the eight pages of irrelevant history about boxing and the paragraph at the end telling you to hold down fire and waggle the joystick. ...
---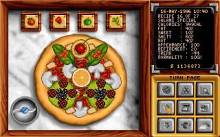 Pizza Tycoon 1994 Strategy
Pizza Tycoon could have been an enjoyable game along the lines of Theme Park or SimCity, but it ends up feeling more like manual labor. I suppose this is appropriate for those wanting to get a taste of the pizza industry, but the level of micro-management will turn off most gamers before they even sell their first pizza. What starts off as a promising concept, quickly turns into a nightmare of details that takes the fun out of playing. What's so strange is that the game seems to have a split personality. On one hand, there are 100 wacky characters to...
---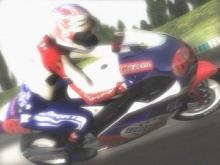 Moto Racer 3: Gold Edition 2002 Sports
Moto Racer 3 encompasses five different motorcycle disciplines -- Trial, Freestyle, Traffic, Motocross/Supercross, and Speed -- with each offering Practice, Time Attack, Competition, and Friendly Race modes on three different tracks (a total of 15 in all). Balance, agility, and concentration are the hallmarks of Trial, wherein players are expected to navigate a makeshift structure, carefully surmounting obstacles and reaching predetermined checkpoints without falling off the bike or coming into contact with the ground. Freestyle competition, on the other hand, merely challenges players to perform the most outrageous tricks and stunts possible. Motocross and Supercross events are analogous to their...
---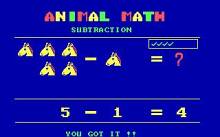 Animal Math 1986 Educational
This simple game is designed to introduce numbers to children. Player is put to simple tasks and solving should improve some basics skill with numbers and math. Numbers are presented as animals and there is no wrong answer. Also, to answer you simply have to type one-digit or two-digit numbers. After 8 correct answers you will receive the word of praise and hear the short tune. Then you start new round and tasks are slightly harder then before. More precisely, numbers will slowly increase and you'll slowly learn numbers and basic math operations. All in all, children should adapt to...
---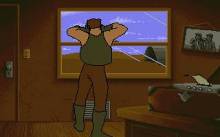 Guy Spy 1992 Arcade action
Remember the good old days when they had the ads of some laserdisc games in the magazines. Classics like Dragons Lair and Space ace ... *sigh* I always wanted to play them for the graphics were so great cartoon-like that you thought it was an interactive movie (actually they sold them as interactive movies). But when I got Dragons Lair then I must confess that there was just disappointment. The only actions you could interact were pressing the joystick buttons at the right time. If you look at Guy Spy, you will see that it almost looks like Dragons...
---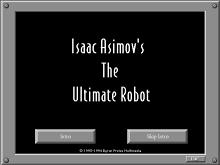 Isaac Asimov's: The Ultimate Robot 1994 Educational
Producer Byron Preiss has done a superb job bringing the ideas of the late Isaac Asimov to this CD-ROM, which touches on almost all topics related to robots and robotics. You'll learn about the history and principles of robotics, and hear and see Asimov himself discuss the field. The Robotoid Assembly Toolkit (created by Ralph McQuarrie, the production designer for Star Wars) lets you build, animate, and save or print images of the virtual robots you construct. You can also see film clips of famous and not-so-famous movie robots or read from the sizable collection of Asimov's short stories and essays....
---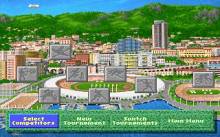 Games, The: Summer Challenge 1992 Sports
The Games: Summer Challenge is a worthy sequel to MindSpan/Accolade's classic Winter Challenge, this time based on Summer Olympics games. Similar to its predecessor, Summer Challenge lets you compete in 8 different events, each of which you can practice for as long as you like before the tournament. Summer Challenge is based on the same engine as Winter Challenge and designed by the same team, so you can expect the same ease of use, excellent graphics, and fun music. The events are archery, equestrian, kayaking (my favorite), 400m hurdles, pole vault, high jump, javelin, and cycling. You enter the tournament with...
---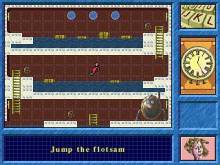 Crystal Maze 1994 Puzzle
A Game based on the successful UK TV Show of the same name. You have a team of six which you lead around the maze. There are four zones: Ocean, Aztec, Medieval and Futuristic. There are four types of game, Physical, Mental, Skill, and Mystery. Every game you win earns you a time crystal worth 5 seconds in your final destination, the Crystal Dome ...
---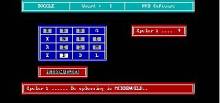 Boggle 1990 Non-English
Boggle is a nice game. This is the dutch version, so you have a problem if you can not understand dutch. The game is simple, you start with a field and every 3 seconds or so, you get an extra letter of the word that there will be. As soon as you know the word, press on space and fill in the word. How faster you know the right word and typed it, how more points. If you don not know it you get 0 points. You can play alone, but also with more players. Up to four players! ...
---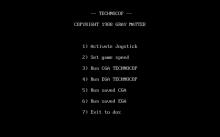 Techno Cop 1988 Arcade action
Techno Cop is an action based game with a lot of driving and shooting. It offers a mix between driving towards a place avoiding different enemies that are trying to get you off the road. When you complete that you will have to either kill or capture a criminal while killing the people that protect him. The driving part of the game looks like a cheap version of a game like Lotus Esprit Challenge but it's nicely done without too many functions. You have to avoid the other cars either by racing from them or get them off the road in...
---