Old-Games.com: 10,000+ Games to download
Search a Classic Game: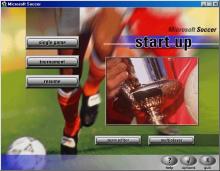 Microsoft Soccer 1996 Sports
Microsoft Soccer is definitely one of the worst soccer games ever made - and one of the many first embarrassments for Microsoft when it tried to re-enter the gaming industry in mid 1990s. Games Domain trashed this game quite thoroughly as follows: "The game installs easily enough, providing you are careful about DirectX. The front-end looks quite pretty, even if parts of the tournament setup are counter-intuitive. There are three basic options, friendly, tournament (of which there is only a fixed format, with a choice of Global or Continental) and multiplayer using all the usual DirectPlay methods, modem, serial, IPX...
---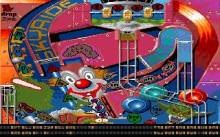 Pinball Fantasies 1994 Arcade action
Pinball Fantasies is an excellent sequel to Pinball Dreams, featuring yet again four brand-new multi-screen tables to play on. The tables are called Party Land, Speed Devils, Billion Dollar Game Show and Stones and Bones. As the titles suggest, the tables are based on four very different themes and are at least as good as in the previous game. This PC conversion, released over a year after Digital Illusions' Amiga game, was done by Frontline Design and they've done a wonderful job! The graphics are as colourful as the AGA Amiga version and there are two screen-modes to choose from....
---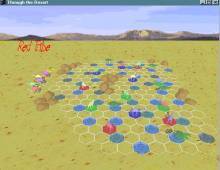 Through the Desert (a.k.a. Durch Die Wuste) 2000 Strategy
Through the Desert is a good PC version of Durch Die Wuste, Reiner Knizia's classic board game of tile placement. (one of the three games collectively known as his "tile laying trilogy" - the others being Samurai and Tigris and Euphrates). Designed for 2-5 players, the objective in the game is to accumulate as many points as possible. At the beginning of the game, players place camels on the board, as "anchors" for a caravan. During each turn, each player must place two camels of any of five colors. These camels may only be placed next to one of the player's...
---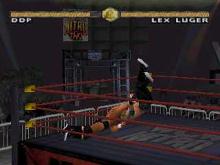 WCW Nitro 1998 Sports
WCW Nitro is a wrestling game for Windows that probably should not have been made. It is nearly an exact copy of the Playstation and Nintendo 64 versions released earlier. Yes, this version offers network play, but there have been no significant improvements in graphics, sound, or enjoyment. For gamers with 3-D accelerator graphics cards, the game offers a choice: high-resolution graphics complete with detailed crowds, smoother looking wrestlers, and a Jumbo Tron video monitor, or low-resolution graphics that include cruder wrestlers and no background graphics. For those without 3-D acceleration hardware, there is no choice. You either play with the...
---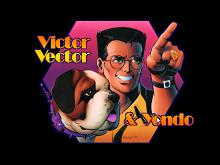 Awesome Adventures of Victor Vector & Yondo, The: The Vampire's Coffin 1993 Educational
One of a series of fully interactive comic book adventures for kids where you play as the heroic Victor Vector and his digital Saint-Bernard dog Yondo. They are field agents of The Museum of Fantastic Phenomena, and travel through time collecting unique items. In the games, the arch-villain Ram Axis, a virus spawned in the great crash of 2093, will often pop up in disguise in order to prevent their efforts. Players explore a virtual environment by clicking on the onscreen knobs and directional controls to move through the game. They click on images to talk to people, collect treasure...
---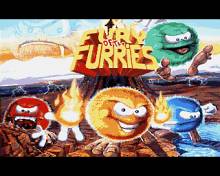 Fury of the Furries AGA 1993 Amiga
Les Tinies sont probablement les creatures lews plus malicieuses de toute la galaxie. Et non mistaking! Yes. I've got a multi-language manual and I'm not afraid to use it, but I doubt that you'd be too impressed if I went on like this for two pages, so let's start again in English. Die Tinies sind wahrscheinlich die durchtriebensten Wesen der Galaxis. Damnkoftp! Wrong page. Ah, here we go... The Tinies are probably the most mischievous creatures in the whole galaxy. Having failed to conquer Earth in 'Tiny Skweaks'. the rebel Tinies have been carted back to their home planet of Sklumph only to...
---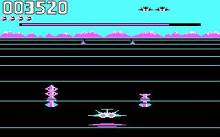 Buck Rogers: Planet of Zoom 1984 Arcade action
Buck Rogers: Planet of Zoom is a simple but fun CGA shooter based on SEGA's arcade game of the same name. It's probably best described as Zaxxon from a first-person perspective as opposed to isometric. Gameplay is fast, fun, and furious-- you have to avoid crashing into obstacles on the ground, as well as concentrate on shooting the flying enemy ships. Smooth graphics and fluid controls make this a knuckle-blistering experience that all SEGA fans should enjoy. Recommended, especially to those who like Zaxxon but find it a little too difficult. ...
---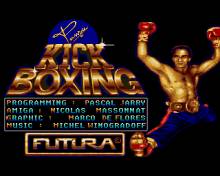 Panza Kick Boxing 1990 Amiga
If everything was to be taken in a literal sense, the thought of two tanks fighting it out in a boxing ring could be quite bizarre. Fortunately though, the name Panza refers to Andrea Panza, the world kick boxing champion. The game is basically a one to one beat'em-up, but with several special features, including choosing all the various moves so you can have your own individual fighter. Training and exercise are essential as you move up the ranks. Without proper preparation, be assured that you won't get far. Graphics are the best I've seen in a game of this type...
---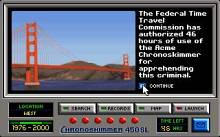 Where in America's Past is Carmen Sandiego? 1991 Educational
Undoubtedly the most successful edutainment franchises, the Where in [xxx] is Carmen Sandiego? is Broderbund's flagship series that has spawned numerous sequels, TV shows, and even board games. Premiered in 1985 with Where in the World is Carmen Sandiego?, subsequent releases have sold millions of copies collectively worldwide. But until multimedia CD-ROM versions of the game appeared in 1995, the individual Carmen Sandiego titles were not all blockbusters. The premise behind every Carmen Sandiego game is identical: starting out as a rookie detective, your job is to track down a gang of thieves who are stealing the world's (or the...
---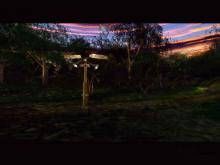 Zork: Grand Inquisitor 1997 Adventure
Zork: Grand Inquisitor is Activision's third offering to the modern graphic adventure take on the classic Zork series. Their first game (which is actually labeled for Infocom, but they were part of Activision by the release) Return to Zork kept the humor of the original text games, but added the fun of visuals and sound, moving Zork into the world of point-and-click fare. Zork: Nemesis, the second game, is an intensely dark tale with some of the Zorkian quirkiness. But fans, like me, scratched their heads at why this game was so serious. It's a great game, but very out...
---