Old-Games.com: 10,000+ Games to download
Search a Classic Game: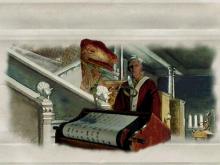 Dinotopia 1995 Adventure
James Gurney's children's tales that are ingeniously brought to life in his two books, Dinotopia and The World Beneath, have been delighting children around the world for some years now and the popularity of these stories is sure to generate a lot of interest in this game. Dinotopia -- the computer game -- transports the player back to the fantastic island of Dinotopia where any child who has read the books will be instantly at home. In the course of their adventure they will get to explore for themselves many familiar locations including the Hatchery, Waterfall City and the lofty...
---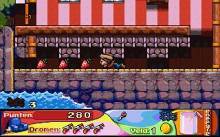 Yogho Yogho 1995 Non-English
Here's yet another cute little platformer. It's fast passed jumping crawling key finding fruit collecting action game. It was made as a commercial for (get this) a Yoghurt brand and thus it seems to be a bit childish (at least the pictures look like that), but don't let that fool you. This game is nothing to be sneezed at. It's really a full time platform game, but the villains look much funnier then in most similar games. I mean honestly, how many games can claim to have a granny in a wheelchair chasing after you, trying to beat you with...
---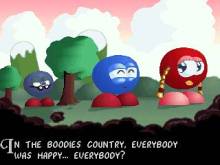 DStroy 1995 Arcade action
Dstroy is a Bomberman-like game. There are several gameplay modes. This includes single player, cooperation, and deathmatch. Up to four players can play on the same computer with split-screen. Dstroy has no network support. In singleplayer (called story mode) and cooperative, the player(s) has to defeat all the monsters to advance to the next level. The levels consist of solid blocks, and breakable blocks. The players can break a block by dropping a bomb nearby. The bomb explodes only in vertical and horizontal directions, and any solid block will stop the explosion in that direction. Initially the bomb has a...
---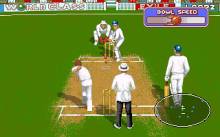 Allan Border's Cricket 1993 Sports
Probably the world's best cricket game until Electronic Arts' EA Sports version years later, Allan Border's Cricket is also known as Graham Gooch World Class Cricket, Jonty Rhodes II World Class Cricket, and probably a myriad other names depending on where the game was released. Aside from different introductory picture featuring different cricket stars (Jonty Rhodes in the South African version of the game, for instance), all versions of the game feature the same great gameplay. Allan Border's Cricket lets you play a variety of games, from one day matches to test cricket. The game has team listing for all nine...
---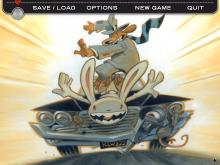 Sam & Max Episode 1: Culture Shock 2006 Adventure
Sam and Max are back, no older, no wiser, and that's very good news. It was not good news for several centuries as fans of the first game waited and waited and waited for a reprise. Then it was very good news again as Lucas Arts announced Sam and Max were back in the development pipeline. That party abruptly ended in the spring of 2004 when Lucas Arts cancelled the game. Goodness and light returned to this earthly sphere when the majority of the Lucas Arts Sam and Max development team spun off into their own indie studio, Telltale Games,...
---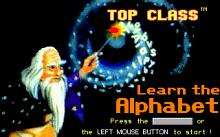 Learn the Alphabet 1993 Educational
Learn about Astronomy, Learn about the Human Body, and Learn the Alphabet are three excellent edutainment titles in Compedia's underrated 'Top Class' series. Each title combines concise lectures (complete with clear diagrams and illustrations), quizzes, and mini-games into a captivating learning environment for kids. Learn about Alphabets has more fun mini-games than the other two games because it was designed for a younger age group: pre-schoolers who are learning ABCs. The driving game in particular - where you must type the letter shown on screen to weave through traffic - is a lot of fun even for adults, because it...
---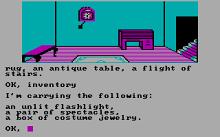 Calixto Island 1984 Adventure
In mid-1980s, a small company called Mark Data Products released 6 parser-based graphic adventure games similar to early Polarware and Scott Adams titles. While the games are reasonably successful on Tandy's CoCo computer, the IBM PC versions did not achieve the same level of success. While the graphics are quite good at the time, the parser is quite primitive - only simple verb+noun constructs such as GET HAT are understood, and some verbs that are common in IF games such as SEARCH are not always recognized. Fortunately, the games make up for primitive parser with well-written plot, fun characters, and...
---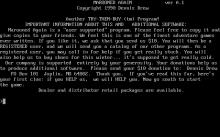 Marooned Again 1985 Adventure
Your useless ship has crash landed, yet again, on a hostile alien planet. Thankfully your on board computers have located a deserted alien ship without any signs of life on it. Looks like you may have a way to get off this rock sooner then you hoped! All you've gotta do is probably gather some bits and pieces lying around inside that ship while trying really hard to avoid certain death. Since you're not in the best of shapes to be traipsing around an alien ship you can look death in the eye and use the clone maker aboard the...
---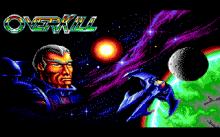 OverKill (1992) 1992 Arcade action
You arrive at your home planet after a long space flight, only to find it has been destroyed by a demonic warlike alien race that kills for sheer pleasure. You are out for revenge. Your single-minded goal is to destroy the Battle Star. But before you reach him, you will have to battle your way through massive planets packed with danger and destruction. You can gain fuel, new weapons, and new parts for your space ship as you play. ...
---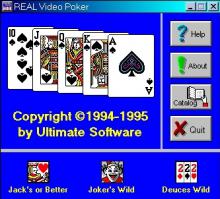 Real Video Poker 1994 Strategy
Real Video Poker is a realistic simulation of a video poker machine like those found in casinos. Three separate poker games are included: Jack's or Better, Joker's Wild and Deuces Wild. Betting is handled with imaginary coins, just like in the real thing. Terms and playing instructions for each game can be found in the "Help" section. Sound effects can be on (default) or turned off. ...
---