Old-Games.com: 10,000+ Games to download
Search a Classic Game: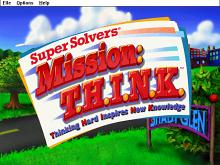 Super Solvers Mission: T.H.I.N.K. 1999 Educational
Super Solvers: Mission T.H.I.N.K. is an entertaining strategy and critical-thinking game targeted at children ages 7-12, and contains puzzles and activities adults will enjoy as well. Six types of puzzles focus on skills in the areas of problem solving, deductive reasoning, patterning and sequencing, cause and effect, and organizing information. All require a keen eye and attention to detail. Simply getting around the warehouse is fun and enjoyable, as characters go through passageways, jump over pits, bounce off trampolines, ride on water spouts, and swing on pulleys, while at the same time picking up packages and shooting magnets at the nasty...
---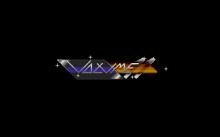 Starball 1995 Arcade action
Starball is an interesting and unique pinball game from GameTek that unfortunately doesn't play as well as it sounds. Based on Starball Special Edition game on Atari ST, the premise is unique to say the least: in addition to the basic pinball table, the game lets you blow up asteroids, shoot aliens, and head for the spaceport a the top of the table where you can score bonus points. The main pinball table consists of 3 main levels, each with its own pair of flippers. If your ball falls between the flippers, it will drop to a lower level. When the...
---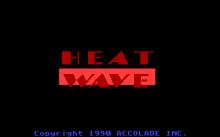 Heat Wave: Offshore Superboat Racing (a.k.a. Powerboat USA) 1990 Sports
Heat Wave: Offshore Superboat Racing puts you at the helm of two kinds of boats, Catamarans and Deep-Vs. Both types of boats ride on top of the water as opposed to plowing through it, reaching speeds of more than 100 mph. You'll race on open ocean, rivers and through city canals. Six preset courses are available -- four offshore near Miami, one in the San Francisco Bay, and one on the Mississippi River. In addition, you can create up to 10 different custom courses. Each boat is equipped with a control panel displaying a compass, a clock, RPMs, a speedometer, trim...
---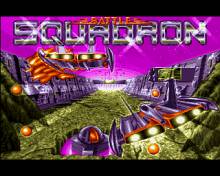 Battle Squadron 1989 Amiga
This is a really good shoot 'em up, especially when played 2 player. You control a spaceship, which is flying across a planet and has to destroy everything in its path. There is even a slight storyline behind why you are actually doing it, and to do it is a very hard task indeed! You have to fly around shooting EVERYTHING that is shootable, and collect bonuses and powerups along the way. You can get various bullet types as well as various other things. The level structure for each game is also enjoyable. As far as I can remember, you...
---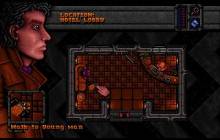 Dreamweb AGA 1994 Amiga
This game was widely advertised as the first adult orientated adventrure game. It's full of violance, nudity and sex. The gameplay is not very hard, most problems can be solved by shooting them. By the way the game is interesting with it's top viewed camera. The AGA version also features 256 colour screens. ...
---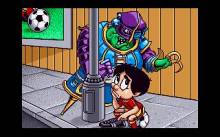 Soccer Kid 1995 Arcade action
Aliens attempting to steal the World Cup have crashed as they tried to flee, and the Cup has been broken, its pieces scattered around the globe. As Soccer Kid, you must retrieve it. During your journey you will visit Britain, Italy, Russia, Japan, and finally the States. Soccer Kid is a platform game with some unique elements. As the name implies, you have to kill your enemies with your ball. Football-style tricks of keeping the ball in the air and under control are especially useful - headers and overhead kicks can be played with practice. You gain access to the...
---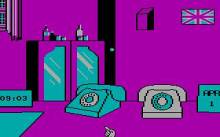 Yes Prime Minister 1988 Simulation
A week in the life of the British Prime Minister. But not just any Prime Minister, this game puts you in the shoes of Prime Minister James (Jim) Hacker from the classic BBC television comedy "Yes, Prime Minister". Much like most political simulations, you must balance your popularity with the needs of your party, the meddling of foreign governments, and the small minded incompetence of the civil servants that surround you. All of this is played out with multiple choice dialogues between Hacker and the other cast members of the series (complete with lo-res digital pictures). The dry humor of...
---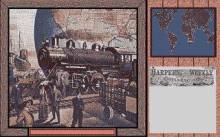 Railroad Tycoon Deluxe 1993 Strategy
Railroad Tycoon Deluxe (RDX) is an excellent updated version of Sid Meier's classic Railroad Tycoon, a game of robber barons at the turn of 20th century. Despite a host of new features and graphics, RDX sold very poorly in stores, due to some annoying bugs and inexplicably slow gameplay (most notoriously the F4 map screen, which brings the game to a crawl). RDX is essentially the same game as Railroad Tycoon, with improves hi-resolution graphics, new sound effects, and several additions. The additions are: new maps (South America and South Africa) with region-specific cargo types (e.g. diamonds for South Africa),...
---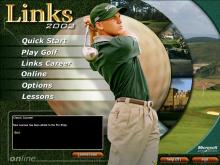 Links 2003 2002 Sports
With a distinguished pedigree that goes back well over a decade, Links is one of the oldest and most respected series of computer golf games. Yet Links 2003 does not rest on its laurels -- this simulation is designed to offer classic Links gameplay while bringing new features such as multiplayer matching, a Green Analyzer for improved putting, and high-res three-dimensional golfers. One of the more major changes in this year's edition is the change from digitized (essentially 2D) characters to 3D polygonal golfers. Not only does this allow in-game golfers to appear more like the athletes in other contemporary sports...
---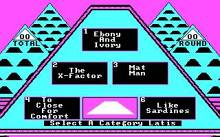 $100,000 Pyramid, The 1988 Puzzle
$100,000 Pyramid is a Game Show. You can have 1 to 4 player games and choose from 2 difficulty settings. "In the One Player Game the player selects one of 6 categories and then tries to guess one of the three best clues for each word given on the screen. There are 7 words in each category to guess best clues for and the player bonus round. For each correct clue entered the player must get 30 of the 42 possible clue correct or 20 in Beginner Mode". You could give this game a go if you want a multiplayer...
---