Old-Games.com: 10,000+ Games to download
Search a Classic Game: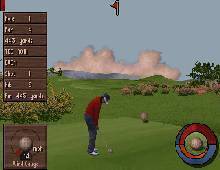 Hole in One 1995 Sports
Hole in One is a decent golf game by Really Interesting Software Company, published by GameTek in Europe. The game includes all the standard options that one would expect to find in computer golf games, including various play options (tournament, practice, and friendly competition modes such as skins, foursome, and strokeplay), weather effects, multiple camera angles, and the familiar swing meter. The game also boasts decent VGA graphics and player animations. The problem with Hole in One is not that it's not a good game -- it's that it is far too predictable, too ordinary, and too standard. While it offers...
---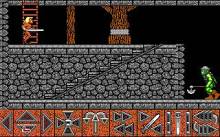 Barbarian (Mastertronic) 1989 Arcade action
One of the worst platform games ever made and definitely a low point in Mastertronic's varied career. Barbarian (not to be confused with the excellent game of the same name from Palace Software) casts you as a barbarian (duh) who must destroy everything in sight and avoid various traps. How bad is the game? I'll let Trixter's gripe speak for me: "Gameplay is done with "icons", which can be selected with the joystick, mouse, or function keys. For example: To move your character to the right, you press/select the right arrow icon. To swing your sword, you select the sword icon....
---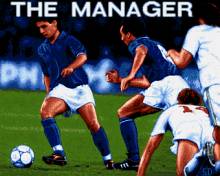 Manager, The 1991 Amiga
Your favorite soccer team is in the third class, has no money and no future? Take the job as a manager and lead your team in the first division. It is a mangerial simulator from Europe's favorite sport: Soccer. ...
---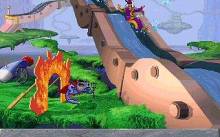 Legend of Kyrandia, The: Malcolm's Revenge 1994 Adventure
Arguably among the best adventure games series ever, Kyrandia games tell the stories set in the fantasy land of Kyrandia, told from 3 different perspectives: Brandon (a hero chosen to save the land), Zanthia (a Royal Mystic searching for the Anchor Stone to save Kyrandia from disappearing), and Malcolm (the evil jester from the first 2 games out to get his revenge). Each game is better than the last, despite the annoying random elements in some puzzles which can only be solved through tenacious trial-and-error. Great games nonetheless, with a gentle sense of humor, Westwood's acclaimed graphics and user-friendly interface,...
---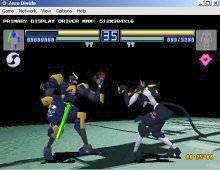 Zero Divide 1996 Arcade action
Zero Divide is an ambitious 3D fighting game that has a lot of potential that is thoroughly wasted by bad controls and repetitive gameplay. The result is a very average game that beat 'em up fans can safely ignore. The style of Zero Divide closely resembles One Must Fall: 2097 and Rise of the Robots, except its quality is squarely in between the greatness of the first game and the trash-iness of the second. The robots fighters are well-designed enough, but the way they fight is horrendous. It is almost impossible to perform combos consistently, the fight keys are awkwardly...
---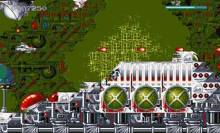 Disposable Hero 1993 Amiga
The best shoot'em up game on Amiga. Amazing graphics and music, extra hard levels, two spaceship, huge collection of weapons. More than three weapon can be armed at one time, shields, underwater level, etc. Whatever you want! ...
---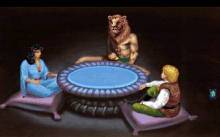 Quest for Glory 3: Wages of War 1992 Adventure
Ah, another quality adventure game from Sierra! This is the third chapter in the ever interesting Quest for Glory series. Here the Hero finds himself in the land of Tarna! A world very similar to Africa... with a few monsters and lion/humanoid creatures, not to mention ferocious shape-changers that change from leopards to humans much like werewolves. In this game you're left with the task of preventing civil war between the two factions blaming each other for the theft of each of their own ancient artifacts. The Simbani have lost their ancient spear and blame the Leopard men, while the Leopard men...
---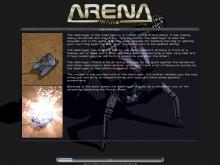 Arena Wars 2004 Strategy
This game from Germany's ASCARON Entertainment uses the action of an online shooter to emphasize the sporting side of real-time strategy gaming. Instead of the pastoral territories of a medieval fantasy realm, or the unclaimed wilderness of a distant planet, opponents battle in large arenas where their efforts entertain an enthusiastic public. Unlike most RTS games, opponents don't set out to simply destroy one another's bases or units; players compete to be first to accomplish certain goals in each match. These objectives vary by game type and the three different modes, "Capture the Flag," "Bombing Run," and "Double Domination," should...
---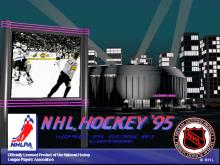 NHL 95 1994 Sports
NHL '95 was EA Sports' third licensed ice hockey game, promising the fastest action in the series to date. The action is viewed top-down, and can be played with or without realistic penalties. There is a full season mode, allowing you to guide a team through all 84 matches, with the option of injuries potentially putting players out of a sequence of matches. You have full control over trading and creating players for your squad. New in-game moves include dummy shots and lie-down blocks. ...
---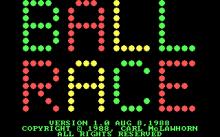 Ball Race 1988 Arcade action
A unique CGA 4-color racing game where you control a ball that races on a futuristic racecourse filled with floating "dummy" balls to avoid. Your top speed is affected by the amount of energy you have, and bumping into dummy balls or other competitors negatively affects your energy level. The game features up to three other competitors, either computer AI or a human opponent via modem. You can bounce into "fuel" balls to recharge your ball, and lay "mine" balls to damage the energy levels of your competitors. (Mind, they can do the same to you). ...
---