Old-Games.com: 10,000+ Games to download
Search a Classic Game: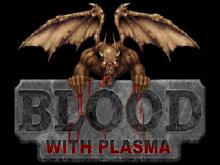 Blood: Plasma Pak 1997 Arcade action
Following the success of Blood, GT Interactive released the Blood: Plasma Pak, the official expansion for the 3D shooter. Fans of the original will find more of what they love in this package in addition to some new features. New single-player and Bloodbath levels are available, featuring a host of monsters, including seven new types such as Zelots and Fire Chrysallids. Weapons are enhanced by the addition of new modes allowing players to enjoy Spheres of Incineration, Guardian Life Leeches, etc. 3DFX support is included as well, giving the game sharper and more colorful graphics. From dark dungeons to gruesome...
---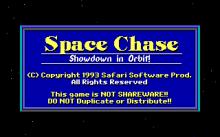 Jason Storm in Space Chase 1993 Arcade action
Space Chase is a shareware side scrolling platform game in three parts, each with smoothly scrolling 16 color graphics. Part One was released as shareware with the full game being available for purchase. Later episode three was released individually as Space Chase 3. The game's emphasis is on a combination of action and adventure. The levels are maze-like and the player will need to locate objects such as keys, switches, and moving platforms to get through. The three episodes in this game are Part One: City Under Seige Agent Jason Storm has just receives his toughest assignment. He must locate Evil...
---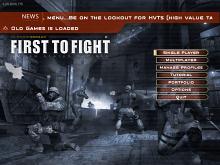 Close Combat: First to Fight 2005 Arcade action
The Close Combat series has been around for some time now, although it's been a few years since we've seen a new Close Combat game. The series returns from its hiatus with Close Combat: First to Fight, a game that takes two major departures from the Close Combat games that preceded it. The first is that the game is not set in World War II - in fact, it's not set in a real conflict at all. First to Fight takes place in Beirut in 2006 at a time when Lebanese rebels, Islamic extremists, and Syrian Special Forces have turned...
---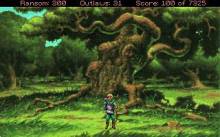 Conquests of the Longbow: The Legend of Robin Hood 1991 Adventure
This game is set in medieval England. You play as Robin Hood. Your objective is to free King Richard from the French by raising money for his ransome. There are many different endings depending on the score you get. The game uses a mouse interface. There are arcade sequences built into the story, but their difficulty can be adjusted, or they can be completely turned off. ...
---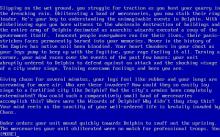 Pentari: First Light 2003 Adventure
Pentari: First Light is a text-based adventure in the spirit of Infocom's Zork series. Players are challenged to reclaim the city of Delphin from a group of evil wizards, who plan on overthrowing the once peaceful Kingdom of Pentari by capturing its nobles. Yet the quest will not be easy, with monsters to battle, mysteries to solve, and citizens to rescue, as players prepare for their encounter with the wizards behind the traitorous acts. The game offers nearly 300 rooms to explore, with a quest designed to be longer than the first three Zork titles combined. Players will learn to...
---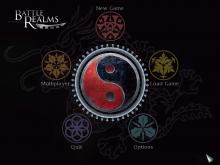 Battle Realms 2001 Strategy
Back from the days of old, remembered only by the eldest, the days when history mixed with magic, comes a story of a bold and righteous man, the leader of the Serpents clan, a samurai knight who stood up to the tides of evil before they overpowered him. Dark days came for the decimated clan, which became a battleground for ambitious potential leaders of what was left of it. This is where you appear, assuming the role of the late leader's son, and the legitimate heir of the clan. Fighting the false charges that you killed your own father, you...
---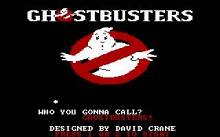 Ghostbusters 1986 Arcade action
Based on the 1984 film of the same name, the Ghostbusters are the ones to call to "bust" any ghost hauntings. They do this through the use of nuclear-accelerated "proton packs" and "ghost traps", whereby the ghosts can be captured and transferred to a secure storage facility at their Headquarters. However New York City has suddenly become a very haunted place, and the number of ghosts has suddenly and dramatically increased. The Ghostbusters must reduce the paranormal psychokinetic energy, the "PK level" in the city, which represents ghost power, before the Temple of Zuul awakens and resurrects an evil goddess...
---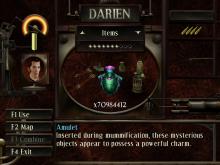 Curse: The Eye of Isis 2003 Arcade action
Curse: The Eye of Isis is a pretty standard survival-horror game, very much in the tradition of Capcom's Resident Evil series. How you feel about Curse depends on how you feel about that genre. It has most of the appeal of the games that went before it -- but it also has a lot of their flaws. Curse is set in turn-of-the-century England, where archeologist Victoria Sutton has invited her childhood friend, Darien Dane, to visit the Museum of Britain and see her triumphant exhibition of Egyptian artifacts. Among the pieces on display is the Eye of Isis, an ancient statue...
---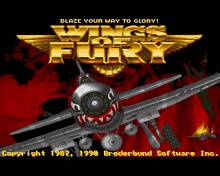 Wings of Fury 1990 Amiga
A great flying-shooting action game, where you fly a WW2 US plane and has to blast the Japan base and planes. You can use gombs, torpedos, rockets, machinegun. But, watch out for your oil and fuel! Very enjoyable game, I recommend! ...
---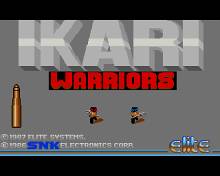 Ikari Warriors 1988 Amiga
Conversion of the arcade game. Also know as "Ikari", this game is a vertical scrolling action shooter, very similar to Commando (also from Elite). One or two player has to fight their way through the jungle, rivers and eliminate the enemy. You can find different weapons such as machine guns, grenades, and rocket launchers. ...
---