Old-Games.com: 10,000+ Games to download
Search a Classic Game: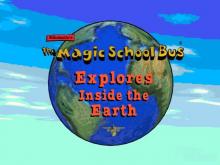 Magic School Bus Explores Inside the Earth 1996 Educational
The Magic School Bus is the basis for a multimedia project for children headed by Scholastic. The Magic School Bus characters and stories appear in television shows, books, board games, and CD-ROM computer games, always with a lesson to be learned and an emphasis on fun and understanding. In the show and games, magic is used to demonstrate science and technology. Often, schoolmates Arnold, Phoebe, Carlos, Mikey, Wanda, and the other kids in Ms. Frizzle's class are shrunk or transformed, to help them see everyday science from a whole new perspective. Of course, having a Magic School Bus to take...
---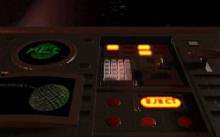 Robinson's Requiem 1993 Simulation
In the far future humanity has achieved faster-than-light space travel, but the galaxy is still a big unknown place. To chart the stars and planets explorers named "Robinsons" are sent on scouting tours of duty. Most of the time the Robinsons sent away are individuals deemed dangerous to society and whose ships are sabotaged. You play one of these Robinsons who gets stranded on a mysterious alien planet on which a telepathic woman is also stranded. As it turns out she knows a way to get off the planet, but she needs your help to escape. Gameplay consists of first person roleplaying...
---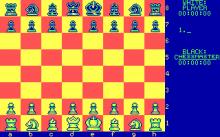 Chessmaster 2000 1986 Board
Just a standard chess-game. They did an alright job here. The Computer plays pretty good (at least better than me, but that doesn't mean too much...) - unfortunately its strength is not adjustable. Well, still a good game, worth a try if you are looking for a chess-sim of this kind and your eyes aren't hurt so easily. Admittedly, the graphics are ugly, they would've been better off doing this game in black & white in my opinion. ...
---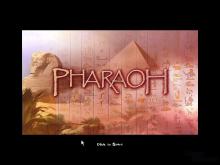 Pharaoh 1999 Strategy
Ancient Egyptian civilization is one of the most interesting eras of human history. Known best for constructing such enormous monuments as the Great Pyramids and the Sphinx, the ancient Egyptians also worshipped numerous gods, studied the Nile River to enhance their agriculture, and practiced mummification. Aspects such as these are what make ancient Egypt the perfect setting for a world-building game. Pharaoh does not make any dramatic advances to the genre, but it does take elements from other successful games, blend them perfectly with ancient Egypt, and provide an addictive and challenging game experience. Pharaoh is best compared to games such...
---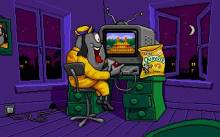 One Step Beyond 1993 Puzzle
Colin was having the time of his life: playing Pushover and eating Quavers. But something strange happened. He was sucked into his own computer. Still that doesn't trouble him much, as long as there are more Quavers. This great logical-platform game is the sequel to the famous Pushover. The concept was changed: you play Colin who is jumping around on various platforms. More precisely: Colin starts at Quavers package platform and must come to another Quavers package platform. Platforms are stretching out of various blocks. After jumping from a platform, it is pulled inside the block. Colin must reach the...
---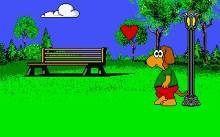 Cartooners 1989 Simulation
So you want to make your own Hollywood movie with the biggest stars? Then this game is for you...emm no wait...if you want to make your own little cartoon Cartooners is the perfect tool. You will have pretty much all things available to make the movie although you don't have any options to make it very advanced. Even the new player will be able to make their first movie within only a few minutes. Of course it won't be very long and probably not very good either but this shows just how easy Cartooners is to use. You can add funny...
---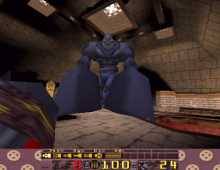 X-Men: The Ravages of Apocalypse 1997 Arcade action
X-Men: The Ravages of Apocalypse is a conversion of Quake. The evil mutant Apocalypse has created an army of evil X-men clones. The only thing standing in his way is you, a cyborg created by Magneto with the ability to morph your arms into a variety of devastating weapons. In the single-player game, you battle clones of twelve X-Men across two episodes building up to a final confrontation with Apocalypse. The X-Men are realistically modeled complete with their mutant powers (the Wolverine clone, for example, will not stay down, imitating the original). In multiplayer game, you can take on the role...
---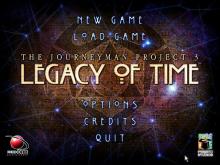 Journeyman Project 3, The: Legacy of Time 1998 Adventure
In the original The Journeyman Project, you prevent a mad scientist from disrupting Earth's invitation to join the Symbiotry of Peaceful Beings. In the sequel The Journeyman Project 2: Buried in Time, you foil an attempt by a rogue temporal agent to frame you for tampering with time but lose her during your chase in the time stream. Now, in The Journeyman Project 3: Legacy of Time, you travel back in time to catch the same rogue agent but, in the process, discover a larger plot that connects the entire trilogy and forces you to view all your past experiences...
---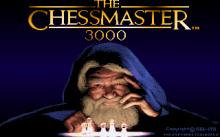 Chessmaster 3000, The 1991 Board
Chess has been considered as both a universally appreciated hobby of deep strategy and an intellectual exercise enjoyed by stuffy elitists. Chessmaster 3000 is designed to appeal to people of both interpretations of the game. This edition in the Chessmaster series features multiple gameplay options, over 20 customizable classical background music themes, and innumerable combinations of boards and chess pieces that range from minimalist metallic markers to intricate 3D-rendered Chinese figures. Other features of Chessmaster 3000 include a teaching display, instant in-game help, an opening moves library of over 150,000 positions, nearly a dozen time-control options, tournament play, a Rate-My-Play function,...
---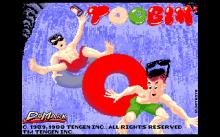 Toobin' 1989 Sports
Its time to put on your swimsuit, drop a coin down the coin slot and take a trip down the roaring rivers in the pursuit of treasures, spare patches for your tubes, as well as soda cans and six packs to fire at your enemies along the river.... Toobin' is a great conversion of Atari's arcade classic from 1988. Typical arcade fun, and the premise is quite original and could be considered a "sport" title due to the setting (water amusement park), and the fact that it's a race in disguise. As usual, the PC conversion is miles away from the...
---