Old-Games.com: 10,000+ Games to download
Search a Classic Game: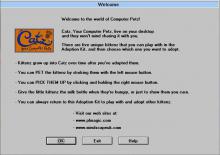 Catz: Your Computer Petz 1996 Educational
Now is your chance to have a cat without any of the clawing, meowing or scratching. Catz: Your Computer Pet is a lazy pet owner's dream and the little felines are cute in a cuddly, snuggly way that's undeniably appealing. Another plus is that there are several varieties of Catz breeds up for adoption. Keen and agile by nature, Pouncers react to every toy and the cursor as if they were live creatures. For those wanting a quieter version, the Homebody loves being fed and petted. Sophistos are stuck-up snobby cats with a personality dog-lovers hate, concerned about grooming, appearance and...
---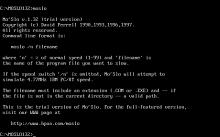 Moslo 1.32 1997 Utility
Slowdown-utility, very useful for old games designed to run on an XT or 286. ...
---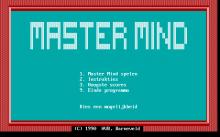 Mastermind 1990 Non-English
The objective of the game is to guess a combination of four tokens. The player gets ten tries to guess. After each guess the computer tells the player how many tokens were guessed right. The computer also tells the player how many tokens do occur in the combination, but in a different position. The player should use this information to guess the combination as fast as possible. ...
---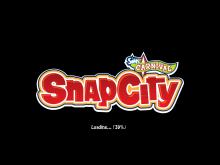 Sims, The: Carnival - SnapCity 2008 Strategy
Sims Carnival: SnapCity puts a twist on the Sims universe by combining the city building of SimCity with the block dropping of a casual puzzle game. Players guide falling, color-coded blocks into place, but rather than disappear, the blocks turn into more than 200 unique buildings. Story Mode has gamers building up residential, commercial, and industrial neighborhoods in 25 different levels, while Creativity Mode features open-ended gameplay that lets gamers build their dream cities. And it wouldn't be a SimCity game without the inclusion of evolving challenges like traffic, and disasters like earthquakes, fires, and the dreaded alien attacks. ...
---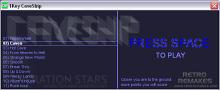 Caveship 2005 Arcade action
Caveship is a fun entry in Retro Remakes' One Switch Competition. The game is similar to UrthWurm but with even simpler controls: like other games in the competition, you use only one key in the game. The goal: pilot each cave to the end, trying to survive as long as possible. There is gravity pull that makes it more challenging, but also more fun. The game offers over 20 levels, each with its own theme. One warning, though: there are "hot caves" in the game that feature scantily-clad or nude women in the background. Play only the first few levels...
---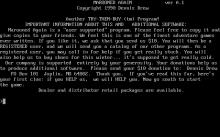 Marooned Again 1985 Adventure
Your useless ship has crash landed, yet again, on a hostile alien planet. Thankfully your on board computers have located a deserted alien ship without any signs of life on it. Looks like you may have a way to get off this rock sooner then you hoped! All you've gotta do is probably gather some bits and pieces lying around inside that ship while trying really hard to avoid certain death. Since you're not in the best of shapes to be traipsing around an alien ship you can look death in the eye and use the clone maker aboard the...
---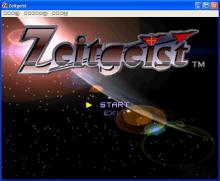 Zeitgeist (a.k.a. Jupiter Strike) 1996 Arcade action
Zeitgeist is an excellent PC conversion of the Playstation game Jupiter Strike from Taito. First released only in Japan, this English PC port was released around the world by Interplay. Zeitgeist is a great 3D shooter similar to Rebel Assault except with more freedom of movement. You control a spaceship from a third-person perspective, shooting everything in sight. The game's highlights are the excellent ship designs and great graphics, which features texture mapping, Gouraud shading, translucency, and other effects. The levels are also very well-designed-you will fly through an asteroid field in space, dogfight enemy ships inside a huge space...
---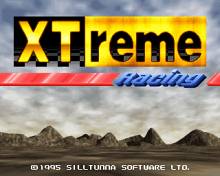 XTreme Racing 2.0 AGA 1995 Amiga
It's unashamedly an attempt to do SNES games like Mario Kart and Street Racer- but on the Amiga, with comedy cars, multiple views, an eight-player mode, textured 3D, split-screen and everything. (If you refuse to accept the existence of any other machine (sigh) imagine Bump and Burn crossed with Virtual Karting.) The thing is, the SNES was built with special chips designed exactly to do things like multi-player, multi-angled, multi-viewed, texture-mapped 3D racing games. And while Extreme Racing demonstrates highly impressively it's possible to do the effects with clever programming, it devotes so much time to getting things up and running,...
---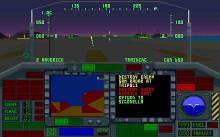 F 117 1991 Simulation
Sequel of the fabulous F19. Good flight game with lots of missions and weapons to choose out. Graphics are top! ...
---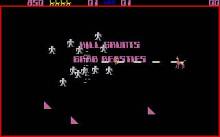 Llamatron: 2112 1992 Arcade action
A clone of the original Robotron, Llamatron uses the same principle but ups the action level, graphics and sound. For those who haven't played Robotron, the aim is simply to control you character (in this case a llama), shoot all the various monsters and rescue all the innocents (sheep). Your weapon is always on automatic fire and you shoot in the direction you are facing but if you hold the fire button it locks the gun in that direction allowing you to move around. Various power-ups are presented to you during the game and two-player support is also in...
---