Old-Games.com: 10,000+ Games to download
Search a Classic Game: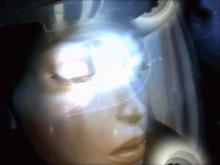 Atlantis 2 (a.k.a. Beyond Atlantis) 1999 Adventure
The mystery and beautiful graphics in Beyond Atlantis are nearly beyond compare. From the beginning of the game, you are thrust into a mysterious world previously unknown to anyone of this era. The power of the journey you embark on will forever remain in your mind. Do you remember the story of Atlantis, a city that mysteriously disappeared with little or no proof of its very existence remaining? Beyond Atlantis is exactly what it sounds like--it takes you beyond the typical story of that famed city and explores many places, each with its own unique mystery and all combining into...
---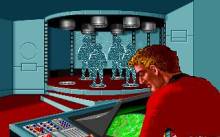 Star Trek: 25th Anniversary 1992 Adventure
This game is sort of a pioneer for Star Trek games. From away team missions to ship-to-ship combat, the entire game captures the essence of the original Star Trek series. The game is not hard to play and is fairly self explanatory. During game play, the player is able to come in contact with all of the major favorites from the original Star Trek series, including the Klingons, Romulans, Harry Mudd, and many others. The characters of each crew member is captured quite well with "I'm a doctor, not a target" from Doctor McCoy, "That is not logical" from Mr. Spock,...
---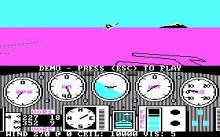 Solo Flight 1985 Simulation
A simulation that has you flying Mail runs from many different airports in one of 5 states of America. For a game that arrived some 24 years ago now, it still manages to feature an impressive amount of remarkable details for the time, such as VOR towers readings, DME, ILS, and coupled with the game aspect that is to deliver post, Solo Flight is clearly quite unlike what you will have played before Score for choices made meaning you must ponder certain things like how much fuel you might need for each delivery. Each mail delivered is to a different airport...
---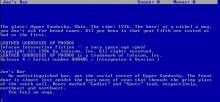 Leather Goddesses of Phobos 1986 Adventure
The year is 1936 and suddenly you are abducted by the Leather Goddesses for the final testing in the plan which will enslave every man and woman on earth. These Leather Goddesses of Phobos are just finishing up their plans for the invasion of earth. You've been a If you fail to escape and save humanity, the Leather Goddesses will turn the earth into their pleasure dome. Leather Goddesses of Phobos is an text-adventure with a sense of humor. The player uses standard commands in the text parser to observe his environment and pick up items. The game's "naughtiness" level can...
---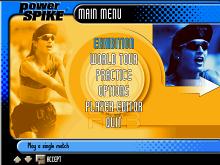 Power Spike Pro Beach Volleyball 2001 Sports
Historically, sports like volleyball, tennis and badminton often fail to translate to the video game screen well, and Power Spike Pro Beach Volleyball is no exception. Diehard fans of the beach sport may be enthralled, but most gamers will shake this poor effort loose like sand out of a bathing suit. Power Spike Pro Beach Volleyball is graphically inferior to other sports games released in 2000 and 2001, the sound is awful, and gameplay is confusing. The first easily noticeable major flaw is the incredibly slow loading time, which is followed by a poorly edited highlight reel of volleyball stars spiking...
---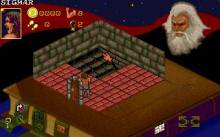 Hero Quest 1991 Board
The famous fantasy-themed board game was converted into an isometric-viewed role playing game in which the evil Wizard Morcar must be defeated. You take control of a wizard, a dwarf, a barbarian and an elf, each with different strengths and weaknesses, who each start the 14 missions from opposite sides of the board. Strict turn-based movement rules apply, as actions other than movement can only be carried out before or after the move, the size of which is limited by a dice roll. These moves are carried out using an icon-based system. Characters can fight the many monsters which lurk, or...
---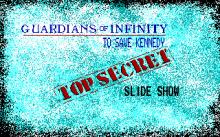 Guardians of Infinity: To Save Kennedy 1988 Adventure
In 2087, a physicist, inventor of a time travel machine, assembles a group of Guardians to travel back in time and thwart the assassination of President Kennedy. Try to convince everyone that his life is in danger and have an actual face to face meeting with Kennedy. ...
---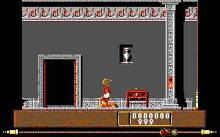 Eye of Horus 1989 Arcade action
I've always had a fascination with Ancient Egypt and when I saw Eye Of Horus on the shelves in a computer store back in the early 90's, I had to buy it. In fact it was the first PC game I ever bought and looking back, I'm so glad I did. Being used to platform games such as Super Mario Bros, Eye Of Horus was quite a different experience to me, though. What you wouldn't expect from such an old title, is how Eye Of Horus approaches the platform genre in its own way. Nearly every other platform game (especially...
---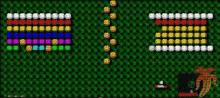 Bananoid 1989 Arcade action
One of many Arkanoid clones and not quite good actually. All that brick breaking is still there, but there is no real challenge as you can skip levels any time you want! I've heard that this game was actually made just to show the power of VGA colors back in 1991, so it's no wonder it's nothing special. ...
---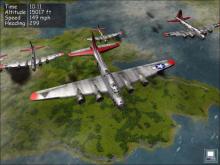 B-17 Flying Fortress: The Mighty 8th 2000 Simulation
One of the most interesting aspects of the air war in world war two was the heavy bomber offensive against Germany carried out by the United States 8th Air Force. In just under three years, this force grew from a few dozens planes into a weapon of tremendous destructive ability, and played a huge part in crippling the German Luftwaffe, as well as Germany's industrial ability. The airplane most closely associated with this offensive was the legendary Boeing B-17 Flying Fortress. What better than to do a bomber simulator around such a plane. The genesis of this game goes back to...
---