Educational Games
Search a Classic Game: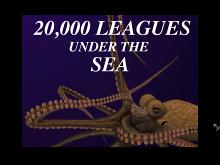 20,000 Leagues Under The Sea 1995
Professor Aronnax, his faithful servant, Conseil, and the Canadian harpooner, Ned Land, begin an extremely hazardous voyage to rid the seas of a little-known and terrifying sea monster. However, the "monster" turns out to be the giant submarine, Nautilus, commanded by the mysterious Captain Nemo, by whom they are soon...
---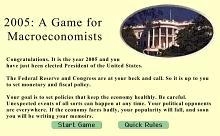 2005: A Game of Macroeconomics 2001
2005: A Game of Macroeconomics is an excellent free game that achieves what many expensive releases have tried and failed: teach basic concepts of macroeconomics in an accessible and fun package. Designed by N. Gregory Mankiw, one of the US' most famous economists, 2005 is designed as a supplementary material...
---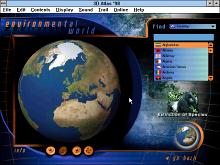 3D Atlas '98 1997

---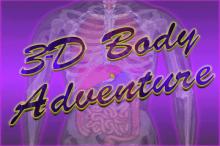 3D Body Adventure 1994
This game is an interactive adventure through the human body. You can zoom down the spinal column, watch blood cells flow through veins, and climb down the brain all in the same day. An interactive encyclopedia helps you understand different things relating to the human body that you might not...
---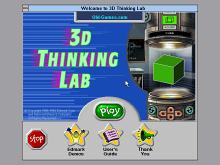 3D Thinking Lab 1998
An educational game for ages 8-12, 3D Thinking Lab trains students to visualize solids. Lessons range from the easy (Is this shape a cylinder?), to the complex. (Which of these unfolded hexagonal prisms match this shape?) There are 26 lessons included, as well as Dr Gee's Solid Shifter Machine,...
---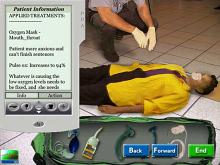 911 Paramedic 2002
This medical crisis game brings the stylized life and death drama of Legacy Interactive's Emergency Room games to the unpredictable city streets of Los Angeles. Through 35 missions, players take the role of the paramedics who provide the crucial first professional treatment to victims injured on the streets and sidewalks...
---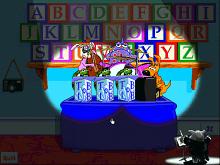 A to Zap! 1995
Hours of learning fun! The Sunbuddies will captivate your children as they learn important early learning concepts. Twenty-six different activities provide hours of fun. ...
---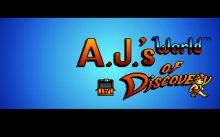 A.J.'s World of Discovery 1992
Who's this little fellow on our screen? He's A.J., that's who. And he's about to invite you to his own "World of Discovery". A.J.'s World of Discovery is an educational game where kids can play numerous mini-games: an Arkanoid clone; a funny face maker, where you can freely change facial features or randomly...
---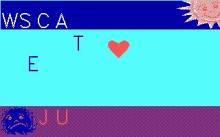 ABC Fun Keys 1989
Educational game where you have to go through different leves with word games. Actual fun made. ...
---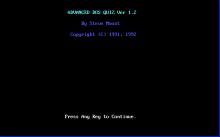 Advanced DOS Quiz 1991
Advanced DOS Quiz, the successor of DOS Quiz is a game that tests your knowledge of DOS commands. It is also suitable for companies who want to test their employees although the author suggests that it is too advanced for a normal office environment. The quiz itself consists of a normal...
---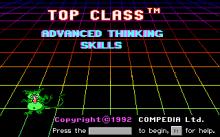 Advanced Thinking Skills 1992
This game is basically an IQ test to train the brain, comprised of a series of questions drawn from five different categories (Odd one out, Shapes, Building Blocks, Dominoes, and Number Sequences). There are only fifteen minutes to complete the test or players can choose to practise one of the...
---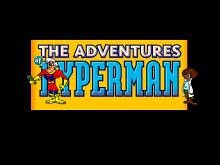 Adventure of Hyperman, The 1995
When Emma C. Squared unknowingly released the villainous Entrobe from the particle prison, Hyperman flew to the scene. Unfortunately, the scientific savior is a little confused about the way things work on Earth, and needs some help navigating the environment in order to capture Entrobe before he destroys the planet....
---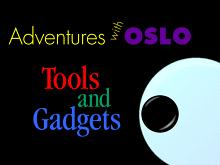 Adventure With Oslo: Tools and Gadgets 1994
Five programs in one! An animated storybook about a llama named Dolly who is constantly requiring rescue by Jimmy who turns into the many shapes of simple machines; An adventure game taking you on a search of Tooltown and the Valley of Machines for clues and a surprise ending; A Coloring Gallery featuring...
---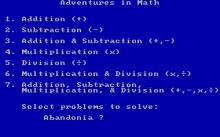 Adventures in Math 1983
In Adventures in Math the player takes the role of a treasure hunter who explores a castle. The goal of the game is to find the exit while earning as much points as possible. Points are rewarded for picking locks and finding treasures. To achieve these tasks the player has...
---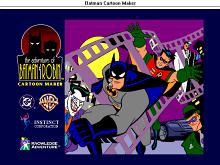 Adventures of Batman & Robin Cartoon Maker, The 1995
The Adventures of Batman & Robin is fun, but the content isn't as deep as it could be, nor is it clear as to what age group this package was aimed. The activities are simple enough for a first grader, but the stories and their accompanying questions are at a...
---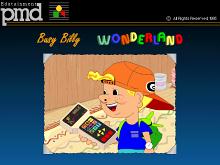 Adventures of Busy Billy, The 1996
Join Busy Billy as he gets up to all sorts of adventures - because in his World, anything can happen. You child will become the all-powerful director, creating their own fun-filled animated stories. Children will be responding to icons which represent familiar objects, so as to fulfil various tasks and...
---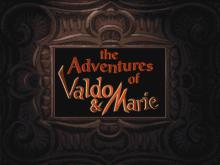 Adventures of Valdo & Marie, The 1997
The Adventures of Valdo & Marie is an educational game for kids. The player takes the role of Valdo who is aboard a 16th century Portuguese ship heading for Japan. On the journey, they will explore exotic lands and deal with pirates, sharks, and storms. The main objective of the...
---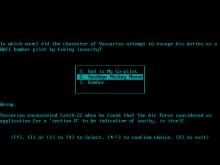 Aeronautics Quiz MK 2, The 1991
The Aeronautics Quiz MK 2 is a shareware quiz by Martin Mielke. The game features 121 questions, appearing in a random order, about the history of flight, particular incidents of the past, especially of World War 2, or technical aspects of miscellaneous airplanes. Choosing between two or more choices the...
---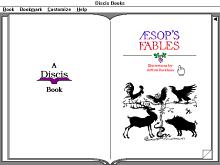 Aesop's Fables 1994
Aesop's Fables or the Aesopica are a collection of fables credited to Aesop, a slave and story-teller believed to have lived in ancient Greece between 620 and 560 BCE. The fables remain a popular choice for moral education of children today. Many of the stories, such as The Fox and...
---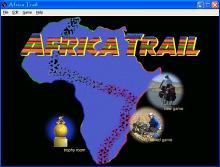 Africa Trail 1997
Surviving a 12,000 mile bike trip through Africa is no mean feat, whether you do it in real life or on a computer screen. Time, money, weather and even your own health may well be against you. You start out in Tunisia with $30,000 and three companions, along with a collection...
---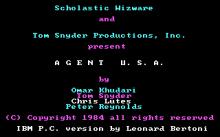 Agent USA 1984
Agent USA is a geography enhancement game that centers around a character that travels by train to different U.S. cities. The object of the game is to find the "FuzzBomb" which turns ordinary people into "FuzzBodies". You plant crystals which regenerate into newer crystals, and when you build up 100...
---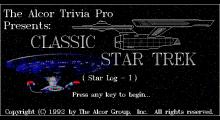 Alcor Trivia Pro Classic Star Trek (Star-Log I) 1992
The Alcor Trivia Pro Classic Star Trek (Star-Log I) is the first of ten Star Trek trivia games by The Alcor Group, Inc.. Each of them offers 150 questions about a special topic of the Star Trek universe. This one is about the adventures of the first Enterprise crew around...
---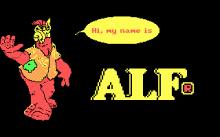 Alf's Thinking Skills 1988
Let the warty, mangy, cat-eating ALF teach your children the fundamentals of logic! The game is set into three lessons; the first has the child leading ALF to the Tanner household's cat Lucky, via a route of minor logic problems (such as 3 roads with stoplights, one is green... which road...
---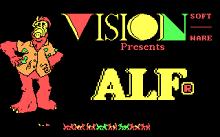 ALF's U.S. Geography 1988

---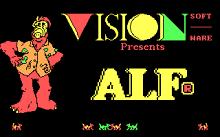 Alf's World of Words 1988
Alf's World of Words is a companion title to Vision Software's Alf's Thinking Skills, an excellent edutainment game starring one of America's most famous children TV characters. Like Alf's Thinking Skills, AWoW was designed for preschoolers, this time to teach them the English alphabet and basic words. There are several...
---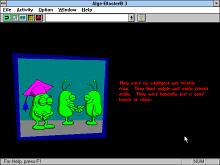 Alge-Blaster 3 1994

---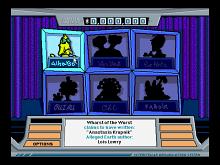 Alien Tales 1995
With more than 30 award-winning science-fiction novels as inspiration, this creative game gets kids into reading by getting intergalactic. Young players will try to figure out which of the novels' authors have been replaced by alien imposters answering questions about the stories. The whole thing takes place in a game...
---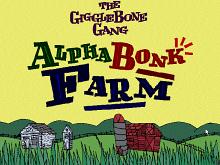 Alphabonk Farm 1994
AlphaBonk Farm is a wonderful example of applying a consistent theme to a simple subject. In this case, Headbone Interactive has used a farm and everything one might expect to find around a farm, as a frame of reference for learning the alphabet. The program opens with Farmer Bonk explaining what's...
---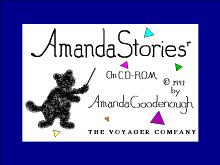 Amanda Stories 1991
AmandaStories was the very first "point-and-click" program for kids. Not only is there a strong narrative--in ten separate stories Inigo explores his house, his dream, the outside world, and Your Faithful Camel ventures as far afield as the North Pole--but where you click actually determines the course of the story....
---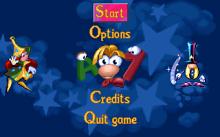 Amazing Learning Games with Rayman 1996
Join Rayman in his quest to recover the Book of Knowledge which has been stolen by the evil Mr. Dark. The gameplay of the original Rayman game is still present but kids from ages 6-10 must also read, count and spell as Rayman battles his way through the landscapes. As...
---