Sports Games #10
Search a Classic Game: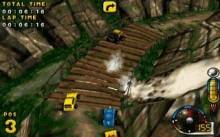 Ignition 1997
Ignition is an action packed racing game viewed from above and slightly behind the player. The cars on offer range from police car and VW Beetle to school bus and truck, each of which has its own strengths and weaknesses - trying to win with the bus, which involves blocking...
---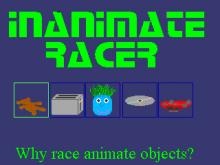 Inanimate Racer 1998
We've all heard the expression "going nowhere fast" but how often has it been simulated in a computer game? Strap yourself to the keyboard and get ready for indescribable excitement as the player selects one of five inanimate racers -- from a teddy bear to a toaster to the dark...
---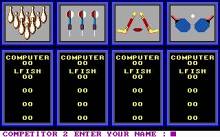 Indoor Sports Volume 1 1987
Four Indoor Sports are compiled in this entry to DesignStar's SportTime line of recreations. Ten-Pin Bowling, Air Hockey, Darts and (except on the Commodore 64) Ping Pong are featured. The menus and options screens have the same feel as Clubhouse Sports. Each game has computer opponents at multiple skill levels...
---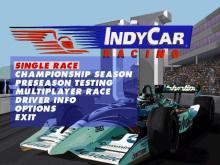 IndyCar Racing II 1996
The fourth Papyrus racing game is the sequel to the 1993 IndyCar Racing. It uses many of the improvements which were introduced in NASCAR Racing. There are fifteen tracks in total, and the major features are 640x480 SVGA graphics, multiplayer support for two players, pi telemetry data for realism, interactive...
---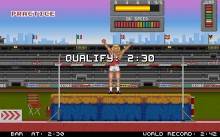 International Athletics 1992
International Athletics is an arcade track & field game by the Spanish developer True Emotions. It was initially published by Opera Soft in Spain in 1992 under the title Olympic Games '92, then licensed by Zeppelin in 1993 for their "International" series of sports simulations....
---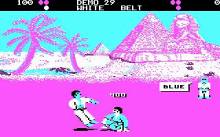 International Karate 1989
The objective of World Karate Championship is to get the highest possible dan (karate grade, determined by belt colour) and become the world champion - and of course, to get the highest score. Karate fighters compete against each other on side-view screens, the scenery representing real world locations (New York,...
---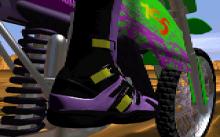 International Moto X 1996
International Moto X simulates off-road motorcycle races. The main part of the game is the championship mode in which the player controls a 125cc motorcycle. There are various different leagues on different continents.At first the player creates his rider and sets the colour of his bike. More important is the...
---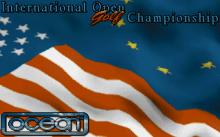 International Open Golf Championship 1993
Ocean presents in association with Pringle of Scotland an international open golfing experience. The game features many and varied forms of golf including skins, foursomes, matchplay, strokeplay, practice and fourball with the action taking place over a wide variety of terrain and locations. All of the expected levels of difficulty...
---
International Rally Championship 1997
International Rally Championship is an excellent sequel to Magnetic Fields/Europess' 1996 Rally Championship, and is the fourth entry in Magnetic Fields' long line of top-notch rally simulations that began in 1993 with Network Q Rac Rally (as an interesting side note, the company's expertise in racing games dated back to...
---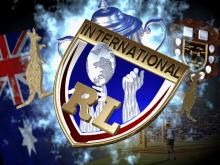 International Rugby League 1996
A rugby league game (rugby league is a sport is a ball sport similar to rugby union, but features set tackles rather than rucks and mauls - once a player is successfully tackled he plays the ball back to a team-mate behind him, with the team losing possession if tackled...
---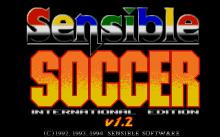 International Sensible Soccer 1994
Released alongside the 1994 World Cup, this was the first version of Sensible Soccer to feature teams from outside Europe. The World Cup tournament is featured in full, and you can adjust which 24 teams this features, a particularly crucial feature for English and French fans, as their nations failed...
---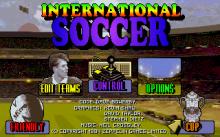 International Soccer 1994
Released to coincide with the 1994 World Cup, this one has an overhead view similar to Sensible Soccer. Real teams are provided at both club and national level – although, contrary to what the packaging claimed, the player names are invented. The players vary in speed, and in which skills...
---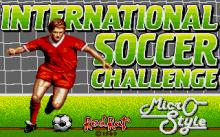 International Soccer Challenge 1990
International Soccer Challenge is loosely a sequel to MicroProse Soccer and it has many similarities to the original, including the way the ball sticks to your player's foot. The major difference is the visual perspective, which is in pure 3D, viewed just behind the ball as you move up the...
---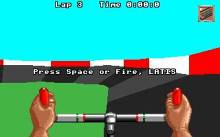 International Sports Challenge 1992
International Sports Challenge let you and up to 3 friends compete in 6 different sports and 21 separate events. You can choose from any mixture of individual events (over 2000 combinations) or play them in sequence with the 26-mile marathon.Sports available are: - Marathon, - Diving: one- and two-meter springboard,...
---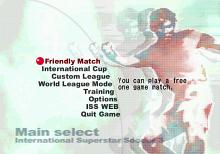 International Superstar Soccer 3 2003
By the turn of the millenia, the ISS franchise was split into two games: Pro Evolution/Winning Eleven and ISS/Jikkyou. While the first are native to the PSX formats, featuring a almost perfect and acclaimed gameplay, ISS carried the gameplay and options from the N64 versions (64, 98 and 2000), with...
---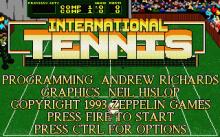 International Tennis 1993
International Tennis lets up to four players play tennis on three different courts (grass, clay and asphalt), each with their own ball bounce. The game can be played using different match variations. You can play singles with men (five sets) or women (three sets) or play mixed with both in...
---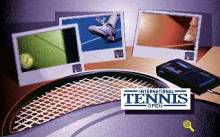 International Tennis Open 1994
More of a simulation than an action game, with a multimedia showcase (the game's got thousands of mini-videos, voiceovers, etc.). You select one of 9 nations to represent and get to play singles against a variety of opponents (no doubles play) in either practice mode, quick match, or tournament. Practice...
---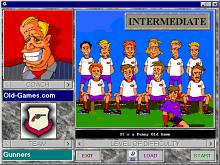 It's a Funny Old Game 1996
It's a Funny Old Game is one of the few tongue-in-cheek soccer simulations in existence. While it will never dethrone the likes of Championship Manager or even On The Ball as one of the most accurate simulations of soccer management, IaFOG can lay claim to be one of the most...
---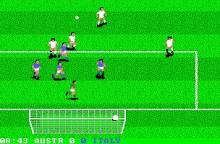 Italy '90 1990
Surely not the best soccer-game ever made. But I just tested it and after getting used to the controls (you can define them yourself, but you cannot use the arrow-keys) I really enjoyed it. I don't think I'll have to tell you what soccer is about? But then again, there...
---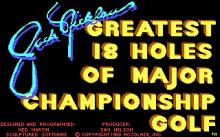 Jack Nicklaus 1988
Jack Nicklaus' Greatest 18 Holes of Major Championship Golf is a 3D golf simulation featuring an 18 Hole course created by Jack Nicklaus himself. Each of the 18 holes are from famous courses around the world and include number 8 at Pebble Beach, number 18 from Muirfield, number 12 from...
---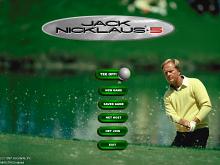 Jack Nicklaus 5 1997

---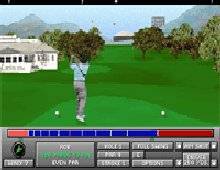 Jack Nicklaus Signature Edition 1992
Signature Edition is an improved version of Jack Nicklaus Unlimited Golf and Course Design. The game and course design interface are fairly similar so there is no learning curve if you've played the first, but now the graphics and sound are greatly improved. The Signature Edition could also play courses...
---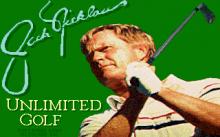 Jack Nicklaus' Unlimited Golf 1990
Another golf game, featuring an extensive course designer as a value-added feature. Similar to Links or PGA Tour Golf, both of which came out around the same time....
---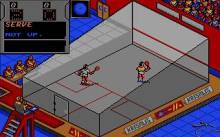 Jahanghir Khan's Squash 1991
Squash simulations are something of a rarity, and it was this niché that Krisalis aimed one of their many sports simulations into. The rules of squash are accurately recreated, with a realistic court layout (viewed isometrically) and a need to hit legal shots. Three different ball speeds, variable match lengths...
---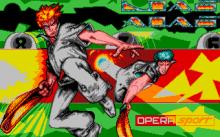 Jai Alai 1991
"Jai Alai" is a game based on the Basque handball (or Basque "pelota"), a sport original from the Basque country which is very popular in the whole Spain, but also to a lesser extent in some regions of the United States since the early XX century, the times of the...
---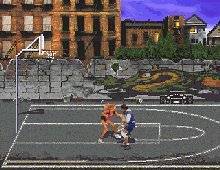 Jammit 1994
As the name implies, this is strictly a basketball game. It has a black-basketball theme (as seen in a lot of odd American movies) and has a myriad of game options (one on one, group etc.). Also, it has a betting option, but other than that it's your typical run-of-the-mill...
---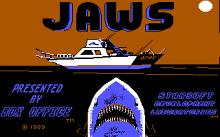 Jaws 1989
Jaws is an ambitious shark hunting simulation based on the Steven Spielburg blockbuster movie of the same name. In contrast to most fishing games, the goal in Jaws is very narrow: hunt for big sharks to earn money, so that you can better equipment to-- hunt for more sharks in...
---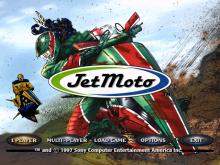 JetMoto 1997
JetMoto is a good PC conversion of a Playstation futuriastic bike racing game of the same name, developed by now-defunct SingleTrac for Sony Interactive. Despite the futuristic setting, the game boasts "true physics" model, and by and large this is apparent. The jetmotos handle much like bikes in the real...
---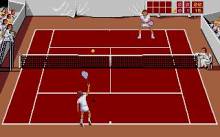 Jimmy Connors Pro Tennis Tour 1991
Endorsed by famous tennis player, Jimmy Connors, this game offers tournament and single play on multiple court types.Using crosshairs, aim your ball to the other side of the court and hope you hit where you want. If you are lucky, you might even score an Ace. If not, you will...
---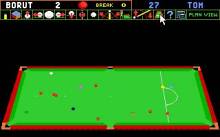 Jimmy White's Whirlwind Snooker 1991
A 3D snooker simulator. The table and cue can be turned through almost any angle, with shot strength and spin as required too. An on-screen dotted white line shows the path of your ball, including the next bounce.There is also a "trick-shot" mode, allowing you to recreate classic snooker trick...
---