Sports Games #16
Search a Classic Game: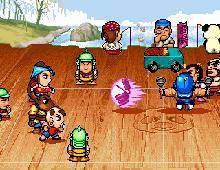 Panda Dodgeball 1993
Panda Dodgeball is a sports game that parodies characters and themes from Sango Fighter. The object, like in real dodgeball, is to hit the players on the other team with the ball. The teams consist of three players each. Graphics are done in a "super-deformed" style. Characters possess special powers...
---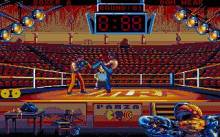 Panza Kick Boxing 1990
Endorsed by André Panza, this video game adaptation of Thai kick boxing features over 35 moves. Use the training gym to build up your character's abilities until you feel ready to take on an opponent. You also have the ability to customize your attacks. When you are ready, go to...
---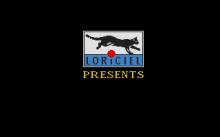 Paragliding (a.k.a. Paraplane) 1991
The game is an enhanced remake of the original Paraplane for Amstrad CPC. Different stages of player's skills allow you to play a different types of games. While Practicing you may complete the exercises to train yourself in main gameplay actions such as taking off, landing, flowing using air currents, etc....
---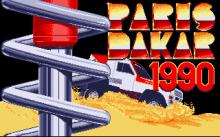 Paris Dakar 1990 1990
The game represents the African part of 12th Paris-Dakar rally route officially sponsored by Tomahawk. Unlike previous Paris-Dakar simulation, African Raiders-01, this game allows to drive a car under control from a cockpit. Drivers are seen to the player, but the view perspective is rather 1st person than 3rd person. Starting...
---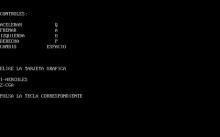 Paris-Dakar 1988
Paris-Dakar is a rally simulator in which the player controls a wide variety of variables, including the state of the car (gasoline, water, damages, gear box...) and the race route (always accessible), among others. If needed, the player can refuel, buy water or whatever else is required from the powerboats...
---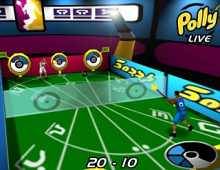 Patrick Polly Swooshball Challenge, The 1998
The Patrick Polly Swooshball Challenge is an innovative, but ultimately banal, blend of tennis and Pong, mixed with elements of air hockey. Played in the style of tennis, your objective is simply to hit the targets behind your opponent's back with the ball. The target in the middle is worth...
---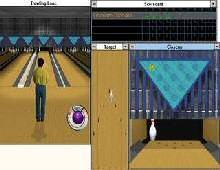 PBA Bowling for Windows 95 1995
This concise review at GameSpot says it all about this lackluster bowling game from Bethesda that could have been great: "I'm sure there are people out there saying "Yeah, football and baseball are great, but when is a bowling game for the PC coming out?" Well, here it is. And,...
---
PC Pool 1984
The predecessor of PC Pool Challenges but strangely enough practically has not much difference what so ever in the game play. The only obvious difference is that PC Pool had no known publishers. It seems that designer Dale Jurich must have impressed someone with this game. PC Pool offers straight ball...
---
PC Pool Challenges 1984
Probably the first pool game made for PC, Pool Challenges offers two game types, up to four players in the same time, many available options and some great statistics screens. Not much else to say, just get the game, gather your friends and play a few times. ...
---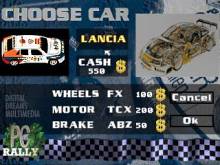 PC Rally 1995
PC Rally is a rally arcade racing game very similar in looks to Gaelco's World Rally Championship (1993), except for the fact that in PC Rally the car sprite is much bigger. There are three game modes: training, single race and championship. The first two will be useful to practice...
---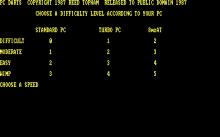 PC-Darts 1987
A simple dart game where you work using the x-axis and y-axis to get points on the dart board. The game does not keep score for you, so you will have to count your own points. After three darts, you can start again, or can quit the game. To play, you...
---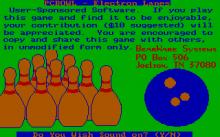 PCBOWL - Electron Lanes 1986
Up to four players can take turns trying to knock the pins down in this straightforward arcade style bowling game. PCBOWL - Electron Lanes gives you control over only the tail end of your roll where you get to use the directional up or down buttons to direct the path...
---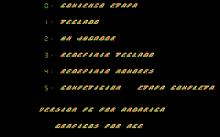 Perico Delgado Maillot Amarillo 1989
"Perico Delgado Maillot Amarillo", a game based on the Spanish champion, was one of the first cycling simulators that reproduced accurately the ups and downs of one of the hardest sports. Here you can run in a singular test (after seeing the informative track profile), divided each one in four...
---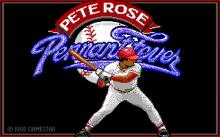 Pete Rose Pennant Fever 1988
This baseball game licenses former Cincinnati Reds player Pete Rose. It allows the player to play every position on the field. Different batting and pitching styles are available. It has digitized voice and sound, and provides a variety of play options including One or Two-player action, season play or exhibition. In...
---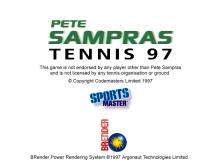 Pete Sampras Tennis 97 1997
Codemasters used their Pete Sampras license for a second time on this tennis game. Playing as either a male or female in singles or doubles matches, your ultimate aim is to win each of the 8 matches, which represent the finals of 8 tournaments The four Grand Slam tournament venues...
---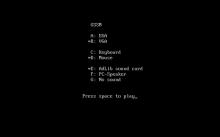 Peter Schmeichel Soccer Manager 1993
Graeme Souness Soccer Manager is a basic football managing game based on the English leagues where the player is responsible for bringing a team (any available) from the Conference to the top division. Options are limited: the player can select the starting eleven, the players being rated in both ability and...
---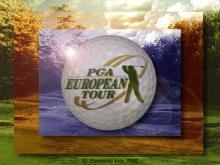 PGA European Tour 1995
European Tour is best thought of as a remake of the original game, rather than a sequel as such. It features 5 courses from across Europe, and 60 top European pros, rather than the US-leaned lineup of the original. The graphics are much more detailed and colorful, as you'd expect...
---
PGA Tour 96 1995
The player can either chose to play as one of the 10 PGA Pros (whose swings were digitized), or go Pro - the game keeps track of statistics (longest drive, driving accuracy, best round, etc), a game (Tournament, Strokeplay, Skins, Match and Shootout), as well as a replay. Gameplaywise, PGA 96...
---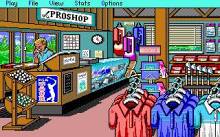 PGA Tour Golf 1990
PGA Tour Golf introduced many of the conventions commonly seen in the genre since. The three-click control method (the first to start the swing, the second setting power and over-swing, the third setting draw or fade) allowed for a multitude of different shots, and required a sense of timing. Four...
---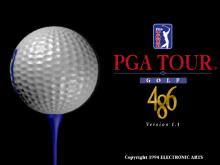 PGA Tour Golf 486 1994
This is 1994's incarnation of the long running PGA Tour series, this time the additions come mostly on the technical arena: new, better, graphics an sounds including videos and commentaries of all the courses, as well as 9 digitized PGA pros to play as or 55 opponents with whom to...
---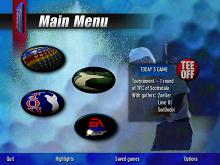 PGA Tour Pro 1997

---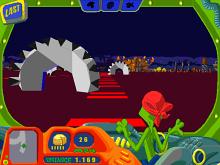 Pie Jackers (a.k.a. Pizza Pilots) 1996
"You're working the late shift and the call comes in for another double cheese, pepperoni, black olives and onion. Grab the stick and hold on tight. The race is on! And the competition is fierce. You race, you chase, you blob other pilots with cheese. You shalom around obstacles while...
---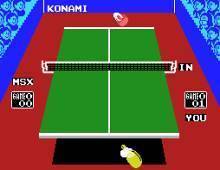 Ping Pong 1985
Ping Pong is a fun ping pong (more formally known as table tennis) game from Konami, released for the MSX computer in 1985 as well as for Commodore 64, Spectrum, and other 8-bit computers. A faithful translation of Konami's arcade game of the same name, Ping Pong allows you to...
---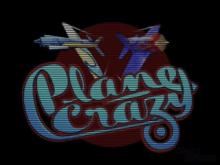 Plane Crazy 1997
Plane Crazy is based on the very familiar theme of racing along a course, tagging checkpoints to get the extra time, and ultimately, trying to cross the finish line before any of your opponents do. The main difference is... you guessed it! The cars have been substituted for these adorable...
---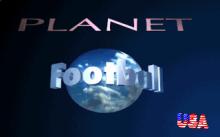 Planet Football 1994
Planet Football is an ambitious soccer game that tries to beat EA's classic FIFA Soccer, but falls short in many areas, most notably poor player controls and inexplicable AI quirks. The game is only good enough to appease soccer fans through the early option stages, but when the match starts...
---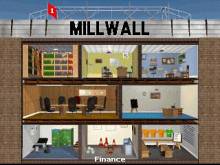 Player Manager 2 1995
Player Manager 2 sets you as an international-standard soccer player who's stepped into being a player-manager at a lower-division side. The challenge is to reach the Premier League and survive. Most of the standard features of management games are present, including pre-match tactics (which are fairly customizable), a full transfer market...
---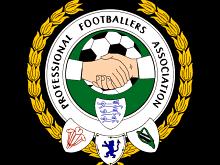 Player of the Year 1996
Based on the English FA and with the Professional Footballers Association (PFA), this Krisalis manager/action game is probably one of the most underrated football games ever. Updated and upgraded version of Manchester United: The double, Player of the Year has in common the interface, and the well known Tacti-Grid tactics...
---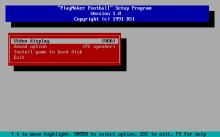 Playmaker Football 1991
PlayMaker Football is a top-down simulation of American football . It is made out of three primary sections - The Game / Team Draft / Chalkboard Editor. The game allows one to take the role of a coach of a team of 25 football players. The coach can create a team...
---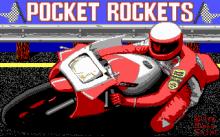 Pocket Rockets 1989
Pocket Rockets is an action-style motorcycle racing game. It introduces a new kind of race into the genre: drag racing. You can race against the clock or championship record. There are four motorcycles to choose from: Suzuki Katana Kawasaki Ninja Yamaha FZR Honda Hurricane ...
---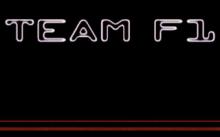 Pole Position (a.k.a. Team F1) 1996
Pole Position is another German sports-business simulation. But you're not manager of a Soccer team – you manage a Formula 1 Team! Therefore Ascaron has licensed the Teams and Drivers from the 1995 Championship. At the beginning you can choose an existing Team like Ferrari or Williams or build up your...
---