Sports Games #14
Search a Classic Game: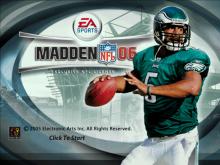 Madden NFL 06 2005
With each new edition of the Madden football franchise, the developers at EA Sports try to make their game a little bit more complex and a little bit more enjoyable. The previous year's new features focused mostly on the defensive side of the football, so this year it's the offensive...
---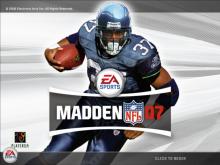 Madden NFL 07 2006
EA Sports' blockbuster football series continues for an unprecedented 17th season with Madden NFL 07 for PC. In addition to the yearly tweaks to the graphics engine and sound, Madden NFL 07's primary area of focus is the running game. For the first time in the series, players can take...
---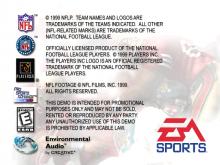 Madden NFL 2000 1999
Madden NFL 2000 on the PC is a better all-around football game than its Nintendo 64 cousin. Although the audio is choppier, both John Madden and Pat Sumerall have more to say, and I like the look of the graphics more. It also has a great feature -- the Situation...
---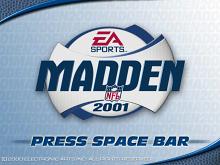 Madden NFL 2001 2000
John Madden is one of the legendary figures in National Football League history. It only makes sense that some of the best NFL video games ever created bear his name. Madden NFL 2001 is no exception. The EA SPORTS team put together an outstanding game in the 2001 Madden incarnation. The...
---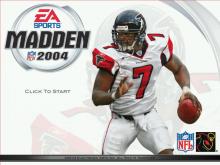 Madden NFL 2004 2003
Likely the most successful and recognizable sports video game franchise of its time, Madden NFL returns to consoles and computer screens for its 14th season of professional football action. As usual, the teams, rosters, logos, and stadiums have been updated based on information from the most recent (2002-2003) NFL season....
---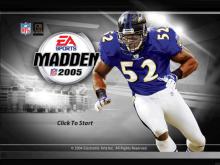 Madden NFL 2005 2004
The "2005" edition of the best-selling Madden NFL sports game series hits the field with another new season's worth of refinements and additions. Attention has been paid to the defensive game in this version, with enhancements intended to give gamers more options and more control when they're playing from the...
---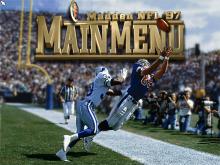 Madden NFL 97 1996
Ah, John Madden ... is there another name that brings so quickly to mind buffalo wings and athlete's foot spray ... and of course, football? EA Sports has enlisted Madden, Pat Summerall and a fair host of other NFL broadcast icons to put together Madden '97, a multimedia football extravaganza...
---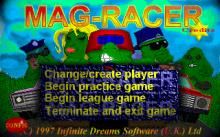 Mag-Racer 1997
The Mean And Green-Racers are part of an alien race called the Pod-People. When their home planet Pod was destroyed in a cataclysmic explosion of the Pod solar system, they began a voyage to find a new planet. After years they stranded on planet Earth in an abandoned toy-shop. Here...
---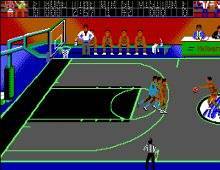 Magic Johnson's Basketball 1989
Magic Johnson's Fast Break is fast-paced two-on-two action rather than the usual five-on-five contest. On screen you get a full-court, horizontally-scrolling gameplay. A referee monitors the action and calls the fouls if the gameplay gets too rough, and a crowd cheers you on. Your team starts each game at a certain...
---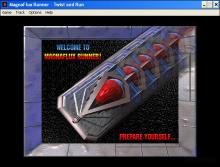 Magnaflux Runner 1993
Magnaflux Runner is a fun top-down miniature racing game for Windows that is similar to better-known Micro Machines series. Instead of racing around everyday objects, Magnaflux Runner pits your skills against computer-controlled cyborg opponents on 5 unique alien speedways. The "Magnaflux Runner" in the game's title is a futuristic armored vehicle...
---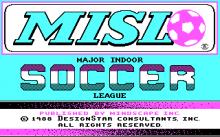 Major Indoor Soccer League 1989
The official game of the MISL, this game allows you to create an expansion team and build it into a championship franchise. You can trade and create players, modify team rosters, and train players for the season. Team stats are kept for 9 seasons, and the game offers the ability...
---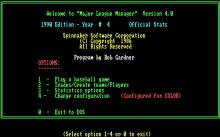 Major League Manager 1986
As the name implies you get to run your own baseball team. You play as a sort of all powerful coach with complete control over your team; you do want to have players who can play well though, you can trade, delete, and create new players at will, and you...
---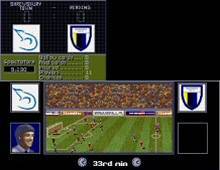 Manager, The 1991
The Manager is a variant of Bundesliga Manager Professional. It has the same gameplay and visuals, but features the English football (soccer) league instead of the German Bundesliga. Acting as the manager of a 3rd division team, it is your mission to negotiate with sponsors, hire or get rid of...
---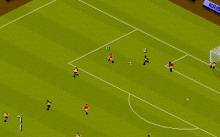 Manchester United - The Double 1995
Krisalis' fourth licensed Manchester United game - the title refers to their success in winning both the Premier League and the FA Cup in the same (93-94) season -- something only six clubs have achieved. The gameplay is overhead view, and has much in common with Kick Off, offering loose control,...
---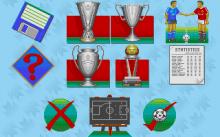 Manchester United Europe 1991
Play your favourite team as they make their way through the European Football championships. You can either select your team and let the computer's AI battle out each match, or take over control of the players and put the ball in the back of the net yourself. This was Krisalis' second...
---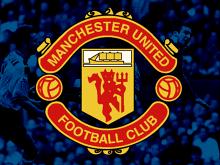 Manchester United: Premier League Champions 1994
After Manchester United won the English League championship for the first time since 1967, it was no surprise that Krisalis re-used their existing license for a third licensed football game. Little did they know that the club was entering an unprecedented run of success that has continued well into the...
---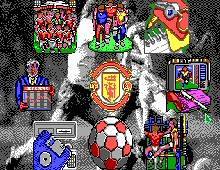 Manchester United: The Official Computer Game 1990
A football management simulation with an arcade component where you manage the world's most famous football team. Lead them through a season to see how many trophies you can win. You can pick your dream team for the positions you want and see how they do in the championships. The management...
---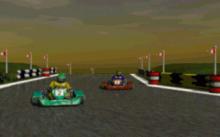 Manic Karts 1995
Virgin Interactive's Manic Karts is yet another entry into the already crowded go-cart racing genre. A sequel to the moderately successful Super Karts, released by GT Interactive, Manic Karts attempts to breathe new life into a tired concept. Touting many new features and improved graphics, the box would have us...
---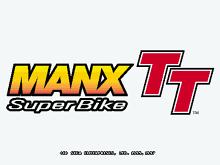 Manx TT 1997
Manx TT Super Bike makes the transition from Arcade to PC with this 1997 release of the Sega motorcycle racing simulation distributed by Expert Software. Supporting 3D acceleration Glide technology and multi-player action for up to eight players, the game is based on the actual annual racing theme prevalent in...
---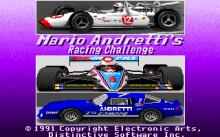 Mario Andretti's Racing Challenge 1991
The greatest race car driver of all time Mario Andretti welcomes you to make a career of professional racer/driver. Obtaining the sponsor, you'll take a $20,000 and ready to start. For this money you may buy a Sprint Car and win a season races in this series to collect the...
---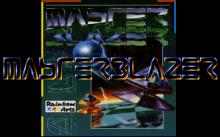 Masterblazer 1991
Masterblazer is both a remake of and a follow-up to the Lucasfilm Games classic Ballblazer. Ballblazer is a futuristic sport played in vehicles called "Rotofoils". The play field is a large rectangle made out of squares. The object of the game is to get a ball called "Plasmorb" into the goal,...
---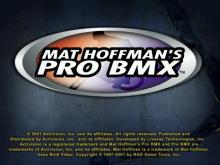 Mat Hoffman's Pro BMX 2001
Mat Hoffman's Pro BMX could be described as a complete knock off of the Tony Hawk Pro Skater series in nearly every way, but that's not particularly bad, as there are far worse series to imitate. While the game is not original in any way, shape, or form, it still...
---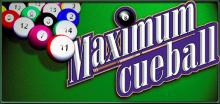 Maximum Pool 2000
Never again wait for a table time in your local billiards parlor since "The Pool Hall Comes Home" with Maximum Pool. Seven classic tables, five original bonus tables and games, four adjustable skill levels, configurable video-captured computer opponents, interchangeable standard and "cool" shaped tables, and online play provide a diverse...
---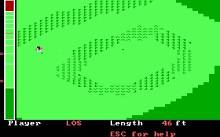 Mean 18 1986
Pebble Beach and St. Andrews are two of the courses on offer in this golf simulation, released in the early years of 16-bit technology. The three-click control system was used, whereby the first click starts the swing, the second sets the power, and the third sets draw or fade. Beginner and...
---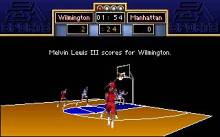 Michael Jordan in Flight 1993
3 on 3 basketball game endorsed by Michael Jordan. Features digitized players and basketball court. 3d camera follows the action around the court, zooming and panning around. One of the first 3d engines in a sports game. No NBA Licensed players or teams. ...
---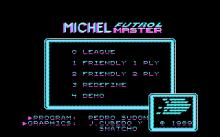 Michel Futbol Master & Super Skills 1989
In 1989 arrived at our screens a game of the world of soccer: Michel Futbol Master + Super Skills, carried out by the ex-player of Real Madrid, Michel. As habitual on Dinamic games, this game consists of two loads clearly differentiated: -Load 1: Super Skills (tests), This load has the objective...
---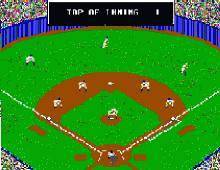 Micro League Baseball 1 1984
Microleague eschew action in favor of strategy for this licensed baseball game. The real-life teams and players are included, as well as classic teams from the past - lots of data disks were released featuring additional lineups. Each play is graphically shown, with a running commentary detailing how it unfolds. A...
---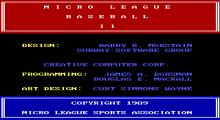 Micro League Baseball 2 1989
MicroLeague Baseball II is a baseball managerial simulation game. The player takes the role of a major league manager. There are actual stats for pitching, hitting, fielding, running and more. The games features an exclusive "Quick-Play" Option Menu as well as powerhouse teams from the past and present. ...
---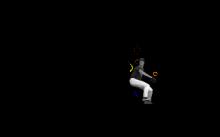 Micro League Baseball 4 1992
In this installment improved by graphics, digitized video and network support, you continue to manage one of baseball teams of Major League. The Exhibition and League Play, Shedule and Playbook Editor, Manager Profile are available. You can initialize your own league, add and delete teams, set team roster, assign manager,...
---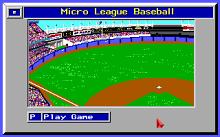 Micro League Baseball: The Manager's Challenge 1991
Micro League Baseball series are surprising little games for their time that sport graphics and gameplay improvement with each new version. The games offer a selection of history's most powerful teams and you can pit them against each other in league play. Each even has a stat compiler that allows...
---