Sports Games #12
Search a Classic Game: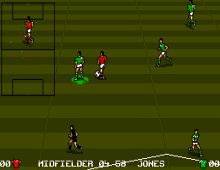 Liverpool 1992
An average soccer game based on England's most popular soccer team in mid-1980s (before David Beckham and his Manchester United peers became all the rage), Liverpool botches the prestigious club name with bland graphics, blocky player characters, and simply not enough of anything.The game offers the usual range of gameplay...
---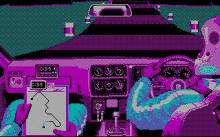 Lombard RAC Rally 1988
This is a driving simulation is which you get to drive all the stages in the Lombard RAC rally. The game includes day and night stages, along with different weather conditions such as fog and snow. There is also a workshop option where you can repair and tweak your car...
---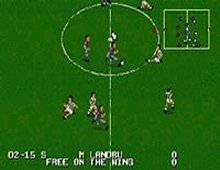 Lothar Matthäus (a.k.a. European Champions) 1993
Lothar Matthäus is a solid soccer simulation from Audiogenic, published by OCEAN. Despite bearing the name of one of Germany's best players, the game's scope is not as large as the likes of Champion Manager; instead, the game focuses on tactics and action-oriented gameplay where you can control each player...
---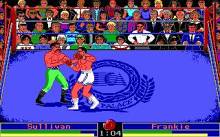 Low Blow 1990
Low Blow is a beyond-the-rules boxing game where illegal hits are, in fact, legal. Landing a punch in someone's genitals is not only a legal move in this game, it's also quite effective.You can play a tournament against the computer or a simple game against your friends....
---
M.U.D.S. 1990
M.U.D.S. (Mean Ugly Dirty Sports) is a slightly humorous but definitely violent game in which the game itself is won by scoring at least 7 out of 14 goals or by killing enough of the opposing team. Tackles, pummelings, being thrown into the moat -where a shark-like thing will eat...
---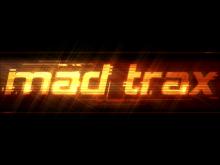 Mad Trax 1998
Mad Trax is a decent space racing game that unfortunately brings little innovation to the crowded genre. Sharky Extreme's review explains quite well why this is merely an average game: "The idea for the game is simple. As in most racers, you've got a series of different vehicles at your...
---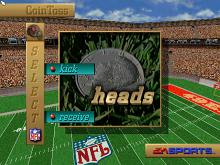 Madden Football: Limited Edition 1996
A port of Madden '96 to DOS, using the extra space provided by a CD to provide improved graphics and animation. Features 3D rendered graphics, 640x480 resolution, and John Madden announcing.Over 500 players, 240 plays, and the ability to create your own playbooks. Trade your players, and sign free agents....
---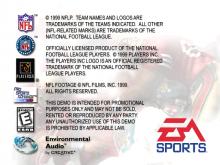 Madden NFL 2000 1999

---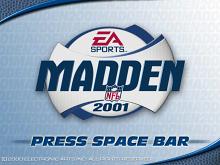 Madden NFL 2001 2000

---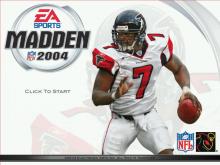 Madden NFL 2004 2003

---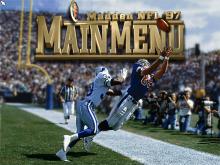 Madden NFL 97 1996
Welcome to Madden NFL 97, the game that captures the excitement of a 30 yard touchdown pass, the strategy of a well executed scoring drive, and the atmosphere of a crisp autumn afternoon in the stadium. Madden NFL 97 delivers state of the art graphics and sound -- and with...
---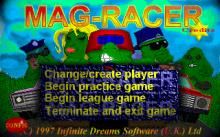 Mag-Racer 1997
The Mean And Green-Racers are part of an alien race called the Pod-People. When their home planet Pod was destroyed in a cataclysmic explosion of the Pod solar system, they began a voyage to find a new planet. After years they stranded on planet Earth in an abandoned toy-shop. Here...
---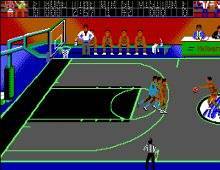 Magic Johnson's Basketball 1989
Magic Johnson's Fast Break is fast-paced two-on-two action rather than the usual five-on-five contest. On screen you get a full-court, horizontally-scrolling gameplay. A referee monitors the action and calls the fouls if the gameplay gets too rough, and a crowd cheers you on.Your team starts each game at a certain...
---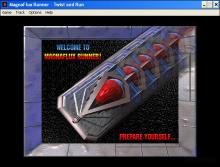 Magnaflux Runner 1993
Magnaflux Runner is a fun top-down miniature racing game for Windows 3.1 that is similar to better-known Micro Machines series. Instead of racing around everyday objects, Magnaflux Runner pits your skills against computer-controlled cyborg opponents on 5 unique alien speedways.The "Magnaflux Runner" in the game's title is a futuristic armored...
---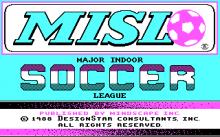 Major Indoor Soccer League 1989
The official game of the MISL, this game allows you to create an expansion team and build it into a championship franchise. You can trade and create players, modify team rosters, and train players for the season. Team stats are kept for 9 seasons, and the game offers the ability...
---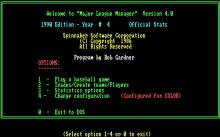 Major League Manager 1986
As the name implies you get to run your own baseball team. You play as a sort of all powerful coach with complete control over your team; you do want to have players who can play well though, you can trade, delete, and create new players at will, and you...
---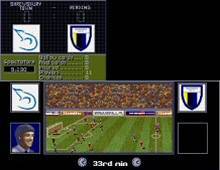 Manager, The 1991
The Manager is a variant of Bundesliga Manager Professional. It has the same gameplay and visuals, but features the English football (soccer) league instead of the German Bundesliga. Acting as the manager of a 3rd division team, it is your mission to negotiate with sponsors, hire or get rid of...
---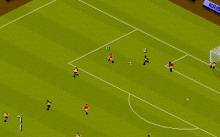 Manchester United - The Double 1995
Krisalis' fourth licensed Manchester United game – the title refers to their success in winning both the Premier League and the FA Cup in the same (93-94) season –- something only six clubs have achieved.The gameplay is overhead view, and has much in common with Kick Off, offering loose control,...
---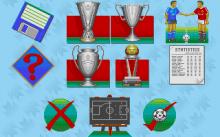 Manchester United Europe 1991
Play your favourite team as they make their way through the European Football championships. You can either select your team and let the computer's AI battle out each match, or take over control of the players and put the ball in the back of the net yourself.This was Krisalis' second...
---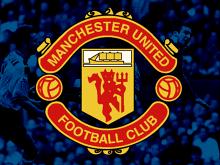 Manchester United: Premier League Champions 1994
After Manchester United won the English League championship for the first time since 1967, it was no surprise that Krisalis re-used their existing license for a third licensed football game. Little did they know that the club was entering an unprecedented run of success that has continued well into the...
---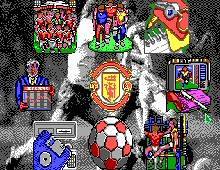 Manchester United: The Official Computer Game 1990
A football management simulation with an arcade component where you manage the world's most famous football team. Lead them through a season to see how many trophies you can win. You can pick your dream team for the positions you want and see how they do in the championships.The management...
---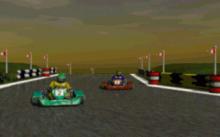 Manic Karts 1995
Manic Karts is the follow-up to Manic Media's hit game SuperKarts. Different from all-new tracks, improved graphics & sound and familiar gameplay of SuperKarts, probably the biggest offer Manic Karts has is the SVGA resolution along the choice of four classes of kart (you can race in 50cc up to...
---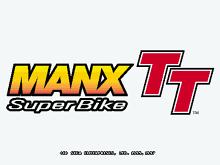 Manx TT 1997
Manx TT is a decent PC port of SEGA's popular arcade game which was in turn based on the real-life "Isle of Man Trophy Race" motorcycle race. Similar to other racing games, you can play the game in arcade mode, PC mode, time trial, and multiplayer with up to eight...
---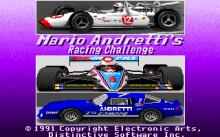 Mario Andretti's Racing Challenge 1991
The greatest race car driver of all time Mario Andretti welcomes you to make a career of professional racer/driver. Obtaining the sponsor, you'll take a $20,000 and ready to start. For this money you may buy a Sprint Car and win a season races in this series to collect the...
---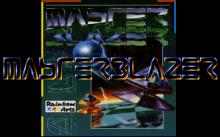 Masterblazer 1991
Masterblazer is both a remake of and a follow-up to the Lucasfilm Games classic Ballblazer.Ballblazer is a futuristic sport played in vehicles called "Rotofoils". The play field is a large rectangle made out of squares. The object of the game is to get a ball called "Plasmorb" into the goal,...
---
---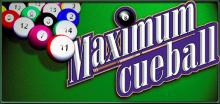 Maximum Pool 2000

---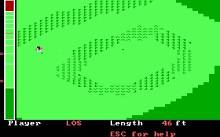 Mean 18 1986
Pebble Beach and St. Andrews are two of the courses on offer in this golf simulation, released in the early years of 16-bit technology. The three-click control system was used, whereby the first click starts the swing, the second sets the power, and the third sets draw or fade.Beginner and...
---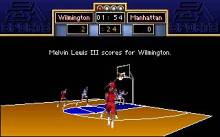 Michael Jordan in Flight 1993
3 on 3 basketball game endorsed by Michael Jordan. Features digitized players and basketball court. 3d camera follows the action around the court, zooming and panning around. One of the first 3d engines in a sports game. No NBA Licensed players or teams....
---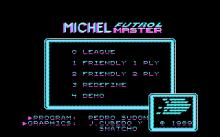 Michel Futbol Master & Super Skills 1989
In 1989 arrived at our screens a game of the world of soccer: Michel Futbol Master + Super Skills, carried out by the ex-player of Real Madrid, Michel. As habitual on Dinamic games, this game consists of two loads clearly differentiated:-Load 1: Super Skills (tests), This load has the objective...
---