Board Games #3
Search a Classic Game: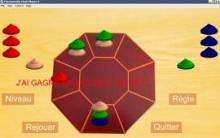 Diam 2004
Diam is a cool Flash version of a neat abstract board game for 2-4 players that makes an ingenious use of the third dimension (i.e. height). The goal of the game is to place 2 pawns of identical color on 2 diametrically opposed spaces - and at the same height....
---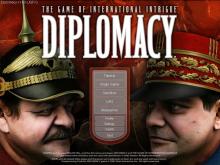 Diplomacy 2005
This historically themed turn-based strategy contest from the makers of Europa Universalis is based on the Avalon Hill board game of the same name. As the title implies, the game revolves around negotiations and agreements, instead of battlefield tactics or military might. The ability to craft beneficial bargains almost always...
---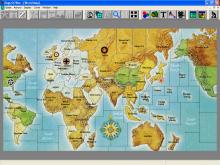 Dogs of War 1997
Hot seat multiplayer games seem to be a relic of the past. Most of the games nowadays being real time, you can play over LAN or the internet, but that's just not as much fun as playing a cool game while sitting in the same room. So when you've had...
---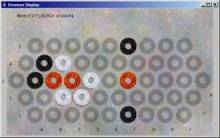 Dvonner 2005
Dvonner is a great Windows game that features tough AI opponent for the game of Dvonn, a fun and unique tile-stacking abstract board game invented by Kris Burn in 2001. From the official site: "DVONN is a stacking game. It is played on an elongated hexagonal board, with 23 white,...
---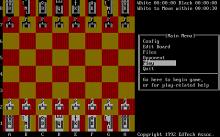 Ed Chess 1994
A very basic chess game. Play against the AI, another person, or have the computer play itself. ...
---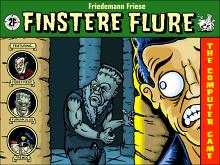 Fearsome Floors (a.k.a. Finster Flure) 2005
Fearsome Floors is an accurate Macromedia Flash conversion of a neat German board game of the same name (called Finster Flure in German). The goal is to get the yellow smilies (i.e. your opponents' playing tokens) eaten by the monster, while making sure all of the green smilies (i.e. your...
---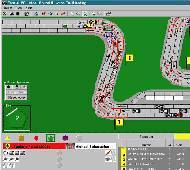 FormulaPC (a.k.a. Formula Dé) 2002
FormulaPC is an excellent fanmade PC version of Formula Dé, a unique board game from EuroGames that captures the spirit of Formula One racing in a whole new way: on the tabletop. Like its board game original, FormulaPC allows up to 5 computer or human players (each controlling an F1...
---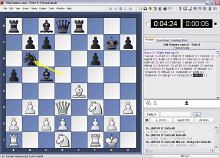 Fritz 9: Play Chess 2005
Offering serious instruction for serious players, Fritz 9 Play Chess gives strategy enthusiasts unlimited hours of training and game play. A searchable database covering four centuries of chess is included, as well as a position explainer, training videos, game analysis, and six strength levels that will give an edge to...
---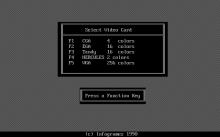 Full Metal Planete 1990
Tie-in of the rather unknown but truly brilliant board game of the same name. Up to four players land on a planet with their motherships, trying to gather as much ore as possible within 24 game rounds. This almost sounds like a happy, idyllic round of pick-the-flowers... if it wasn't for...
---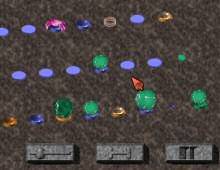 Funball 1995
Funball is a checkers-like game for two players. The goal is for a player to get a ball onto the opponent's base, while stopping the opponent from doing the same. Each player controls one color of balls--either red or green. Like checkers, the game board is an eight-by-eight grid. Unlike checkers's...
---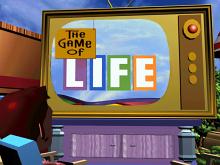 Game of Life 1998
The CD-ROM Game of LIFE is a pleasant combination of the familiar board game, and fantastic animations and sound. Even if you have never played the game before, you can pick up the concept in no time and be enjoying this title. While many board game to PC conversions really offer...
---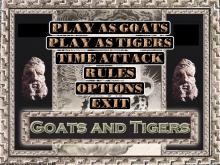 Goats and Tigers (a.k.a. Bagha Chal) 2004
Goats and Tigers is a solid PC implementation of "Bagha Chal," a little-known board game popular in Nepal and Tibet. I have been looking high and low for a PC version of this very interesting game for months after I returned from my trip to Nepal with a nice bronze...
---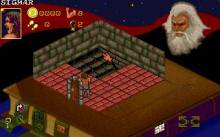 Hero Quest 1991
The famous fantasy-themed board game was converted into an isometric-viewed role playing game in which the evil Wizard Morcar must be defeated. You take control of a wizard, a dwarf, a barbarian and an elf, each with different strengths and weaknesses, who each start the 14 missions from opposite sides...
---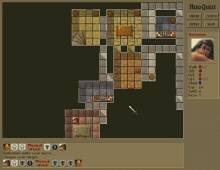 HeroQuest 2004
HeroQuest is a superb fanmade PC version of Milton Bradley and Games Workshop's popular but now out-of-print boardgame of the same name. In this turn-based board game in a fantasy setting, you can play with 1 to 4 players in hotseat mode (i.e. the same computer). Designed primarily with kids...
---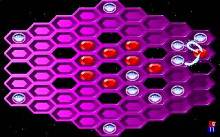 Hexxagon 1993
Hexxagon is a board-game. You have a table which contains a hexagon fields, 58 in total, and each player/computer starts with having three of them. You can move one or two fields in any direction. If you move one, you get the new one and the one you have filled...
---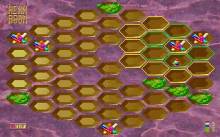 Hexxagon 2 1993
Sequel to Argo's original and widely known Hexxagon, Hexxagon 2 adds improved graphics, better AI and somewhat better board configuration options while keeping the same fundamental gameplay. ...
---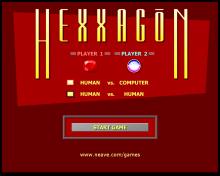 Hexxagon for Windows 2003
Hexxagon for Windows is a superb fanmade remake of a 1992 game of the same name from Argo Games. Hexxagon, in turn, is a variant of a neat strategy game called Ataxx which is implemented in Spot for DOS and subsequently the Microscope game in The 7th Guest (which was...
---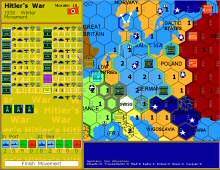 Hitler's War 2004
Hitler's War is a solid fanmade translation of Avalon Hill's tabletop war game for Windows. In this "introductory level" wargame, you can lead the German army as Hitler against human players in hotseat, LAN, or Internet modes. There is no computer AI, so the game is useful only if you...
---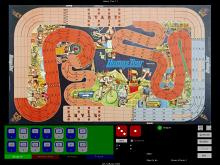 Homas Tour 2004
Homas Tour is the original edition of the cycle racing game later known as Um Reifenbreite. The concise description from Boardgamegeek.com goes as follows: "Translating as "By the Width of a Tire," this game covers a Tour de France-type of bicycle race. Each player takes control of a four-member racing...
---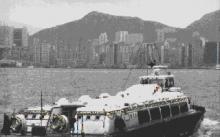 Hong Kong Mahjong Pro 1992
Unlike the many versions of solitaire Mahjong which have proliferated on home computers in the last decade, Hong Kong Mahjong Pro is the real deal. Traditionally, Mahjong is played against three opponents utilizing a 144-tile set. Although seemingly complex, the game is actually easy to play but very difficult to...
---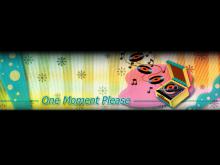 Hoyle Board Games 2001 2000
Board games are the oldest games on earth. The longevity of classics such as chess and backgammon, and even more recent games such as Connect Four and Mastermind, can be attributed to the simple fact that board games are an incredibly fun way to pass the time. The first rule...
---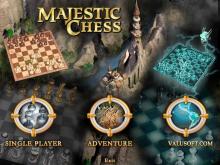 Hoyle Majestic Chess 2003
Majestic Chess attempts to make learning chess a fun experience with an adventure mode as well as more traditional chess gameplay. In the story mode, players take command of a King and travel around a map to recruit other chess pieces. The goal: recruiting an entire set so that the...
---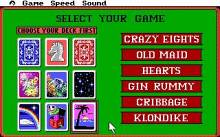 Hoyle Official Book of Games: Volume 1 1989
Play six different card games (Crazy Eights, Old Maid, Hearts, Gin Rummy, Cribbage, and Klondike Solitaire) against 0-3 computer opponents (as appropriate for each game). There are 18 available computer opponents, including characters from other Sierra games (Colonel Henry Dijon, Shelly LeBlanc, Officer Sonny Bonds, Larry Laffer, King Graham, Roger...
---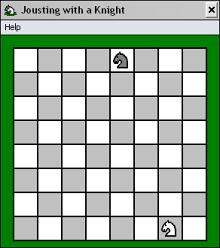 Joust (Chess) 1998
Joust (not to be confused with Atari's classic arcade game of the same name) is a fun strategy game based on Chess. In the designer's own words: "In this game each player has a Knight which moves as in Chess. However, once a piece has moved, the square it was previously...
---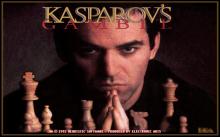 Kasparov's Gambit 1993
Kasparov's Gambit was Electronic Arts' attempt to enter the niche chess market dominated by Chessmaster 3000 and Battlechess. It has a number of pluses including being based off a competition-winning chess engine, a database of 500 games, an SVGA isometric chessboard and the license of the world's reigning chess champion,...
---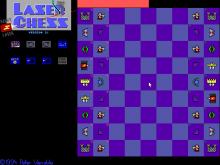 Laser Chess 1994
Chess and destructive laser beams together at last! Laser Chess, which is a DOS version of the award winning original, for the most part plays like a regular chess game except that some pieces have been replaced by deflectors and a laser cannon. You move your pieces on the board...
---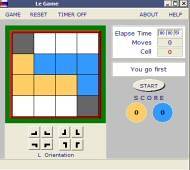 LeGame 2004
LeGame is a solid PC implementation of L Game, a neat little board game designed by Edward Bono that allows for an impressive range of possible moves (over 18,000), especially given a very small board (4x4) and only two L-shaped playing pieces, one for each player. The object of the...
---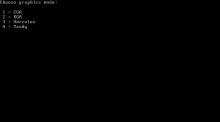 Leisure Genius presents Monopoly 1989
This version of the classic board game supports several graphic formats and offers some different options. From 2 to 8 players can play the game, and they can all be computer players if you wish. This allows you to just sit back and watch as the computer takes over. You...
---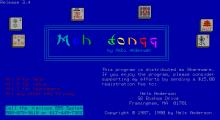 Mah Jongg Solitaire 1987
Mah Jongg is a solitaire tile-matching game first invented on the computer in 1981. It can best be described as a memory & strategy puzzle game. The images on the tiles are from the 19th century Chinese game of Mah Jongg (a board game for four players). One tile set comes...
---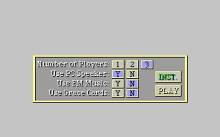 Maker's Matchup 1994
Maker's Matchup is another game in a series of Concentration games about the Bible. This game focuses on teaching about God and Jesus. The game is played just like other Concentration games, where 1-3 players try to match up pairs of cards. The cards in this game are all based on...
---