Board Games #6
Search a Classic Game: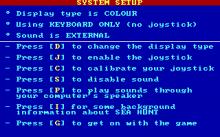 Sea Hunt 1987
Sea Hunt is a computerized version of the classic board game, "Battleship", for PC-DOS or MS-DOS. The player is pitted against the computer A.I. There is no two-player option. There are ten difficulty levels. Each player's fleet consists of eight ships, compared to the five featured in the board game...
---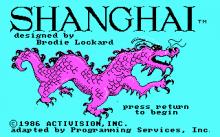 Shanghai 1986
Shanghai is a tile-based game based on the ancient Chinese game of Mah-Jong - this was the first of many computer versions. The gameplay involves 144 tiles, each depicting different images, which have to be removed by matching them into pairs. The tiles are arranged in a gridded pattern, which is...
---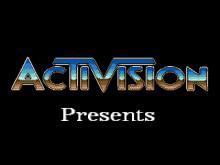 Shanghai II: Dragon's Eye 1990
Shanghai II: Dragon's Eye is a surprisingly basic version of solitaire mahjongg. With very few options or customizable features, the two game modules included offer little more in the way of gameplay than the traditional tile game. Shanghai is the familiar form of mahjongg with different layouts and tile sets...
---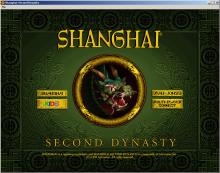 Shanghai: Second Dynasty 1999
Shanghai: Second Dynasty offers ten mahjong-related games and 54 different tile sets from which to choose. While that may sound exciting, gameplay can actually become boring. The variations stem from two main games, Shanghai, a tile-matching game, and mahjong, similar to the card game Rummy. Shanghai features eight different games,...
---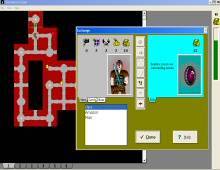 Sorcerer's Cave 1995
Sorcerer's Cave is a fun Windows turn-based fantasy-themed board game similar to HeroQuest. Originally a board game, this PC version is coded by the designer himself, who released this Windows version as shareware in 1995, and later as freeware which you can download from the official site. The game, in...
---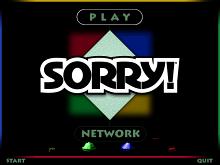 Sorry! 1998
Sorry!, the classic board game from Parker Bros., comes to the home computer in this 3D CD-ROM from Hasbro Interactive. One to four players (computer controlled or human) can participate in classic Sorry! gameplay (play the cards you are given), strategic Sorry! (choose which card to use and hold the...
---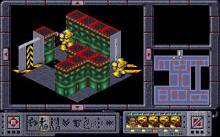 Space Crusade 1992
Space Crusade is a science fiction strategy game converted from the Games Workshop/Milton Bradley boardgame, in which you control a commander and four marines who are sent on different missions aboard hostile alien starships. Your commander starts off as a sergeant, but he can work his way through the ranks....
---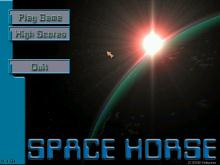 Space HoRSE 2002
Space HoRSE attempts to return players to the glory days of eighties computer gaming. Space HoRSE (Holistic Robotic Slave Engineer) honors the 80s classic M.U.L.E., supports multiplayer games up to four players, includes 45 random events, and offers several species including Brainy Crane, HoRSE Clone, Lumpty, Pink Matter, and Space...
---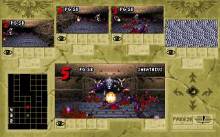 Space Hulk 1993
Set in the Warhammer 40,000 Universe, Space Hulk puts you directly in the middle of a deadly battle between the Space Marine Warriors from the Dark Angel's Chapter of the Legiones Astartes and the insidious alien race known as the Genestealers. The Marines, also known as Terminators, have been patrolling...
---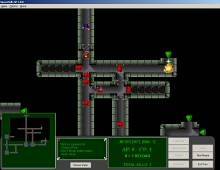 SpaceHulk-SP 2004
SpaceHulk-SP is a great fanmade PC version of Games Workshop's Space Hulk boardgame, designed for single player (hence the "SP" in the name). Set in a far future, the game tells the story of intrepid space marines as they hunt and exterminate the menacing "genestealers" aliens. Although this may sound...
---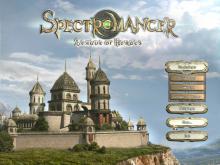 Spectromancer 2009

---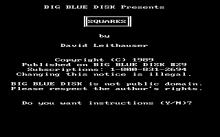 Squares 1989
In this Tic-Tac-Toe-style game, the player and the computer compete to be the first to make a 2x2 square within a 10x10 grid. The computer AI has five levels of intelligence, and the player gets to choose who goes first. It is also possible to save a game and resume...
---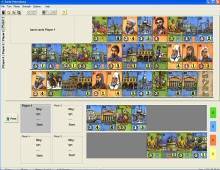 St. Petersburg 2004
St. Petersburg is a great PC conversion of the card/board game of the same name from Hans im Gluck/Rio Grande Games, the same publishers that brought us Carcassonne series. St. Petersburg is a "beer & pretzel" card game that "...deals with 'gracious living along the river Neva': the baroque palaces,...
---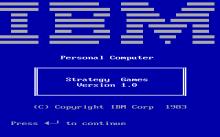 Strategy Games 1983
A very early four-in-one game package, containing computerized versions of Checkers for Beginners, Elusion, Battleship, and Reversi. ...
---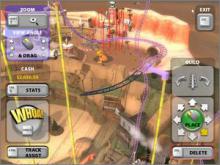 Thrillville: Off the Rails 2007
The carnival comes to PC in Thrillville: Off the Rails, part park management sim and part adventure game. Build an assortment of themed roller coasters, racetracks, and offbeat rides while attempting to impress the crowds and turn a profit along the way. Unlike similar business-oriented titles, however, Thrillville's focus isn't...
---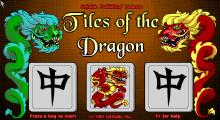 Tiles of the Dragon 1993
The goal of this game is to remove as many tiles from the board as possible. Tiles are removed two at a time, matched tiles only, and, an eligible tile must have no other tile on top of it or touching it on at least one side... it must be...
---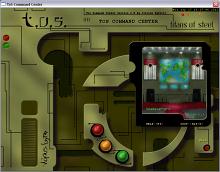 Titans of Steel 1999
Titans of Steel: Warring Suns tells the story of a future where cataclysmic battles are fought by giant humanoid robots -- Titan Attack Techs, or Titan-ATs. Players can design their own Titan-ATs and choose weapon systems -- 29 total, including lasers, cannons, and missile launchers -- armor types, and configure...
---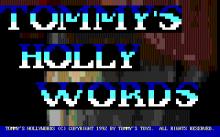 Tommy's Hollywords 1992
When Tommy talks about "Hollywords" what he means are the names of people associated with Hollywood and some fifty years of film history. And so for one to six players, he poses you with filmic word-scramblers, mixing up the names of movies and their two lead actors, then leaving you...
---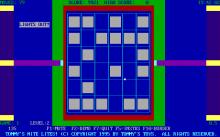 Tommy's Nite Lites! 1995
Tommy's Nite Lites! is a single player DOS Puzzle game released as shareware. The game takes place on a grid measuring six squares by six. A number of the squares in the grid are shaded. The object of the game is to clear all the squares on the grid in the...
---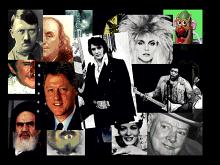 Trivial Pursuit Interactive Multimedia Game 1994
Converting a popular board game to a computer format can be risky and difficult. Normally it involves creating a unique aspect designed to grab prospective user attention by offering something more than the original board version. Such is the case in Trivial Pursuit Interactive Multimedia Game which combines the best...
---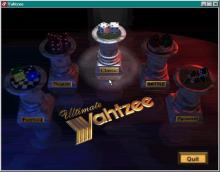 Ultimate Yahtzee 1996
Ultimate Yahtzee offers five versions of the popular poker-themed dice game and multiple 3D backgrounds. Featured variants include "Classic Yahtzee," "Triple Yahtzee," "Painted Yahtzee," "Pyramid Yahtzee," and "Battle Yahtzee." All feature the same underlying play mechanics with slightly different rules. "Pyramid," for example, has pyramid-shaped dice and introduces new scoring...
---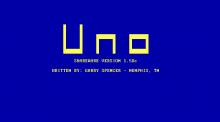 Uno 1991
This is a simple computerized version of the card game UNO, and incorporates the official rules from that game. In this rendition, one player plays against a computer opponent, so it is essentially a solitaire game. Complete instructions on playing the game are provided when you begin. Keyboard keys perform all...
---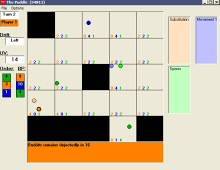 Ursuppe 2004
Ursuppe (German for "Primordial Soup") is a good PC version of a fun board game of the same name. One of the most intriguing games based on "life theory" ever made, Ursuppe puts you in charge of a tribe of amoebas that are struggling to survive in prehistoric Earth. You...
---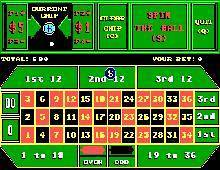 Vegas Gambler 1987
Vegas Gambler is a casino game for one player which features four common casino games: Video Poker, Roulette, Black Jack and Slots. At the start of the game you have $500 to bet with. The betting limits are $200 for Black Jack and Roulette and $5 for Video Poker and...
---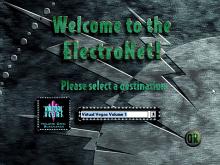 Virtual Vegas: Volume 1 - Blackjack 1995
Virtual Vegas: Turbo Blackjack is a card-game set in a virtual casino in Las Vegas. This is a straight forward blackjack game whose main selling points are: Voice recognition, Windows 3.1 only, which allows the player to talk to the dealers Three 'sassy' dealers that the player can...
---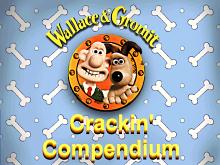 Wallace & Gromit Fun Pack 1996
The is a collection of fun items for your PC inspired by Nick Park's first three Academy Award winning clay animated Wallace & Gromit short films. The package includes the Customise-o-matic which adds screen-savers, wallpapers, icons, and sound-bites to your desktop. You can also use a video browser interface, the...
---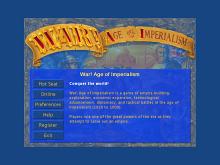 War! Age of Imperialism 2003
Steer a burgeoning nation through the age of Imperialism (1830-1900), and build it into an empire. Deploy explorers to search for resources and persuade the natives to join your empire. Create and train armies -- complete with infantry, cavalry, artillery, and generals -- and send them against those foolish enough...
---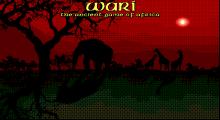 Wari: The Ancient Game of Africa 1994
From the ad: "Wari might appear simple, but it can be much more complex than it looks. There is nothing else available quite like Wari. It's fun, it's challenging, and it's different! The game is also designed to help you to learn how to play, and play it well. You've...
---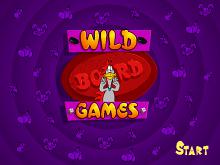 Wild Board Games 1995
Wild Board Games is a fun collection of board games for Windows, the fifth in Corel's line of 'edutainment' CD-ROMs for children before the company refocused its efforts on graphical applications in late 1990s. The program includes five board games adapted to the computer: Chess, Checkers, Reversi, Snakes & Ladders,...
---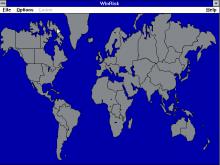 WinRisk 1992
WinRisk is a 2-3 player game allowing for any combination of computer and human players. The game is a very fast-paced version of Risk where you can doing everything with the click of the mouse. The game is almost exactly like the original board game and has two...
---