Non-English Games #3
Search a Classic Game: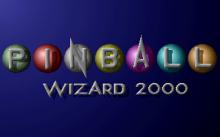 Pinball Wizard 2000 1995
Pinball Wizard 2000 is an excellent application that allows you to create and play your own pinball tables. Although the English version was never made, this German game is not difficult to understand and use, thanks to the fact that most menu items are in English. Compared to 21st Century's...
---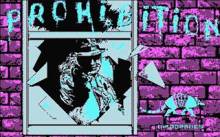 Prohibition 1987
Prohibition is a shoot'em up taking place in New York in 1930. The town is overrun by gangsters and you're hired by the police to rid the town of them. The gameplay is simple: you're facing a row of buildings, a gangster pops up and you have to shoot him before...
---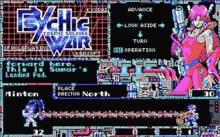 Psychic War 1989
The Century Parody is a powerful battleship on its way to the trade station Samar. Shooting out of the KGD Star System in the year 3656 and into the Quila System you will land on to the mysterious trade station and along with your android companion Kayla uncover an ancient...
---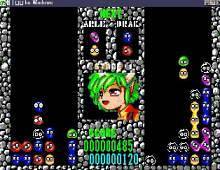 Puyo Puyo 1996
Alexei Pajitnov's blockbuster Tetris spawned many clones, but Puyo Puyo is one of the more worthy derivatives from the whole falling-blocks craze in the early 80s. First released on the Mega-Drive console by Compile, Puyo Puyo has all the qualities that keep puzzle fans hooked to the screen: bright, colorful...
---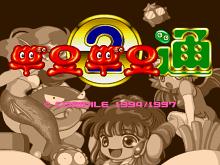 Puyo Puyo 2 1997
Puyo Puyo 2 is a great sequel to Puyo Puyo, one of the best Tetris-style game that inspired numerous clones on its own. The gameplay remains the same as the first game: colored cartoon jelly blobs fall from the sky in pairs, and your goal is to connect four blobs...
---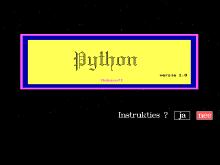 Python 1990
This nice game is dutch and is a snake game where you got to eat mouses or other animals and get lots of points, only make sure you don not eat other stuff, like trees, gates, etc. Nice game. ...
---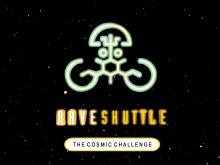 Rave Shuttle: The Cosmic Challenge 1997
In this game the player controls a DJ who flies with his "Rave Shuttle" on several planets so search after the ultimate melody. In comparison with Auf der Suche nach dem Ultimate Mix with a similar premise this game is played in a 1st person perspective. The puzzles are mostly...
---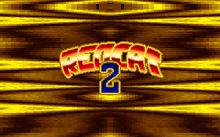 RedCat 2: De ontvoering 1995
RedCat 2 is a decent 2D platformer from Holland. The plot: Princess Dana has been kidnapped by a group of mice (!) led by an evil wizard. As the hero RedCat, you must rescue her by defeating hundreds of enemies spanning 8 levels. And naturally, you will face off with...
---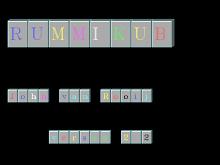 Rummikub 1992
Rummikub is a dutch board game wich works just like the "real" board game. This is the version with numbers. To start, you must have 30 points and after that you can just play. Read "Help" for instructions. Notice that it is all in dutch! ...
---
---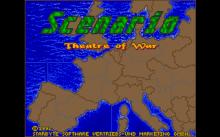 Scenario 1992
Scenario is a fairly simple and simplistic strategy game for one to four players, playing in a fictional World War I scenario. Your aim: conquer Europe. The game requires a mouse, but doesn't work with all mouse drivers (probably only with the Microsoft standard one). Quite a blatant disregard to...
---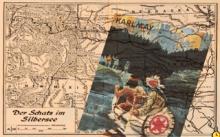 Schatz im Silbersee, Der 1993
Der Schatz im Silbersee is a decent graphic adventure by Software 2000 and Swiss developer Linel based on the popular Karl May characters. Certainly no milestone in adventure gaming but most of the things you could expect from a "classic-style" adventure are there. More Karl May adventures were planned, but...
---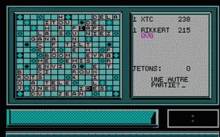 Scrabble, The 1989
Perhaps the earliest "official" version of Scrabble for the PC. This adaptation of the classic word puzzle game allows up to four players with the option of using computer opponents that can compete at 8 different skill levels. The 20,000 word dictionary can be amended by the player to include...
---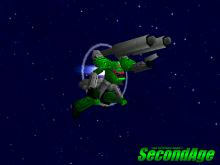 Second Age 2002
Second Age is an excellent 3D giant robot ("mechas" in Japanese) action game set in space. The game offers excellent mecha designs, fun gameplay, and a variety of modes including Story, Practice, and 2-player. You can choose from 8 available mechas, each with its own weapons, strengths, and weaknesses. The...
---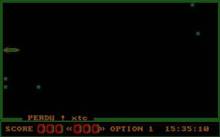 Serpy 1986
Serpy is a serpent -- serpent, as in snake, as in... this is a snake game. Gameplay is quite limited as these things go: the player directs Serpy ever onward toward small, randomly appearing particles of what must be food or some other snake-growth stimulant... upon consuming them Serpy...
---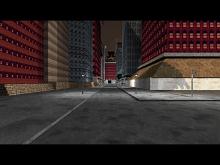 Shine 1996
German-produced game Shine is a typical Myst-like 1st-person perspective adventure game with pre-rendered backdrops. In this game you will become Shine. But who is Shine? You don't know when you start the game. You don't know anything but that you are in Twilight City, a once huge and crowded metropolis....
---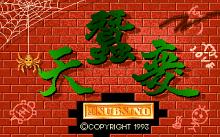 Silk 1993
Silk is a fun adult Qix-style game from Subsino, a Taiwanese developer. Your goal on each level is to use the arrow keys and spacebar to "draw" lines from the edge to expose a hidden picture of a (scantily clad, of course) girl underneath. You need to expose at least...
---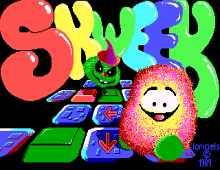 Skweek 1989
The Skweeks lived in harmony for centuries, being a naturally peaceful peoples, until Pitark arrived. He ruined their bright pink land by removing the colour, and it was only after he died that they had the opportunity to clean the land up. Your job is to travel through the 99...
---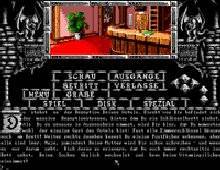 Soul Crystal 1992
Your name is Dave, and these are your first holidays you're spending alone, without your parents. You're resting in a hotel near a mysterious loch in scottland. You go swimming in the lake and dive through a waterfall - on the other side of it, you're finding yourself in a...
---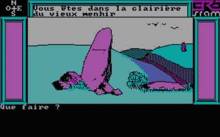 Sram 1987
Textual adventure made by the French company Ere. In the first chapter, you are the knight 'Girouette' (weather cock) and your goal is to free the king Egres, prisonner in the castle of the priest Cinomeh. ...
---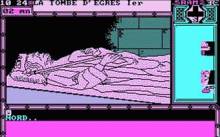 Sram 2 1987
The sequel made shortly after the first game. In the second chapter, Egres is the king (thanks to you) and Cinomeh was banished in high mountains. A black sorcerer teaches him how some magic. Then he came back and charmed you (the knight Girouette)! Now, as slave of Cinomeh, your...
---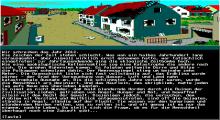 Stundenglas, Das 1990
Das Stundenglas was the first game by little German Bavarian-based company Weltenschmiede. It's an illustrated text adventure, all in German, in the style of the Magnetic Scrolls games, combining the story with many graphic stills. At the start of the game, you find yourself in a little town in the year...
---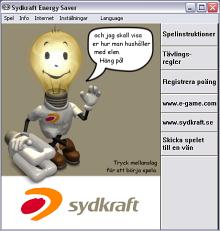 Sydkraft Energy Saver 2000
A cute little game from E-Game, leading promotional game developers. Sponsored by Swedish energy giant Sydkraft, your mission in Sydkraft Energy Saver is-- not surprisingly-- to help the little light bulb Elvis to turn off the lights in the building to save energy. When a person leaves a room without...
---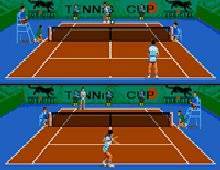 Tennis Cup 1990
Tennis Cup is a split-screen tennis game with the camera closely positioned at the athlete's back. The available playing modes are exhibition match (either single or double), training, the Davis Cup or the four Grand Slam tournaments. He player either controls one of the 32 available tennis athletes or creates...
---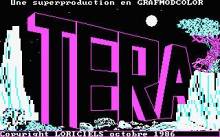 Tera 1986

---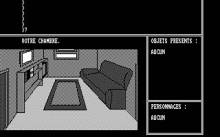 Top Secret 1987
French adventure game. ...
---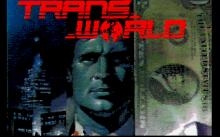 Transworld 1990
A game from Germany, from Starbyte, from 1990. What could it be? Yes! You're right, another management simulation... of course *yawn* - although puzzle game could have been another good option to think of. This time in Transworld, you are put into the position to manage a forwarding business [Zumindest...
---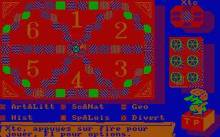 Trivial Pursuit 1987
This is the earliest home computer incarnation of Horn Abbot International Ltd's classic board game, Trivial Pursuit. The game involves answering questions on one of six subject categories to gain moves, and answering questions on special squares to gain one of the six 'Wedges' you need to gain the right...
---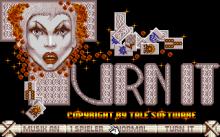 Turn It 1990
In this Mahjongg variant the player has to remove the tiles with the same marks from the board until all the board is completely empty. The elimination of tiles is allowed if these tiles are projected on the same line with no other tiles in their projection path. There are...
---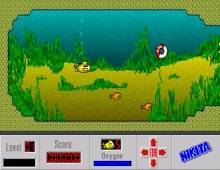 U-95 1995
Russian developer Nikita released a number of budget arcade games for Windows in 1995, none of which is well known outside Russia. Similar to older games by CHAMProgramming or Windmill, Nikita's Windows titles are essentially clones of well-known arcade classics such as Donkey Kong and Missile Command. Escape, U-95, and...
---