Strategy Games #14
Search a Classic Game: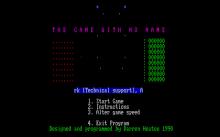 Game With No Name, The 1990
You have crashed your spaceship on a strange alien world and must collect diamonds on ten levels to power it up and get home. This platform/puzzle game is very difficult and, at times, frustrating, as the slightest mistake can (and will) take you right back to the beginning. In fact,...
---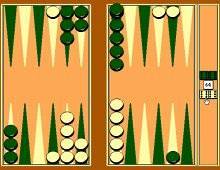 Games People Play, The 1990
The title pretty much says it all, a game package featuring two card games (Gin and Cribbage) and two board games (Checkers and Backgammon). Gin and Cribbage have personality based A.I. advisors and opponents. The checkers program is endorsed by the American Checker Federation and includes official play rules such...
---
---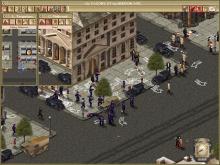 Gangsters: Organized Crime 1998

---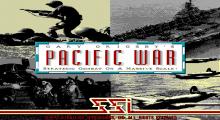 Gary Grigsby's Pacific War 1992
A grand strategical game covering World War 2 in the Pacific and South East Asia areas. The player has to manage every aspect of the conflict: From building Task Forces, moving troops and planes, to managing production, it's all there (and much more). Different starting points to enter the war...
---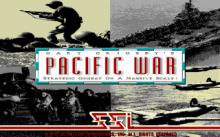 Gary Grigsby's Pacific War (2000) 2000
The classic 1992 wargame has been completely revamped with new artwork, new units, new everything! Every single unit, every single plane, every single ship, gun, tank, etc. are accounted for in this game!Play against the computer or watch computer play both sides. Do hotseat multiplayer, or conduct play by e-mail...
---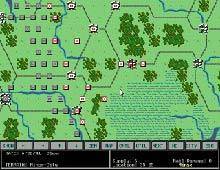 Gary Grigsby's War in Russia 1993
A World War 2 strategy game covering the war on the eastern front from 1941 to 1945. Game-scale is set to corps level (Russian corps-level units are army sized). Both, Russian and German, sides can be played. The player has full control over all aspects of the war including production...
---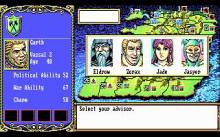 Gemfire 1992
Koei made an incursion into the fantasy worlds of magic with this game.Six magicians, each trapped inside a magical gem, are liberated from the crown Gemfire by Princess Robyn, daughter of the tyrannical ruler of Ishmeria, King Eselred. Fleeing across the length and breadth of the island nation, they each...
---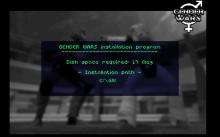 Gender Wars 1996
After eons of fighting between the genders, men and women have broken into separate factions, each using genetic engineering to create new followers, and waging terrible war upon each other.Upon selecting the side you wish to play (depicted as either clueless blondes who can't drive, or beer-swigging lazy oafs), you...
---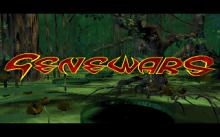 Gene Wars 1996
Genewars is a real-time strategy game similar to Command & Conquer. Gameplay consists of completing the given task on many planets. This involves doing different things, like eliminating the enemy or breeding mules. The game has humans in it, but its not life-like, its more fantasy. You can pick your...
---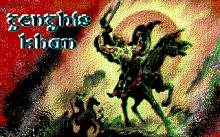 Genghis Khan (Positive) 1991
Genghis Khan is basically a strategy game, but not just. A very important part of your ability as governor will depend on your arcade experience when it comes to conquering the territories surrounding Mongolia. You mission will be to invade the Chinese Empire, and for that you must tear down...
---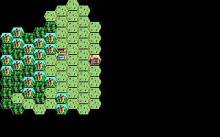 Gengkhis Khan 1 1989
In a few words: Conquer all you can. You have two options: Mongol conquest or World conquest. In the first campaign as Temujin (later known as Genghis Khan), you must unite all the little tribes of Mongolia. You can use force or diplomacy. In the second campaign, you can be...
---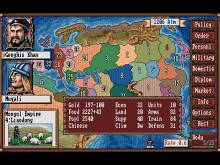 Gengkhis Khan 2 1993
As in the first part you could participate in two conquests: Mongol conquest and world conquest. In the first you must unite all the little tribes of the country. The world conquest is more complex: You must use all your senses to make the world as you wish....
---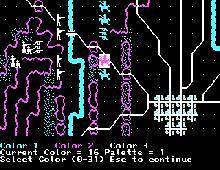 Gettysburg: The Turning Point 1986
Gettysburg: The Turning Point is a grand tactical simulation of the most famous, well known and arguably the most decisive battle of the Civil War fought at the little town of Gettysburg, Pennsylvania from July 1 to July 3, 1863.The game uses a refined version of SSI's Antietam game system...
---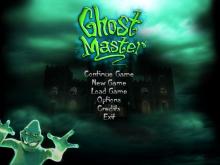 Ghost Master 2003

---
---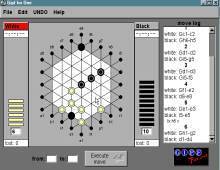 Gipf for One 1998
Gipf for One is an excellent PC version of GIPF, a fascinating abstract board game invented by Kris Burm in 1997. Like the board game, the objective of Gipf for One is to be the last player to add a piece to the board. The game at first glance looks...
---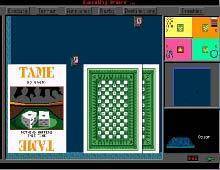 Global Conquest 1992
Global Conquest is a board game of world domination by Dan Bunten.The goal of the game is to explore and dominate the world - which is inhabited by natives - before the other three players do so. You can play against computer players, or play your friends through modem link.You...
---
Global Domination 1993
In the near future, the world is divided in 5 power nations that will fight until the conquest of all the world You could use the tactics, spying and diplomacy to made it. The rest of little powers will fall under your control. The peace will be the goal, the...
---
Global Effect 1992
Essentially similar to The Settlers AKA Serf City, Global Effect involves building up a sound local economy before going out to attack other nations and rule the world. Cities must contain housing, food sources and power supplies, which is where it gets complicated. You can choose the environmental settings of...
---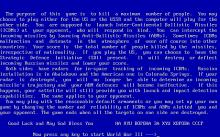 Global Thermonuclear War 1988
The purpose of this game is to kill a maximum number of people. You may choose to play either for the US or the USSR and the computer will play for the other side. You are supposed to launch Inter-Continental Ballistic Missiles (ICBMs) at your opponent, who will respond in...
---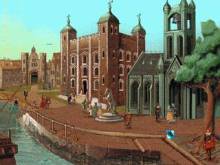 Gloriana (a.k.a. Elisabeth I) 1996
Gloriana. is a management game set in the year 1550 AD, when Elisabeth becomes Queen of England.The player is cast as the owner of a small trading company with the goal to gain wealth and influence, through the international trading of goods and accumulation of luxury items, until they achieve...
---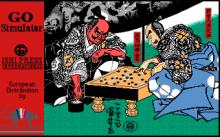 Go Simulator 1991
Go Simulator is a Computer adaptation of the classic oriental strategic board game : the GO.The Game is designed as a initiation to the go : it includes a complete tutorial to learn the basic rules of GO. Using the numerous available options, you can custom the game to adapt...
---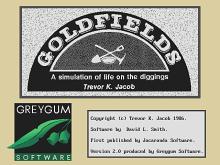 Goldfields 1993
You start off as a fella looking to make a fortune in the goldrush. Before u go hunting for gold u can work at stores and other places to make money. Buying shares in these businesses also gives u the ability to upgrade and increase your pay, as well as...
---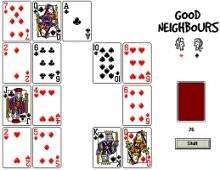 Good Neighbors Solitaire (a.k.a. Monte Carlo Solitaire) 2002
Good Neightbors Solitaire is a catchy little solitaire, in which the objective is to pair off and remove all the cards in the 52-card deck. You can remove any pair of cards of the same rank, provided they are adjacent (neighbours) to each other either horizontally, vertically or diagonally. Once...
---
---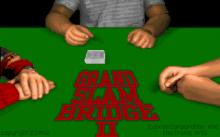 Grand Slam Bridge II 1992
The second installment in the series is a remake of Grand Slam Bridge with modern abilities of its time such as VGA graphics, music and animations. It represents a card game Bridge with rules of Contract Bridge. For both partners a set of bidding conventions, which include Cue Bid, Weak...
---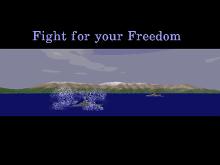 Grandest Fleet 2, The 1995
The Grandest Fleet 2 is the never-released sequel to The Grandest Fleet, QQP's underrated naval wargame that updated the classic Lost Admiral with SVGA graphics and more emphasis on economics. The Grandest Fleet 2 is probably better described as an 'add-on' to The Grandest Fleet than a new stand-alone game,...
---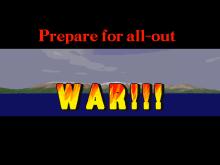 Grandest Fleet, The 1994
Spiritual successor to The Lost Admiral, this game has VGA graphics, more extensive resources, a "research" element to get the more powerful ships, and an extra-powerful flagship with cruise missiles....
---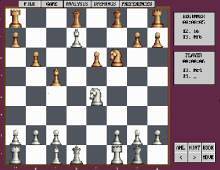 Grandmaster Chess 1992
It's chess. Grandmaster Chess. Chess in SVGA and on a CD-ROM. Multiple Skill Levels, Various different sets of boards and pieces. Pull-down menus, Analysis Mode, a VCR-like Replay/Review Option and able to give the player a chess rating....
---