Strategy Games #38
Search a Classic Game: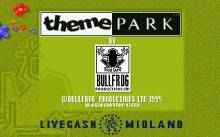 Theme Park 1994
Bullfrog's comical business simulation Theme Park, challenges you to build a financially successful amusement park amidst heavy competition. You'll begin by purchasing land to build your first effort, and then make decisions on the type of rides (each rated in excitement, reliability, and maximum capacity), concessions (from coffee shops to...
---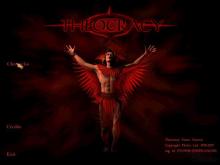 Theocracy 2000
Ancient Aztec legends spoke of a day when the great feathered serpent god Quetzacoatl would return from across the Atlantic Ocean. Unfortunately for the people of medieval Mexico, it was actually the Spanish who arrived on their coast in the early 16th century, and promptly set about reducing the entire...
---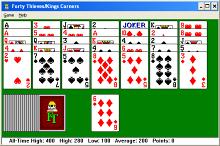 Thieves and Kings 1992
These are 2 cardgames in one simple game. Both a lot of fun, I think. Forty Thieves is the most simple, you get a stack of cards and seven columns of five cards, frontside up. One card from the stack is turned and that card can take any card that's one...
---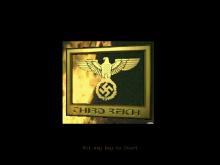 Third Reich 1996
I LIKE wargames. I mean "real" wargames: the kind played on big tables with a pitcher of suds at hand. I like big, folding maps and little squares of cardboard with tank symbols on them. I like Special Consolidated Assault Rules with ten subclauses and an extra attacker/defender modifier chart....
---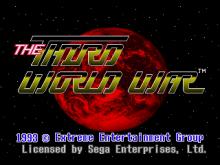 Third World War 1993
Arguably the best game ever made for SEGA CD console, Third World War is an excellent game of global politics and economics. The game suffers from the same syndrome that plagues the likes of Dark Wizard and Herzog Zwei: a great game released on the wrong system for its genre....
---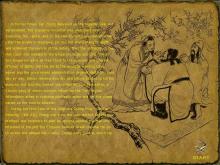 Three Kingdoms: Fate of the Dragon 2001
Real-time strategy game concepts don't change much from title to title -- it's the nature of the genre. Worker units begin by collecting basic resources to build more advanced structures and eventually more advanced types of military units and then forces are gathered for the inevitable huge fight. It's a...
---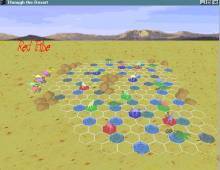 Through the Desert (a.k.a. Durch Die Wuste) 2000
Through the Desert is a good PC version of Durch Die Wuste, Reiner Knizia's classic board game of tile placement. (one of the three games collectively known as his "tile laying trilogy" - the others being Samurai and Tigris and Euphrates). Designed for 2-5 players, the objective in the game is...
---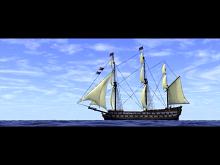 Tides of War 1998
Master the Seven Seas and command your own warship in this real-time strategic 3D maritime adventure of exploration, resource management, and nautical combat. 18th Century English-style battleships and frigates do battle against Spanish-style dreadnoughts and cutters, Viking longboats, Phoenician raiding galleons, Native American war canoes, and more! You begin the...
---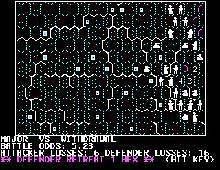 Tigers in the Snow 1982
On December 16, 1944 in the twilight of the Third Reich, Hitler played his last desperate gamble and launched a massive surprise assault against the thin allied lines in the Ardennes forest of Belgium and Luxemborg. As the German Commander your goal is to cross the Ardennes forest and get...
---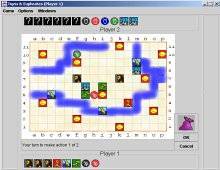 TigrisGame 2003
TigrisGame is an excellent fanmade computer adaptation of Euphrates & Tigris, Reiner Knizia's classic board game that ranks among one of the best games of its kind ever made. If you have never played the board game before but love Sid Meier's Civilization (and who doesn't?) or Avalon Hill's Advanced Civilization,...
---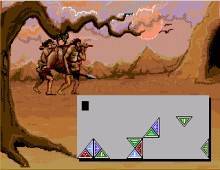 Timerace 1990
The game is a strategical puzzle action, where you have to eliminate the playfield filling it with the tiles of different colors until the time will be exhausted. Each playfield represents a certain period of the human evolution such as Prehistory, Crusades, Prohibition or Berlin Wall. On each level some...
---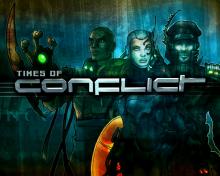 Times of Conflict 2000

---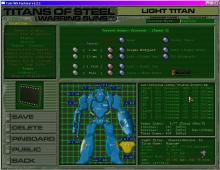 Titans of Steel: Warring Suns 2003
Titans of Steel: Warring Suns tells the story of a future where cataclysmic battles are fought by giant humanoid robots -- Titan Attack Techs, or Titan-ATs. Players can design their own Titan-ATs and choose weapon systems -- 29 total, including lasers, cannons, and missile launchers -- armor types, and configure...
---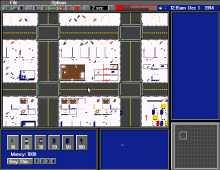 To Serve and To Protect 1994
One of the most unique games ever made, To Serve and To Protect places you in command of a police department in a crime ridden city. Like a real police chief (and subordinate commanding officers), the game lets you control virtually all aspects of the police force including budgeting, personnel...
---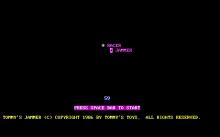 Tommy's Jammer 1986
Tommy's Jammer is a single player racing game in which the objective is to cover more ground than the computer opponent. The race takes place on a racetrack in the sky. The opponent is the Jammer who is computer controlled and his objective is to crash into you. Your objective is...
---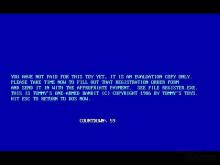 Tommy's One-Armed Bandit 1986
Tommy's One-Armed Bandit is a single player slot machine and poker machine simulation. The slot machine starts the player with $100 and the cost per play is $0.25. It pays out on just six winning lines; one, two or three cherries, three plums, three oranges, or three bars. Any line with...
---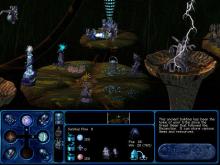 Tone Rebellion, The 1997
The Tone Rebellion is a real time strategy game developed by The Logic Factory, makers of the underrated Ascendancy. In this game you will play the part of one of four alien races bent on taking back their lands from the evil Leviathan. It's a classic good vs. evil story,...
---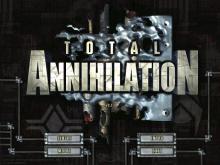 Total Annihilation 1997
In the realm of the Arm and the Core, there is only one acceptable outcome: total annihilation. The two factions have battled against each other for so long their resources are exhausted but only one will triumph -- it's up to you to lead one of the forces to victory....
---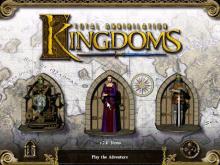 Total Annihilation: Kingdoms 1999
Cavedog's Total Annihilation real time strategy series just released in 97 and 98, showed to be a very impressive game. The graphics being revolutionary in nature, with 3D units, structures, and a true three-dimensional ground, where units will climb hills and maneuver around objects. The massive amounts of soldiers included...
---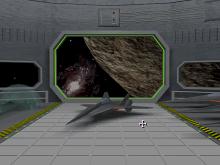 Total Control 1996
In Total Control the player controls one of six rival parties which want to gain control of a random generated world. The game starts in the sector of the map were his base lies. The first tasks is to build all necessary buildings and troops. Mines are used to get...
---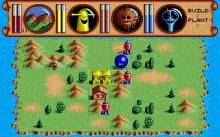 Traders 1992
Pit your business and marketing skills against as many as three other competitors while raising and lowering your buying and selling prices for a variety of goods on the interplanetary market. You can produce goods, such as perfume, by planting your fields with flowers. You'll have to purchase raw materials,...
---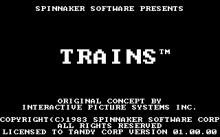 Trains 1983
Trains is a top-down managerial game. In the age of steam-powered trains, there are opportunities to make money on great railroads. It will be up to the player to take control of a train on a railroad and turn a profit. The player does this by moving the train to...
---
---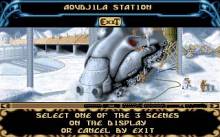 Transarctica: Arctic Baron 1993
The Viking Union has a very dominant role in your society, as they control the vast railway networks. Could they be to blame for the disappearance of the sun and the resultant ice age? As a train captain, you must find out and overthrow them. Transarctica is a strategic trading and...
---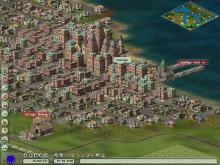 Transport Giant 2004
This is the year 1850. It's an age of radical change and new departures. The era of mass production and mass transportation has just begun. The resourceful entrepreneur has plenty of opportunities. It's a time to build empires with just a little capital and a clever business idea. New manufacturing plants...
---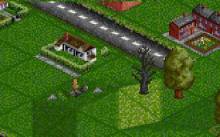 Transport Tycoon 1994
In a game inspired by Sid Meier's Railroad Tycoon (according to the designer's notes), Transport Tycoon carries the concept of transportation management to new heights. Chris Sawyer, the game's developer, has beefed up the original idea of a train empire to include airplanes, buses, trucks, and ships. To support these...
---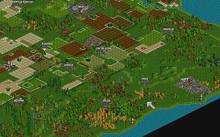 Transport Tycoon Deluxe 1995
You're a transportation manager in this game. You choose your starting landscape (Europe, toy land, South America, desert) and your skill level. In this game you can build different transportation lines, like transporting coal to a coal power plant, or oil from the oil wells to the oil refinery. There...
---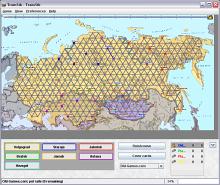 Transsib (a.k.a. TransAmerica) 2005
Transsib is a great Java version of TransAmerica, a fun "beer & pretzel" tile-laying tabletop strategy game from Rio Grande. A game for 2-6 players, the goal in this game is to accumulate the most points at the end of the game. During each turn, you must lay at least...
---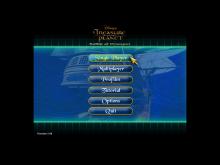 Treasure Planet: Battle at Procyon 2002
Unlike the Treasure Planet action adventures for the PlayStation and PlayStation 2 that are loosely based on Robert Louis Stevenson's classic tale, Disney's Treasure Planet: Battle at Procyon is a 3D RTS game focusing on space combat. In the main campaign's story-driven missions, you begin play as Jim Hawkins, a...
---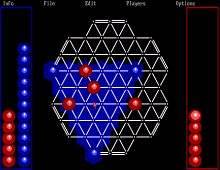 TrianGO 1988
TrianGO is a solid computer version of the relatively unknown variation of Go, a popular Japanese boardgame. This excellent multiplayer game is played on a Chinese Checkers-style board. Each player has 14 "stones" and takes turns placing them down one at a time. The object of the game is to...
---