Simulation Games #6
Search a Classic Game: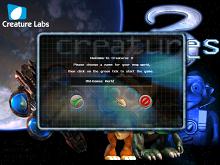 Creatures 3 1999

---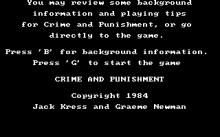 Crime and Punishment 1984
Crime and Punishment is a courtroom simulation, where you play the judge. The emphasis lies on deciding the punishment, rather than if the person is guilty or not - that has already been decided. The aim is to receive as many Gavels as possible (out of ten), by choosing the...
---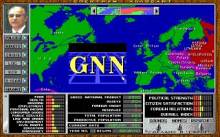 Crisis in The Kremlin 1991
One of the few political sims available, take over the Kremlin as one of the three Russian leaders (Ligachov, Yeltsin, or Gorbachov), determine your foreign and domestic policies, and react to the crises that happens (like the Chernobyl crisis). Keep yourself in office by keeping both the Nationalists and the...
---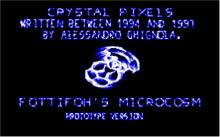 Crystal Pixels 1997
Crystal Pixels is a 3D "simulation" from the mid 1990's, created by Alessandro Ghignola, who has gone on to create such works as Noctis, which is a detailed fictional space simulation project. The game was originally written in Italian, and has recently been converted to English. It utilizes blue wireframe...
---
CyberStrike 1994
"I'ts kill or be killed. Move or die. Match wits against real players in CyberCity. Collect Power up modules to boost performance on your own personal Cyberpod. The longer you stay alive, the more powerful you become. Four teams of four players each compete for control of precious city squares. Work...
---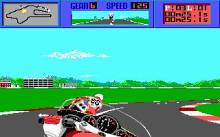 Cycles, The 1989
As the name suggests, The Cycles simulates International Grand Prix Racing, allowing a player to compete against 9 computer rivals. Choose from three classes of bike (125, 250 and 500cc), and between 8 (Japan, Australia, USA, Spain, Italy, France,England and Sweden) and 15 (Japan, Australia, USA, Spain, Italy, Western Germany,...
---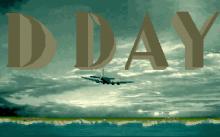 D-Day 1992
This multi-genre game represents famous historical events of World War II called D-Day and related to operation "Overlord", when Allies attack Axis massively in France. The game proposes to be a general in command of Allies group and optionally perform certain actions by yourself also. Such actions include: Piloting a plane over...
---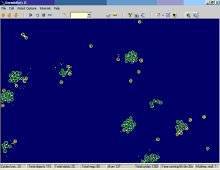 DarwinBots 2002
DarwinBots is no doubt one of the most comprehensive "artificial life" programs ever made. Here are some excerpts from the official site to give you an idea of how complex the program is: "The DarwinBots universe is a big, flat field, populated by flat individuals called 'robots'. Every robot is a...
---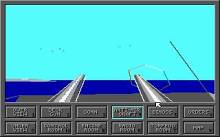 Das Boot 1990
Das Boot (literally 'The Boat') simulates controlling a Type VII U-Boat for the Nazis, in an exact recreation of submarine warfare circa 1941. Both internal and external views are provided, all rendered in full 3D. Allied submarines and surface boats are attacking you from all sides - use your Hydrophone...
---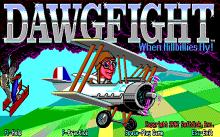 Dawgfight 1992
Dawgfight is a fun, tongue-in-cheek arcade-oriented flight sim is set in the Western town of Hatfield. It's County Fair time, and you decided to participate in the biplane contest with your trusty WW1 fighter. The contest is made up of rounds, each with a specific goal you must accomplish to...
---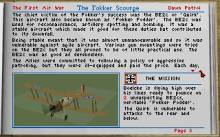 Dawn Patrol 1994
Having simulated modern-day planes with Flight of the Intruder, and World War 2 with Overlord, Rowan brought World War 1 to life in this flight simulation. It is structured around an interactive gallery with pilot biographies, all of which modify as the game goes on and events unfold. 150 missions...
---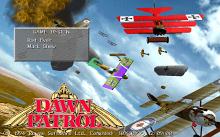 Dawn Patrol: Head to Head 1995
Head to Head is a stand-alone expansion for Empire's Dawn Patrol. Features and enhancements include real SVGA graphics, Head-to-Head mode via modem or serial modem-connection, computer opponent steered by an improved AI, several cam-view-options, choice of 13 planes for mastering over 150 levels, 3D sound effects, digitized sound effects. ...
---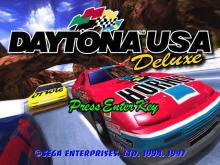 Daytona USA: Deluxe 1997

---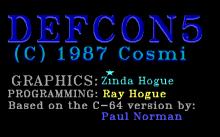 Defcon 5 1987
The player takes the role of a DOD operative who must use the BMD(Ballistic Missile Defense System) to protect the United States. This system is composed of ground-based, land-launched, and space-based system components. The goal is to destroy, defeat, confound, or destabilize incoming ballistic missiles. The game-play is mostly text based...
---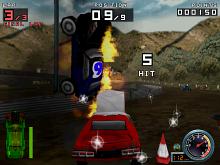 Demolition Racer 1999

---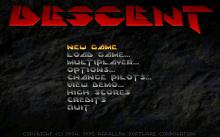 Descent Anniversary Edition 1996
This is a re-release of the game Descent for its 1 year anniversary. It contains the original game, some new levels created by Parallax and some levels that were created by fans for a Computer Gaming World contest. You get the winner, the runners-up and ALL the other entries (so...
---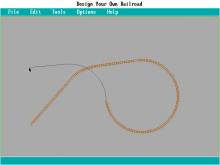 Design Your Own Railroad 1992
A model railroad simulation. The heart of the game is being able to sketch and design your own custom railroad track plan. From there, one is able to add terrain, buildings, rivers and more. Then place customizable trains onto the track and swap between them to change the switches on...
---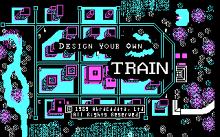 Design Your Own Train 1989
A model railroad simulation. The heart of the game is being able to sketch and design your own custom railroad track plan. From there, one is able to add terrain, buildings, rivers and more. Then place customizable trains onto the track and swap between them to change the switches on...
---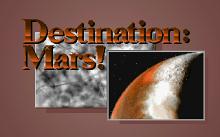 Destination Mars! 1991
As an astronaut, you go on space missions, eventually leading up to being the first man or woman on Mars. The missions consist of 3 or 4 major parts. Early on in the game, they include takeoff, an EVA to build the spacestation, pick up and deployment of cargo, a...
---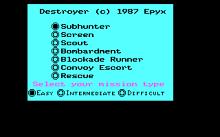 Destroyer 1987
Destroyer is a 2D naval simulation. Players take the role of a captain controlling a United States Navy Destroyer class vessel. During World War II, the player has to command several Destroyer operations: Subhunter missions Rescue missions Blockade runnings Bombardment missions Scout operations Convoy escort ...
---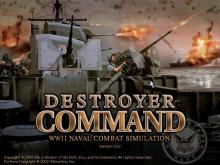 Destroyer Command 2002

---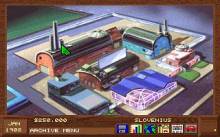 Detroit 1993
This game is the one for all of you who ever dreamt of making your own set of wheels. In Detroit you must develop, produce and sell automobiles. The game takes you back to the beginning of the twentieth century, when you must decide where to build your first car...
---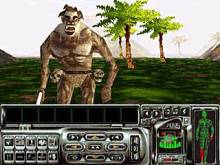 Deus 1996
In the world of the future interplanetary terrorism is a big threat to the universe, but since the terrorists are not easy to find or target, an all out war can't be waged against it. Instead the Alien World Exploration organization (which rules the universe) sends bounty hunters across the...
---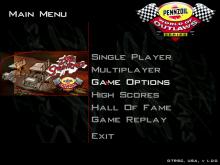 Dirt Track Racing: Sprint Cars 2000

---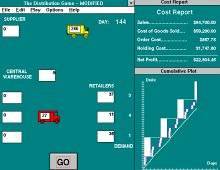 Distribution Game, The 1995
More of an educational tool than an entertaining "game," The Distribution Game is a good simulation game of a two level distribution system - the warehouse and the retailers. As owner of a "middle man" company, you control both levels by deciding when to order and how much to order...
---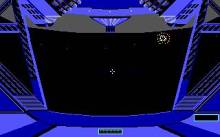 Dive Bomber 1988
In World War 2, the Bismarck battleship has been dominant thus far. Armed with torpedoes and a machine gun, can you destroy the Bismarck with a well-aimed torpedo and turn the tide of WW2 in the Allies' favour? Find out is this flight simulation and strategy game. How you complete the...
---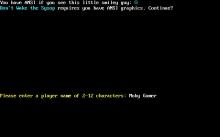 Don't Wake the SysOp 1995
This BBS door game has a misleading name: rather, it should be called "See how much you can get away with bugging the SysOp before he wakes up", the SysOp being (for those of you who weren't online at the time) the system operator of a bulletin board service the...
---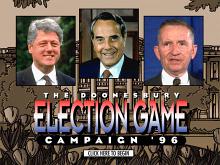 Doonesbury Election Game - Campaign '96 1995
The Doonesbury Election Game: Campaign '96 is a fun, but largely forgotten, simulation of 1996 US Presidential Election that allows the players to create their own tickets, pick campaign staffs from dozens of comic strip Doonesbury characters, and run the campaign. Designed by Randy Chase, Doonesbury Election Game plays like...
---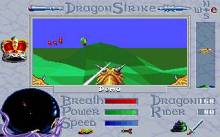 Dragon Strike 1990
A dragon flight simulator set in the AD&D world of Dragonlance. Fly dragons through the War of the Lance. When you successfully complete a mission, you can advance in rank, gain magical items and hit points or get a better dragon. The 20 missions include intercepting enemy dragons, destroying enemy...
---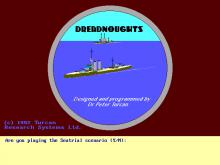 Dreadnoughts 1992
Dreadnoughts is a turn-based surface fleet battle simulator. It accurately recreates the looks, specifications and tactics of fleets of major naval engagements in the 'Great War' of 1914 to 1918. The game starts by promoting the player to Admiral, placing them on the bridge of a great flagship, and then resets...
---