Simulation Games #9
Search a Classic Game: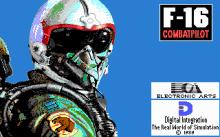 F-16: Combat Pilot 1989
True to the aircraft's flexibility, you pilot the F-16 in assignments as diverse as dogfights, bombing raids or reconnaissance missions. It is up to you to plan your flight route by setting waypoints on the tactical map prior to take-off; you can also (but need not) select the armament of...
---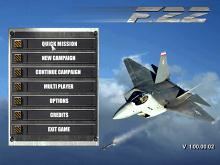 F-22 Lightning 2 1996
For those who aren't avid readers of Jane's publications, F-22 Lightning II isn't a sequel, it's the name of the U.S. Air Force's newest "air superiority weapon" -- what in simpler times was called a "fighter." It's also the latest flight simulator from NovaLogic, the people who brought us Comanche;...
---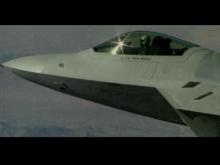 F-22 Lightning 3 1999
In F-22 Lightning 3 players will find a complete simulation that is simple to learn, has plenty of missions, and features excellent multiplayer options. Whether you are an expert at flight simulations or not, you should have no problem learning this game in under an hour. Many flight sims, at...
---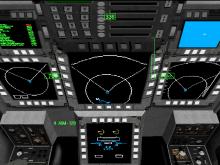 F-22 Raptor 1997
F-22 Raptor from Novalogic is a flight/combat simulation for Windows. The game features campaign style missions that cover a range of types and styles. Featuring over 30 campaign missions, F-22 Raptor lets you take on ground and air targets with the help of your Sidewinder missiles and 20mm Cannon. Fighter...
---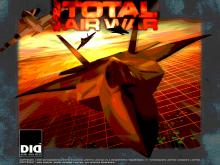 F-22 Total Air War 1998
Total Air War is a semi-sequel to D.I.D.'s F-22 ADF simulation. This entirely new product covers many aspects of the original simulation that many people felt were left out of the original, such as dynamic campaigns. Total Air War (TAW) attempts to cover the main shortcomings of F-22 ADF which...
---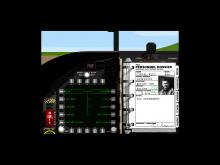 F/A-18 Hornet 3.0 1997
F/A-18 Hornet 3.0 is Graphic Simulation Corp (GSC)'s first flight sim released on PC, and it is a very realistic and highly underrated sim. Jim Pedicord's review for CD Mag explains why die-hard armchair pilots should take a look: "Every so often an unheralded product will show up that turns...
---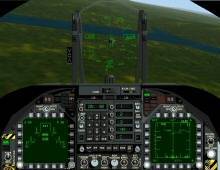 F/A-18 Korea 1997
F/A-18 Korea is an ultra-realistic flight simulation that deserves much more notice than it received. The comprehensive review at GameSpot says it all about this game that rivals Falcon 3.0 in breadth and depth: "As you've no doubt surmised, F/A-18 Korea is an exacting portrayal of the twin-engine F/A-18C/D Hornet...
---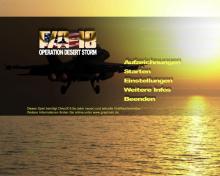 F/A-18 Operation Desert Storm 2005

---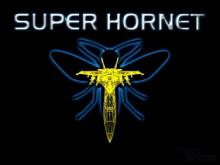 F/A-18E Super Hornet 1999
To me, flight simulations hardly ever come close to reality. Games like Jane's F-15: The Definitive Jet Combat Simulator are fun but not a good representation of what it would be like to be in the cockpit of a fighter jet. F/A-18E Super Hornet is not the definitive flight sim...
---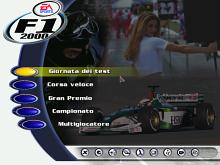 F1 2000 2000
F1 2000 allows you to take on the role of any of the 2000 FIA Formula One Championship drivers. All of the tracks used during the 2000 season are also included, even the US Grand Prix at Indianapolis. Championship, quick race, weekend and time trial are just some of the modes...
---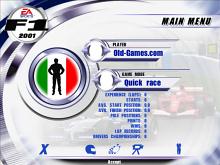 F1 2001 2001
Gamers who've squeezed every nuance of gameplay from F1 2000 have legitimate questions as to whether F1 2001 contains enough new material to warrant a full price purchase. Obviously, new fans will want the latest title, but how about those looking for something new? The short answer is that if...
---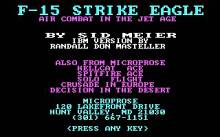 F15 Strike Eagle 1985
The seven missions featured in this simulation of F-15 flight are all real-life missions the plane was originally used in. They take in the Middle East and Asia in the 1970s and early 1980s, and have air and ground targets to destroy. You have machine guns, guided missiles and bombs...
---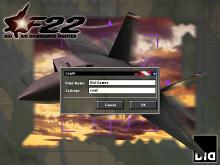 F22 Air Dominance Fighter 1997
In F-22 Air Dominance Fighter, Digital Image Design has crafted the latest and perhaps the most exacting reproduction of the USAF's all-new air supremacy/strike fighter. Incorporating lessons learned from EF2000 - F-22 ADF's critically acclaimed predecessor - data gleaned from various declassified sources, as well as notional depictions of certain...
---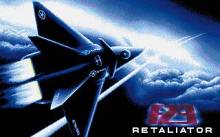 F29 Retaliator 1990
This flight simulator puts you in the cockpit of either the F-22 or the fictional F-29. Choose from four campaigns with increasing difficulty: a training campaign in Arizona plus real war campaigns in the Pacific, the Middle East and in Europe. Each campaign includes a variety of missions involving both dogfights and...
---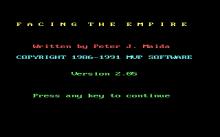 Facing the Empire 1991
Facing the Empire is an interstellar space war simulator. As a Lyran you must protect your Star Bases from the invading Morte Star Empire and drive them out of this sector of the galaxy. At first you need to build up your forces by constructing bases and researching the whereabouts...
---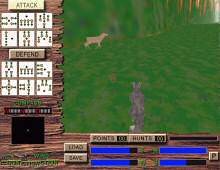 Fading Footsteps 1997
Fading Footsteps is a very little-known "wolf simulation" along similar lines as Sanctuary Wood's Wolf, but is a much inferior game (and therefore somewhat deserving of its obscurity status). Billed as one entry in a short-lived series of computer games featuring wolves (the others being simple games such as jigsaw...
---
Fair Strike 2003
Fair Strike is a helicopter flight combat simulation with modern day missions set around the globe. Virtual pilots choose one of six flyable whirlybirds, including the AH-64A Apache, RAH-66 Comanche, PAH-2 Tiger, Ka-50 Black Shark, Ka-52 Alligator, and the Ka-58 Black Ghost. The game's 30 levels pit players against Caribbean...
---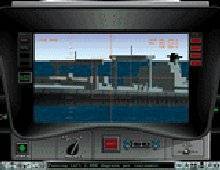 Fast Attack 1995
Command the Los Angeles nuclear powered attack submarine in missions around the world. Complete the missions objectives and preserve your command, or rest forever in Davy Jones' Locker. The entire arsenal of the 688i sub is at your command, from missiles to torpedoes, sonars to radars. You're up against mines,...
---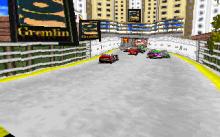 Fatal Racing (a.k.a. Whiplash) 1995
Just look at the cover of this game and it will make you want to play it: ten cars cruising through a double upside-down loop, one of the cars smashing into the wall and bursting into flames, two more careening off into space ... will this be the killer car...
---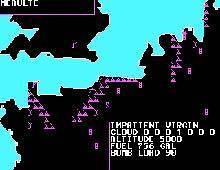 Fifty Mission Crush 1986
"50 Mission Crush" was the name given to the crushed service cap of the battle hardened veterans who flew the B-17 during WWII. It was a mark of distinction and honor. The game "50 Mission Crush" is a role playing game that puts you into the cockpit of a B-17...
---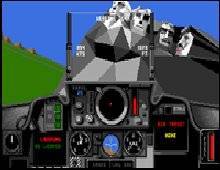 Fighter Bomber (a.k.a. Strike Aces) 1990
Strike Aces is a flight simulator designed to give players a feel for the quick decision-making process that real pilots need to fly. It takes place at the Strategic Air Command Bombing and Navigation Competition, a real-life event that occurs every year at Ellsworth Air Force Base in South Dakota....
---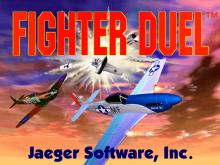 Fighter Duel: Special Edition 1996
This special edition is a re-release of the original game with additional features. It contains: Fighter Duel Improved flight models 9-player IPX network play Radio chat Expanded video card compatibility Extra planes Improved joystick calibration and support Force feedback flightstick support Keyboard controls ...
---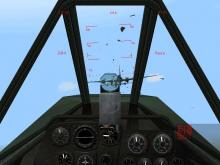 Fighter Squadron: The Screamin' Demons Over Europe 1999
The designers of Fighter Squadron: The Screamin' Demons over Europe call it an "Ultra-Realistic World War II Flight Simulator." Although the game is realistic in many areas, it fails to deliver a complete package. While there are many options and a variety of aircraft, the game never pulls the player...
---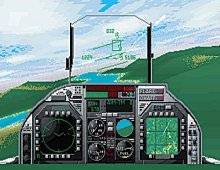 Fighter Wing 1995
A decent flight sim from GemSoft that offers good graphics but not much realism or long-term play value. From the description at MobyGames: "Fighter Wing is a flight simulator that instead of concentrating on a single type of aircraft, covers a wide array of flyable planes. You get to play in...
---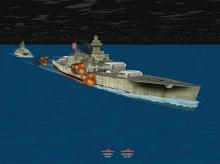 Fighting Steel 1999
Maybe it's wrong for a video game reviewer to admit that he has no idea what is going on while playing a game but that is exactly what I am going to say about Fighting Steel: World War II Surface Combat 1939 - 1942. The game's packaging and manual really...
---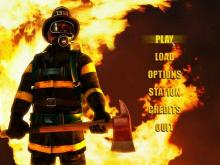 Fire Department (a.k.a. Fire Chief / Emergency Fire Response) 2003
Fire Department presents players with the real-life dilemmas of fire fighters and fire departments. With limited resources, very real dangers, and trapped people who must be saved in a few scant minutes, firefighters have their work cut out for them. Players will tackle ten missions including explosions, a petrochemical refinery,...
---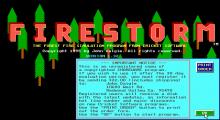 Firestorm: The Forest Fire Simulation Program 1995
As its subtitle states, Firestorm is a forest fire simulation -- the first in a series of similar games by Cricket Software, in which you control ground and air based forces to fight forest fires in realtime. After starting the game, you see the map where the action takes place --...
---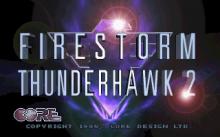 Firestorm: Thunderhawk 2 1995
This is the sequel to Core's Sega CD game, AH-3 Thunderstrike. Like the previous game in the series, this is a helicopter simulator/shooter. It features realistic features like multiple weapons selection, full freedom of movement, and a mission-based structure. On the other hand, it also throws lots and lots of...
---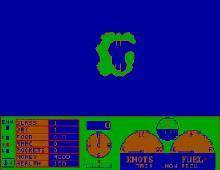 First Expedition 1987
The First Expedition is a naval simulation game. The player navigates the seas of an alien world in search of ancient artifacts. The gameplay involves navigation, interaction with natives and fighting. Many aspects of seafaring have been modeled, including weather effects. ...
---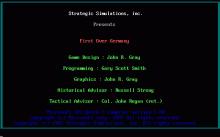 First Over Germany 1988
First Over Germany is a simulation of a B-17 bomber group in World War II. The simulation covers the actual events surrounding the formation of the 306th Bomb Group. Its training, and transition to Thurleigh, England, and twenty five missions that a pilot might have flown at that time. You'll start...
---