Adventure Games #15
Search a Classic Game: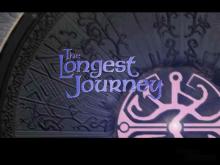 Longest Journey, The 2000

---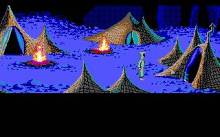 Loom 1989
Loom is an adventure game from LucasFilm. What sets Loom apart from other adventure games (in direct comparison with Sierra's) is its unique interface: you do not carry items around, but rather manipulate existing items through the use of spells. The spells themselves are woven through playing magical notes on...
---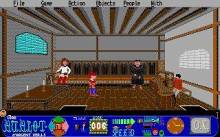 Lord Avalot 1994
In the year 1179, on a small island off the coast of Wales, Baron Michel de Lustie interrupts the king's game of ha'penny with his daughter, asking for her hand in marriage. The king is annoyed with the interruption and sends him off, but the baron kidnaps the princess and...
---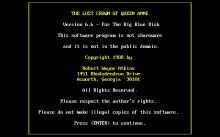 Lost Crown of Queen Anne, The 1988
This game, part of the Classic Adventure Series, has the adventuresome player searching for Queen Anne's crown, which was lost in the eighteenth century and last seen in the Arabian desert. Although entirely text-based, the game takes a somewhat visual approach to interactive fiction. The screen is split into several...
---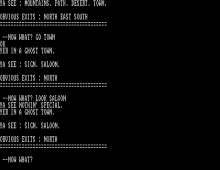 Lost Dutchman's Gold 1982
Lost Dutchman's Gold is a below-average BASICA game distributed only among IPCO members. Due to limitations of the BASIC language and early 1980 hardware, the game amounts to little more than a quirky piece of PC nostalgia. From the MobyGames description: "Lost Dutchman's Gold is a text based adventure game....
---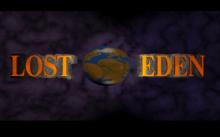 Lost Eden 1995
Lost Eden is an adventure game set on an eerie planet populated with dinosaurs. Your civilisation is menaced. Armies of Tyranns, led by Moorkus Rex, are gathering around your kingdom. Soon they will swarm in, destroy everything and kill your people. However, there is a single hope. There are legends telling...
---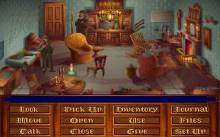 Lost Files of Sherlock Holmes 1 (a.k.a. Case of the Serrated Scalpel) 1992
The Lost Files of Sherlock Holmes - The Case of the Serrated Scalpel is a verb-based point-and-click graphic adventure game. "Come, Watson, come! The game is afoot!" London, 1888. Sherlock Holmes, the world's most famous private investigator, and his faithful companion Dr. Watson, are called to the scene of a gruesome crime:...
---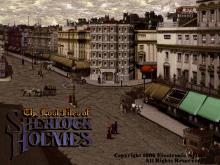 Lost Files of Sherlock Holmes 2 (a.k.a. Case of Rose Tattoo) 1996
In October of 1889, the formula for a new and extraordinarily powerful explosive disappeared from the Ministry of Defense. Sherlock's brother Mycroft, an eccentric but influential government servant, launched an official though secret inquiry into the theft, but his effort was thwarted. Just before asking Sherlock to undertake an independent...
---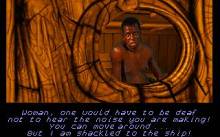 Lost in Time 1993
Lost in Time is an "Interactive Action Adventure Movie" in which you must travel through time solving puzzles and find the man who is plotting to kill your ancestors. The game has standard graphic adventure game fare with small animated movies contained within scenes. It also features unique first-person semi-animated movement...
---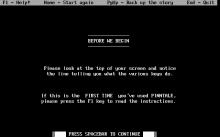 Love's Fiery Imbroglio 1988
A charming piece of hyperfiction masquerading as a rare romantic text adventure game about a big date with what could be Mr. Right! Choose-your-own-adventure interaction spins the customized player along whimsical tangents but ultimately all plot forks either lead to dead ends or rejoin the fixed-rail central narrative. Little replay...
---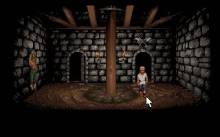 Lure of the Temptress 1992
The medieval town of Turnvale has fallen into the hands of the evil sorceress Selena. She is controlling an army of an orc-like warrior race Skorl, who serve her with devotion. The Skorl hate humans and have terrorized the town and the nearby land. Diermot is an ordinary fellow who...
---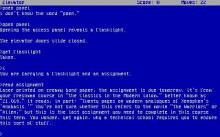 Lurking Horror, The 1987
In The Lurking Horror, you are a student at G.U.E. Tech. You have braved a snowstorm to get to the Computer Center and finish work on an assignment. But the snowstorm has turned into a raging blizzard, and has trapped you in a complex of buildings late at night. You...
---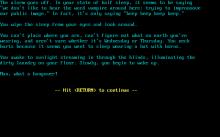 Mad Cow Man and Deep Fried Beef Fat Boy 1997
In this installment (#40) of the Blender competition, participants were urged to submit works engaging the themes of "Superhero", "robbery" and "England". While Captain Britain is nice for traditionalists, the authors here have selected Mad Cow Man as the zany protector of the British Isles in the madcap late '90s....
---
Madness of Roland 1995
Billed as "the world's first interactive multimedia novel," Madness of Roland brilliantly fulfills the latter half of its claim (i.e. "multimedia novel") while dismally failing the first (i.e. "interactive"). As celebrated designer Chris Crawford notes in his critical-but-insightful review of the game" "[designer Greg] Roach has created an art film...
---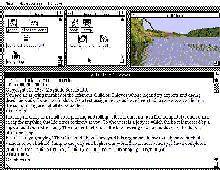 Magnetic Scrolls Collection 1 1991
This is a great remake of Magnetic Scroll's celebrated games: Fish!, Corruption, The Guild of Thieves. All there games are updated to their late and lamented "Magnetic Windows" engine, which boasts graphics and resizable, icon-based windows for manipulating items. The wonderful text parser is still essential to playing the games....
---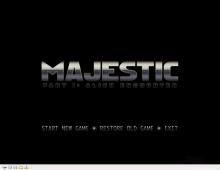 Majestic Part 1: Alien Encounter 1995
Majestic is another very short but entertaining sci-fi adventure from Istvan Pely, who also designed Zero Critical and Syn-Factor (the latter re-released as Symbiocom). Steve Ramsey of The Quandary says it all about this little-known game in his review: "The SS Majestic was Earth's finest pleasure cruiser, a crowning achievement...
---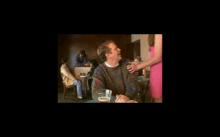 Man Enough 1994
Man Enough is a full-motion video dating simulation game. The objective, as in most of these games, is to have intercourse with several women. The game starts with the player subscribing to a dating agency called "Man Enough", run by a woman named Jeri. She assists by popping up on...
---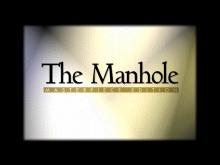 Manhole: Masterpiece Edition, The 1994

---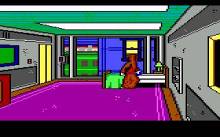 Manhunter 1988
The Earth has been invaded by the Orb Alliance, and a tightly restricted regime instituted for the humans that remain. Brown monk robes are the only garments allowed, speaking is a capital offense, and every human has been implanted with a tracking chip recording their every move. To track down...
---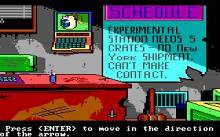 Manhunter 2: San Fransisco 1989
Picking up immediately where Manhunter: New York left off, Manhunter 2: San Francisco has the player crash-landing their stolen ship in the City by the Bay after trying unsuccessfully to keep up with enigmatic serial killer Phil. Left with no alternatives, the player assumes the identity of a local Manhunter...
---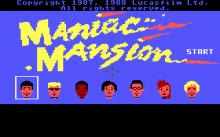 Maniac Mansion 1988
The Edison mansion has always been a creepy old house on the edge of town. There have been rumors of strange experiments going on and of odd creatures living amongst the Edison family. There is even a story that a meteorite once crashed near the home nearly 20 years ago....
---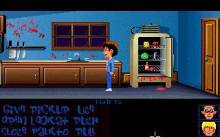 Maniac Mansion Deluxe 2004
The game Maniac Mansion was created by LucasFilm in 1988. Manic Mansion Deluxe is a remake done by LucasFan in 2004. The remake contains all the original story and characters, but features better graphic. In case some of you don't know the story, here it is. 20 years ago a comet...
---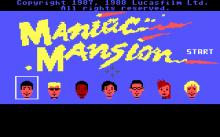 Maniac Mansion Enhanced 1988
The Edison mansion has always been a creepy old house on the edge of town. There have been rumors of strange experiments going on and of odd creatures living amongst the Edison family. There is even a story that a meteorite once crashed near the home nearly 20 years ago....
---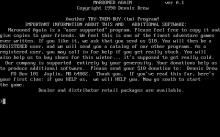 Marooned Again 1985
Your useless ship has crash landed, yet again, on a hostile alien planet. Thankfully your on board computers have located a deserted alien ship without any signs of life on it. Looks like you may have a way to get off this rock sooner then you hoped! All you've gotta...
---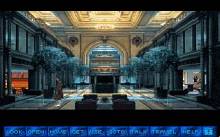 Martian Memorandum 1991
Martian Memorandum is the sequel to Mean Streets. Six years have found Tex broke, down on his luck, and seriously in need of a new case. He gets a call from Marshall Alexander, a business tycoon who owns most of the industry on Mars. It seems his daughter Alexis has...
---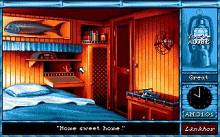 Maupiti Island 1990
Maupiti Island is a nonlinear police investigation with graphics in 2D and is the sequel to Mortville Manor. Whilst famous detective Jerome Lange is at sea, a cyclone (Harry) approaches and obliges his ship to put in at Maupiti Island until the weather calms. Then, as if things were not...
---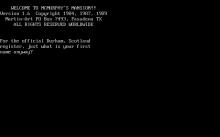 McMurphy's Mansion 1984
In McMurphy's Mansion, a text based adventure, you are the nephew/niece of the late eccentric millionaire McMurphy. Upon arriving in Scotland, McMurphy's lawyer Barrister Aaron McBee informs you that McMurphy has left behind a huge inheritance ($10,000,000), but in order to claim it you must prove yourself worthy. McMurphy has left...
---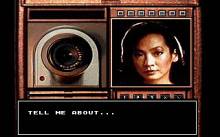 Mean Streets 1989
Private investigator Tex Murphy is hired to investigate the murder of a university professor. It turns out that he was one of eight scientists involved in Project Overlord, a mission to remotely control people. You soon learn of the deaths of other related figures. Suspects may include the British intelligence...
---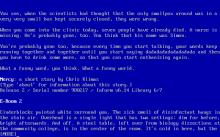 Mercy 1997
When the next smallpox pandemic comes, none of our society's hubris will soften its devastating public health impact. You inhabit the shoes ("play" is the wrong word entirely) of Dr. Peter Basham, in gentler times a pediatrician, working overtime to process the hideous and deformed smallpox victims, racked with pain,...
---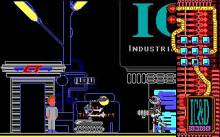 Metropolis 1987
Metropolis is the city of the future, founded in 5067. You are a security agent for the software company IC&D and your adventure is about to begin. Solve ten different crimes and voyage the city through a series of "Zoomtubes". Just don't give out your M.U.M. code to ANYONE! The game...
---