Adventure Games #16
Search a Classic Game: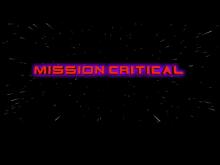 Mission Critical 1995
First-person graphic adventure. It is 2134, and the human race has been at war for 50 years since the Alliance declared independence from the stifling rule of the UN and its anti-technology policies. The Alliance is losing the war to the UN's greater numbers, but recently, Alliance scientists discovered an...
---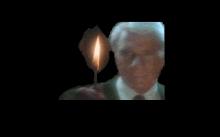 Mission: Impossible 1991
Not to be confused with similar-sounding Impossible Mission action game from Epyx, Mission: Impossible is the adventure game that puts you in command of a 4-man spy team. You can control separate members, ordering them to do different things at once. In fact, the spies *must* be given individual orders...
---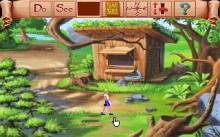 Mixed Up Fairy Tales 1991
Bookend has been mixing up Bookwyrm's fairy tales and you have to set things right by aiding well known fairy tale characters such as Cinderella and Snow White.To set things right, you will need to go around acquiring objects, such as Jack's magical beans, to give to Jack so that...
---
Mixed up Mother Goose 1987
Mixed-Up Mother Goose is a classic "Sierra-style" adventure game for kids, based on the various classic nursery rhymes (Humpty Dumpty, etc.). All the rhymes from all over the land have gotten mixed up, and it is up to the child to find the missing pieces and give them back to...
---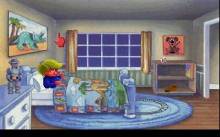 Mixed-Up Mother Goose VGA 1991
This is another updated version of Mixed-Up Mother Goose. This version has a new set of graphics, but more "visibly," a redone soundtrack that has all of the nursery rhymes played in different musical styles....
---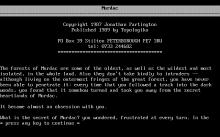 Monsters of Murdac 1987
Offering adventure in a world of , Murdac is an abandonware developed by and pusblished by Topologika Software, Ltd.. Released in 1989, you wander around in a perspective....
---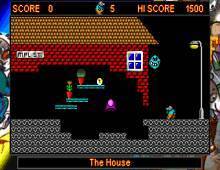 Monty on The Run 2001
Monty on the Run is the excellent fanmade PC conversion of the third and arguably best in Gremlin's popular Monty Mole series of action/adventure hybrids that never made it to the PC. The review in Spectrum games magazine Crash says it all about what gives Monty on the Run a...
---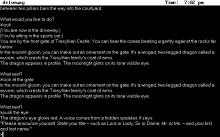 Moonmist 1986
In Moonmist, you are a famous young American detective. An old friend, Tamara Lynd, has written you a letter (included in the package), asking for your help. And so you have travelled to England to test your detective skills.As the story begins, you are outside Tresyllian Castle - the old,...
---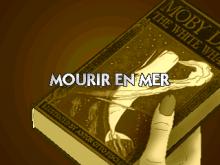 Mourir en Mer 2002
A short but sweet freeware adventure game from a lone French developer who goes by the handle of Dorcan, Mourir en Mer (To Die at Sea in English) is a great amateur game that showcases the breadth of subjects that adventure games can handle effectively. Although it is a small...
---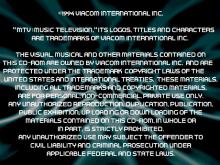 MTV's Club Dead 1994
Undercover and fresh out of prison, you, Sam Frost, are hired by the corporate giant, Metacorp, to discover why the patrons of their "posh resort," the Alexandria, are being killed off. The game has a futuristic, cyberpunk feel to it as you negotiate the halls of the resort in a...
---
---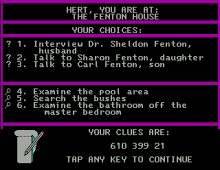 Murder by The Dozen 1983
Become a police detective and solve 12 murders in Micropolis. Players interview witnesses, gather evidence, and sift through lab reports to get the clues they need to solve each case. Each action, particularly traveling between locations, adds time to the game clock.One to four people can play, competing to see...
---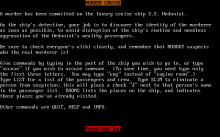 Murder Cruise 1990
Murder Cruise is a fun little murder mystery game that plays more like a game of Clue Master Detective than an interactive fiction title. Your job as a detective is to arrest the killer on board the S. S. Hedonist as soon as possible by thoroughly exploring the ship, eliminating...
---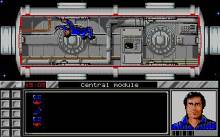 Murder in Space 1990
Murders in Space is the sequel to Murders in Venice, an adventure game that is played in a first person perspective. Now, we have Murders in Space, a 3rd-person perspective mystery that has you trying to solve a crime in deep space. You do this by asking questions and being...
---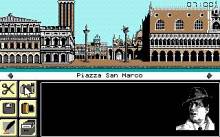 Murder in Venice 1990
Terrorists plotting against the city of Venice have set a five-hour deadline - as a private detective, it is your job to stop them in that time frame.Motion in this mouse-controlled adventure is achieved by clicking on directional arrows, but pay attention to everything you see. You carry an organiser...
---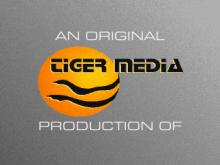 Murder Makes Strange Deadfellows 1991
Another hard to find game from the same company that developed The Case of the Cautious Condor.In this murder mystery you guide Nick, great-nephew of the late Randolph Steere, through the rooms of the haunted Steere mansion. Nick aims to find out where is the last Randolph's will, and how...
---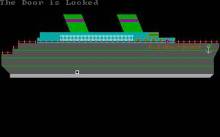 Murder on The Atlantic 1988
Murder on the Atlantic is a fun murder mystery with a cliche murder-on-the-ship plot that develops into a solid game of logical deduction and timing. Clues and evidence must be pieced together to determine the culprit. Unfortunately, the heavy reliance on precise timing and included documentation (included in game file),...
---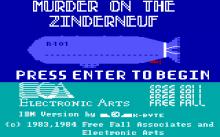 Murder on The Zinderneuf 1984
The year is 1936. You are in flight on the dirigible Zinderneuf, and a murder has just been discovered! As the only detective on board the ship, it is your job to discover who the murderer is before landing. The game is played from a top down view of the...
---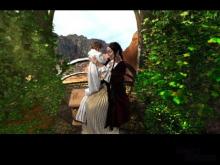 Myst 3: Exile 2001

---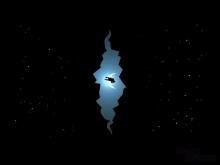 Myst: Masterpiece Edition 1999

---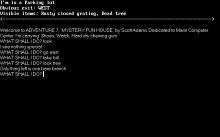 Mystery Fun House 1981
Number 7 in the original Scott Adams adventure series. This one takes place at an amusement park. The first puzzle is how to get in past the turnstyles! Once inside, you must solve the mystery of the place, going through a house of mirrors and so forth. It is an...
---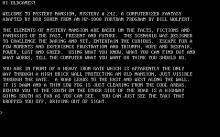 Mystery Mansion 2001
An early (late '70s) HP minicomputer text adventure game, this one begins with the player dropped off by a taxi outside the locked gate of an estate containing an eponymous mysterious mansion, at the end of an endless "hideous highway". The grounds are surrounded by dense and difficult-to-navigate (even with...
---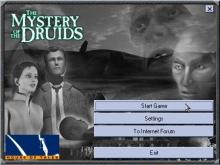 Mystery of the Druids, The 2001

---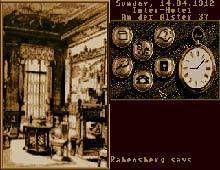 Mystery of the Mummy! 1988
In this solid PC version of an underrated Amiga adventure, you are a detective tasked with finding a missing mummy in Hamburg within 5 days. Hundreds of locations, characters, objects, and authentic 1912 atmosphere are high points of the game, which is challenging due to the myriad of clues and...
---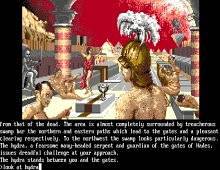 Myth 1989
Magnetic Scrolls' last adventure before the introduction of their 'Magnetic Windows' format, Myth is classic interactive fiction.Myth is set in Ancient Greece, place of myth and legend. Hence the title. You are are Poseidon, the Sea God. You have to journey to the Underworld to get the Dark Helment of...
---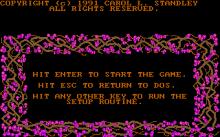 Myth Master 1991

---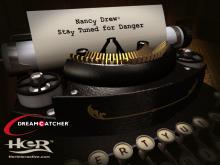 Nancy Drew 2: Stay Tuned for Danger 1999

---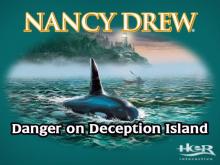 Nancy Drew: Danger on Deception Island 2003

---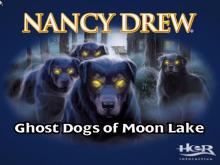 Nancy Drew: Ghost Dogs of Moon Lake 2002

---
Nancy Drew: Message In A Haunted Mansion 2000

---