Adventure Games #8
Search a Classic Game: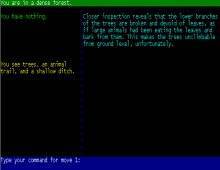 Empire of the Over-Mind (a.k.a. Empire of the Overmind) 1986
Empire of the Over-Mind is an excellent text adventure written by Gary Bedrosian way back in 1979 for the Apple II and Tandy's TRS-80 computer and published by Avalon Hill. The game was never ported to the PC, but the author has ported it himself in 1986 and has kindly...
---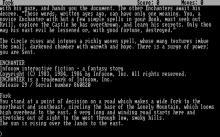 Enchanter 1983
You are a dim ignorant Apprentice Enchanter, but your task is enormous. You must save the world from a Warlock who is ruling the land with his evil powers. You are not the first in this quest but hopefully you will be the first to succeed. You know the basics...
---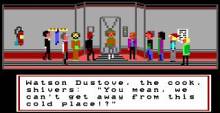 Enclosure 2004
You are Mike Goodman, a con artist who lives with his girlfriend in a rundown apartment. Your job is to trick people into thinking you can contact the dead. You have little money and no other work. One day you meet a man called William Mayfield who offers you $10,000...
---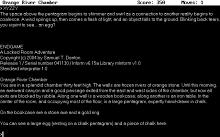 Endgame 2004
A Captain's life is a hard one. After nine months of deployment first in Operation Iraqi Freedom and then running drug interdiction along the coasts of South America, your ship and crew need a break. USS Las Vegas calls at the Navy base in Sigonella, Sicily for ship replenishment and...
---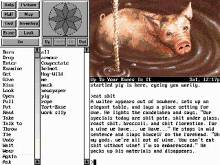 Eric The Unready 1993
A tongue-in-cheek graphic text adventure/point and click adventure hybrid. You are a chivalrous knight attempting to save a princess; your quest takes you through a mad-cap Douglas Adams-style world....
---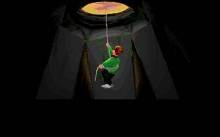 Escape from Delirium 1995
Amateur made, shareware imitation of Monkey Island 2 / Simon the Sorceror. But don't let that put you off - this is a quality game in its own right. You are adventurer Paul Cole, the year is 1948, and you have been lowered down a pit to investigate a the...
---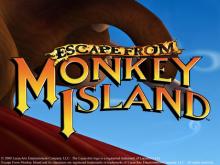 Escape from Monkey Island 2000

---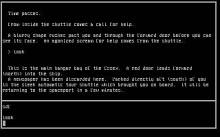 Essex 1985
In this real time all-text game, a sightseeing tour of the Starship Essex turns into hard work when a dying agent recruits you to find a scientist and his formula, the only tool that will empower the Federation to defeat the alien Vollchons.The hardbound book that comes with the game...
---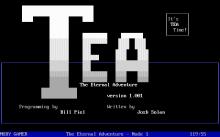 Eternal Adventure, The 1995
Like VariTale before it, TEA is a BBS door for automating the infrastructure permitting the playing of Choose-Your-Own-Adventure type plot-forking games -- all it needs are the stories, provided by your BBS userbase (or, optionally, by an included sample pack of 65 rooms)! It starts you off with one room...
---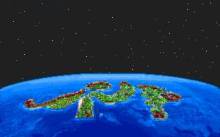 Eternam 1992
Eternam is a combination of 3rd-person graphic adventure gameplay with 1st-person 3D travel sections, interspersed with plenty of cartoon animations.You are Don Jonz, a marshal in the United Forces of Orion. After plenty of courageous deeds and macho heroics, he really needs a break. Luckily, there is something in the...
---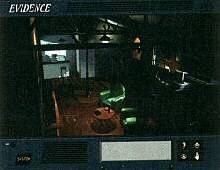 Evidence: The Last Resort 1996
Evidence: The Last Report is a detective adventure, in which you play Daniel Singer, a reporter for Channel Z. Your former girlfriend and co-worker Sarah Hopkins has been murdered and because you recently broke up with her, you are considered to be the prime suspect. You have a few hours...
---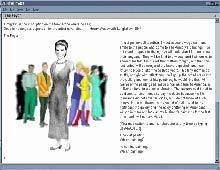 Exhibition 1999
Paul O'Brian said it best in his review: "[Exhibition's] story takes place at an art exhibition, the final show of a painter named Anatoly Domokov, who committed suicide shortly before the show opened. The only thing to do is stand around and look at the show's twelve paintings.. The player...
---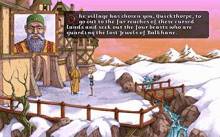 Fable 1996
A classical graphic adventure with hand drawn backgrounds. The hero Quickthorpe must travel through four fantasy worlds (each dedicated to a particular element) in search of four mystic gemstones in order to free his people....
---
Fade to Black 1995
Fade to Black is the sequel to Flashback: the Quest for Identity. The player takes control of Conrad, the hero from Flashback who has been imprisoned by his old enemy, the Morphs. Gaining the trust and assistance of the mysterious Ancients, Conrad must fight off the Morph invasion, not knowing...
---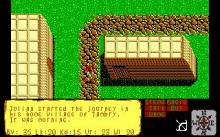 Faery Tale Adventure, The 1989
You take on the role of three brothers wandering through the magical land of Holm. Real-time interaction reminiscent of Ultima 7. An extremely large world, touted at the time as the largest game world ever created, about 17,000 computer screens worth of terrain....
---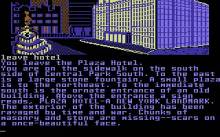 Fahrenheit 451 1984
Based on Ray Bradbury's classic science fiction novel Fahrenheit 451.In a not so distant future, books have become illegal. As Fireman Guy Montag, your role is not to save houses, but to burn them for the books inside. But, you become passionate about books and become a rebel, pursued by...
---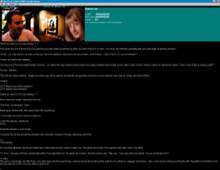 Fallacy of Dawn 2001
Fallacy of Dawn is the latest title from Robb Sherwin, designer of A Crimson Spring, my most favorite old game of the 6th Annual Interactive Fiction Competition, and is undoubtedly his best yet. Like his previous games, Fallacy of Dawn is a very immersive game set in New Haz, a...
---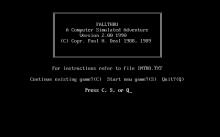 Fallthru 1990
The beautiful vistas of farmlands, forests, mountains and deserts that greet you upon your arrival on Faland does little to calm your nerves about how you arrived at this strange land. Considering how dangerous it is with all the demons, monsters, wild animals and renegades running around you know you...
---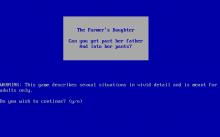 Farmer's Daughter, The 2002
The farmer's daughter is the eternal complement to the traveling salesman in American folklore and humour, practically Jungian archetypes licking their lips and circling each other warily while trying to figure out how to avoid the shotgun wedding neither party wants their hot-blooded fling to result in.Your car broken down...
---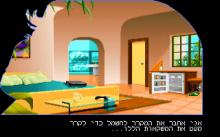 Fascination 1991
Fascination is a mature-themed adventure. The game is about a business man who has invented a chemical drug that increases the sex-drive. Unfortunately he was assasinated, and you accidentally get hold of the drug sample. Your mission is to try to deliver the sample to the right person and avoid...
---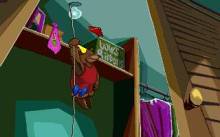 Fatty Bears Birthday Surprise 1993
Fatty Bear must help the other toys prepare a surprise party for Kayla. He must find the ingredients for a cake and then make it, find the missing letters for the happy birthday sign and blow up some balloons among other things. The game also includes bowling and piano minigames....
---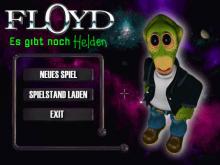 Feeble Files, The 1997

---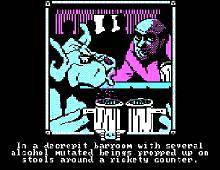 Fellowship of the Ring, The 1986
A J.R.R. Tolkien interactive fiction (with graphics) based game surround the efforts of the Hobbits: Frodo, Pippin and Sam and their quest to bring the ring to Mount Doom.The game is divided into 2 parts (represented by 2 files: DOS version). The first part starts with Frodo at his home...
---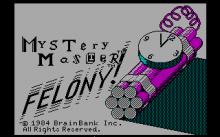 Felony 1984
There is a crime wave in the town of Huxley! As a mystery master, you need to help the police solve 12 different crimes that have taken place. Throughout each of the cases you can interrogate suspects, search for clues at various locations, or use police station resources to analyze...
---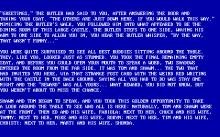 Final Soul 1995
Final Soul is a text adventure game, where you are stuck in the house, and through puzzles and riddles, must find your way out. Through the use of fun, and sometimes, complex puzzles, you have to piece things together to get out of what appears to be a haunted house!...
---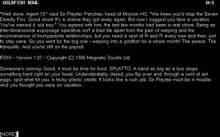 Fish! 1988
Inter-Dimensional Espionage. Inter-Dimensional... because you can "warp" into the body of a living thing in this or any other dimension. Espionage... because there are good guys and bad. And you're a good one... with years under your belt and a multitude of successful missions behind your dark glasses. The payoff?...
---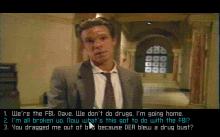 Flash Traffic: City of Angels 1994
A DEA team raids an apartment in the City of Angels. Among the requisite drugs and crazed loonies, the team discovers something far more chilling: "The place was used to build a nuclear bomb," to quote your FBI sidekick, Sawyer. As if that isn't bad enough, the bomb is gone...
---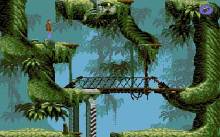 Flashback 1993
Back in 1992, Delphine Software released Flashback for the Amiga. The game became a hit, and the following year, it was ported to other computers and consoles. Among those ports, was the DOS version. So how did the port turn out? Read on.In Flashback, you take on the role of...
---
Flight of the Amazon Queen 1995
Joe King is the hero of this point and click adventure. His plane is carrying actress Faye Russell when it crash lands in a remote jungle, and he must battle through 100 screens of adventure and puzzle. The game's feel is influenced by hammy B-movies, and the characters are quite...
---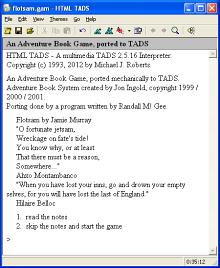 Flotsam 2001
Flotsam is a fun Choose-Your-Own-Adventure game that won third-place winner of the 2001 LOTECHComp. Mark Silcox says it all about this fun old game:"This game charts the mundane tasks and interactions of a student reluctantly employed at an even-nastier-than-the-norm Irish pub, in what I thought was a wonderfully vitriolic and...
---