Puzzle Games #13
Search a Classic Game: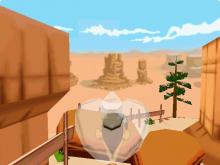 Lucky Luke: Western Fever 2001

---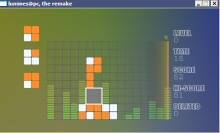 Lumines 2008
Lumines is a superb fanmade PC translation of a hit Sony PSP game of the same name that many are already calling the best game ever made for that portable console. One of the best Tetris-style games ever made, the PSP version of Lumines is a unique combination of puzzle...
---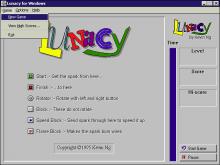 Lunacy for Windows 1995
Lunacy for Windows is a single-player, shareware, puzzle game. The game is reminiscent of Pipe Mania! in that the player has to guide a spark along electrical wires from a start point to an end point. However In this game the player does not add new pieces of wiring to...
---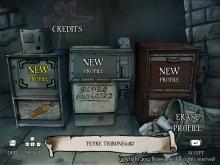 MacGuffin's Curse 2012

---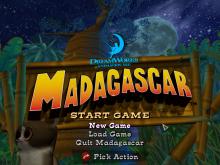 Madagascar 2005
This 3D platform puzzle game is based on the DreamWorks film of the same title and release time. Players take control of four unlikely animal companions: Alex, the brave lion; Marty, the idealistic zebra; Melman, the hypochondriac giraffe; and Gloria, the heavyweight hippo. The animals have joined forces to try...
---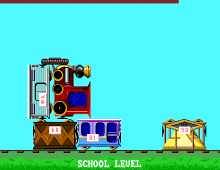 Magnetic Crane 1989
Controlling a powerful electromagnet-tipped crane of the junkyard variety, the player has a limited amount of magnetic "energy" at their disposal to use to pick up, re-orient and re-arrange a jumbled pile of railway cars into a sensible sequence (spelling out "Dialog '89", the developer and year of development) with...
---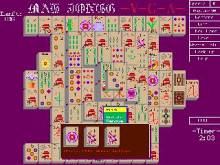 Mah Jongg VGA 1989
Mah Jongg VGA is, as the name implies, a game of mahjong solitaire; or as others would call it, Shanghai solitaire. It's a shareware title developed and released by Ron Balewski between 1988 and 1991, under different versions; a Windows version was released in 1992. Your...
---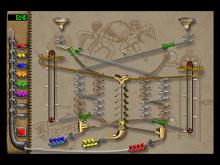 Marble Drop 1997
Marble Drop is an interesting game, starting with a unique idea. The puzzles are fascinating to watch in progress, and often the actual workings of the puzzle in operation are vastly different from the way they appear when you first look at them. The simple truth is that the game...
---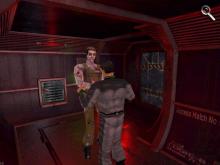 Martian Gothic: Unification 2000
"Stay alone, stay alive..." These are the mysterious words left by the derelict Vita base on the planet Mars. Martian Gothic: Unification, a space adventure with many mysteries and a complex storyline, will pull you into the plot and frighten you, much to your delight. At the start of the game,...
---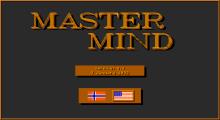 MasterMind 1989
This is a freeware adaptation of the classic code-breaking board game Mastermind, where the player has to guess a 4-peg color combination, given hints with black and white key pegs. The game is available in English and Norwegian, apart from standard rules it allows for alternate setups: from 4 to 10...
---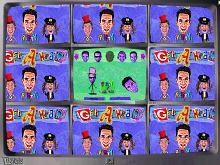 Math Heads 1996
If Math Heads isn't the best educational math program of all time, it certainly has to be up there among the best. If there is any better, I haven't seen them. The game starts by having the players pick a head, headgear and body that they like from among the group...
---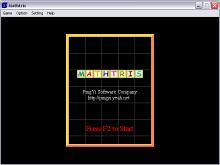 Mathtris 2000
Mathtris is a fun and educational Tetris clone that tests your arithmetic skill in addition to quick reflexes. Blocks that drop from above have either an integer or an arithmetic sign (plus, minus, multiply, divide, or equal) painted on them, and your job is to create a correct equation out...
---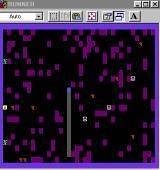 Maze Runner 1986
This game is a close relative of the better-known Kroz series. Searching for the Heart of Courage in the Ezam dungeons, the player must evade the lost souls of previous adventurers while strategically using the pick axes and teleport scrolls strewn about the place. The game's primary twist...
---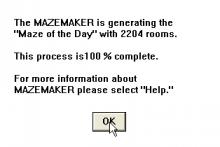 Mazemaker 1992
Mazemaker is a shareware game which generates mazes through which the player must navigate. The mazes vary in complexity from the "Maze of the Day" to the "Maze of the Year" and while single screen mazes can be generated, most mazes are three dimensional. Three dimensional mazes are spread across a...
---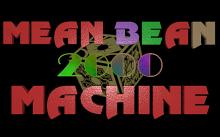 Mean Bean Machine 2000 2000
Mean Bean Machine 2000 is an excellent unofficial PC remake of popular Megadrive/Genesis Tetris-style puzzler Dr. Robotnik's Mean Bean Machine (aka Puyo Puyo in Asia). Gameplay is simple, but addictive: little blobs fall in pairs at random, and your job is to line them up in groups (not necessarily same...
---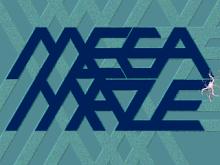 Mega Maze 1996
Mega Maze is a decent PC version of an underrated puzzle game of the same name which was published by Philips Media in 1995 for its short-lived CDi console. Your goal in the game is to guide a blue marble from its starting point to a flashing hole, while avoiding...
---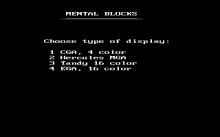 Mental Blocks 1989
Mental Blocks consists of three games: Free Fall, or Fits and Pieces, is a 3D version of Tetris. Instead of forming a line, you must form a complete layer before it will disappear. The California Achievement Cubes, or Mental Detector, shows you a cube, and challenges you to figure out which of...
---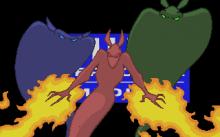 Merlin's Apprentice 1995
Merlin's Apprentice is a puzzle game in which you have to become an apprentice to Merlin the Wizard -- but first you have to find him by solving many puzzles and trying to outsmart three clever demons. The game has cartoon-style graphics and funny sound & voices. ...
---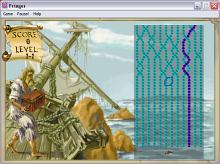 Microsoft Entertainment Pack: The Puzzle Collection 1997
Ten original puzzle types, ranging from quick fixers to brain busters, are included in Microsoft Entertainment Pack: The Puzzle Collection. Put on your thinking cap for logic puzzles, roll up your sleeves and prepare for eye-hand coordination to handle the action challenges, and engage your brain to outwit the computer...
---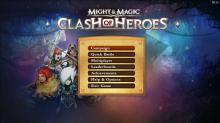 Might & Magic: Clash of Heroes 2011
Might & Magic: Clash of Heroes sends the titular franchise in a new direction, adding anime-inspired art, HD visuals, and a new match-three puzzle mechanic to selected pieces of its role-playing and strategy forebears. Taking place before the events of Heroes of Might & Magic V, Clash of Heroes follows...
---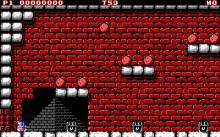 Mighty Bombjack 1990
The sequel to the original Bomb Jack, Mighty Bombjack brings side scrolling to the series, and brings it closer to a platform game rather than the arcade / puzzle likeness of the first one. Once again you play as the bomb-hungry caped superhero. Collect the bombs for points and avoid...
---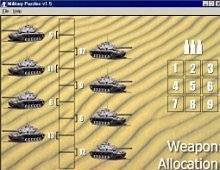 Military Puzzle 2002
Military Puzzle is a good collection of 4 brainteasers from NZP. From the official page, this is "...a collection of four classic puzzles, set to a military theme. Find the safest placement for airplanes on an airfield, decipher the enemies' code, avoid enemy fire as you retreat through the trenches,...
---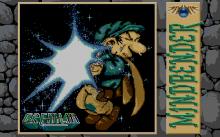 Mindbender 1990
Mindbender uses similar gameplay principles to Deflektor, which means that you have indirect control over a beam of light. On each of the 50 levels you must guide it from a starting point to an ending point, taking out all the enemies along the way. Rotating each of the many...
---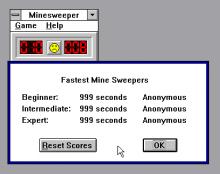 Minesweeper 1992
This review goes out to everyone who has ever been feeling particularly bored at work, suffering from that all-too-well-known workplace ennui. Whenever things are slow at the office, or your inbox is melancholy with sheer emptiness, that's when you head down to the classic Windows Start Menu in search of...
---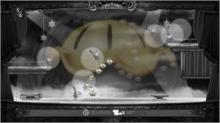 Misadventures of P.B. Winterbottom, The 2010
In The Misadventures of P.B. Winterbottom, gamers join the titular hero on a silent film-themed adventure through time and space in an effort to collect pieces of the delicious and mysterious Chronoberry Pie. The platform-heavy adventure puzzle finds players stacking, fighting, riding, and sacrificing versions of themselves in order to...
---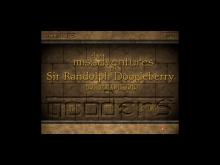 MisAdventures of Sir Randolph Doogleberry, British Explorer 2004
MisAdventures of Sir Randolph Doogleberry, British Explorer (MASRDBE in short) and Sensitive are two fun turn-based puzzle games with similar concepts: move over each tile exactly once to make them disappear or fall away before you can exit each room, or until only one tile remains. MASRDBE is an original...
---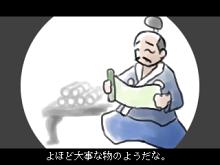 Mission Missyo 2005
Mission Missyo from Japanese developer group called G.R.C. is a neat turn-based puzzle game that plays like a tribute to Blizzard's excellent The Lost Vikings game and its sequel. Your goal is to lead three anime-style ninjas through dozens of puzzle stages. Each ninja has a different skill, and similar...
---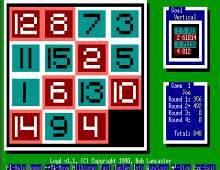 ML Loyd 1990
Between 1987 and 1990, Bob Lancaster wrote 6 games that he released under the name of "MicroLink," a PC user group he belonged to. All the games boast simple, ASCII-character graphics, but the excellent gameplay and range of options make them stand the test of time. ML Loyd is a departure...
---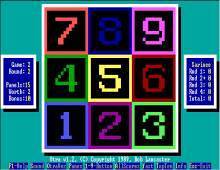 ML Otra 1989
Between 1987 and 1990, Bob Lancaster wrote 6 games that he released under the name of "MicroLink," a PC user group he belonged to. All the games boast simple, ASCII-character graphics, but the excellent gameplay and range of options make them stand the test of time. ML Otra is a simple...
---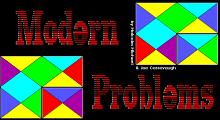 Modern Problems 1993
Modern Problems is a fun and very unique puzzle game that challenges you to figure out not only how to solve the puzzles, but also what their rules are. There are three kinds of puzzles in the game: in Worm Puzzles, your goal is to get the counter down to...
---