Puzzle Games #12
Search a Classic Game: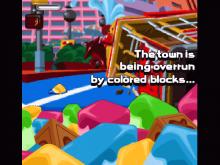 Mr. Driller 2000
Oh, those crazy Japanese console programmers. What will they think of next? Right, according to the intro, "the town" is being "overrun by coloured blocks" and only Mr. Driller can stop them. There are also some little blue creatures, presumably they're doing something with the blocks... Well, so much for the plot,...
---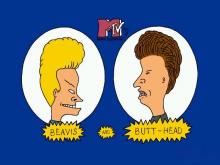 MTV's Beavis and Butt-Head: Bunghole in One 1998
The deranged boys who brought you frog baseball put their own spin on miniature golf in MTV's Beavis & Butt-Head: Bunghole in One. Created by the man behind the Beavis and Butt-head television show, Mike Judge, the game features the strange and hilarious locales familiar to the popular MTV cartoon,...
---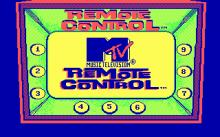 MTV's Remote Control 1989
Back when MTV actually played music, there would be an occasional 30-minute break from Bon Jovi and Ton Loc. But no one complained when they couldn't hear "Wanted Dead or Alive" or "Wild Thing." Why? Because Remote Control was on! When the computer game version was released in 1989, all...
---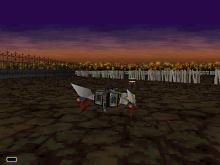 MTV's Slamscape 1996
Combining the vehicle mechanics of a hovertank with the strategy elements of a puzzler, Slamscape is a game that can best be described as "eclectic." In fact, the gameplay is so unusual that I'm not sure the publisher even knows what this game is all about. For example, in the...
---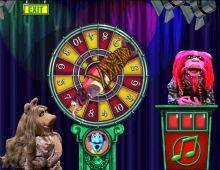 Muppets Inside 1996
As was so often the case with The Muppet Show, The Muppet CD-ROM: Muppets Inside opens with a bang, or, more accurately, a crash. When you first load the disc, a fiendishly convincing technical glitch traps Kermit the Frog and friends inside your computer, after which they ride a "databus,"...
---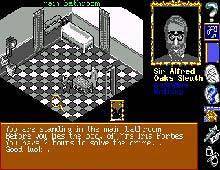 Murder 1991
After personalizing your character, you enter the game where everyone is a suspect. The murder has occurred and whoever did it is nicely camouflaged within the party crowd in the house. However, the time is crucial as you have limited time (2 hours or so) to solve the mystery and...
---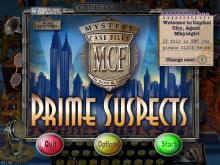 Mystery Case Files: Prime Suspects 2006
I Spy meets Where's Waldo in Mystery Case Files: Prime Suspects, a point-and-click search for clues that reveal the culprit of a jewel heist. The game begins as you are asked to investigate the theft of the Queen's Hope Diamond. Clues to finding the thief can be found throughout 29...
---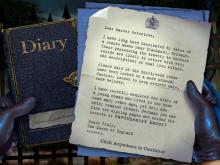 Mystery Case Files: Ravenhearst 2006
The Mystery Case Files series of hidden object games continues with this ominously titled entry set in Great Britain. When the diary of Emma Ravenhearst is found, the Queen of England sends a master detective to the spooky old Ravenhearst manor to find the diary's missing pages. Players take on...
---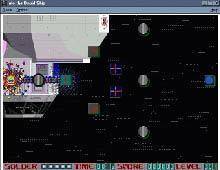 Nano Tank 1993
Nano Tank is a little-known gem for Windows that features cleverly (some will say fiendishly) designed levels and electrical components. The goal in each level is simple: maneuver your nano tank to the exit. The method, however, is arduous: you must power on the exit, and manipulate devices such as...
---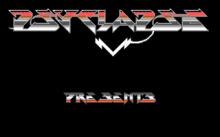 Never Mind 1989
Your task is to reconstruct a series of pictures by collecting scattered tiles and placing them in the right sequence. It's an apparently simple assignment on the surface, but don't be fooled. You will also have to cope with tile-pinching chess pieces, dissolving tiles and causeways, transporter tiles, and a...
---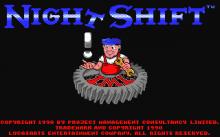 Night Shift 1990
Night Shift is a strange platform/puzzle combo of a game. Thriving Toy Company seeks energetic employee to operate unconventional machine. Generous rewards in store for you... if you can meet the challenge! Master the BEAST to crank out action figures from Star Wars(r), Indiana Jones(r) and your favourite LucasArts...
---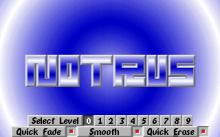 Notrus 1992
The goal of this another Tetris-clone is to clear as many lines as possible, and do not allow blocks stack up to the top. New feature is a 'NOT' activated by player during the game. When four lines are cleared simultaneously the player receives a 'NOT'. For each 'NOT', a notch...
---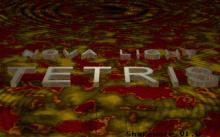 Novalight Tetris 1995
A nice shareware tetris clone featuring reflections at the bottom of the rectangular playground for every falling block. ...
---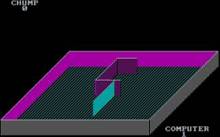 Novatron 1982
Novatron is a PC conversion of an arcade game, which was in turn inspired by the classic movie Tron. Basically you and the computer control motorcycles of sort, that leave a trail of light. Your objective is to make the computer smash into his or your trail of light, thereby...
---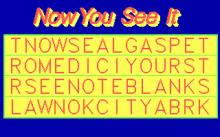 Now You See It 1990
In this simulation of the famous TV game show, the questions are asked, and players must find the answers, which are hidden in a letter grid. Players win points by finding the answers before their opponents do. The first player to earn 1000 points is the winner, and goes on...
---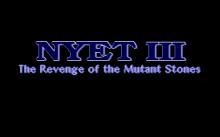 Nyet 3: The Revenge of The Mutant Stones 1993
One of the most original and best Tetris clones ever made, Nyet 3 makes the basic align-the-falling-blocks gameplay of Tetris much more fun with the addition of money, which you collect when beating a level, and many power-ups. MobyGames' more extensive description says it all: "At it's heart, Nyet 3...
---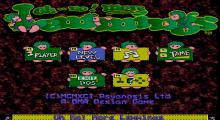 Oh No! More Lemmings 1991
Although a standalone game, Oh No! More Lemmings is basically an add-on to Lemmings. The game features 100 new levels, and all new graphics and music. ...
---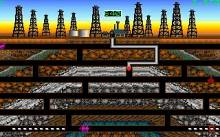 Oils Well 1990
Guide your drilling bit through the underground tunnels and collect the dots of oil. Be sure to avoid the underground pests in the eight levels and beyond. With each completed level you get to see a small movie of Slater the "Petrosaur" in his antics in this remake of the...
---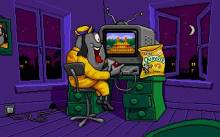 One Step Beyond 1993
The star of the game is Colin Curly, a dog, who loves Quavers (snack). It was a stormy night and Colin was playing his favorite game Pushover. Accidentally, Colin has been digitized and curlified into his computer at the moment he completed the final level of the game. Colin has...
---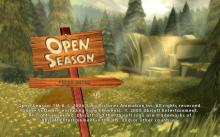 Open Season 2006
When city bear Boog is led into the forest by a mule deer named Elliot, it becomes Open Season for any unlucky hunters who happen to cross the bears path. Raised by Beth the park ranger, Boog is not used to living in the wild, and must tap into his...
---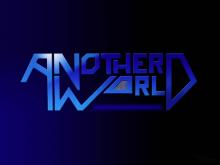 Out of This World 2006
Another World is a 2D adventure game which sees you explore, jump and shoot your way through the story. The game was originally released in 1991 on Commodore Amiga, back when game culture was very unestablished. In 2007 it's impossible to think one man could design a game but this...
---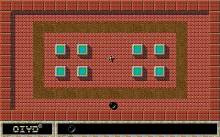 Oxyd 1992
You control a black orb that is trapped in a puzzle like labyrinth. A level is called a landscape and there are 200 landscapes to solve. The main gameplay element consists of opening the so-called oxydstones. You can bump against a oxydstone and a colored symbol will appear. Uncover two...
---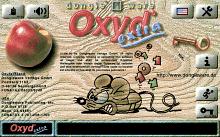 Oxyd Extra 1994
The gameplay is very simple: you control a small black ball with your mouse, you have to bounce it against blocks which display a symbol. Now you have to find the matching symbol. The game can be seen as a mixture of Marble Madness and good old Memory. The levels...
---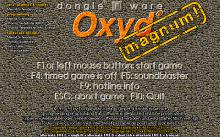 Oxyd Magnum 1993
Oxyd Magnum is a fun shareware puzzle/action hybrid that plays like a cross between Marble Madness, Macintosh classic Crystal Quest and Chip's Challenge. The game even boasts a plot: overnight, the (digital) life-supporting Oxyds have closed up and no longer emit vital oxygen. As a result, the digital world is...
---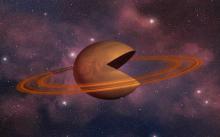 Pac-Man: Adventures in Time 2000
Pac-Man: Adventures in Time gives the famous round yellow fellow a fresh new 3D look and sends him off through mazes and challenging environments set throughout history. Pac-Man's temporal travels take him from a prehistoric land of dinosaurs, into an Egyptian pyramid, through a town in the old west, and...
---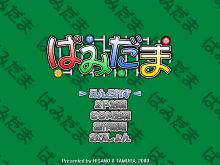 Pamidama 2001
Pamidama is a fun reflex-based puzzle game featuring characters from several anime series. The idea: catch all the balls that roll from the top of the screen in the right container whose color matches the ball's color, by switching two containers at a time. It is not hard to predict...
---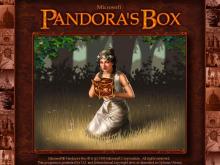 Pandora's Box 1999
Pandora's Box combines elements of 3D puzzles with paintings, pictures and artwork ranging from city landscapes to renaissance masterpieces. The story mode lets you search after seven "tricksters" who have escaped from Pandora's Box. These mischief makers include Anansi, Puck and Eris. Each one of these evil creatures has their...
---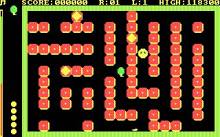 Pango 1983
Pango is a clone of the arcade game Pengo. The player controls Pango, a penguin like character, in a maze made of ice blocks which can be moved around or destroyed. Also in the maze are bees which chase the player and will cause a life to be lost if...
---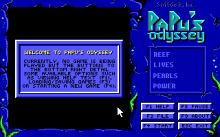 Papu's Odyssey 1993
Papu's Odyssey is a fun puzzle game in the same style as Epyx's popular Chip's Challenge game, except that you are now a fish fighting to save the reef. Your job is to open the gate that opens the way to the next level. To do that, you need to...
---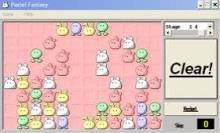 Pastel Fantasy 1998
Pastel Fantasy mainly looks like a kid game as both the colours and things within the game reminds me the most about toys. Behind all of this you will find a very addicting puzzle game though where you have to clear the game screen for pastel creatures. At the beginning of...
---