Puzzle Games #5
Search a Classic Game: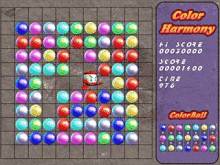 Color Harmony 2000

---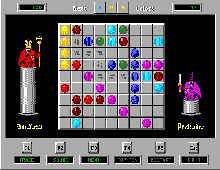 Color Lines 1992
This is the original Russian version of Lines. It is a turn-based board game. Each turn, three randomly colored balls fall on random grids of a 9x9 squares board. Your mission is to re-locate the balls (by moving one of them per turn) to form lines consisting of five or...
---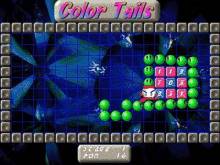 Color Tails 1998

---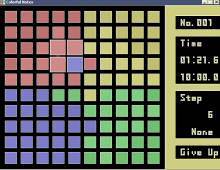 Colorful Notes 2005
Colorful Notes is a clever swap-the-tile puzzle game from Japan. Your goal: join same-colored tiles together by swapping them. There is a catch, though: some tiles cannot be moved, and some others can only be moved a certain number of times (the number of moves allowed is written on the...
---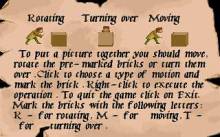 Columbus Discovery 1992
In the puzzle-game you have to gather the pictures divided on 30 fragments placed on sides of bricks. You are allowed to rotate the group of bricks in vertical plane, to turn them over in horizontal plane, and to move them to new places. Less moves you made the higher...
---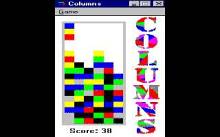 Columns 1991
Tetris like game. Original. ...
---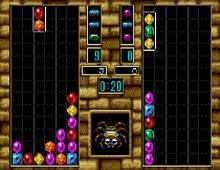 Columns III: Revenge of the Columns 2000
Dr. Robotnik's Mean Bean Machine and Columns III: Revenge of the Columns are two excellent Windows version of SEGA's popular SEGA Genesis puzzle games. The games are both Tetris-style "falling blocks" games, but with some differences. Dr. Robotnik is more similar to Puyo Puyo (and, in fact, SEGA uses characters...
---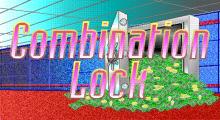 Combination Lock 1992
In the simulation of another CBS' TV gameshow with 1,000 questions you can play with a friend or challenge a computer-selected opponent. The gameshow was not aired at the times of game production and released for the first time as pilot in 1996. The object of the game is to earn...
---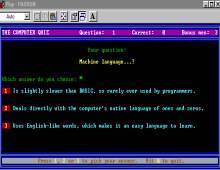 Computer Quiz 1988
This multiple-choice quiz game, published as part of Big Blue Disk #21, asks one hundred questions about computer hardware and software. Interestingly, the player is given three "men," and loses a man every time a question is answered incorrectly. Bonus men can be earned by answering ten questions correctly. At...
---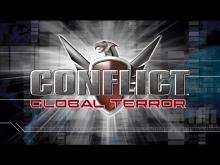 Conflict: Global Terror 2005
After two tours of duty in Desert Storm (2002 and 2003) and battles through the thick jungles in Vietnam (2004), Pivotal Games' Conflict series of military shooters looks to take its fight to the terrorists, with this modern warfare adventure. Veteran characters Bradley, Jones, Connors, and Foley have undergone intense...
---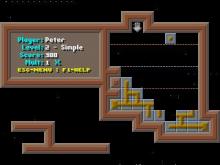 Connectris 1996
This is a puzzle game, and they tend to be difficult to describe. This one is no better. Basically it is a cross between Tetris and Pipe Mania. Pieces of pipe fall from the top of the screen, and you have to stack them so that all the exits are connected. ...
---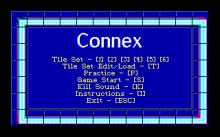 Connex 1992
Starting this game will remind you of Pipe Dream, but the gameplay is a bit different. You will still make a pipe using various pipe pieces that appear. However, you don't get points for how long your pipe goes or how many times you overlap the pipe. Instead, you get...
---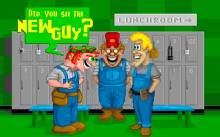 Contraption Zack 1992
It's Zack's first day on the job as a repairman at GadgetCo, and the whole factory is falling apart. He must navigate over 60 rooms, avoiding deadly traps, to find his missing tools and fix the incredibly complicated, interconnected machinery. Contraption Zack is best described as a combination puzzle adventure and...
---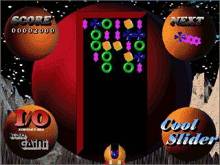 Cool Slider 1998

---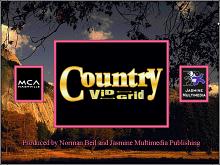 Country Vid Grid 1995
The Country Video Moving Puzzle Game. Here is a whole new way to play music videos. As you watch each video, the screen is divided into squares that are all mixed up. You have to unscramble each video while it is playing and before the music ends. It takes just...
---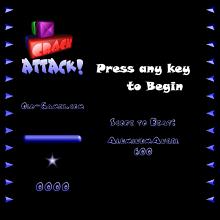 Crack Attack 2002
Crack Attack is a good remake of Nintendo's popular Tetris Attack game, offering both faithful gameplay to the original and LAN capability. If you have never played Tetris Attack, here is the summary of the rules: "Slowly, your stack of blocks grows from the bottom, and you've got to make...
---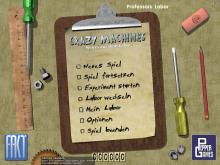 Crazy Machines: New From the Lab 2005

---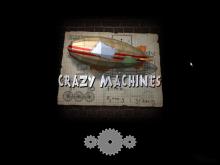 Crazy Machines: The Wacky Contraptions Game 2005
Inspired by Sierra's classic contraption creator, The Incredible Machine, Crazy Machines offers over 200 levels of machine-making mayhem. Players must solve physics-based puzzles by creating Rube Goldberg-style devices out of cranks, gears, candles, levers, robots, rockets, and other offbeat items. Air pressure, electricity, gravity, and particle effects are a few...
---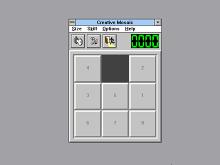 Creative Mosaic 1993
Mosaic is a game where you have a puzzle on a board and you're missing one piece. You have to slide the pieces so that they fit in the right order. You can play with numbers so that you have to organize them in numerical order, or you can use...
---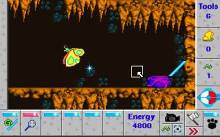 Creepers 1993
Help your worm change into a butterfly by getting past obstacles. You will use a lot of tools and your intelligence. Gameplay is similar to Lemmings, but now with bugs. ...
---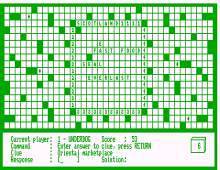 CrossCheck 1986
CrossCheck is an excellent and very rare PC version of TSR's board game of the same name, designed for 1-4 players. The game is a unique cross between a typical crossword puzzle and Scrabble. Four players (3 of which can be computer-controlled) write answers to crossword-style questions on an erasable...
---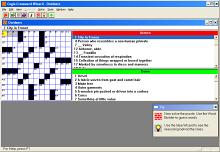 Crossword Wizard 1994

---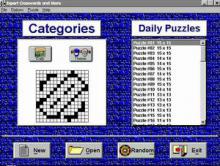 Crosswords & More for Windows 1996
Crosswords & More can be fun if your morning paper does not show up, or if the TV Guide crossword was not very challenging. If you like doing crosswords and word finds, then you will like Crosswords & More. There are not a whole lot of surprises. The graphics are fairly basic: puzzle...
---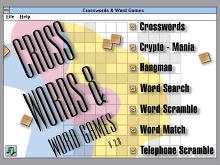 Crosswords & Word Games 1995
Crosswords & Word Games features 150 daily and themed crossword puzzles. Categories include music, babies, animals, picnics, nature, and more. Also available is a built-in crossword dictionary and an option to create custom puzzles. The word games portion of the disc includes the following six titles: Word Match, Telephone Scrabble,...
---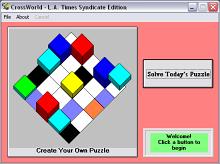 CrossWorld 2 1995
CrossWorld 2 is a superior sequel to GameTek's little-known CrossWorld, a great crossword puzzle program for DOS. This time, the game engine has been improved for Windows, with a clean user interface and two additional games. The original CrossWorld is included - same puzzles from the L.A. Times Syndicate plus...
---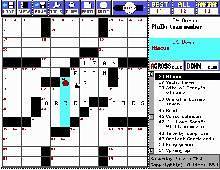 CrossWorld: LA Times Edition 1993
CrossWorld: LA Times Edition is a fun and comprehensive crossword puzzle game for DOS. Featuring a whole year's worth of crossword puzzles from LA Times, the game also includes a full-featured crossword creator you can use to make your own puzzles. The game goes above and beyond other crossword programs...
---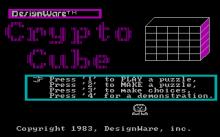 Crypto Cube 1983
20 themed words are arranged in criss-cross formation over the faces of a three-dimensional cube. You have to guess and uncover them. A mascot- The Wuzzle- apprises you of your progress. When uncovering the words, you will get: a blank square- no points and the turn is over; a vowel- 5...
---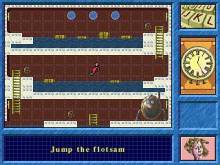 Crystal Maze 1994
A Game based on the successful UK TV Show of the same name. You have a team of six which you lead around the maze. There are four zones: Ocean, Aztec, Medieval and Futuristic. There are four types of game, Physical, Mental, Skill, and Mystery. Every game you win earns...
---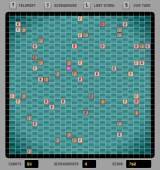 Cubots 2003
A nice PC clone of Daleks, classic Macintosh puzzle game. For an explanation of what Daleks is, here's excerpt from my review of DRroboWHOids, an older clone for DOS: "In this game, you must help that ingenious time traveller, Doctor Who , avoid ever-growing swarms of your arch-enemies, the Daleks....
---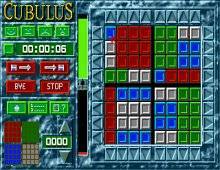 Cubulus 1991
How do you make an interesting computer game out of the venerable Rubik's Cube concept? According to cult programmer Tobias Richter, you view it from the top with all sides displayed, and allow the player to choose the number of sides, from 4 to 25. A large number of different starting...
---