Puzzle Games #20
Search a Classic Game: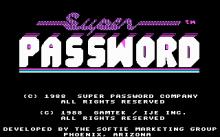 Super Password 1988
Super Password was a popular game show that ran from 1984-1989, and this game was adapted from that television program. Players give and receive clues to 5 Passwords which, when all are listed on the board, suggest the identity of the person, place, thing, event, phrase, etc., that is the...
---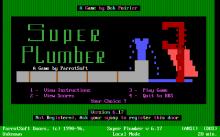 Super Plumber 1996
Super Mario may be a plumber, but is Mario a Super Plumber? Stand aside, goomba-smasher -- no platform game this, instead it's a textmode implementation of the solid gold (copper and lead might make more sense) puzzler Pipe Mania. What that means is that you are given a series of...
---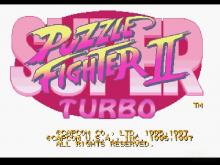 Super Puzzle Fighter 2 Turbo 1997
Considering the dearth of good puzzle games for the PC, it's not surprising that companies are turning to their console cousins for animated and challenging titles. Capcom, known for its collection of fighting games, enters its ported puzzler into the fray. Super Puzzle Fighter II Turbo, complete with the characters...
---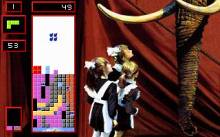 Super Tetris 1991
It isn't one of those ordinary sequels to maybe the most known and loved game in the entire computer game history, original TETRIS. The Power of Super Tetris comes from additional features, such as different types of gameplay (two player cooperative and competitive) as well as new block types (lightning...
---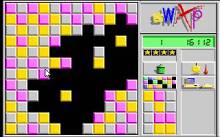 Swap 1992
In this puzzle board game you should swap the tiles to make the sequence of tiles of the same color to eliminate them. Shape of tiles varies from big and small squares to triangles or hexagons. If tiles have no neighbor tiles you may take appropriate tiles from the pocket...
---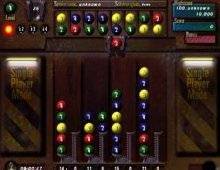 Swing 1997
This entertaining, addictive, simple yet inspired game comes from the creators of Tetris and will have you playing for hours just as that original block-piling creation did. Although the concept of Swing is much improved, it's easy to pick up. By means of three keys only, you control an industrial ball...
---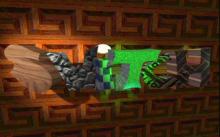 Switch 1995
Switch is a top-down puzzle game where you control a humanoid character, trying to reach the exit on each level. In order to get out of each level, you need to skillfully walk on arrows (you can only walk off an arrow in the direction it's pointing to); master the...
---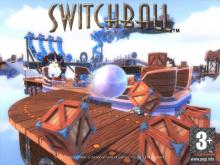 Switchball 2007
The first release from Swedish developer Atomic Elbow, Switchball is puzzle game in which players maneuver a ball around 3D courses. Switchball's name comes from the ability to switch the ball's physical makeup to things like the metalball, powerball, and airball. The five game environments contain 30 total levels, and...
---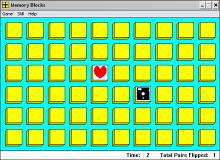 Symantec Game Pack 1991
A compilation of the following classic games: Jacks: Click on the ball to toss it in the air, then click on the right number of jacks to grab them. Hangman: Guess the letters in the word. Try not to make too many mistakes Smart Dots: You and...
---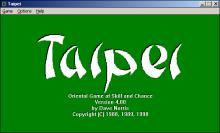 Taipei 1990
A popular Mahjongg adaptation, Taipei has the player attempting to find matches between the Oriental-motif patterns printed atop "free" (generally: exposed, on corners) tiles in various layered formations. Matched pairs disappear, yielding different free tiles and further matching possibilities. Ostensibly, the game is completed when all tiles are...
---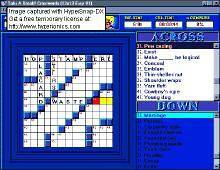 Take a Break! Crossword 1 1992
Take a Break! Crosswords is a collection of puzzles licensed from Dell. Volume I represents the 375 crossword puzzles from Dell Magazines, where you have to put the word, which is an answer for the certain question, in vertical or horizontal line of table. These words have common letters because...
---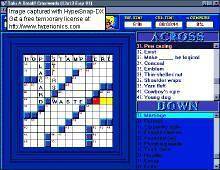 Take a Break! Crossword 2 1992
Part of Sierra's avalanche of "budget" games in the early 1990s, Take a Break! Crossword 1 and 2 actually delivers more "bang for the buck" than most other budget titles. It features dozens of puzzles from Dell magazine, complete scoring system with built-in hints, and excellent Windows interface (clues are...
---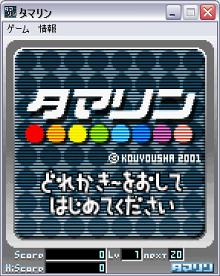 Tamarin 1999
Tamarin is a fun and unique freeware puzzle game that plays like a variation of Rubik's famous tile puzzles. The game is simple to learn, but hard to master. You basically move a 2x2 magnifying lens around the board, and click to rotate the 4 color balls underneath. Once four...
---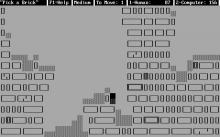 Tear Down the Wall 1990
This is a simple puzzle game. You are presented with a wall, and you and your opponent (the computer) must in turn select a brick, which is removed. Any bricks placed on top of it, will be removed also. The more bricks fall, the more points you get. ...
---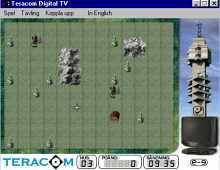 Teracom Digital TV 2000
Each new promotional game release from E-Game gets better and better, and Teracom Digital TV is no exception. Sponsored by Swedish telecom giant Teracom, Teracom Digital TV is a fun puzzle game. The goal is as follows "Your mission is to make sure that the digital TV signals from the antenna...
---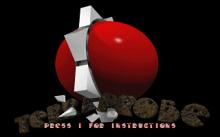 Terra Probe 1996
In 1984, First Star released a low profile, unassuming puzzler called Boulderdash that would become the company's best selling series and sparked numerous clones even decades after its release. The game could perhaps best be described as Pac-Man with brains. The concept is simple: help guide adventurous Rockford through 16...
---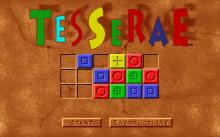 Tesserae 1993
Tesserae is a 2-d combination of Rubic's Cube and the more advanced levels of Q-Bert. Simple yet colorful symbol graphics make for endless hours of gameplay... akin to how one can play MineSweeper or Tetris on end, this game got into your head. Gameplay consisted of "flipping" tesserae, or tiles,...
---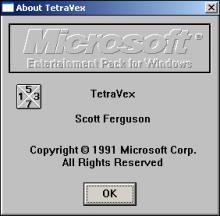 TetraVex 1991
On the left, a blank 2D grid, defaulting to 3x3. On the right, an array of tiles, each bearing numbers in all four (hence Tetra) compass directions. Your goal? To place every tile in a location on the grid such that each of its numbered faces matches...
---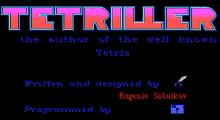 Tetriller 1990
A guy has fallen asleep in front of monitor showing Tetris. You play the usual Tetris game filling a well with pipes, clocks, and other urban elements formed in tetris shapes. The twist is that guy mentioned above is walking at the bottom of the well. You have to make...
---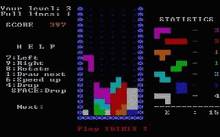 Tetris 1986
This puzzle, a remake of an old Russian game called Pentaminos, by the game designer Alexey Pazhitnov, is possibly the most "cloned" Shareware arcade game in history, this addictive arcade game from Russia first appeared on Shareware BBSs in 1986 for the IBM PC. Clones and enhanced versions have been...
---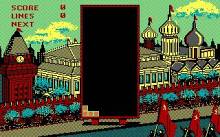 Tetris (from Mirrorsoft) 1987
The original commercially-licensed version of Alexey Pajitnov's classic Tetris puzzle game. Geometric shapes fall from the top of a playfield to rest on the bottom; fit the pieces together, and the line they form disappears. If the pieces don't form lines and eventually stack up to the top of the...
---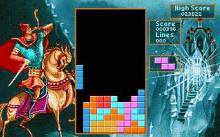 Tetris Classic 1992
An enhanced remake of the classic puzzle game Tetris in which you control the position and rotation of falling blocks and try to assemble and clear lines of blocks as they fall before the play area gets flooded. The release doesn't make any changes to the original formula, but instead brings...
---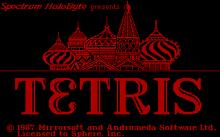 Tetris Gold 1993
Tetris Gold is a compilation released by Spectrum HoloByte in 1993 containing all of the Tetris games and spinoffs they ever made: Tetris Super Tetris Tetris Classic Wordtris Faces...Tris III Welltris prototype version of Tetris ...
---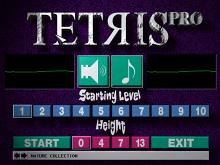 Tetris Professional 1995

---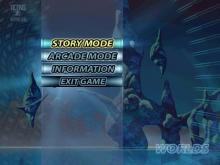 Tetris Worlds 2001
No one has found a way to improve on Tetris, but it certainly hasn't been for a lack of trying. Since its rise to popularity on the Game Boy, the classic puzzle game has inspired countless knockoffs, copycats and sequels. But no matter how many newfangled additions they try to...
---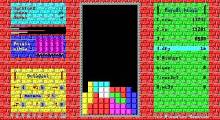 Tetrix v1.30 1992
Tetris clone. ...
---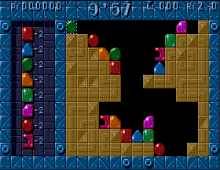 Th!nk Cross 1992
Th!nk Cross is a Puzznic variant. In each of the 150 levels, there are a number of blocks with varying symbols or numbers on them. The player can move each block left or right and when two or more identical blocks are brought together, they vanish. The goal is to...
---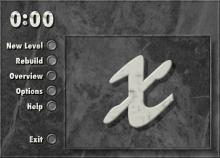 THiNK-X 1996
THiNK-X is a puzzle game in which you have to clear playing fields by matching identical objects in a limited amount of time. Items can be matched horizontally and vertically as doublets, or as triplets as long as three of a kind touch, but not diagonally. You have to plan...
---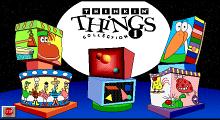 Thinkin' Things Collection 1 1993
This CD-ROM program, designed for ages 5-10, has six activities designed to offer students experiences with a variety of thinking skills: memory, critical thinking, problem solving, and creativity. The Create mode allows students to experiment, explore, and create; and in the Question and Answer mode students answer a character's questions....
---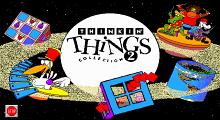 Thinkin' Things Collection 2 1995
Explore and learn with this second Thinkin' Things collection. Match up the Fripples in the concentration-game Frippletration. This activity is for one to two players. Explore rhythm notation and match the band members to the lines of rhythm that they played in Oranga Banga's Band. Build up you auditory skills and play your...
---