Puzzle Games #7
Search a Classic Game: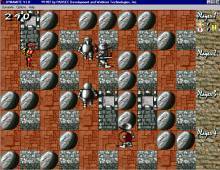 Dynamite 1997
One of the less exciting shareware games from Webfoot, Dynamite is a decent, if uninspired, clone of Bomberman. Up to 4 players battle each other to the death by strategically laying and detonating bombs and destroying walls. The game is played from a top-down perspective, and the graphics is good...
---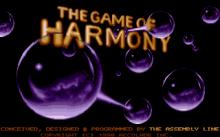 E-Motion (a.k.a. Game of Harmony, The) 1990
This strategic action puzzle game features original gameplay. You control a spacecraft situated on a globe which you can rotate and move around the screen. You must knock globes into others of the same colour, to rid the screen of all the globes. The screen has no borders, so globes...
---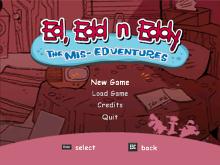 Ed, Edd n Eddy: The Mis-Edventures 2005
Life's ultimate mission -- the acquisition of delicious, long-lasting jawbreakers -- continues in this platform-exploration styled "Mis-Edventure" from Midway. Like a middle school-aged manifestation of Freudian theory, the id-driven Ed, the egomaniacal Eddy, and self-repressed "Double D" quest together for the ultimate candy commodity, through a series of harebrained schemes...
---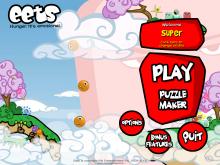 Eets: Hunger. It's emotional. 2006
Eets plays like a strange cross between Lemmings and The Incredible Machine. Eets stars a little alien-like character with large eyes that is looking to collect as many puzzle pieces as he possibly can. Much like Lemmings, players do not directly connect this character; instead you put items in his...
---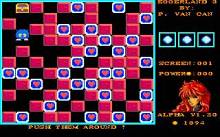 Eggerland 1991
Remake of the game for IBM-PC. Object of the game: Collect all the hearts in the field. It has lots of levels, and it's fun to play. ...
---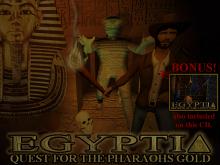 Egyptia: Secrets of the Lost Tomb 1997
Egyptia is a very obscure puzzle game from German developer DOE Entertainment. Your goal is to navigate dozens of rooms inside a pyramid to uncover the hidden gold of the Pharaohs. The game plays like a cross between Lode Runner and Montezuma's Return, but the result is much less fun...
---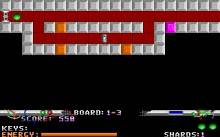 Elements 1994
Elements is a puzzle game where you use the arrow keys to guide a small green ball (called "Element") through mazes without running out of energy. You lose energy by moving in any direction. Energy is displayed as an orange stripe along the bottom of the screen alongside your score,...
---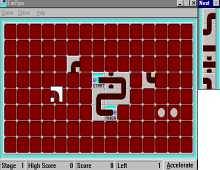 EmPipe 1999
EmPipe is a fun Windows version of classic Pipe Dreams connect-the-pipes game. The objective is simple: connect pipe sections to let water flow from the start to finish. Pipe tiles are given at random, and you can always see what the next several pieces will be. Gameplay is simple: move...
---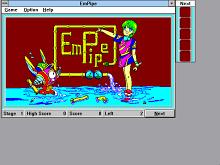 EmPipe 1993
The object of this game is to connect pipes to let water flow from the Start to Finish. Pipe tiles are provided as shown in the Next window. Move mouse cursor to a square on the game field where you want to place a tile, and press the left mouse...
---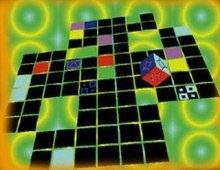 Endorfun 1995
In this puzzle game you must move what is known as the light-bodied cube around to pick life forces which help you to progress to the next level. However it is not as easy as it sounds as other squares on the board are lighting up which makes it harder...
---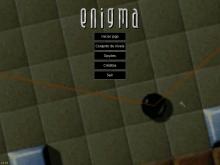 Enigma (2003) 2003
Enigma is a superb puzzler in the same style as Dongleware's underrated puzzler Oxyd series. In the author's own words: "... Enigma is a puzzle game inspired by Oxyd on the Atari ST and Rock'n'Roll on the Amiga. The object of the game is to find uncover pairs of identically...
---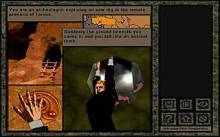 Entombed Enhanced 1997
I remember playing the CD version of Entombed ages ago and being thrilled when I heard the voice-over, as I was convinced it was the voice of Greg McKanish, member of top Australian rock group Skyhooks. In this version of the game there are no voice-overs or music, but the...
---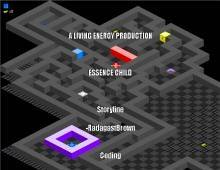 Essence Child 2005
Essence Child is a great brainteaser from Living Energy Productions, a small group of amateur designers. In addition to offering devious non-timed levels that recall the best of Chip's Challenge, the game comes with a nicely designed level editor and even a plot that unfolds as you play. Like all...
---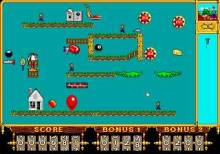 Even More Incredible Machine, The 1993
Sierra's award-winning The Incredible Machine returns to the computer platform with 170 new puzzles to master. For those unfamiliar with the series, the goal is to figure out how to get an object, creature, or person to the other side of the screen by using an assortment of wacky gadgets....
---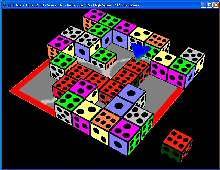 Evil Dice 2004
Evil Dice is a decent PC adaptation of Devil Dice, a great puzzle game on Playstation that was never released for PC. Similar to great reflex-based puzzlers, Evil Dice has simple rules: score as many points as you can in 3 minutes by matching up dice with the same number...
---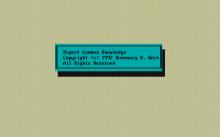 Expert Common Knowledge 1992
Expert School of Knowledge is a trivia game for up to four players. There are three levels of play; beginner, intermediate, and advanced. Beginner gives one point per answer with thirty seconds on the clock. Intermediate gives two points and twenty seconds. Advanced rewards three points per correct answer but...
---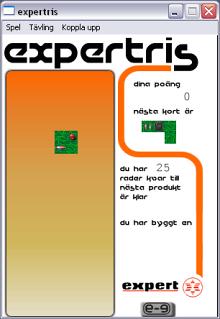 Expertris 1999
Similar to Eduman, Expertris is a straightforward ripoff of a well-known game. In this case, the game is Tetris, and the clone plays like an exact replica, only with different graphics. No frills or twists of any kind.. And it doesn't even tie in very well with the game's sponsor:...
---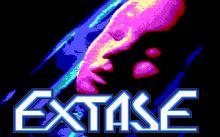 Extase 1991
The screen display in Extase depicts a symmetrical network of wires, some buttons, some fuses, some switches, and a picture of a female android in the middle. The overall aim is to restore sensory functions to the android, one in each level. All of this is done against an opponent,...
---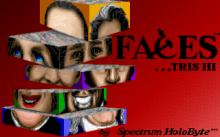 Faces 1990
Rotating falling blocks in a set way is the aim in this follow-up to Tetris and Welltris, but the concept here is very different. The falling shapes represent parts of people's faces, which must be arranged and rotated to form complete human-looking faces, ideally matching that of a famous person...
---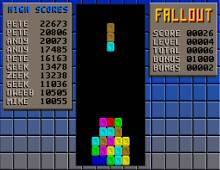 Fallout! 1990
Fallout! is the superior sequel to Beyond Columns, Brad Taylor's excellent Columns clone. The game is much more obscure than its predecessor for some reason, despite being improved in every way, including sharper graphics and more special blocks. As in the original Columns game (which was ported by Nathan Meyers...
---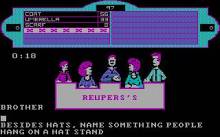 Family Feud 1987
This is the first Family Feud computer game based on the successful television game show. A few years later, Softie developed The All New Family Feud with more advanced graphics and music. Two families compete against each other or against a computer family, 5 people per family. Just like in the...
---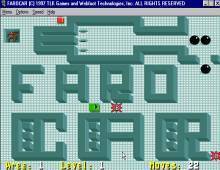 Farocar 1997
Farocar is a fun brainteaser that is similar to classic Soko-Ban, except the levels are not as imaginative. Your objective is to control the 'car' with the arrow keys to push all the game pieces on the level into their final resting spaces. Of course, you need to try to...
---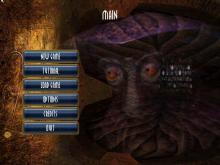 Farscape: The Game 2002
Farscape: The Game features single-player team-based action suffused with role playing and adventure elements in which you lead a team of three members from the crew of the living ship Moya in 26 missions highlighted by melee and ranged combat. Initially you control team leader John Crichton with "sidekick" Chiana...
---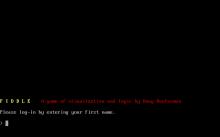 Fiddle 1992
In a sense, Fiddle is like a jigsaw puzzle: the player is presented with a series of abstract shapes on a grid and the challenge is to move and rotate them all (without resulting in invalid positions, such as overlapping pieces) into such an arrangement that they ultimately form a...
---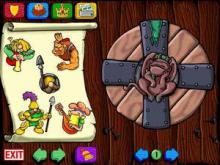 Fisher-Price Great Adventures: Castle 1997
Great Adventures by Fisher-Price: Castle thrusts players into the body of McDuff, a valiant man who has been alerted to the castle's overthrow by the King's Jester. McDuff agrees to find King McBeard's Good Knights so they can help free the king. The Jester gives McDuff the royal seal (an...
---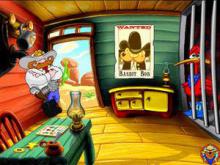 Fisher-Price Great Adventures: Wild Western Town 1997
Fisher-Price Great Adventures: Wild Western Town is in many ways the same as another Fisher-Price game, Fisher-Price Great Adventures: Pirate Ship. In fact, three of the games and activities are almost exactly the same: The Sing-Along in Pepe's Piano Bar, The Boot and the Town Cannon have almost exactly parallel...
---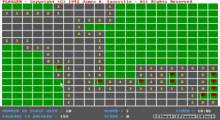 Flagger 1992
In Flagger the player must reveal the location of mines by marking them. This is done by revealing cells which contain numbers indicating how many mines are directly adjacent (if no mines are adjacent at all, the cell is completely empty). If a mine is clicked on, all mines are revealed...
---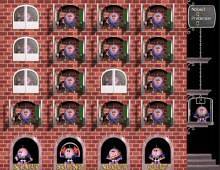 Flip Flop 1997
Flip Flop is another fun game from Russian developer Gamos, makers of clever puzzle games. Although far from Gamos' best, Flip Flop is still fun for a few minutes before it gets repetitive. Your goal: open all of the windows on the screen by clicking on any of them. However,...
---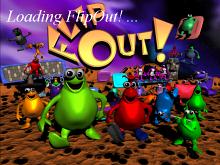 FlipOut! 1997
FlipOut! is a puzzle game starring aliens from the planet Phrohmaj. Your objective in each puzzle is simple: you must place all the colored tiles into the correct spaces on the board. The tricky part is that there is always one more tile than there are spaces. That means you...
---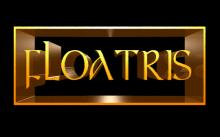 Floatris 1993
Floatris is a Tetris clone. Instead of playing one game at a time, the player plays eight games simultaneously. And instead of blocks falling down, the blocks float upwards. There are also a couple of new shapes for the blocks. When a playing field is full, the player can continue...
---