Puzzle Games #7
Search a Classic Game: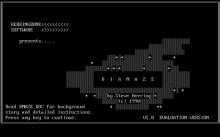 Diamaze 1990
Diamaze is a shareware graphical maze game, in which you play an ASCII-styled X-character. You travel in a mine collecting as many diamonds as possible and need to return to the entrance before your lantern goes out. Each game starts with a randomly-generated maze. Some diamonds are easy to get,...
---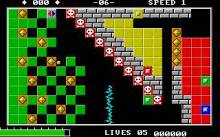 Diamond Balls 3 1992
In Diamond Ball III the player controls a colored ball that bounces up and down, and the player can only move it sideways. The gameplay is very similar to the Commodore 64 game Crillion. Move the ball around a maze that contains colored blocks that disappear when the ball touches them....
---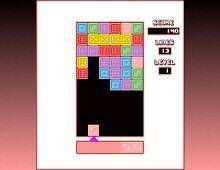 Diceies 2004
Diceies is a good remake of a little-known puzzler called Palamedes, release only for the NES console. Your objective in this Tetris variant: keep the falling row of dice from reaching the bottom of the screen by shooting your dice to match the numbers on three die. Combinations such as...
---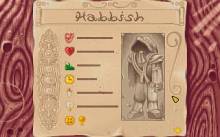 Diggers 1994
Diggers is a Lemmings-style puzzle game where you command five alien miners ( from a choice of four clans ) and various gadgets to dig for treasure. The game is divided in excavation areas. Each area has a set amount of money you must raise before moving into the next...
---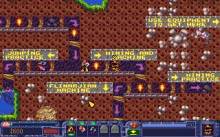 Diggers 2: Extractors 1995
Diggers 2: Extractors is a sequel to Diggers with Lemmings-like gameplay. It includes more levels, more tools, and more challenges. The game objective is to unite the 25 Hanging Worlds of Zarg. There are 3 types of extractors, each with their own abilities: the digger, the strongest, and the teleporter. ...
---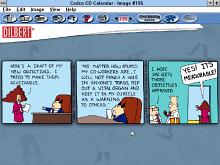 Dilbert: Not Just A Calendar 1997
Dilbert: Not Just A Calendar is based on the Cedco calendar, and includes a Dilbert-themed screen saver, calendar, address book, time-wasting advice, to-do list, event scheduler, and alarm. It also includes a jigsaw puzzle, which is the important part. The jigsaw puzzle features classic-style jigsaw shapes, allows setting the number of...
---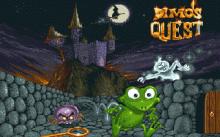 Dimo's Quest 1993
To be able to marry Princess Dori, Dimo the frog have to collect all the sweets her father King Greenfoot wants throughout the kingdom! That means over 50 levels; so help Dimo in his quest in this cute puzzle game... ...
---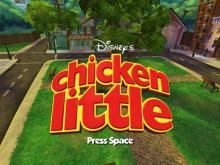 Disney's Chicken Little 2005
Based on the 2005 theatrical release, Disney's Chicken Little puts players in control of the titular character right after the infamous "acorn incident" that sullied his reputation. Joined by his friends, Abby Mallard, Runt-of-the-Litter, and Fish-out-of-Water, Chicken Little must outsmart Foxy Loxy and at the same time stave off an...
---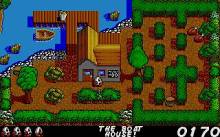 Dizzy: Fastfood Dizzy 1989
Fast Food is similar to Pac-Man or Boulder Dash, but not quite. The objective is to collect all fast food on the screen: that means, food that is moving fast. While doing so, you will have to avoid the monsters, otherwise you'll get killed. There are 30 levels, increasing in...
---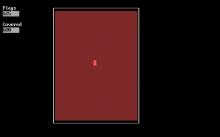 Dosmine 1993
DOSMINE is an unusual step backwards -- a porting of the Windows game Minesweeper back to MS-DOS. (But surely you could have guessed that from its name!) In short, you are presented with a grid field of concealed cels, some of which contain game-ending land mines; those that don't will either...
---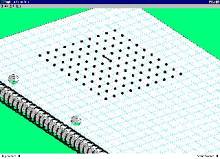 Dots 1991
Dots for the PC. You can choose the size of the field and then play against the computer. You have different skills possible. The game is fun! ...
---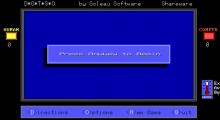 Dotso 1995
Based on a pen and paper game often called Squares, your objective in Dotso is to create squares by completing lines between dots. The game creates a random board of dots and lines for you to start with. On your turn, you can create a single line between two dots either...
---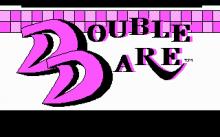 Double Dare 1988
Double Dare is the computer version of the game show originally hosted by Marc Summers. Like the TV show, the game is basically a trivia game with the added enhancement of being able to answer the question, or take a dare. Dares consist of the Toss-up Challenge, the Physical Challenge,...
---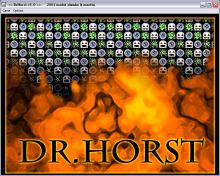 Dr. Horst 2002
Dr. Horst is a polished remake of Dr. Mario, a fun Connect 4 clone for console systems that was never released on the PC. Your objective is to connect four pills of the same color to make them disappear, and your ultimate goal is to get rid of virus monsters...
---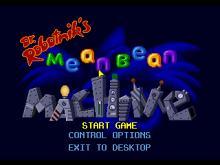 Dr. Robotnik's Mean Bean Machine 2000
Dr. Robotnik's Mean Bean Machine and Columns III: Revenge of the Columns are two excellent Windows version of SEGA's popular SEGA Genesis puzzle games. The games are both Tetris-style "falling blocks" games, but with some differences. Dr. Robotnik is more similar to Puyo Puyo (and, in fact, SEGA uses characters...
---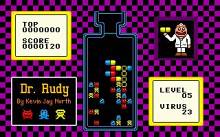 Dr. Rudy 1992
Dr. Rudy is a clone of Nintendo's Dr. Mario. You have a Tetris-like board with three different types of viruses. Your job is to get rid of them by putting four or more of the same colored pill on each of them. The pills are colored red, blue, yellow, and green....
---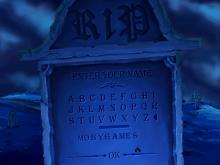 Dracula's Secret 1996
Dracula's Secret is targeted towards kids and young gamers. In the beginning of the game Dracula invites you to explore his castle and its surroundings in order to discover the hidden secret. As you start, you explore the environment around the castle and try to make your way inside. There...
---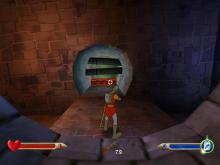 Dragon's Lair 3D: Return to the Lair 2002
Brave gamers are beckoned once again to the quest of rescuing the beautiful princess Daphne from the dangerous dungeons of the Dragon's Lair in this first release developed by California's Dragonstone Software. Though the game is lovingly patterned after the characters, levels, and storyline of the revolutionary arcade classic, players...
---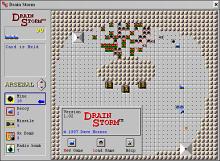 Drain Storm 1997
A polished, highly addictive, tactical challenge. Venture deep into the sewer, pursued by bizarre, deadly monsters. Gather weapons: radio-controlled explosives, decoys, giant bubbles (which swallow monsters whole) and many more. Visit poker casino to wager weapons and do battle with pit bosses! When you're powerful enough, attempt the awesome, final...
---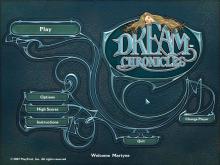 Dream Chronicles 2007
Dream Chronicles is a hidden object game in which players take on the role of a woman who awakes in an surreal world where her husband has gone missing and all of townspeople appear to be under a sleeping spell. Gamers must collect hundreds of objects littered about the 32...
---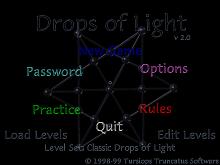 Drops of Light 2000
Drops of Light is an excellent puzzle game that plays like a blend of classic 15-peg puzzle game, some inspirations from Chinese checkers, and a twist of color physics. The goal: rearrange the photons in the grid to match the Goal grid before running out of energy. Although this sounds...
---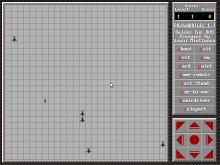 DRroboWHOids 1994
DRroboWHOids (a name that makes you want to scream at the designer) is a great PC remake of Daleks, a classic UNIX puzzle game that got a new life on the Macintosh as Classic Daleks. In this game, you must help that ingenious time traveller, Doctor Who , avoid ever-growing...
---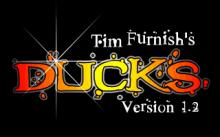 Ducks 1998
Ducks is a former shareware, now freeware Lemmings clone for DOS. Instead of clearing the path to a portal for green creatures, the player controls a green duck, the leader of oranges ducks that must be guided to a rocket ship. Clicking and holding the right mouse button on any...
---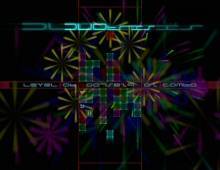 DUOtris 2004
DUOtris is a fun Tetris variant that merits attention of fans of falling-block games, even though the interface takes some getting used to. Shockedfrog's thorough review at his site summarizes the pros and cons quite well: "DUOtris is a puzzle game with some interesting twists and online highscores. [The game...
---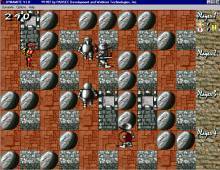 Dynamite 1997
One of the less exciting shareware games from Webfoot, Dynamite is a decent, if uninspired, clone of Bomberman. Up to 4 players battle each other to the death by strategically laying and detonating bombs and destroying walls. The game is played from a top-down perspective, and the graphics is good...
---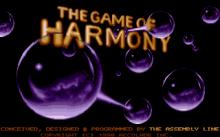 E-Motion (a.k.a. Game of Harmony, The) 1990
This strategic action puzzle game features original gameplay. You control a spacecraft situated on a globe which you can rotate and move around the screen. You must knock globes into others of the same colour, to rid the screen of all the globes. The screen has no borders, so globes...
---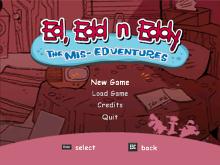 Ed, Edd n Eddy: The Mis-Edventures 2005
Life's ultimate mission -- the acquisition of delicious, long-lasting jawbreakers -- continues in this platform-exploration styled "Mis-Edventure" from Midway. Like a middle school-aged manifestation of Freudian theory, the id-driven Ed, the egomaniacal Eddy, and self-repressed "Double D" quest together for the ultimate candy commodity, through a series of harebrained schemes...
---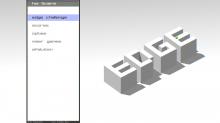 Edge 2011

---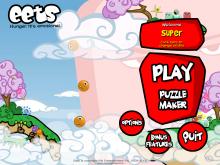 Eets: Hunger. It's emotional. 2006
Eets plays like a strange cross between Lemmings and The Incredible Machine. Eets stars a little alien-like character with large eyes that is looking to collect as many puzzle pieces as he possibly can. Much like Lemmings, players do not directly connect this character; instead you put items in his...
---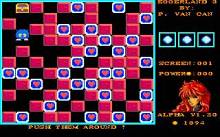 Eggerland 1991
Remake of the game for IBM-PC. Object of the game: Collect all the hearts in the field. It has lots of levels, and it's fun to play. ...
---