Puzzle Games #7
Search a Classic Game: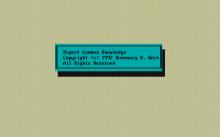 Expert Common Knowledge 1992
Expert School of Knowledge is a trivia game for up to four players. There are three levels of play; beginner, intermediate, and advanced. Beginner gives one point per answer with thirty seconds on the clock. Intermediate gives two points and twenty seconds. Advanced rewards three points per correct answer but...
---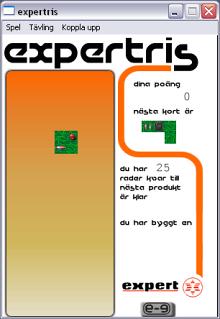 Expertris 1999
Similar to Eduman, Expertris is a straightforward ripoff of a well-known game. In this case, the game is Tetris, and the clone plays like an exact replica, only with different graphics. No frills or twists of any kind.. And it doesn't even tie in very well with the game's sponsor:...
---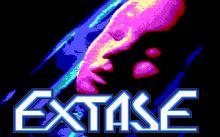 Extase 1991
The screen display in Extase depicts a symmetrical network of wires, some buttons, some fuses, some switches, and a picture of a female android in the middle. The overall aim is to restore sensory functions to the android, one in each level. All of this is done against an opponent,...
---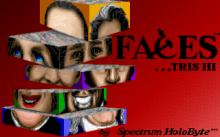 Faces 1990
Rotating falling blocks in a set way is the aim in this follow-up to Tetris and Welltris, but the concept here is very different. The falling shapes represent parts of people's faces, which must be arranged and rotated to form complete human-looking faces, ideally matching that of a famous person...
---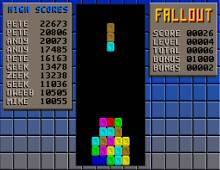 Fallout! 1990
Fallout! is the superior sequel to Beyond Columns, Brad Taylor's excellent Columns clone. The game is much more obscure than its predecessor for some reason, despite being improved in every way, including sharper graphics and more special blocks. As in the original Columns game (which was ported by Nathan Meyers...
---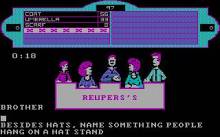 Family Feud 1987
This is the first Family Feud computer game based on the successful television game show. A few years later, Softie developed The All New Family Feud with more advanced graphics and music. Two families compete against each other or against a computer family, 5 people per family. Just like in the...
---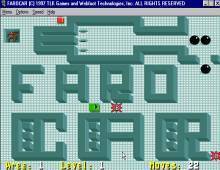 Farocar 1997
Farocar is a fun brainteaser that is similar to classic Soko-Ban, except the levels are not as imaginative. Your objective is to control the 'car' with the arrow keys to push all the game pieces on the level into their final resting spaces. Of course, you need to try to...
---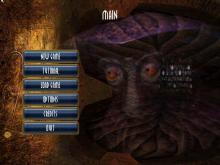 Farscape: The Game 2002
Farscape: The Game features single-player team-based action suffused with role playing and adventure elements in which you lead a team of three members from the crew of the living ship Moya in 26 missions highlighted by melee and ranged combat. Initially you control team leader John Crichton with "sidekick" Chiana...
---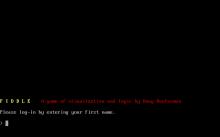 Fiddle 1992
In a sense, Fiddle is like a jigsaw puzzle: the player is presented with a series of abstract shapes on a grid and the challenge is to move and rotate them all (without resulting in invalid positions, such as overlapping pieces) into such an arrangement that they ultimately form a...
---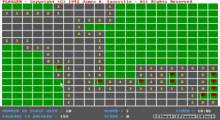 Flagger 1992
In Flagger the player must reveal the location of mines by marking them. This is done by revealing cells which contain numbers indicating how many mines are directly adjacent (if no mines are adjacent at all, the cell is completely empty). If a mine is clicked on, all mines are revealed...
---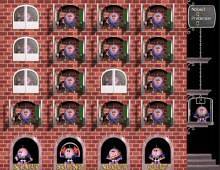 Flip Flop 1997
Flip Flop is another fun game from Russian developer Gamos, makers of clever puzzle games. Although far from Gamos' best, Flip Flop is still fun for a few minutes before it gets repetitive. Your goal: open all of the windows on the screen by clicking on any of them. However,...
---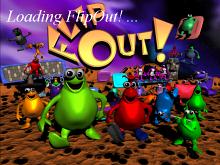 FlipOut! 1997
FlipOut! is a puzzle game starring aliens from the planet Phrohmaj. Your objective in each puzzle is simple: you must place all the colored tiles into the correct spaces on the board. The tricky part is that there is always one more tile than there are spaces. That means you...
---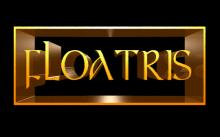 Floatris 1993
Floatris is a Tetris clone. Instead of playing one game at a time, the player plays eight games simultaneously. And instead of blocks falling down, the blocks float upwards. There are also a couple of new shapes for the blocks. When a playing field is full, the player can continue...
---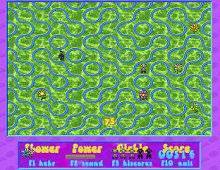 FlowerPower 1998
FlowerPower is a fun puzzle game with a simple premise: collect all the flowers on each level to increase "flower power" (ugh) while avoiding the "Bad Lieutenant" who follows you around. The catch is that each move costs you some amount of flower power, and the paths around you randomly...
---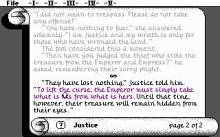 Fool's Errand, The 1989
Containing 81 puzzles that possess an enchantment on the land of Tarot, The Fool's Errand puts you in the role of The Fool as you attempt to solve each puzzle in order to save the kingdom. Puzzles are located on a 9x9 matrix called the Sun's Map, which features 80...
---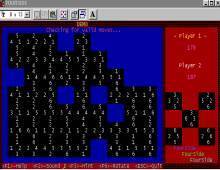 Fourside 1990
In this domino game, two players are each given a hand of five square tiles with numbers on each side. The players take turns placing these tiles onto a seven-by-nine grid, but tiles can only be placed next to one another if their touching sides have the same numeric value....
---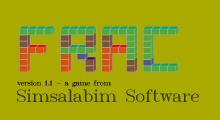 Frac 1990
A hi-res 3-D Tetris variant from Sweden. Uses a mandelbrot fractal as the background picture. ...
---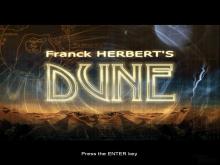 Frank Herbert's Dune 2001
Frank Herbert's Dune is billed as a combination of infiltration, action, and adventure. A more accurate description might be that of an action game pretending to be sneaky. In theory, there's espionage, as you try to stealthily maneuver your way behind an enemy soldier to dispatch him with one skillful...
---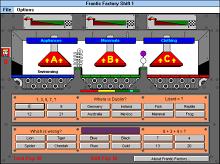 Frantic Factory 1995

---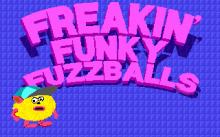 Freakin' Funky Fuzzballs 1990
In a departure from the usual RPG worlds for which it's best known, Sir-Tech Software offers Freakin' Funky Fuzzballs, an arcade-style action/puzzle game requiring planning and strategy. Players must create a path through a maze-like display containing blocks (floors and walls) and open spaces that shift and disappear, while searching...
---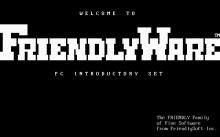 Friendlyware 1983
A set of 16 games, 9 business tools and 4 miscellaneous applications designed for use on IBM Pc and compatibles. The entire concept of the package is to familiarize new computer users with the capabilities of a home computer from entertainment to productivity. All games and programs are accessed via...
---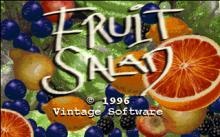 Fruit Salad 1997
Fruit Salad is a freeware single-player game in the style of Puzzle Bobble. The player is presented with a canon that fires different coloured fruit at a stack of fruit at the top of the screen. When three or more pieces of fruit of the same colour are stacked together...
---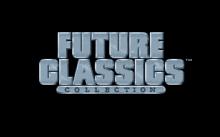 Future Classics Collection 1990
I'll let MobyGames' excellent rap sheet for this great action/puzzle collection speak for itself: "Future Classics Collection is a collection of five distinctly-themed, well-balanced games that stress action and strategy equally. Future Classics was created by past developers from Cinemaware and Microprose. The gameplay of the five games is extremely...
---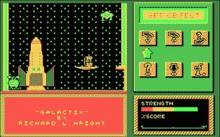 Galactix 1988
Platform puzzle quest game. CGA version. ...
---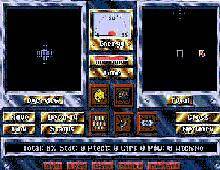 Game of Life 1992
The Game of Life is a real-time puzzle game. Calling itself modestly "the ultimate cell simulation", the Game of Life tries to recreate the processes inside a simple organic structure. This body consists of five different types of cells: The proto cells (the "flesh") will grow quickly and aimless, unless you...
---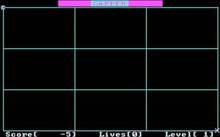 Gapper 1986
A straightforward Amidar clone, Gapper adds a little twist, acknowledged in its name. As in its predecessors, the goal here is to change the colour of a series of lines (here in a straight grid pattern of increasing complexity) by traversing all of them -- a dotless Pac-Man or...
---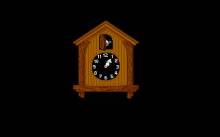 Gear Works 1992
This top-down puzzle game starts with a screen featuring a number of red cogs at different parts of the screen, and a grid of pegs (which become less complete on later levels). Your task on each level is to use a number of gears of one of 3 different sizes...
---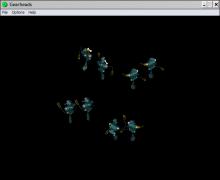 Gearheads 1996
Gearheads is a tough game to put down once you start playing. The graphics are good and so is the sound is good, but the game play is unusual. The concept of wind-up toys playing a complicated game of Red Rover was foreign to me. There have been games with...
---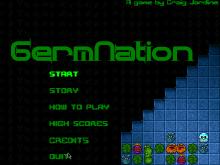 Germ Nation 2000
Germ Nation is a fun, addictive freeware puzzler that could have been inspired by SNES classic Dr. Mario and Bust a Move, but with many twists of its own. Similar to Tetris and its numerous clones, your goal in Germ Nation is to shoot out germs from a big pipe...
---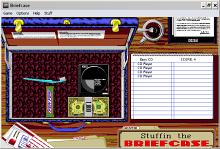 Getaway Entertainment 6 Pack for Windows 1992
Notable for being the last game from Epyx before the company folded, Getaway Entertainment 6 Pack for Windows is a fun collection of parlor/card games that much better than 1987's very ugly black-and-white-only precursor, Getaway Entertainment Pack. It is worth noting that the original was black and white only because...
---