Puzzle Games #3
Search a Classic Game: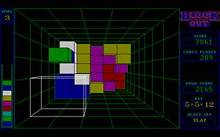 Block Out 1989
Blockout is a Tetris clone with an added twist: it's in 3D. You can rotate the blocks in 3D in order to fit them into the pit they are being guided into. Advanced users can play this game with odd three-dimensional pieces, or change the size of the pit, for...
---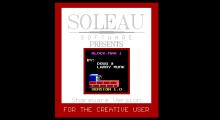 Block-Man 1 1994
Block-Man 1 is a shareware logic puzzle for one player. The story behind the game is that once upon a time King Triangulos ruled the kingdom of Bentangle. The king loved blocks, he'd played with them since he was a child and he loved them almost as much as he loved...
---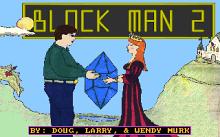 Block-Man 2 1995
The Block Man adventures continue as he tries to prove his worth to Princess Pentagwin and gain her hand by collecting all the jewels scattered about the countryside. Great ingenuity is required to solve these mind-bending puzzles using teleports, elevators, boats, blocks and much more. Block Man II has great...
---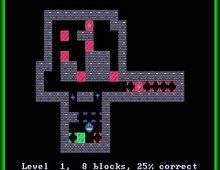 Block-O-Mania 1989
Block-O-Mania is a turn-based puzzle game with a variety of puzzles with an overall high difficulty level. Like in Soko-Ban, the player has to push a number of boxes onto storage spots. This time however, there are four kinds of blocks, plus conveyors, unstable passages, and wraparound screens. It contains...
---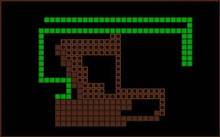 Blockade 1986
Novatron clone. ...
---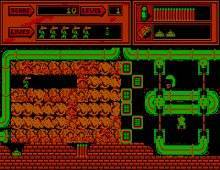 Blow Up 1987
Blow Up is a below-average clone of Boulderdash from UK-based Eurosoft, who released a number of games for the MSX computer in mid-1980s. The game is the same dig-the-path gameplay you have seen in Boulderdash, mixed with a bit of Diggers, Soko-Ban, and jigsaw puzzle for good measure. You have...
---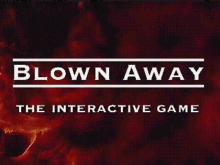 Blown Away 1994
Following the movie of the same name, Blown Away reaches players with an Interactive game developed by Imagination Pilots and published by IVI Publishing. Basically, Blown Away is consists of a series of games linked together to the story of the movie. You play the role of James Dove, a member...
---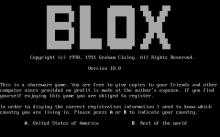 Blox 1991
Some games are both so compelling and so relatively straightforward to implement that programmers are driven to duplicate them upon first sight, if only to have a version to play at home. So it is that after his first round of Tetris, British programmer Graham Cluley was driven to hash...
---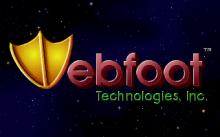 Bluppo 1997
Bluppo is a 1-2 player arcade game in which you have to collect fish. The story is that Bluppo loves to cook. A rich relative will buy him a restaurant but only if Bluppo cooks him a special meal. After much research Bluppo finds the recipe, the special dish requires the...
---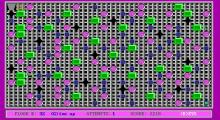 Bolo Adventures I 1994
A puzzle game with 40 levels. Escape from each level by pushing blocks around to block laser beams, fill in water etc. There are no time limits, as the emphasis is on puzzles rather than action. ...
---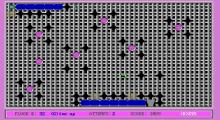 Bolo Adventures II 1992
A continuation of Bolo Adventures I, this game contains 40 more levels. The objective is the same; escape from each level by moving blocks to cut off laser beams and avoid monsters. Other hazards include water and electrified grates which must be deactivated before you can cross them. ...
---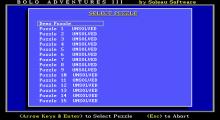 Bolo Adventures III 1996
The final part of the Bolo Adventures trilogy, this game has updated graphics and only 30 levels instead of the 40 in Bolo Adventure I and II. The objective remains the same, though - escape from each level by maneuvering blocks to fill in water, shut off laser beams and...
---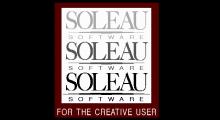 Bolo Ball 1992
Play against the computer in this strategy marble maze arcade game. Your objective is to get your marbles to the bottom of a maze filled with ramps, walls, black holes and much more. Block your opponent by pushing your marbles into strategic positions to stop him from doing the same...
---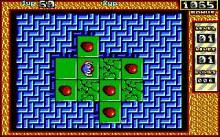 Bombuzal 1989
Little Bombuzal has to blow up bombs on little islands in this puzzle game. In order to advance to the next level, all bombs need to detonate. There are various sizes of bombs. Bigger ones have such a huge blast radius that Bombuzal cannot trigger them directly - instead, he...
---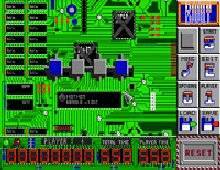 Booly 1991
Booly is a puzzle game with a similar concept to Gem'X in some ways. You are presented with a top-down view of an array of inter-connected blocks, which are shown in a variety of colours. The aim is to turn them all to grey, but clicking on them (using the...
---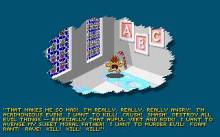 Boppin Deluxe 1994
A group of do gooders, set on making the video game galaxy pure of evil, entrap all the villains of video games in picture patterns and it's up to the Boppin brothers to save them by matching all the pictures together, and destroying the blocks. ...
---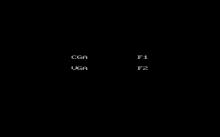 Boston Bomb Club 1991
In this humorous puzzle-action game you as one of the members of mad scientists club have to play the game with other members. Billiard table is now a puzzle maze, where opponents throw bombs, and you have to operate some mechanisms to pass the bombs in certain places. Level after...
---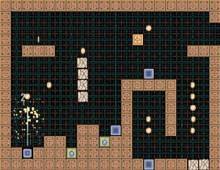 Bound Plus (a.k.a. B-Zero) 2003
Bound Plus is a fun freeware arcade-ish puzzler from Japan. Mistakenly labelled on many freeware sites as B-Zero for some reason - perhaps due to the file name - your goal in the game is to get to the exit on each level. You control a ball that can bounce...
---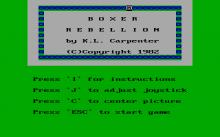 Boxer Rebellion 1982
Boxer Rebellion is a puzzle game with a bit of action. The game is played on a board with several boxes defined by lines. You control a character that can only walk on those lines. The objective is to travel completely around each box. The problem here - and what brings...
---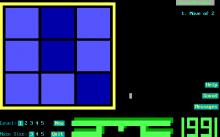 BrainBreaker 1991
BrainBreaker is a small puzzle game where the player must turn the playfield completely dark. A playfield consists of 3x3, 4x4 or even 5x5 cells. Per move, the player changes the color of an entire area (e.g. 1x3 or 2x2 at the 3x3 playfield), making light cells dark, but also dark...
---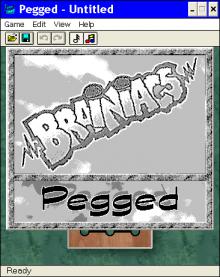 Brainiacs 1995

---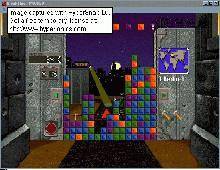 Breakthru! For Windows 1994
In the award-winning tradition of Tetris, comes BreakThru! This time, your goal is to make as many bricks disappear as you can before time runs out. Click on a group of same-colored bricks to remove bricks and make the wall come tumbling down. ...
---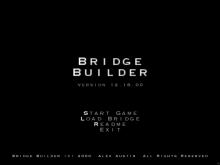 Bridge Builder 2000
One of the most original puzzle games ever designed, Bridge Builder is an intriguing blend of real-world physics, puzzle, and economics. Your job is simple: build a structurally sound bridge across the river, over which trains should be able to go safely. With limited funds, you will buy various parts,...
---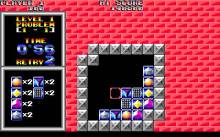 Brix 1991
This game entry reflects the original public domain release of Brix. For the reworked version by Epic MegaGames, see here. In Brix, the player is presented with an array of pieces, which he can move horizontally, and when two or more of the same type touch, they disappear. The goal is...
---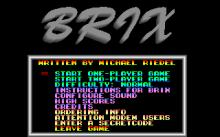 Brix 1992
Brix is a near exact clone of the Taito game Puzznic. You are presented with an array of pieces, which you can move horizontally, and when two or more of the same type touch, they disappear. The goal is to do that to every brick of the same geometrical shape...
---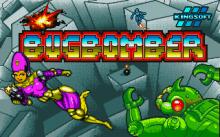 Bugbomber 1992
A computer's mazelike circuitry is infected with bugs, and you have been sent in to destroy them. You are armed with bombs, mines, blockades, and various types of hatchlings, which when released will track the bugs and hopefully stop them. The basic gameplay is inspired by Dynablaster, but it differs because...
---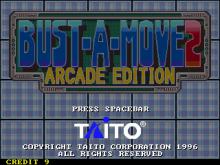 Bust-A-Move 2: Arcade Edition 1996
Bust-A-Move 2 is a puzzle game that involves clearing or "popping" groups of bubbles by creating matches of three or more. A pointing device at the bottom of the screen is used to aim and launch a randomly generated bubble toward others of the same color. Since launched bubbles can...
---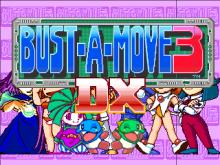 Bust-A-Move 3 DX 2001
Bust-A-Move 3 DX is yet another great entry in Taito's line of arcade puzzlers, although it is not all that different from the previous game. As GameSpot says in its review of the SEGA Saturn version, "...[the] premise is basically the same as before: You select from one of eight...
---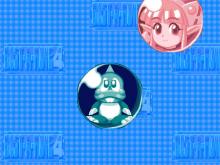 Bust-A-Move 4 1999
While there are literally hundreds of games in the puzzle genre that began in earnest in the late 1980s with the launch of Tetris, very few have made any improvements on the foundation that classic established. One notable exception is the Bust-A-Move franchise of games. Bust-A-Move 4 continues the tradition of...
---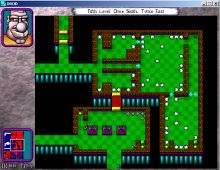 Caravel DROD 2002
Caravel DROD is a superb - and free - updated remake of the maddeningly addictive Deadly Rooms of Death (aka DROD). For a description of what DROD is, read the review elsewhere on this site. This new 2002 version includes all the levels from the original game, plus many new features...
---