Puzzle Games #16
Search a Classic Game: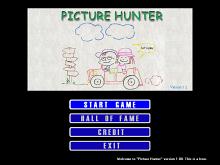 Picture Hunter 2000
A fun computer version of well-known "spot the difference" games that were popular in kids' magazines, Picture Hunter features dozens of images to. Gameplay will be familiar to anyone who grows up reading magazines or the Sunday papers: you are given 2 pictures/photos that look almost identical. Your job is...
---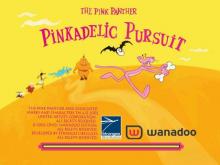 Pink Panther: Pinkadelic Pursuit 2002
There is a saying that goes something like, 'If we don't pay attention to the present, history is doomed to repeat itself, usually for the worse'. A lesson, it seems, never learned in gaming, where history repeats itself more often than a glass of sprout wine. And so we get...
---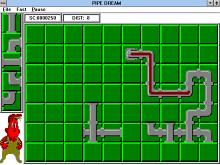 Pipe Dream 1990

---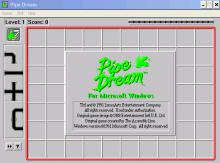 Pipe Dream 1991
Each level of this abstract puzzler challenges the player to set up a network of pipes to allow an unspecified substance known as 'flooz' to flow through as many of those as possible. The pieces are offered in random order, and there are seven different types - straight lines going...
---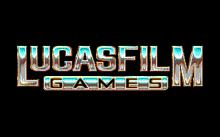 Pipe Dreams (VGA) 1989
Each level of this abstract puzzler challenges the player to set up a network of pipes to allow an unspecified substance known as 'flooz' to flow through as many of those as possible. The pieces are offered in random order, and there are seven different types - straight lines going...
---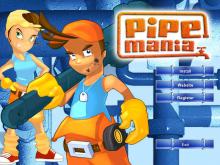 Pipe Mania 2008
A remake of the classic Commodore Amiga title (later released on many other platforms as Pipe Dream), Pipe Mania is a puzzle game in which players lay down a series of pipe pieces in order to guide the mysterious and constantly moving substance known as Flooze from one end of...
---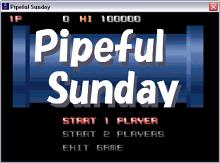 Pipeful Sunday 2002
Pipeful Sunday is a nice freeware Pipe Mania clone. While it doesn't show off any revolutionary concepts or push the envelope, it is a well-coded, fun, and challenging puzzler. Your goal on each level is to lay different pipe segments to create a secure pipeline from the "IN" tile to...
---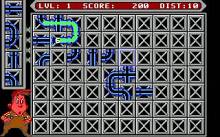 Pipemania 1989
Pipe mania is a very small and addictive puzzle game. It is the European release of LucasFilm's original Pipe Dreams. The objective of the game is to connect pipes with each other so the water can flood through them. The graphics are a little bit simple and boring, but...
---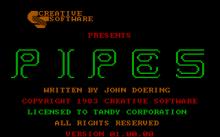 Pipes 1983
Pipes is an educational game for children. Your mission is to figure out the shortest, most economical way to get the neighborhood hooked up to the water supply system. Decide what kind of pipe to buy and where to put it. Remember that your budget is limited so you don't have...
---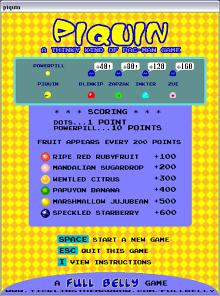 Piquin 2003
Piquin is a neat and unique game from Ancil Anthropy, game designer who kindly made this game open source as well as freeware. If you think you have seen and played every kind of Pac-Man game, Piquin will surprise you with its original concept and delight you with its gameplay....
---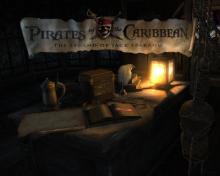 Pirates of the Caribbean: The Legend of Jack Sparrow 2006
Forget 2004's Xbox version of Pirates of the Caribbean, which had about as much to do with the blockbuster movie as the eponymous Disney ride -- Legend of Jack Sparrow is the genuine article. Players will get to paint on the black eyeliner of Captain Jack himself, a rollicking, half-grogged...
---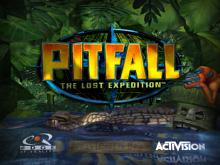 Pitfall: The Lost Expedition 2004
Over 20 years after making his groundbreaking debut on the Atari 2600, Activision's Pitfall Harry returns for more jungle-exploring action. The intrepid adventurer is brought to life for more than 50 perilous levels set in such exotic South American locales as rain forests, glaciers, mines, and ancient ruins. As in...
---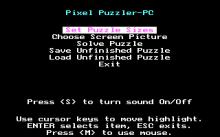 Pixel Puzzler 1990
This program takes graphic files, splits them into squares and shuffles the squares around. By selecting two squares with the keyboard or mouse, the player can swap their locations on the screen. The object is to reassemble the image to its original appearance. A variety of now-obscure graphics formats are...
---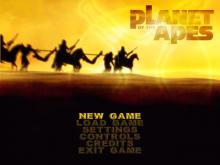 Planet of the Apes 2001
The Apes are back again, but this time in an adventure on the PC that follows the storyline from the Charlton Heston movie of 1968, not the Tim Burton remake of 2001. Your character looks like Heston, and the story sequences feature an unusual amount of dialogue for a video...
---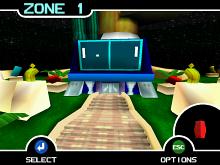 Pong: The Next Level 1999
When Hasbro bought the rights to produce a huge library of Atari games for consoles and computers, their mission statement was to keep intact the basic play mechanics of the original games while adding enhanced graphics and sound effects along with the proverbial power-ups, options and multiple levels of play....
---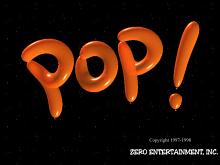 POP! 1996
POP! is an addictive and unique action/puzzle hybrid from Zero Entertainment that combines lots of hot air with humorous and brain-teasing scenarios. Your job is to guide Pop, a cute balloon dog, to the moon. This deviously demented puzzle game features 87 levels of cartoon mayhem. Jumping from balloon to balloon,...
---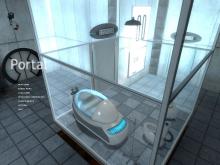 Portal 2007
Portal is a rare example of a superb game included for free in a compilation (in this case the The Orange Box). The premise is relatively simple, but also unique: a gun that creates doors when it is shot. Two doors actually, and they are connected. As a result, players...
---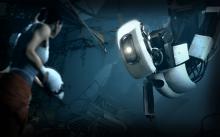 Portal 2 2011
Sarcastic. Annoyed. Catty. Hurt. Passive Aggressive. The rogue computer known as GLaDOS is back for more "enrichment through science" in Portal 2, a bigger, funnier, and more satisfying follow-up to its 2007 predecessor. The sequel has you doing much more than going through sterile test rooms, one after another. You...
---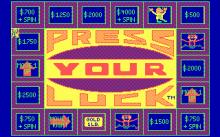 Press Your Luck 1988
Based off of the 80s game show of the same name, Press Your Luck allows you to play as one of three contestants in both a quiz round, and a shot at the "big board." Correct answers in the quiz round give spins for the board round. Spins give you...
---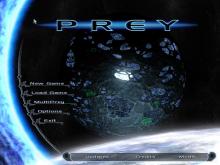 Prey 2006
Prey's back story is nearly as interesting as the game's main narrative. Development on Prey actually began at 3D Realms in the mid-'90s and the game's portal technology would be showcased in demos built on Prey's original engine before the project was put on indefinite hold. Years later 3D Realms...
---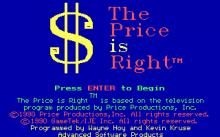 Price is Right, The 1990
GameTek's home version of the classic game show The Price is Right. Bob Barker and the Beauties are not present, but a multitude of pricing games from the show, as well as the wheel and the showcase, have been faithfully replicated. Four (or a maximum of eight, counting both rounds...
---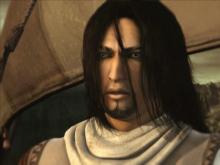 Prince of Persia: The Two Thrones 2005
The third title in the Prince of Persia series' 128-bit generation revival, The Two Thrones offers action gamers a chance to play two different personifications of the noble young Babylonian. In the role of the good Prince, familiar from recent adventures, players will use agility, speed, and cunning to outfight...
---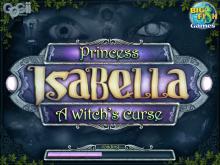 Princess Isabella: A Witch's Curse 2009
Gamers collect hidden items and solve a wide array of puzzles as they attempt to help a princess rescue her family in Princess Isabella: A Witch's Curse. The young Princess Isabella was about to get married when an evil witch broke into her castle an imprisoned her family in mirrors....
---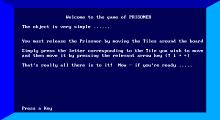 Prisoner 1988
Prisoner is a fun and (at first) rather difficult puzzle game. It was written by Jim Bates in 1988, and was done as an experiment with EGA graphics, then released as a Christmas present for The POWER Tower Bulletin Board which Bates ran in those days. It's basically a PC...
---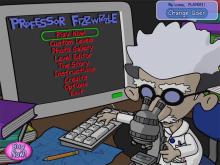 Professor Fizzwizzle 2005
In Professor Fizzwizzle, players control the title character through platform-puzzle levels in which the goal is to reach his escape tube. The bushy-haired, bespectacled Professor can climb ladders, roll barrels, push crates, and activate other gadgets. He cannot jump or climb over obstacles, however, so most puzzles involve manipulating the...
---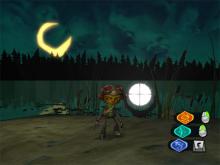 Psychonauts 2005
Psychonauts is a 3D platform game starring a gifted young psychic named Raz as he attends school to become a member of a top-secret intelligence organization. As part of his academic "studies," Raz must enter classmates' minds to solve their problems, ranging from childhood trauma to borderline personality disorders. Accomplishing...
---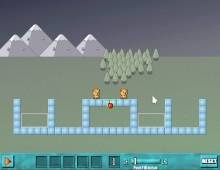 PuffBOMB 2003
PuffBOMB is a unique and fun puzzler by a lone programmer, coded as an entry in the third 48-hour game competition at Ludum Dare. The game plays like a stripped-down, tiny version of The Incredible Machine: get the hamsters to the exit area(s) on each level by placing bombs strategically....
---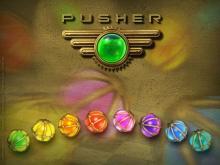 Pusher 2002
You thought the days of simple and addictive puzzle games had come to an end? You obviously forgot JoWood's latest Puzzler: Pusher. Your goal is to shoot colored spheres against each other. When 3 (or more) spheres of the same color are connected to each other, they disappear. You can...
---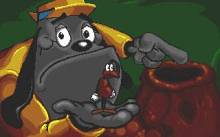 Pushover 1992
You're playing a small ant that is willing to help a friend in rather inconvenient situation. Apparently, your friend, doggie, likes to eat cookies that has his picture on their box, and he got himself so carried away that he lost the balance, and a bag of cookies fell deep...
---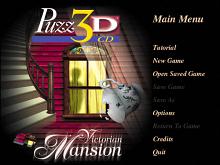 Puzz 3-D: Victorian Mansion 1998
The "going up" foam jigsaw puzzle line from Wrebbit, Inc. makes its digital debut as part of an ongoing CD-ROM series. Each standalone release focuses on an architecturally significant building, with players able to manipulate pieces on a scrolling felt table before positioning them together in 3D space. The puzzles...
---