Puzzle Games #16
Search a Classic Game: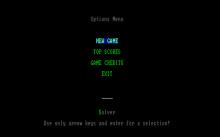 Solver: The Bank Quest 2001
This is a board/puzzle game, which also has a background story. You are a money collector whose task is to escort money bags to banks. However, something went wrong, and you lost all your bags in different parts of the city. Now you have to collect them again and to...
---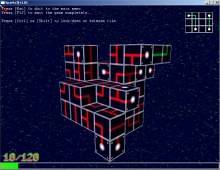 Sparks 3 1998
Sparks 3 is a fun little 3D puzzle game that is similar to the cross between Rubik's Cube and NetWalk, one of my most favorite shareware games (also reviewed on this site). The goal is to connect the square power node to all of the round computer nodes by rotating...
---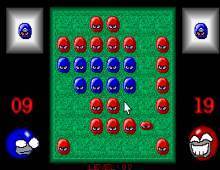 Spread 1992
Spread is a fun freeware two-player board game from Korea with a simple premise: change the color of all your opponent's pieces into yours. The rules are straightforward: you can move your piece on square at a time, or jump over another piece. All the opponenet's pieces that are adjacent...
---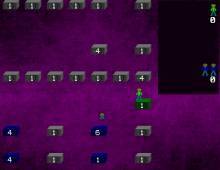 Spryjinx 1997
Spryjinx is a platform game in which two players compete to get the highest score by jumping on platforms. Platforms are moving from the top of the screen to the bottom where they are destroyed. Initially all the platforms are grey but when a player jumps onto a platform it...
---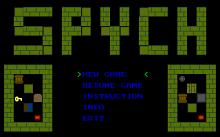 Spych 2001
Spych is a fun freeware logic game by a freelance Polish designer that provides many hours of puzzle-solving fun in under 100KB of space. The game is reminiscent of X-Land/Epic's shareware game Adventures of Robbo, in which your goal is to collect all the computer chips on each level. Things...
---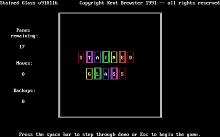 Stained Glass 1991
Stained Glass is a wonderful and original shareware card game that was the inspiration behind Nick Schlott's Tesserae, a commercial game published by GameTek in 1991 that features VGA graphics but same concepts. J. Michael Ambrosio's review says it all: "Stained Glass is a kaleidoscopic cross between checkers and a jump-the-pegs...
---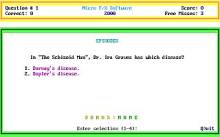 Star Trek - The Next Generation: Trivia - Volume 1 1990
This is a trivia game based on the first three seasons of Star Trek: The Next Generation. You are presented with questions from a variety of categories, like new characters, places and alien races, and you must supply the answer. To make things interesting, there is a timer on each question...
---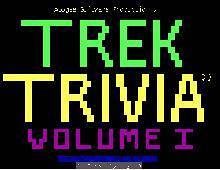 Star Trek: The Trivia Game 1988
Trek Trivia lets you test your knowledge of the Star Trek television series. There are hundred questions to test your knowledge, each with four possible answers to choose from. There are questions in different categories, including the crew of the Enterprise, aliens and enemies, episode names, technical data and dialogue. You start...
---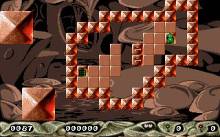 Stone Age 1992
Stone Age is a challenging puzzle game where you are in control of a dinosaur and you have to make him reach the exit of each cave. The dinosaur can only walk on certain blocks on the level: some are just ordinary blocks, some are movable in the direction the...
---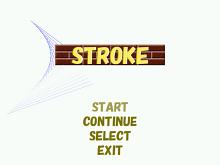 Stroke 2002
Stroke is a fun third-person Japanese freeware puzzle game with a simple premise: collect all the different color gems and exit. The catch is that the floor tile you stand on will disappear once you step away, so you must plan your moves carefully in order to achieve both objectives:...
---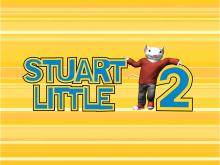 Stuart Little 2 2002
It's difficult to place Stuart Little into any equation and not have an instant classic since there's nothing little about the lovable Stuart. Though Stuart Little 2 for PC surely won't become a classic, it does deliver the sweetness of Stuart while offering a variety of games that aren't horribly...
---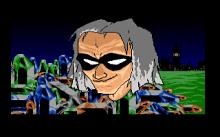 Super Gem'Z 1992
Super Gem'Z is a fun puzzle game by Kaiko, a short-lived German developer who released several games for the Amiga before disbanding the company in 1993. A mixture between Gem'X, Kaiko's previous game, and Bomberman, your goal in Super Gem'Z. Dozens of levels, power-ups, and colorful anime makes this a...
---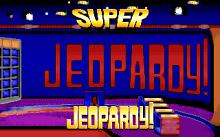 Super Jeopardy! 1991
Super Jeopardy! is based on the popular Jeopardy! TV game show. In this digital incarnation, 4 players compete at answering reverse trivia questions in trademark Jeopardy! fashion-- i.e., the host provides the answer and a player has to provide the questions. As many of 4 human players can participate, with...
---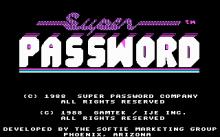 Super Password 1988
Super Password was a popular game show that ran from 1984-1989, and this game was adapted from that television program. Players give and receive clues to 5 Passwords which, when all are listed on the board, suggest the identity of the person, place, thing, event, phrase, etc., that is the...
---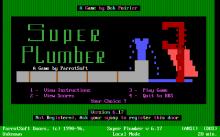 Super Plumber 1996
Super Mario may be a plumber, but is Mario a Super Plumber? Stand aside, goomba-smasher -- no platform game this, instead it's a textmode implementation of the solid gold (copper and lead might make more sense) puzzler Pipe Mania. What that means is that you are given a series of...
---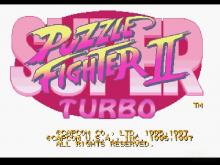 Super Puzzle Fighter 2 Turbo 1997
Considering the dearth of good puzzle games for the PC, it's not surprising that companies are turning to their console cousins for animated and challenging titles. Capcom, known for its collection of fighting games, enters its ported puzzler into the fray. Super Puzzle Fighter II Turbo, complete with the characters...
---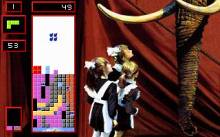 Super Tetris 1991
It isn't one of those ordinary sequels to maybe the most known and loved game in the entire computer game history, original TETRIS. The Power of Super Tetris comes from additional features, such as different types of gameplay (two player cooperative and competitive) as well as new block types (lightning...
---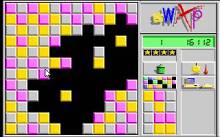 Swap 1992
In this puzzle board game you should swap the tiles to make the sequence of tiles of the same color to eliminate them. Shape of tiles varies from big and small squares to triangles or hexagons. If tiles have no neighbor tiles you may take appropriate tiles from the pocket...
---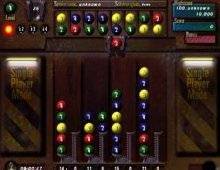 Swing 1997
This entertaining, addictive, simple yet inspired game comes from the creators of Tetris and will have you playing for hours just as that original block-piling creation did. Although the concept of Swing is much improved, it's easy to pick up. By means of three keys only, you control an industrial ball...
---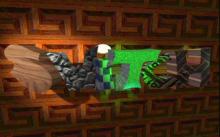 Switch 1995
Switch is a top-down puzzle game where you control a humanoid character, trying to reach the exit on each level. In order to get out of each level, you need to skillfully walk on arrows (you can only walk off an arrow in the direction it's pointing to); master the...
---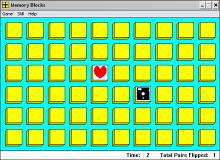 Symantec Game Pack 1991
Symantec Game Pack is an above-average collection of 6 mini-games written by Charles Timmerman and published by Symantec in 1991 for Windows. All six games are computerized versions of common parlor games, some not usually seen in a PC game (Jacks and Smart Dots). The games are a nice mix...
---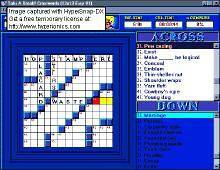 Take a Break! Crossword 1 1992
Part of Sierra's avalanche of "budget" games in the early 1990s, Take a Break! Crossword 1 and 2 actually delivers more "bang for the buck" than most other budget titles. It features dozens of puzzles from Dell magazine, complete scoring system with built-in hints, and excellent Windows interface (clues are...
---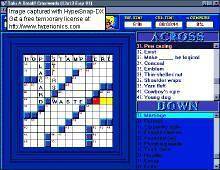 Take a Break! Crossword 2 1992
Part of Sierra's avalanche of "budget" games in the early 1990s, Take a Break! Crossword 1 and 2 actually delivers more "bang for the buck" than most other budget titles. It features dozens of puzzles from Dell magazine, complete scoring system with built-in hints, and excellent Windows interface (clues are...
---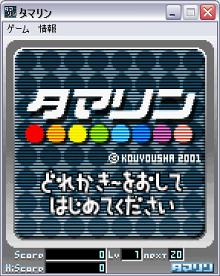 Tamarin 1999
Tamarin is a fun and unique freeware puzzle game that plays like a variation of Rubik's famous tile puzzles. The game is simple to learn, but hard to master. You basically move a 2x2 magnifying lens around the board, and click to rotate the 4 color balls underneath. Once four...
---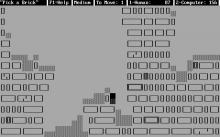 Tear Down the Wall 1990
This is a simple puzzle game. You are presented with a wall, and you and your opponent (the computer) must in turn select a brick, which is removed. Any bricks placed on top of it, will be removed also. The more bricks fall, the more points you get. ...
---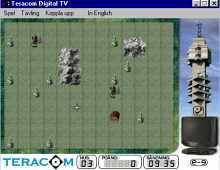 Teracom Digital TV 2000
Each new promotional game release from E-Game gets better and better, and Teracom Digital TV is no exception. Sponsored by Swedish telecom giant Teracom, Teracom Digital TV is a fun puzzle game. The goal is as follows "Your mission is to make sure that the digital TV signals from the antenna...
---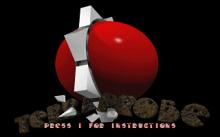 Terra Probe 1996
In 1984, First Star released a low profile, unassuming puzzler called Boulderdash that would become the company's best selling series and sparked numerous clones even decades after its release. The game could perhaps best be described as Pac-Man with brains. The concept is simple: help guide adventurous Rockford through 16...
---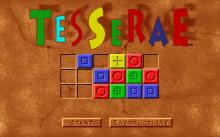 Tesserae 1993
Tesserae is a 2-d combination of Rubic's Cube and the more advanced levels of Q-Bert. Simple yet colorful symbol graphics make for endless hours of gameplay... akin to how one can play MineSweeper or Tetris on end, this game got into your head. Gameplay consisted of "flipping" tesserae, or tiles,...
---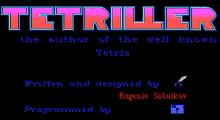 Tetriller 1990
A guy has fallen asleep in front of monitor showing Tetris. You play the usual Tetris game filling a well with pipes, clocks, and other urban elements formed in tetris shapes. The twist is that guy mentioned above is walking at the bottom of the well. You have to make...
---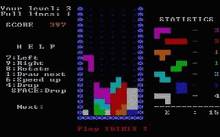 Tetris 1986
This puzzle, a remake of an old Russian game called Pentaminos, by the game designer Alexey Pazhitnov, is possibly the most "cloned" Shareware arcade game in history, this addictive arcade game from Russia first appeared on Shareware BBSs in 1986 for the IBM PC. Clones and enhanced versions have been...
---