Puzzle Games #15
Search a Classic Game: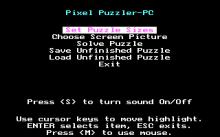 Pixel Puzzler 1990
This program takes graphic files, splits them into squares and shuffles the squares around. By selecting two squares with the keyboard or mouse, the player can swap their locations on the screen. The object is to reassemble the image to its original appearance. A variety of now-obscure graphics formats are...
---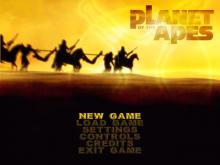 Planet of the Apes 2001
The Apes are back again, but this time in an adventure on the PC that follows the storyline from the Charlton Heston movie of 1968, not the Tim Burton remake of 2001. Your character looks like Heston, and the story sequences feature an unusual amount of dialogue for a video...
---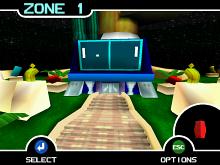 Pong: The Next Level 1999
When Hasbro bought the rights to produce a huge library of Atari games for consoles and computers, their mission statement was to keep intact the basic play mechanics of the original games while adding enhanced graphics and sound effects along with the proverbial power-ups, options and multiple levels of play....
---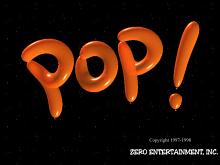 POP! 1996
POP! is an addictive and unique action/puzzle hybrid from Zero Entertainment that combines lots of hot air with humorous and brain-teasing scenarios. Your job is to guide Pop, a cute balloon dog, to the moon. This deviously demented puzzle game features 87 levels of cartoon mayhem. Jumping from balloon to balloon,...
---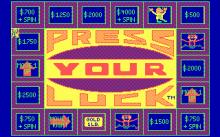 Press Your Luck 1988
Based off of the 80s game show of the same name, Press Your Luck allows you to play as one of three contestants in both a quiz round, and a shot at the "big board." Correct answers in the quiz round give spins for the board round. Spins give you...
---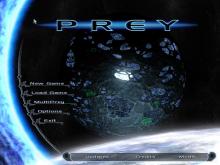 Prey 2006
Prey's back story is nearly as interesting as the game's main narrative. Development on Prey actually began at 3D Realms in the mid-'90s and the game's portal technology would be showcased in demos built on Prey's original engine before the project was put on indefinite hold. Years later 3D Realms...
---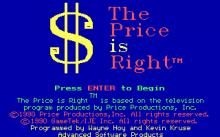 Price is Right, The 1990
GameTek's home version of the classic game show The Price is Right. Bob Barker and the Beauties are not present, but a multitude of pricing games from the show, as well as the wheel and the showcase, have been faithfully replicated. Four (or a maximum of eight, counting both rounds...
---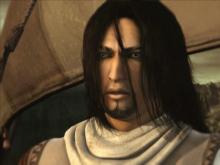 Prince of Persia: The Two Thrones 2005
The third title in the Prince of Persia series' 128-bit generation revival, The Two Thrones offers action gamers a chance to play two different personifications of the noble young Babylonian. In the role of the good Prince, familiar from recent adventures, players will use agility, speed, and cunning to outfight...
---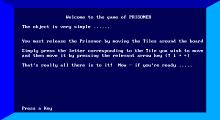 Prisoner 1988
Prisoner is a fun and (at first) rather difficult puzzle game. It was written by Jim Bates in 1988, and was done as an experiment with EGA graphics, then released as a Christmas present for The POWER Tower Bulletin Board which Bates ran in those days. It's basically a PC...
---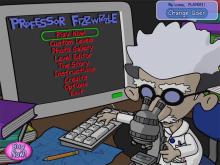 Professor Fizzwizzle 2005
In Professor Fizzwizzle, players control the title character through platform-puzzle levels in which the goal is to reach his escape tube. The bushy-haired, bespectacled Professor can climb ladders, roll barrels, push crates, and activate other gadgets. He cannot jump or climb over obstacles, however, so most puzzles involve manipulating the...
---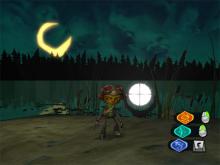 Psychonauts 2005
Psychonauts is a 3D platform game starring a gifted young psychic named Raz as he attends school to become a member of a top-secret intelligence organization. As part of his academic "studies," Raz must enter classmates' minds to solve their problems, ranging from childhood trauma to borderline personality disorders. Accomplishing...
---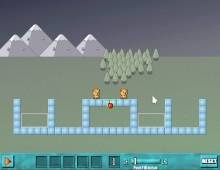 PuffBOMB 2003
PuffBOMB is a unique and fun puzzler by a lone programmer, coded as an entry in the third 48-hour game competition at Ludum Dare. The game plays like a stripped-down, tiny version of The Incredible Machine: get the hamsters to the exit area(s) on each level by placing bombs strategically....
---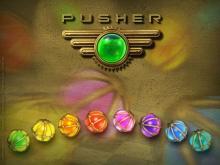 Pusher 2002
You thought the days of simple and addictive puzzle games had come to an end? You obviously forgot JoWood's latest Puzzler: Pusher. Your goal is to shoot colored spheres against each other. When 3 (or more) spheres of the same color are connected to each other, they disappear. You can...
---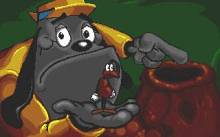 Pushover 1992
You're playing a small ant that is willing to help a friend in rather inconvenient situation. Apparently, your friend, doggie, likes to eat cookies that has his picture on their box, and he got himself so carried away that he lost the balance, and a bag of cookies fell deep...
---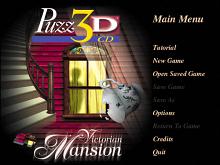 Puzz 3-D: Victorian Mansion 1998
The "going up" foam jigsaw puzzle line from Wrebbit, Inc. makes its digital debut as part of an ongoing CD-ROM series. Each standalone release focuses on an architecturally significant building, with players able to manipulate pieces on a scrolling felt table before positioning them together in 3D space. The puzzles...
---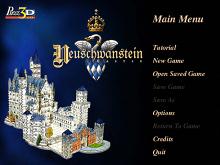 Puzz-3D: Neuschwanstein Castle 1999
Puzz-3D Neuschwanstein Bavarian Castle CD-ROM Game is the fourth title in the delightful series by Dyad Digital Studios Inc. that eliminates the aggravation of finishing a puzzle only to have the last piece or two missing. The virtual worktable allows complete control over sorting pieces into multiple trays by color...
---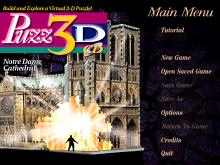 Puzz-3D: Notre Dame Cathedral 1997
The "going up" foam jigsaw puzzle line from Wrebbit, Inc. makes its digital debut as part of an ongoing CD-ROM series. Each standalone release focuses on an architecturally significant building, with players able to manipulate pieces on a scrolling felt table before positioning them together in 3D space. The puzzles...
---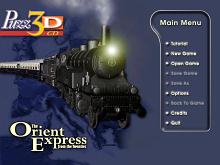 Puzz-3D: Orient Express 2000
Puzz-3D The Orient Express from the Twenties CD-ROM Game is a virtual interpretation of Wrebbit's successful line of challenging, three-dimensional puzzles based on historically important buildings and places. There are two main modes of gameplay in Puzz-3D The Orient Express. First, players must put together a 3D model of the...
---
---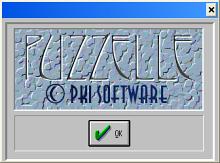 Puzzelle 1995

---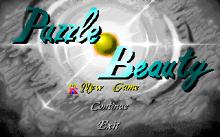 Puzzle Beauty 1993
Puzzle Beauty is a so-so Tetris variant developed by Dynasty International, famous (in Asia) Taiwan company whose Flame Dragon series consistently rank among some of the best-selling games in Asia. One of their first commercial titles, Puzzle Beauty is little more than Xixit with adult theme. Your job, as we...
---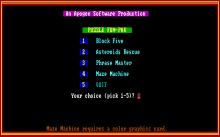 Puzzle Fun-Pak 1987
Puzzle Fun-Pak is a collection of four puzzle games: Block Five Asteroids Rescue Phrase Master Maze Machine ...
---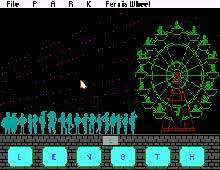 Puzzle Gallery (a.k.a. At The Carnival) 1990
The master of all puzzle games, Cliff Johnson, made a mind teasing game about his experiences of working in different amusement parks. At The Carnival has those nostalgic "early-pc" graphics and puzzles that will keep you glued to your computer for hours, sometimes laughing and other times frustrated, but still...
---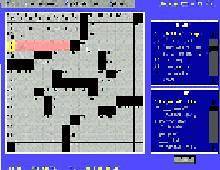 Puzzle Master 1991
Nothing fancy here, just a collection of good old crossword puzzles from the New York Times, implemented flawlessly. This game lets you print out the clues, save puzzles in progress, and even create your own crossword puzzles! With scoring system, this is the only crossword puzzle game you'll likely ever...
---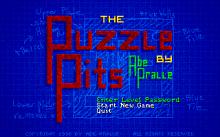 Puzzle Pits 1995
Puzzle Pits is an excellent, albeit relatively unknown, puzzle game that was criticized so heavily by most "professional" game critics that its shelf life was miserably short. Reading some of the reviews, however, I can't help but feel that critics who are assigned to review small games are those who...
---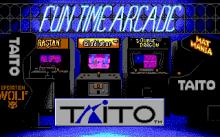 Puzznic 1990
The challenge in each level of Puzznic is to manoeuvre a selection of blocks into place so as to clear them all, by making them make contact with blocks of the same design. You control a cross-hair, which can move a block left or right, which can cause it to...
---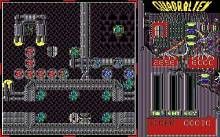 Quadralien 1988
Quadralien is a real-time puzzle game in the tradition of Sokoban. The future: Mankind's space stations throughout the solar system are powered by a huge space reactor, called Astra. Astra is about to break down. The enemy race of Quadraliens has captured the reactor; now, contamination is rising and total failure...
---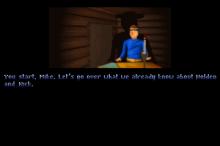 Quadrax 1996
Quadrax is a puzzle game where two characters have to be moved to a predefined place in logical levels. As the entire screen is filled with obstacles, the characters need to help each other get around by flipping switching, moving stone blocks, opening doors, and using lifts. It was originally...
---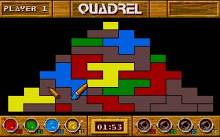 Quadrel 1990
Quadrel is a puzzle game in which you must fill each piece of the selected layout with different colored paints, without painting two adjacent pieces the same color. At the beginning of a game, you can select the desired image or layout, as well as whether you wish to play with...
---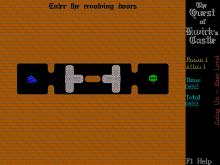 Quest of Kwirk's Castle, The 1991
In The Quest of Kwirk's Castle you are playing a green guy, Kwirk, who want either going up in the castle, or exit it. The gameplay is based on Kwirk; it's your job to help Kwirk reach the exit. The game offers two different game modes, "Going Up" and "Heading Out",...
---