Puzzle Games #4
Search a Classic Game: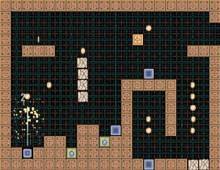 Bound Plus (a.k.a. B-Zero) 2003
Bound Plus is a fun freeware arcade-ish puzzler from Japan. Mistakenly labelled on many freeware sites as B-Zero for some reason - perhaps due to the file name - your goal in the game is to get to the exit on each level. You control a ball that can bounce...
---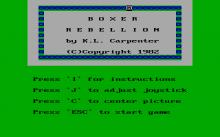 Boxer Rebellion 1982
Boxer Rebellion is a puzzle game with a bit of action. The game is played on a board with several boxes defined by lines. You control a character that can only walk on those lines. The objective is to travel completely around each box. The problem here - and what brings...
---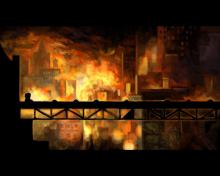 Braid 2009
Something of an homage to the original Super Mario Bros., Braid puts a twist on the classic side-scrolling platform game by allowing players to manipulate the flow of time in order to solve puzzles and rescue a kidnapped princess. Each of the game worlds offers players a different time-warping ability,...
---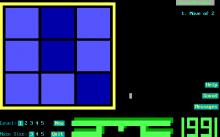 BrainBreaker 1991
BrainBreaker is a small puzzle game where the player must turn the playfield completely dark. A playfield consists of 3x3, 4x4 or even 5x5 cells. Per move, the player changes the color of an entire area (e.g. 1x3 or 2x2 at the 3x3 playfield), making light cells dark, but also dark...
---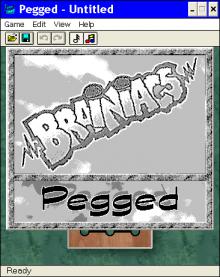 Brainiacs 1995

---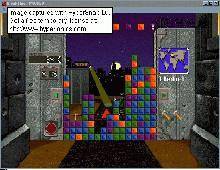 Breakthru! For Windows 1994
In the award-winning tradition of Tetris, comes BreakThru! This time, your goal is to make as many bricks disappear as you can before time runs out. Click on a group of same-colored bricks to remove bricks and make the wall come tumbling down. ...
---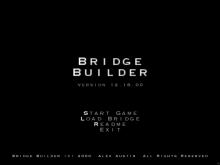 Bridge Builder 2000
One of the most original puzzle games ever designed, Bridge Builder is an intriguing blend of real-world physics, puzzle, and economics. Your job is simple: build a structurally sound bridge across the river, over which trains should be able to go safely. With limited funds, you will buy various parts,...
---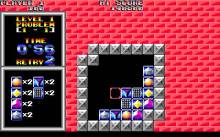 Brix 1991
This game entry reflects the original public domain release of Brix. For the reworked version by Epic MegaGames, see here. In Brix, the player is presented with an array of pieces, which he can move horizontally, and when two or more of the same type touch, they disappear. The goal is...
---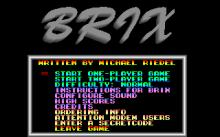 Brix 1992
Brix is a near exact clone of the Taito game Puzznic. You are presented with an array of pieces, which you can move horizontally, and when two or more of the same type touch, they disappear. The goal is to do that to every brick of the same geometrical shape...
---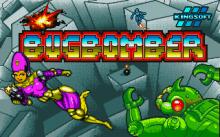 Bugbomber 1992
A computer's mazelike circuitry is infected with bugs, and you have been sent in to destroy them. You are armed with bombs, mines, blockades, and various types of hatchlings, which when released will track the bugs and hopefully stop them. The basic gameplay is inspired by Dynablaster, but it differs because...
---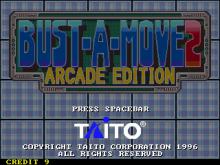 Bust-A-Move 2: Arcade Edition 1996
Bust-A-Move 2 is a puzzle game that involves clearing or "popping" groups of bubbles by creating matches of three or more. A pointing device at the bottom of the screen is used to aim and launch a randomly generated bubble toward others of the same color. Since launched bubbles can...
---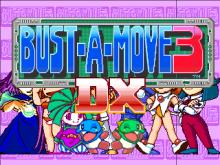 Bust-A-Move 3 DX 2001
Bust-A-Move 3 DX is yet another great entry in Taito's line of arcade puzzlers, although it is not all that different from the previous game. As GameSpot says in its review of the SEGA Saturn version, "...[the] premise is basically the same as before: You select from one of eight...
---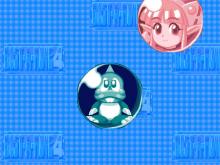 Bust-A-Move 4 1999
While there are literally hundreds of games in the puzzle genre that began in earnest in the late 1980s with the launch of Tetris, very few have made any improvements on the foundation that classic established. One notable exception is the Bust-A-Move franchise of games. Bust-A-Move 4 continues the tradition of...
---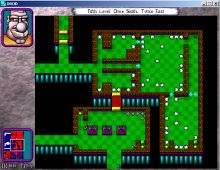 Caravel DROD 2002
Caravel DROD is a superb - and free - updated remake of the maddeningly addictive Deadly Rooms of Death (aka DROD). For a description of what DROD is, read the review elsewhere on this site. This new 2002 version includes all the levels from the original game, plus many new features...
---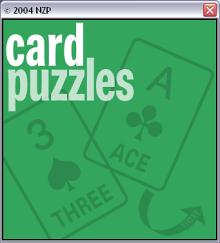 Card Puzzles 2004
Card Puzzles is yet another excellent freeware card puzzle collection from NZP. This collection, in the author's words, includes "...five clever conundrums with playing cards. Several varieties of puzzles are included in this collection - stacking and sequence challenges, a puzzle involving a chess knight, and a magic square puzzle...
---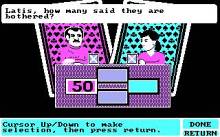 Card Sharks 1988
Based on a popular television show at the time it was released, Card Sharks is a question and answer guessing game in which you compete against a computer player or another "live person". Questions are asked based upon a poll of 100 people. You must guess how many out of 100...
---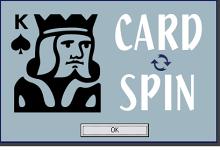 Card Spin 2002
Yet another excellent coffee-break game for Windows from NZP of Canada. From the official site: "This clever puzzle will have you spinning cards all night long! The puzzle consists of 9 disks, each disk having 4 cards positioned along its perimeter (like a propeller). The object is to move and...
---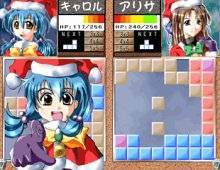 Carol 2001
Carol is a fun competitive puzzler set in Christmas theme that sports commercial-quality graphics, somewhat original gameplay, and very high production values including full Japanese voice acting. The gameplay is straightforward: put Tetris-shaped tiles on your side of the playing field, and clear them by applying 3x3, 4x4, or 5x5...
---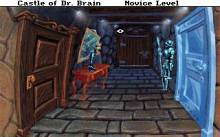 Castle of Dr. Brain 1991
Castle of Dr. Brain is the first in a two-part series of educational puzzle-games from Sierra. This brain-blasting game is set, how surprisingly, in Dr. Brain's castle, where you will have to beat Dr. Brain's traps and puzzles in order to fulfill the assignment you were given. ...
---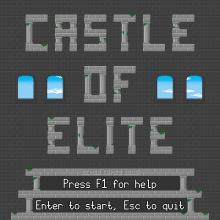 Castle of Elite 2005
Castle of Elite is a great 2D puzzle game similar to Chip's Challenge. The plot: "You are stuck within the midst of an ancient castle, and you must get out. However, it's not going to be easy. The castle is made of many rooms filled with traps and obstacles. But...
---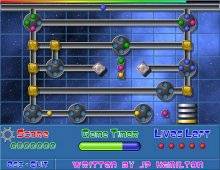 Cat's Eye Chaos 2003
Cat's Eye Chaos is an excellent remake of Logical, Rainbow Arts' unique puzzler that is simple in concept but hard to master. Coded in Blitz Basic, the goal in Cat's Eye Chaos is identical to Logical, which in turn plays like one of Rubik's creations: arrange the order of colored...
---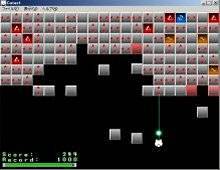 Catast 2003
Catast is a fun reflex-oriented action/puzzle hybrid that plays like a cross between Breakout, Tetris, and Laser Light. Your job is to move a cute anime creature called Mirmy around the screen, avoiding falling blocks while shooting at blocks to break them. A typical block has arrows on it to...
---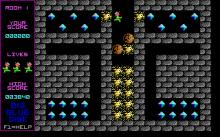 Chagunitzu 1990
Predecessor to Paganitzu, this game is just like Paganitzu. Sucessor to Castle Zhagwhar. The game is a top down puzzle game, where you must push objects around and do many things to solve puzzles. You also have to watch out for enemies such as spiders. ...
---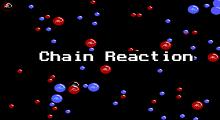 Chain Reaction 1990
Chain Reaction is a popular puzzle game that was invented in mid-1980s for the Commodore 64 and other computers, and new versions are continually being made for new systems, including Windows and handheld computers. The game plays somewhat like a cross between checkers and life, although it is more unique....
---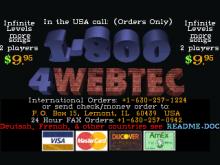 Chain Reaction (Webfoot) 1997
Chain Reaction is a one or two-player shareware "falling block" and tile-matching puzzle game. Blocks comprising bricks of different types descend from the top of the screen. When the player lines up the blocks so that three or more bricks of the same colour are in a row, (vertically, horizontally...
---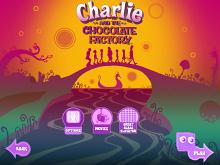 Charlie and the Chocolate Factory 2005
This Golden Ticket for PC gamers translates Tim Burton's 2005 cinematic interpretation of the Roald Dahl children's book into a colorful, 3D platform journey through the reclusive Willy Wonka's magical chocolate factory. In the role of Charlie Bucket, who is joined by four other lucky children, players must try to...
---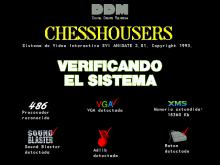 Chesshousers 1993
Chesshousers is a unique puzzler that unfortunately does not live up to its innovative premise. Although it has a chess theme, the game has little to do with chess: it is, instead, a brainteaser that consists of dozens of set-piece puzzles. Each level is a labyrinth, where you must move...
---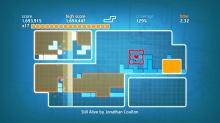 Chime 2010

---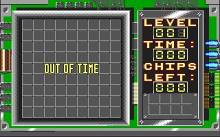 Chip's Challenge 1990
Nerdy Chip desperately wants to join the "Bit Busters" computer club, led by Melinda the Mental Marvel. However, before she'll let him in, he must prove his intelligence by passing the initiation test. 149 increasingly difficult levels, including a few hidden ones, await Chip in this tile-based puzzle game. Use...
---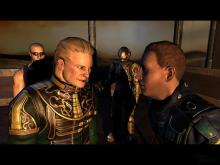 Chronicles of Riddick, The: Escape from Butcher Bay 2004
Players take the first-person role of the renegade Richard B. Riddick and attempt escape from the sector's most impenetrable prison planet, in this action game that explores the brooding anti-hero's early adventures. Escape will require a spectrum of staple video gaming skills, including straightforward shooting, stealth moves, and even some...
---