Puzzle Games #23
Search a Classic Game: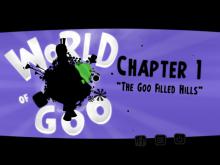 World of Goo 2008
Part adventure puzzle, part physics-based construction sim, World of Goo is a quirky game in which players must build geometric structures by connecting small droplets of "goo." The premise is that players transport a specified number of droplets from the starting point to a pipe that serves as the goal,...
---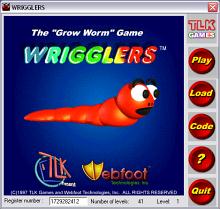 Wrigglers 1997
Wrigglers is a fun reflex-oriented puzzler that places the concept of Snake/Nibbles in a puzzle-based environment. The concept is simple: you are a worm ("wriggler") who must eat all the food on each level. Every time you eat, you grow longer. This can get you into a trapped position (i.e....
---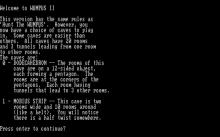 Wumpus II 1983
Wumpus II us an updated version of Hunt the Wumpus. The gameplay is the same as the original; however, several new cave options are available. The goal of the game is to shoot a mythical creature known as the wumpus with an arrow. The player explores a cave containing 20 rooms,...
---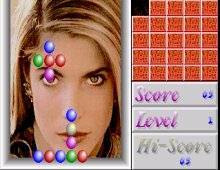 X-Rock (a.k.a. Rockin' Magic Ball) 1990
X Rock is a Tetris variant. The player must eliminate balls of the same colors in vertical and horizontal directions. Balls fall in form of a cross or 'X' letter. When they reach the ground, the balls on the sides also fall down. The player can rotate balls around the...
---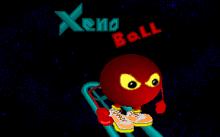 Xenoball 1995
Xenoball is a neat puzzle game that is like Pipe Dreams meets Marble Madness: you control a living, rolling red ball that must lay track portions to make a path to the exit. Levels get harder quickly, with increasing variety of track shapes and sizes. Overall, a very addictive game...
---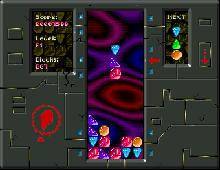 Xixit 1995
Xixit is a Columns-inspired action puzzler developed by demosceners. Groups of three blocks fall into a pit; control and drop them to create horizontal, vertical or diagonal groups of three or more, which are removed and scored. The registered version adds a two-player mode to the standard solitaire game. ...
---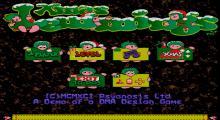 Xmas Lemmings 1991
Xmas Lemmings is a demo released to promote Oh No! More Lemmings. It includes two levels from Oh No! (different ones depending on version and platform) and two new exclusive Christmas-themed levels. The levels feature snowy landscapes, snowmen, festive lights, Christmas songs as background music and the Lemmings dressed in...
---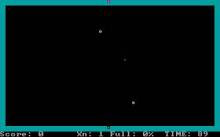 Xonix v1.0 v2.2 1984
Xonix is a version of the arcade game QIX. The objective of the game is to draw rectangles in the space that occupies the main section of the screen while you avoid the enemies, both in the margins and on the drawable section, which can kill you on contact. Filling...
---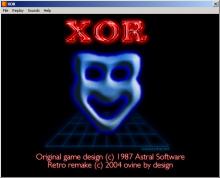 XOR: The Ultimate Maze Challenge 2004
XOR - The Ultimate Maze Challenge is a superb fanmade remake of a classic puzzle game, created by Astral around 1986 and published by Logotron. The game appeared on just about every 8-bit system at the time, except the PC. Similar to Chip's Challenge in style, XOR is much more...
---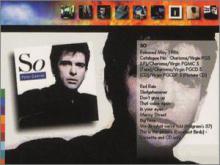 Xplora 1: Peter Gabriel's Secret World 1993
The adventure game genre is often noted for how refined it is compared to other more philistine genres. XPLORA 1: Peter Gabriel's Secret World is an extreme example of this comparison. In 1993, interactive multimedia came into prominence, and the ever innovative Peter Gabriel decided to get involved and experiment...
---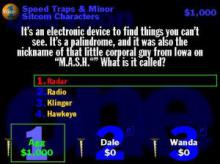 You Don't Know Jack 1995
Relatively few computer games that are released truly stand up to the test of time. It's rare when one comes along that is as completely playable today as it was the day it hit the shelves. You Don't Know Jack is one such game from Berkeley Systems, Inc. One of...
---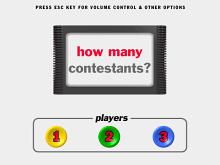 You Don't Know Jack 3 1997
As one of the voices during a "ThreeWay Question" round would cry out, "Oh yes!" You Don't Know Jack Volume 3 has just about everything you could ever want in a computer trivia game. But what else is new? The previous two Berkeley outings were just short of perfect as well....
---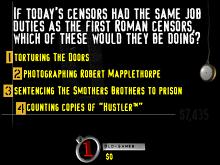 You Don't Know Jack 4: The Ride 1998
Billed as "The Irreverent Quiz Show Party Game" on the box, You Don't Know Jack Volume 4: The Ride is a quirky game show that you'll never see on television. The Ride is different from other versions of You Don't Know Jack in that instead of choosing your category before...
---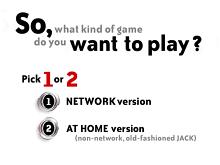 You Don't Know Jack 5th Dementia 2000
If you've ever wondered what to do with all of that useless knowledge you have taking up space in your brain, look no further. You Don't Know Jack, 5th Dimension is the perfect way to put it to use. This quiz game mixes pop culture with intelligence to give players...
---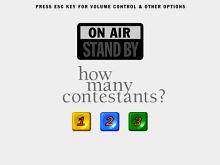 You Don't Know Jack Movies 1997
If you adore movies and are gaga over You Don't Know Jack, this is a no-brainer: you must have this game. Like others in the series, the emphasis is on humor as you test your knowledge of the movie industry with 800 different questions. But this is more than a...
---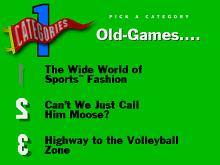 You Don't Know Jack Sports 1996
Out of all the types of trivia games that have been produced for the computer, sports trivia has usually been neglected. This is, however, a very fertile area that has never been tapped before. By mixing sports trivia with pop culture, You Don't Know Jack Sports gives even people who...
---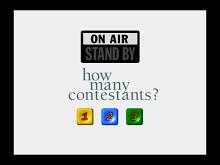 You Don't Know Jack XL (X-Tra Large) 1996
You Don't Know Jack XL (X-Tra Large) is a compilation package consisting of the original You Don't Know Jack with the 400 You Don't Know Jack: Question Pack questions included, for a total of 1200 questions. ...
---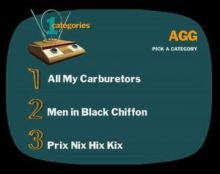 You Don't Know Jack: Television 1997
You Don't Know Jack Television has quite a different feel than the other games in its series. If you like, it's almost a "kinder, gentler" You Don't Know Jack. The host is much lass abrasive and his voice is almost friendly. Unfortunately, most of the humor of the games is...
---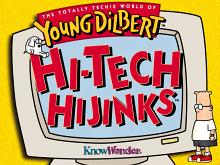 Young Dilbert Hi-Tech Hijinks 1997
Young Dilbert Hi-Tech Hijinks takes kids inside the guts of the computer and helps them develop critical thinking skills by solving technology-oriented puzzles and challenges. This software integrates hilarious situations (which kids can understand) with technology. By playing the multi-level activities, kids can learn more about computer viruses, help files,...
---
---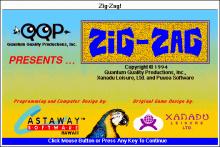 Zig Zag 1994
Zig-Zag is a cross between the word games Hangman and Mastermind. The computer selects a secret word and then the player must try to guess it by placing other words in a crooked pattern and evaluating a point score based on the number of correct letters and their location compared...
---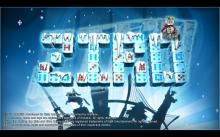 Ziro 2009

---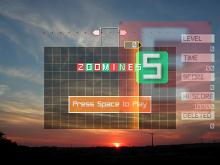 Zoomines 2005
Zoomines is an excellent knockoff of PSP classic Lumines and Zookeeper puzzle games, designed by a freeware coder who calls himself Fuseball. You use the cursor keys to move and A and S to rotate the block. Like all Tetris variants, the goal is to make blocks disappear by matching colors...
---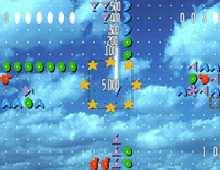 Zoop 1995
Description Zoop is a fast-paced puzzle game in which the player eliminates colored shapes that are approaching his alter ego, another colored shape, before they reach the top, somewhat similarly to Tetris. In order to eliminate the other shapes, you must point your piece at it and 'fire'. If the shape is...
---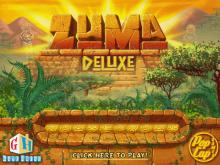 Zuma Deluxe 2003
Zuma is an action-puzzle game that puts the sphere-shooting, color-matching play of the Bust-A-Move games on a variety of patterned playing fields. Each playing field has a grooved channel that winds and twists about, and a stone frog "idol" in the center. Players have a top-down view of the action....
---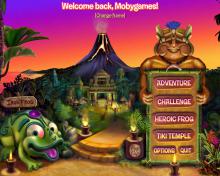 Zuma's Revenge! 2009
One of the earliest hits from the casual experts at PopCap Games gets a proper sequel, complete with new game modes, new powers, and updated graphics, in Zuma's Revenge! This time players control the sphere-spewing frog through 60 new levels and six boss battles. The premise remains the same, however,...
---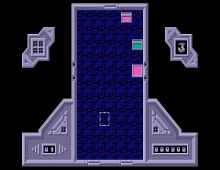 Zyconix 1992
Zyconix is an arcade puzzle game. Colored blocks raining down on a playfield, we've seen that before. Zyconix takes the Columns principle (align three or more bricks of the same color to make them disappear) and adds a few twists of its own: First, there are no groups or columns of stones,...
---