Puzzle Games #17
Search a Classic Game: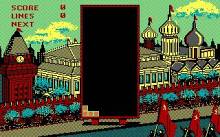 Tetris (from Mirrorsoft) 1987
The original commercially-licensed version of Alexey Pajitnov's classic Tetris puzzle game. Geometric shapes fall from the top of a playfield to rest on the bottom; fit the pieces together, and the line they form disappears. If the pieces don't form lines and eventually stack up to the top of the...
---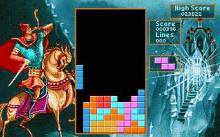 Tetris Classic 1992
An enhanced remake of the classic puzzle game Tetris in which you control the position and rotation of falling blocks and try to assemble and clear lines of blocks as they fall before the play area gets flooded. The release doesn't make any changes to the original formula, but instead brings...
---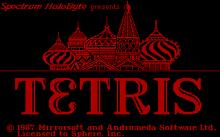 Tetris Gold 1993
Tetris Gold was a CD-ROM released by Spectrum HoloByte in 1993 containing all of the Tetris games and spinoffs they ever made: Tetris, Super Tetris, Tetris Classic, Wordtris, Faces...Tris III, Welltris, and a prototype version of Tetris. Because it was a CD, it included versions for DOS (All 7), Windows (Tetris...
---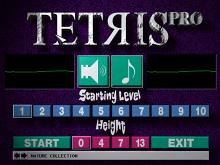 Tetris Professional 1995

---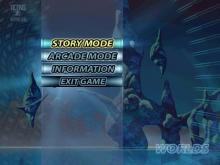 Tetris Worlds 2001
No one has found a way to improve on Tetris, but it certainly hasn't been for a lack of trying. Since its rise to popularity on the Game Boy, the classic puzzle game has inspired countless knockoffs, copycats and sequels. But no matter how many newfangled additions they try to...
---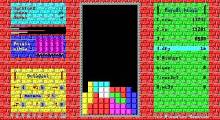 Tetrix v1.30 1992
Tetris clone. ...
---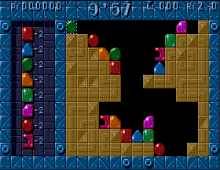 Th!nk Cross 1992
Th!nk Cross is a Puzznic variant. In each of the 150 levels, there are a number of blocks with varying symbols or numbers on them. The player can move each block left or right and when two or more identical blocks are brought together, they vanish. The goal is to...
---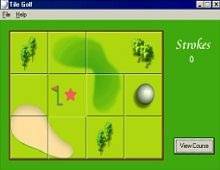 Tile Golf Puzzle 2002
Tile Golf Puzzle is a clever variant on the typical arrange-the-tiles puzzle. From the official page: "Looking for ways to improve your golf game? Well, this puzzle won't improve your physical game, but it will provide you with a good mental workout. This challenging puzzle consits of 10 tiles; 9...
---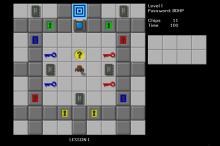 Tile World 2001
Tile World is a superb freeware "emulator" of Chip's Challenge, a classic tile-based puzzle game reviewed elsewhere on this site. If you have never played the original Chip's Challenge, read my review of that game first for more detailed information. Tile World, in addition to bringing the game to modern...
---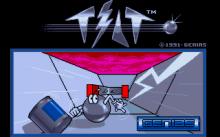 Tilt! 1992
Tilt is a puzzle platform action, where the goal is to lead the ball through the maze from the entrance to the exit, collecting randomly appeared cans and avoiding obstacles such as magnets, red buttons, stop signs, holes and other traps to do not make your bonus low or to...
---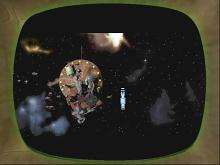 Time Warp of Dr. Brain, The 1996
This game is a series of linked puzzles that stretch and use different parts of your brain. The story is that Doctor Brain built a time machine and attempted to return to last week to find his car keys. Unfortunately, he opened the door to the space time discontinuum and...
---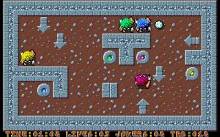 Tiny Skweeks 1992
This puzzle game has 101 levels, in which you have to guide a varying number of Brainies of four different colors onto a spot that matches their color. You control a cross-hair, and press fire while over a Brainy to take or give up control of its motion. Running out...
---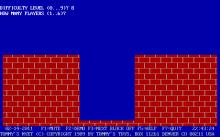 Tommy's Nyet 1989
Tommy's Nyet is a DOS Tetris clone for one to six players. The player uses the numeric keypad to position falling blocks in a pit. Blocks can be moved right or left and they can be rotated too. When the player completes a row of bricks across the pit with...
---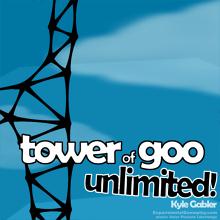 Tower of Goo Unlimited 2005
Tower of Goo Unlimited is a very addictive 'coffee break' game that is based on a simple premise: drag goo balls to form "joints" of a structure, making it as high as possible. Like other games on the Experimental Gameplay website, Tower of Goo Unlimited boasts authentic physics: gravity constantly...
---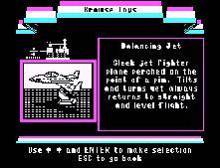 Toy Shop, The 1986
Here's an unusual one: The Toy Shop is a set of computerized patterns for building your own mechanical models. You use the software to print out the pieces, then assemble them according to a set of instructions that come with the software. There are 20 different models, including trucks and...
---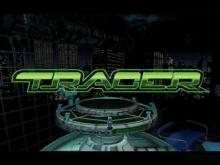 Tracer 1996
Take an interesting plot idea and combine it with a puzzle that requires quick reactions and careful planning and you get something great, right? Well, in the case of Tracer, what you get is something that comes up as being significantly less than the sum of its parts. The idea of...
---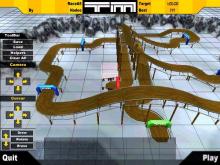 TrackMania 2003
With its own dedicated server, Nadeo's TrackMania lets players gear up for online racing competitions. Though playable over a LAN for multiplayer action, gamers can log on to Nadeo's server to receive newly created track building blocks as they are made available. The TrackMania server is designed to promote a...
---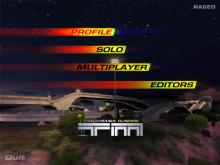 TrackMania Sunrise 2005
This follow-up to the original TrackMania adds new tracks and automobiles to the fast-paced, online-enabled racing gameplay. Two additional single-player modes, "Platform" and "Crazy," are included to offer new challenges to TrackMania veterans. ...
---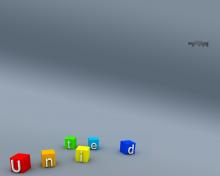 TrackMania United 2006
With its own dedicated server, Nadeo's Track Mania United lets players gear up for online racing competitions at any time. Although the game is available for offline action on over 300 tracks, gamers can log on to Nadeo's server to receive newly created courses as they are made available, and...
---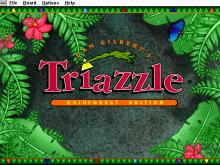 Triazzle 1995
Okay, so you've got the bottom half of a yellow-and-black Kokoa-Pa poison frog, but to complete the puzzle you need the top half of an ebony erotylid. The ability to call up a hint (that metallic woodborer doesn't go in the corner, after all) is one of the many advantages...
---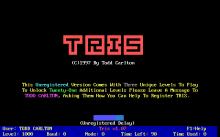 Tris 1997
A stock implementation of the Tetris falling-block puzzle (whose goal is to "fill" entire empty lines with irregularly-shaped segments) rendered in textmode graphics, intended for keyboard-driven play over modem as a BBS door game, this limited but effective version can also be played locally. The unregistered version features only three...
---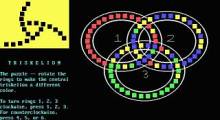 Triskelion 1987
Difficult solo puzzle. ...
---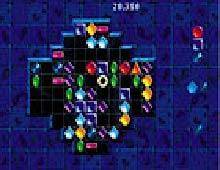 TriTryst 1995
PC Gamer sums it up well in their review of this addictive puzzler: "The basic gameplay of TriTryst is similar to Tetris, with different colored squares that fall from the top of the screen, challenging you to align them with other pieces on the game board to make them disappear....
---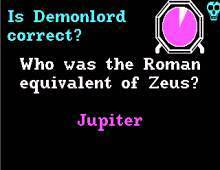 Trivia 101 1984
In the same vein as TV and Cinema and 3k Trivia, IBM gives us another game show trivia game, this time with categories such as: The Bible Famous Epitaphs High Technology (for 1984...) Hollywood Horrors Diet and Fitness ...and about 100 more. ...
---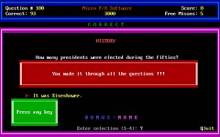 Trivia Whiz 1990
You are presented with questions from a variety of categories, like History, Sports, Entertainment, Music and Comics, and you must supply the answer. To make things interesting, there is a timer on each question that allows you fifteen seconds to answer. The more time that goes by, the lower your...
---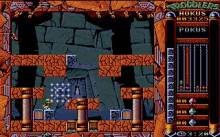 Troddlers 1993
Troddlers is a puzzle game in the vein of Lemmings. The player takes control of an animal-like wizard who can create and remove blocks; these blocks are useful for both jumping onto and redirecting the path of the little Troddlers that you have to direct towards the exit. The tricky...
---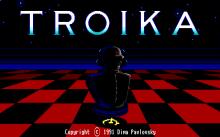 Troika 1991
Troika is a collection of three arcade style games: Rebel Planets, Ivan, and Metal Hearts, from Russian programmer Dima Pavlovsky. Rebel Planets is an arcade shooter where you control a small ship at the bottom of the screen and shoot a cylindrical projectile upwards. The goal is to destroy enemies on...
---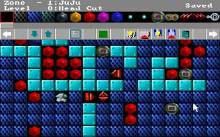 Trugg 1995
Trugg is a Boulder Dash-type game where you play a robot (Trugg). You must collect all the treasures on each level, making sure that neither they nor you are destroyed. Then, you must reach the door. You use the arrow keys/joystick to move around or operate switches. ...
---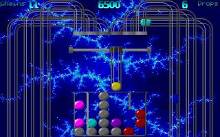 Tubes 1993
Tubes is a shareware color matching puzzle game. The main screen shows a series of overlapping transparent tubes climbing from the bottom and curving at the top towards the center. Colored balls, or elements as the game calls them, travel through these tubes to their exit holes. The objective is to...
---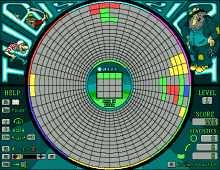 Tubis 1993
Tubis is a complex Tetris variant that is best described as the "expert" level of Welltris. It is best described as Welltris stretched out in every direction so the well becomes cylindrical (a tube, hence the name Tubis) instead of cubical. Perhaps the best way to describe why I think this...
---