Educational Games #8
Search a Classic Game: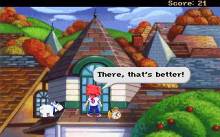 Pepper's Adventures in Time (a.k.a. Twisty History) 1993
This point n' click adventure game is actually an edutainment (entertainment leading to education) title developed by Sierra, who were also responsible for other games such as the Eco quest and Dr. Brain series. The object of this game is to help a little girl called Pepper, solve puzzles based...
---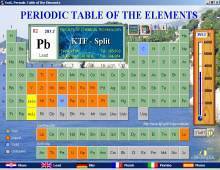 Periodic Table of The Elements 2001
Periodic Table of the Elements is a fun, freeware program that contains the basic data about the element in six languages (Croatian, English, German, French, Italian, Spanish). The best feature that sets it apart from similar titles is that it can visually simulate the change of each element's physical condition...
---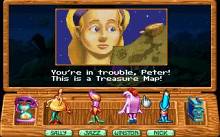 Peter Pan 1993
In this story painting adventure you play as Peter Pan, the leader of boys and girls, against Captain Hook, the leader of pirates. You stole the treasure map from Hook, then Hook stole all the boys and girls from your village and now you have to exchange map on your...
---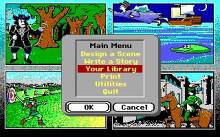 Peter Pan & Robin Hood Fairy Tale Factory 1989
Back in the 80s having a printer was not something everyone could brag about and being able to print in color at home was really something. At that time it was also a sort of a prestigious thing to be able to print out your own party invitations, greeting cards...
---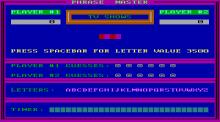 Phrase Master 1990
Phrase Master is a two player game in which each player will take turns trying to guess the phrase. A player can continue his turn as long as he can guess the right letters contained in the phrase. When a letter is guessed that is not in the phrase the...
---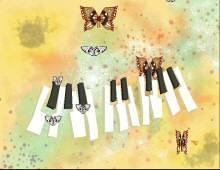 Piano 2004
Piano is a great and relaxing music application coded by Luis Romero. The "game" is basically an interactive piano - you can play and record songs for playback later. What sets Piano apart from other interactive music programs is the amazing artistic value: there are two main graphical 'themes' in...
---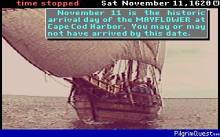 Pilgrim's Quest 1991
Pilgrim Quest is an educational game in which you play the original Pilgrims bound for America on the Mayflower. You must make the perilous voyage across the Atlantic, find safe harbor, pick a place for the new colony, and manage the development of that colony until it becomes self-sufficient. Exploration,...
---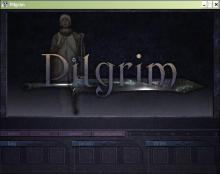 Pilgrim: Faith as a Weapon 1998
You really don't know what you're in for with Pilgrim, Arxel Tribe's mind-blowing 1997 release that disappeared for a few years and now is available again. I expected to really enjoy myself by wallowing in the Year of Our Lord 1208, and I did, but I never expected anything like...
---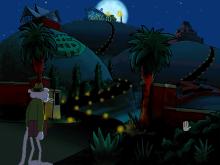 Pink Panther, The: Hokus Pokus Pink 1998

---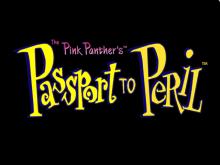 Pink Panther, The: Passport to Peril 1997
In the ethnically diverse adventure game The Pink Panther's Passport to Peril, the still-sleuthing fuchsia feline must protect an international gaggle of children at a summer camp from an assortment of baddies, leading to a series of nutball escapades. Players pick up clues - and learn about other...
---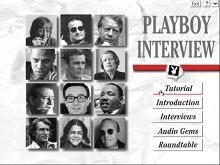 Playboy Interview: Three Decades, The 1994
Playboy Interview: Three Decades includes the complete text of 30 years worth of celebrity interviews from the adult magazine. A total of 352 interviews are included on the disc, along with audio clips, trivia, and over 1,000 photos. Search for information by topic, date, interviewer, or celebrity. ...
---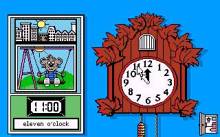 Playroom, The 1989
The Playroom is an educational game which is set in the locale of a child's bedroom. Almost everything on the screen can be clicked on, and the child will be rewarded by games, activities, or at least an amusing animation. In this first of what eventually became a trilogy of...
---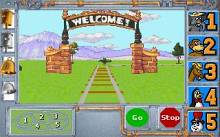 Pong & Kooky's Cuckoo Zoo 1993
"Welcome to Ping and Kooky's Cuckoo Zoo! We are proud to invite you into our premises, where you can learn about animals from all around the world, living side by side in our five habitats, which have been built especially to fit their needs. I am your tour guide Ping...
---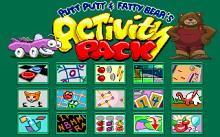 Putt-Putt and Fatty Bear's Activity Pack 1993
Putt-Putt and Fatty Bear's Activity Pack contains 15 different games and activities for kids 3-8. This is basically a compilation of the Putt-Putt Funpack and Fatty Bear Funpack, along with a few new games. Most of the games are played against either Putt-Putt or Fatty Bear. Some games are traditional,...
---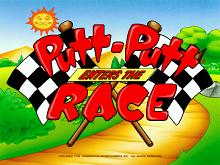 Putt-Putt Enters the Race 1998
That lovable little car, Putt-Putt and his dog Pep must gather various items including fuel and a flag before they can enter the Cartown 500. There are plenty of old friends as well as some fun new characters to give Putt-Putt a helping hand. ...
---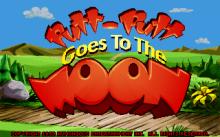 Putt-Putt Goes to the Moon 1993
Putt-Putt Goes to the Moon is one of the earlier Humongous Entertainment games featuring the talking car, but it still holds up when compared to the company's later games. In this one, Putt-Putt is accidentally sent to the moon and he must find his way back with the help of...
---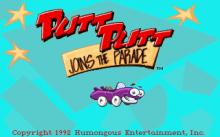 Putt-Putt Joins the Parade 1992
Putt-Putt Joins the Parade continues the adventures of a fun loving and talking little purple car. This time his journey involves entering the local Cartown Pet Parade by solving puzzles to gain entrance to the show. Recommended for the four to eight year old category, children can guide Putt-Putt by using...
---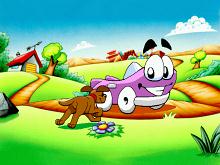 Putt-Putt Saves the Zoo 1995
Putt-Putt Saves the Zoo is one of the earlier Putt-Putt adventures, but it still holds up even when compared against his later games. The usual Humongous staples are there: the bouncy music, the engaging characters, and the sillly hot spots. Like other Junior Adventures, this one combines the problem-solving of...
---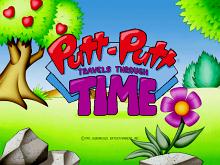 Putt-Putt Travels Through Time 1997
Putt-Putt Travels Through Time is probably the best of the Putt-Putt line of graphic adventures for kids. It features four distinct worlds to explore, including Putt-Putt's own present time, and the puzzles are challenging and stimulating for young kids just learning how to problem solve and make predictions. Through the wild...
---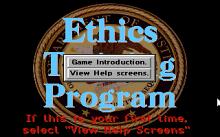 Quandaries 1998
Probably Bob Bates' most obscure "game," Quandaries is an excellent and unique edutainment titles designed to teach professional ethics to federal agents. Designed under contract for Ethics Office of the US Department of Justice, Quandaries combines Bates' expertise in storytelling and writing with DoJ's professional experience to create a very...
---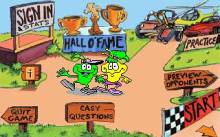 Quarky and Quaysoo's Turbo Science 1992
The indian-originated space elf Quarky O'Ghandi and his sister Quaysoo organized a team Los Turbos to beat well-known Das Liquidators, Cool City Maulers, and Valiant Cube. Answering correctly on questions, you as member of Los Turbos must earn money to move between check points, and to win a race. A...
---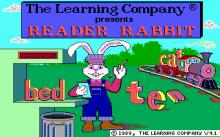 Reader Rabbit 1989
Join Reader Rabbit as he takes your child through his Fabulous Word Factory, where he will provide games that build reading, spelling and vocabulary skills. In addition to learning about words, your boy or girl will improve his or her memory, concentration and spatial awareness. Inside the factory, your child will...
---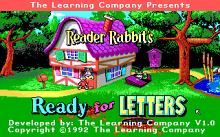 Reader Rabbit's Ready for Letters 1992
Reader Rabbit's Ready for Letters is another superb release in The Learning Company's excellent Reader Rabbit edutainment series. Tailored to pre-schoolers, this program contains six activities designed to improve kids' cognitive and early language skills. The activities include: Music Pond, in which kids must find the musicians and direct the...
---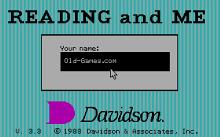 Reading and Me 1988
Reading and Me is a collection of games and activities designed for beginner readers, ages 4 to 7. The game is not as fun as Davidson's other games-- perhaps because the company is better at designing games for older kids than toddlers. Still, the lack of variety in the game...
---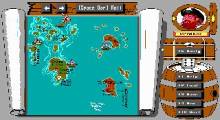 Redhook's Revenge 1993
Redhook's Revenge is a Pirate-based board game and trivia. Choose your pirate captain and then play against two other human or computer controlled players. Then roll the dice and travel the designed number of spaces over the seaways. Your objective is to reach the home port with as much booty...
---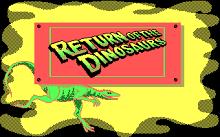 Return of The Dinosaur 1988
Return of The Dinosaur is a fun board-game style detective game designed to teach kids facts about their most favorite animals of all time. The premise is that your hometown is suddenly overrun by dinosaurs, thanks to professor T. Rex' malfunctioned time transporter. You have four days to find and...
---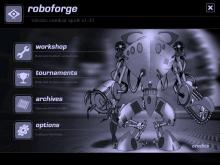 Roboforge 2001
Similar to the BattleBots competitions televised on Comedy Central, RoboForge allows players to design combat-oriented robots and enter them in online tournaments. The process of designing a robot is broken down into three stages: Construction, Training and Testing. During the Construction phase, players put together their robot piece by piece in...
---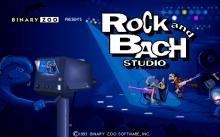 Rock & Bach Studio 1993
Rock and Bach Studio is the third game in the educational Adventures with Edison series. The game focuses on famous composers of classical music. The plot revolves around a certain studio that produces musical video clips. Accompanied by Edison, the player takes part in whole life-cycle of such a production. First...
---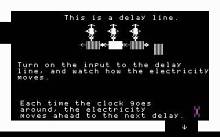 Rocky's Boots 1985
Rocky's Boots is a simple educational puzzle game where you can learn about logic circuits. You control a nondescript square, moving it about several rooms. Each room contains basic electronic parts like AND, OR and NOT gates, flip-flops, delays and clocks. You can pick these up and combine them to build...
---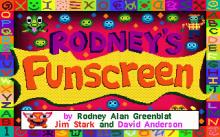 Rodney's Funscreen 1992
Rodney's Funscreen is an early children's game designed by Rodney Greenblat, later responsible for the art in the Parappa the Rapper series. The game has five activities that can be accessed directly from the main menu. The aim of these mini-games is to teach preschool kids how to use the...
---
Educational Games:
01
&nbsp
02
&nbsp
03
&nbsp
04
&nbsp
05
&nbsp
06
&nbsp
07
&nbsp
08
&nbsp
09
&nbsp
10
&nbsp
11
&nbsp