Educational Games #12
Search a Classic Game: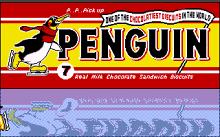 Merlin's Math 1992
Merlin's Math is a decent math program designed to teach young kids the basics of algebra. Designed mainly as a promotional product for Penguin chocolate, the game is much shorter than a typical edutainment title, although it does have enough colorful cartoons to keep kids happy while they figure out...
---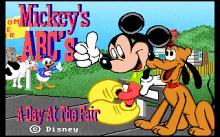 Mickey's ABC's: A Day at the Fair 1992
Mickey's ABC's: A Day at the Fair is an educational game for pre-schoolers, aimed to familiarize them with the alphabet. The game is a licensed product featuring Mickey Mouse and other Disney characters. The player has the choice between two scenarios, Mickey's home and the fair. In each of those,...
---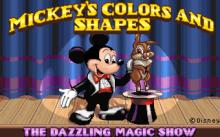 Mickey's Colors & Shapes 1991
In Mickey's Colors & Shapes he will take the role of a magician performing a magic show. The game helps young children to start visually identifying shapes and color matching, while Mickey talks and provides supportive feedback for the puzzles presented as magic. Minnie Mouse is his assistant between acts....
---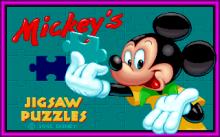 Mickey's Jigsaw Puzzles 1991
Mickey's Jigsaw Puzzles is a simple, early child development, shape-learning game for young kids. It allows the player to select from among 15 different pictures of Mickey and friends. Players can select how many pieces should the jigsaw puzzle have to allow for many different skill levels of children. Once...
---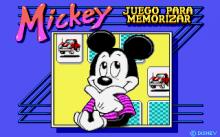 Mickey's Memory Challenge 1990
Mickey's Memory Challenge is a puzzle / educational game. It stars Mickey Mouse and several other Disney characters make guest appearances. The game itself is a simple but colorful matchmaker game. Eight upturned cards are presented to the player, who can only turn two at a time. The goal is to...
---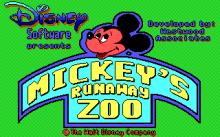 Mickey's Runaway Zoo 1991
In Mickey's Runaway Zoo both Mickey and Goofy team up to return all of the animals back to the zoo. This is done by a series of screens for young children to start visually identifying numbers incorporated into vivid color landscapes. When the child finds a number and presses the...
---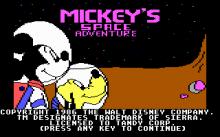 Mickey's Space Adventure 1986
Walking along one day, Mickey and Pluto come across a spaceship. After boarding the ship, they are given a quest by XL30 from the planet Oron. A long time ago, a thief stole the planets memory crystal and broke it up into nine pieces, hiding them on each planet in...
---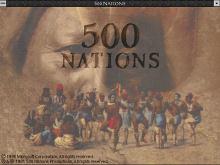 Microsoft 500 Nations 1995
Based on the 1995 documentary mini-series, Microsoft 500 Nations gives users an opportunity to experience and learn more about the history of America's oldest inhabitants: the Native Americans. Through the extensive use of video, sound, and artwork, players can travel back through time and learn more about the various tribes,...
---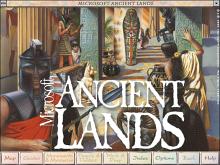 Microsoft Ancient Lands 1994
Explore the ancient civilizations of Greece, Egypt, and Rome in this multimedia CD-ROM from Microsoft. Information is grouped into three categories: "Monuments & Mysteries," "People & Politics," and "Work & Play." Close to 1,000 articles are included on the disc, along with supplemental video, animation, and sound clips. Sit back...
---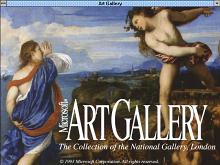 Microsoft Art Gallery 1993
Microsoft Art Gallery takes you on an interactive tour of London's National Gallery. More than 2,000 works of art, each displayed in 640x480 resolution, are featured by such artists as Leonardo da Vinci, Vincent van Gogh, Claude Monet, and Rembrandt van Rijn. Paintings are indexed by pictorial type, subject, locale,...
---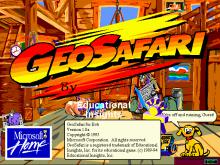 Microsoft Bob 1995
Microsoft Bob is a user interface for Microsoft Windows and Windows '95 streamlining the bewildering world of computing possibilities for new computer users, filing programs away in themed menus with a "rooms of a home" metaphor. It includes one game. Assisted by Hank, a pachydermic Personal Guide, GeoSafari follows in the...
---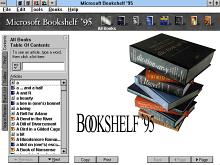 Microsoft Bookshelf '95 1995
Microsoft Bookshelf was a reference collection introduced in 1987 as part of Microsoft's extensive work in promoting CD-ROM technology as a distribution medium for electronic publishing. The original MS-DOS version showcased the massive storage capacity of CD-ROM technology, and was accessed while the user was using one of 13 different...
---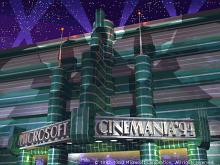 Microsoft Cinemania '94 1994
Microsoft Cinemania is an electronic movie encyclopedia filled with film reviews, biographies, photos, and sound and video clips. Included are reviews from Roger Ebert, Leonard Maltin and Pauline Kael, and articles from Baseline's Encyclopedia of Film. Over 19,000 entries from Maltin's Movie and Video Guide make up the bulk of...
---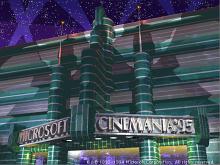 Microsoft Cinemania '95 1995
Microsoft Cinemania. Interactive Movie Guide was a reference and educational Multimedia application CD-ROM produced by Microsoft and published annually beginning in 1992. The software was mainly a database of films, in a similar fashion to the Internet Movie Database, and gave descriptions of the films and who starred in them....
---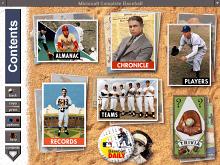 Microsoft Complete Baseball: 1994 Edition 1993
This software is designed to please the true aficionado of the nation's pastime, featuring a comprehensive list of records and statistics as well as a multimedia almanac that offers a broad perspective on the history of the sport. Information can be accessed in several ways, through a favorite player or...
---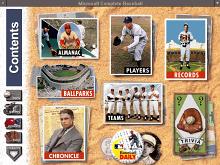 Microsoft Complete Baseball: 1995 Edition 1994
This is the 1995 update of the previous Microsoft Complete Baseball. New in this edition is a "Ballparks" section, with almost ridiculously detailed information for every major-league park – history, measurements, seating charts, phone numbers, multiple photos, up-to-date scuttlebutt on parks up for replacement – there's even hotel and tourism...
---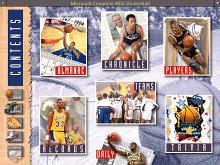 Microsoft Complete NBA Basketball Guide '94-'95 1994
Billed as the "ultimate multimedia reference for every basketball fan," Microsoft Complete Basketball includes over 100 video and sound clips as well as 5,000 photographs. Search through the database of NBA players and coaches to view profiles and statistics (leading up to the 1994-95 season), or jump to your favorite...
---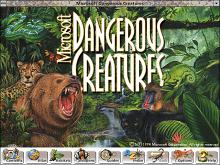 Microsoft Dangerous Creatures 1994
Some of the world's deadliest animals are a mere mouse-click away in Microsoft Dangerous Creatures. The World Wildlife Fund-endorsed multimedia CD-ROM features 100 narrated videos, 800 articles, and an assortment of color photographs and sound clips. Learn each creature's habitat, diet, predators, and risk for becoming endangered. Over 250 animals...
---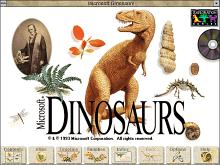 Microsoft Dinosaurs 1993
Learn more about dinosaurs with this multimedia CD-ROM from Microsoft. More than 1,000 color illustrations are included, along with summaries of each species and factoids. Dinosaur expert Don Lessem narrates multiple guided tours, and video clips are available from the PBS television series, The Dinosaurs. Information can be found by...
---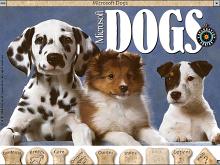 Microsoft Dogs 1995
Here's everything you need to choose, train, and care for a new companion - or just explore the amazing world of dogs! Dogs provides the user with access to information on over 250 breeds from around the world, with narrated videos, interactive articles with photos, breed characteristics, origins, tips for...
---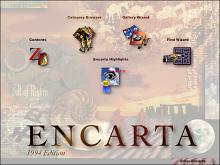 Microsoft Encarta '94 1993
Microsoft Encarta was a digital multimedia encyclopedia published by Microsoft Corporation from 1993 to 2009. Originally available for sale on multiple CDs or a DVD, it was later also available on the World Wide Web via an annual subscription - although later many articles could also be viewed free online with...
---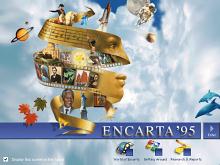 Microsoft Encarta '95 1994
This is a digital multimedia encyclopedia published by Microsoft Corporation released in multiple editions from 1993 to 2009. ...
---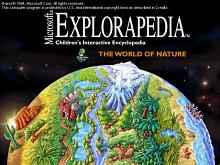 Microsoft Explorapedia: The World of Nature 1995
Based on Dorling Kindersley's Children's Encyclopedia, Microsoft Explorapedia: World of Nature is an interactive exploration experience designed for children of all ages. Joined by Tad, a froganaut, you'll learn about the many environments and creatures that exist (or used to exist) on earth. The experience is livened up with songs,...
---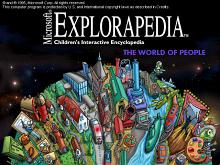 Microsoft Explorapedia: The World of People 1995
Explorapedia provides a world of learning that beckons students with its playful and friendly air. Explorapedia was designed to encourage exploration and to reward inquiry. With just a click of the mouse, students can learn how wolves hunt or why penguins look like they are wearing tuxedos. Or they can...
---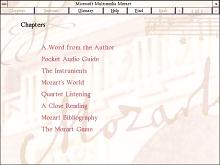 Microsoft Multimedia Mozart 1994
Multimedia Mozart takes you on an interactive journey through the composer's "String Quartet in C Major." As you listen to the music, you can learn more about 18th Century Europe, the instruments used in the orchestra, and Mozart's inspirations. Commentary, charts, artwork, illustrations, and even mini-games are designed to enhance...
---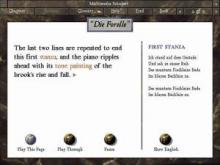 Microsoft Multimedia Schubert 1993
As part of the Microsoft multimedia series on great composers, Multimedia Schubert: The Trout Quintet offers a comprehensive excursion into the world of Franz Schubert's music and inspirations. Narrated by National Public Radio commentator and music critic Alan Rich, the program brings fresh insight into the original song that inspired...
---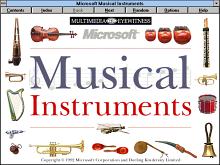 Microsoft Musical Instruments 1992
The Microsoft Exploration Series broadens its horizons with a comprehensive and detailed look into the world of musical instruments, past and present. Microsoft Musical Instruments features historical origins of more than 200 instruments, complete with geographical maps depicting the area of first use, 500+ photographs, 1,500 sound samples, and pronunciations....
---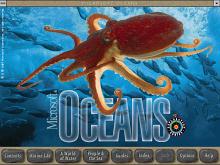 Microsoft Oceans 1995
Microsoft Oceans is yet another in a long line of software titles which are education reference guides whose subjects vary depending on the product. In this case, the subject is about the earth's oceans. You will learn all about the many creatures which inhabit our planet's oceans; how humans have...
---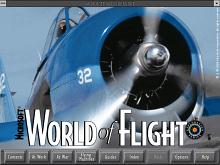 Microsoft World of Flight 1995
Take to the skies with Microsoft World of Flight, which is yet another in the Microsoft Home exploration series. Learn all about the creation, uses, design, and impact aircraft have had on our world and about the people associated with them. This information is accompanied by a wealth of pictures,...
---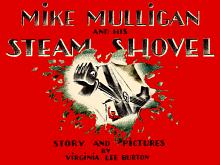 Mike Mulligan and His Steam Shovel 1996
Mike Mulligan and His Steam Shovel, based on the children's story Mike Mulligan and His Steam Shovel, features four activities designed to improve basic skills. Children will be able to listen or read as the story comes to life with animation and interact with Mike Mulligan. ...
---