Educational Games #18
Search a Classic Game: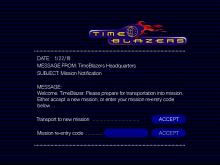 Space Station Alpha: The Encounter 1996
Time Blazers was a series of CDs for children. Students enter an abandoned alien spacecraft. By gathering clues and interacting with strange devices, students learn about science, mathematics and technology as they try to unlock the aliens' secrets. This gives an opportunity to inspire tomorrow's generation of astronauts. Mission Control...
---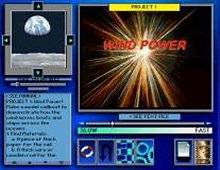 Speed 1993
This is an interactive movie straight from the IMAX movie "Speed". The film is about the never-ending quest that humans have to go faster. It starts out in prehistoric times, when all humans speed was restricted to how fast they could run. Other inventions appear and evolve, like the wheel...
---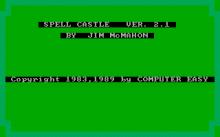 Spell Castle 1986
Spell Castle is an educational game designed to improve spelling and typing skills. During the game, words will appear from the top of a castle and float downwards. You need to type in the words correctly before they reach the bottom of the screen and destroy your drawbridge. There are...
---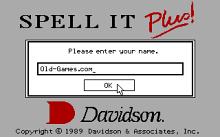 Spell It Plus! 1989
Solid edutainment program from Davidson & Associates. Design for age 9 to adult, Spell It Plus! helps students master of 1000 commonly misspelled words in a format that makes spelling so entertaining , they will want to spend hours at the computer. With five progressive learning activities, the game teaches...
---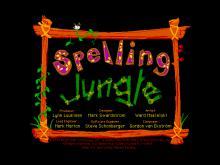 Spelling Jungle: Yobi's Basic Spelling Tricks 1993
Spelling Jungle (also known as Yobi's Basic Spelling Tricks) is an educational game with puzzle elements. The general objective of the game is to paddle a raft up a river, preventing it from flooding. The game consists of two main gameplay modes: solving a word-spelling puzzle on the "puzzle map",...
---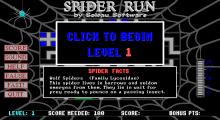 Spider Run 1995
Spider Run is a single player, shareware game for DOS that has elements of Pipe Dream in its game play. The game takes place on a grid that's six cells deep and eight cells across with the corner cells unused. Into this grid are placed web elements. These are right angle...
---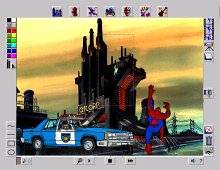 Spider-Man Cartoon Maker 1995
This is a recreational software package that allows the user to create animations with a minimal level of sophistication by utilising a library of backdrops, animations and sound effects from the 1990s Marvel Comics television series, Spider-Man: The Animated Series. The game features narration by Christopher Daniel Barnes, who plays...
---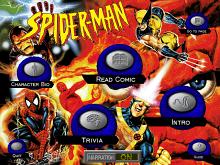 Spider-Man: Interactive CD-ROM Comic Book! 1995
Over 80 pages of authentic comic book action. Spider-Man guides you through the story. Featuring two landmark issues of Amazing Spider-Man (Green Goblin unmasked & Hobgoblin 1st appearance), digitally remastered for CD-ROM. There's an introduction by Stan Lee and a back issue reference. It also has real Marvel animation and...
---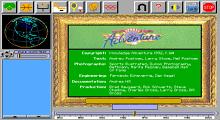 Sport Adventure 1991
Based on the same engine as Knowledge Adventure its first release, Knowledge Adventure (the company)'s Sport Adventure is a solid database of sport factoids and trivia, complete with hundreds of photos, intuitive interface, and timeline. Although it is more of an electronic database than a game, Sport Adventure does feature...
---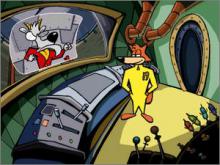 Spy Fox in "Dry Cereal" 1997
Spy Fox in Dry Cereal is probably my favorite of the Humongous Entertainment games which I've played. Not only is it very well-suited for kids between the ages of 5 and 10 (although kids on the younger end of the scale might have a hard time with it), but the...
---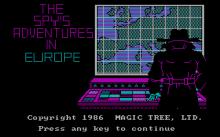 Spy's Adventure: Europe 1986
Another installment of Spy's Adventures is set in Europe this time. And as other games in the series, it is an educational adventure game similar to the Carmen Sandiego series of games. Jewel thief and smuggler extraordinaire, Dr. Xavier Tortion (aka Dr. X), is somewhere in Europe along with numerous jewels...
---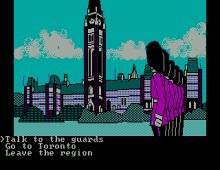 Spy's Adventure: North America 1987
Dr. Xavier Tortion (aka Dr. X), jewel thief and smuggler extraordinaire, is on the loose; intelligence reports he is somewhere in North America along with numerous jewels he's stolen. Your job will be to find the jewels and locate Dr. X! Adventures in North America is an educational adventure game...
---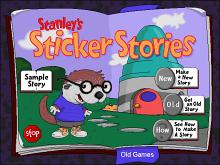 Stanley's Sticker Stories 1996
Stanley's Sticker Stories is the fifth game in Edmark's Early Learning Family of educational games designed for young children. The interface is point-and-click and click-and-drag, and instructions are given verbally when the mouse is rested over an icon. On the main page, Stanley the sea otter introduces the player to...
---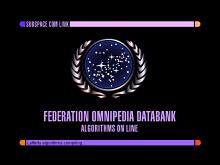 Star Trek Omnipedia 1995
The Star Trek Omnipedia is an impressive compilation of information the most devout Star Trek universe. The paths diverge in the late 20th century as there has been no eugenics war yet and World War III hasn't occurred. The information is presented by date only and doesn't lend itself to...
---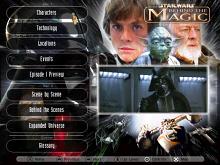 Star Wars: Behind the Magic 1998
If you enjoy anything to do with Star Wars fan to purchase this program. There are four short videos, all of which take place on Tatooine. One is black and white and features Luke standing in the desert, while two others primarily feature conversations between Luke and Biggs Darklighter, the...
---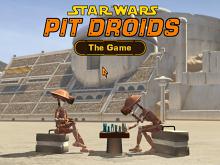 Star Wars: Pit Droids 1999
Star Wars Pit Droids is a great puzzle game from the fine minds at Lucas Learning. From the nicely detailed graphics to the intricate gameplay to the jazzy soundtrack, this one is sure to appeal to any Star Wars fan young or old. George Lucas has always been interested in using...
---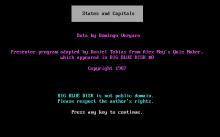 States and Capitals 1988
This simple quiz game, included in Big Blue Disk #20, is designed to help players remember United States capitals. It contains five data sets, each containing ten states and capitals that must be matched up. At the start of play, each state is matched with a random capital; by swapping...
---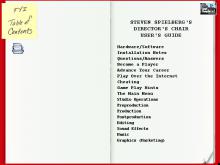 Steven Spielberg's Director's Chair 1996
With a guide like Steven Spielberg we have got a chance to direct our own movie in this interactive movie-making game. Some of the most talented people in cinema industry are also helping us to choose and do the right things during our project. In addition Jennifer Aniston and Quentin...
---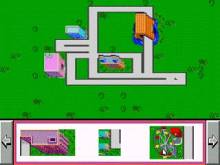 Stickybear Town Builder 1991
The game starts with a green expanse of land, awaiting development. The player selects different kinds of buildings to erect on the site, which the game instantly builds and automatically connects with roads. Then, in the two play modes, the player gets to navigate a little car through the lanes...
---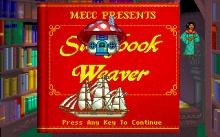 Storybook Weaver 1992
Yet another excellent edutainment title from MECC, Storybook Weaver is the perfect incentive for developing writing skills, allowing children to express their creativity with pictures and sounds. Storybook Weaver is designed for kids who want more than just a sheet of paper to jump-start their creative writing. Young writers choose...
---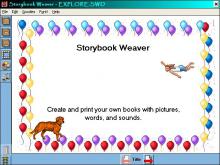 Storybook Weaver Deluxe 1994
Kids love stories, but even more, they enjoy making up and telling their own stories. Storybook Weaver Deluxe allows kids to put their words and ideas into print as the author of their very own storybook. Unlike other games of this type, players are not limited to a few stock backgrounds...
---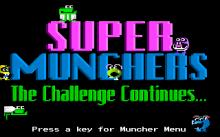 Super Munchers 1991
Super Munchers combines arcade action and trivia questions. Players must control their Munchers and munch the answer to questions while evading Troggles, who, when they can't eat Muncher, are perfectly happy to change the board's answers and make things more confusing. More than 10,000 factoids across 130 topics (Oscar winners,...
---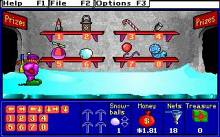 Super Solvers - Treasure MathStorm 1992
Treasure MathStorm! is an educational game designed for kids ages 6 to 8. The Master of Mischief has invented a machine that changes the weather and froze Treasure Mountain! Your goal is to restore the mountain by locating different treasures on the mountain and returning them to the castle at...
---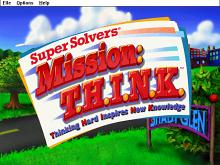 Super Solvers Mission: T.H.I.N.K. 1999
Super Solvers: Mission T.H.I.N.K. is an entertaining strategy and critical-thinking game targeted at children ages 7-12, and contains puzzles and activities adults will enjoy as well. Six types of puzzles focus on skills in the areas of problem solving, deductive reasoning, patterning and sequencing, cause and effect, and organizing information....
---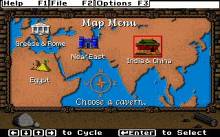 Super Solvers: Ancient Empires (a.k.a. Challenge of the Ancient Empires) 1990
As a Super Solver, your job is to recover the hidden treasures of the ancient world in 4 caverns (Greece & Rome, Egypt, India & China and Near East) to reach the fifth and final cavern where the ultimate challenge awaits you. Challenge of the Ancient Empires is a platform...
---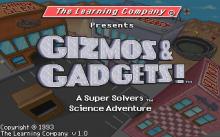 Super Solvers: Gizmos & Gadgets 1993
The object of this game is to defeat Morty Maxwell, the Master of Mischief by beating him in fifteen races. 5 of them in Automobiles, 5 in Alternate Energy vehicles, and 5 in Airplanes. Players have some leeway during the first races, but as the number of races they win climbs...
---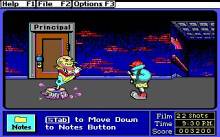 Super Solvers: Midnight Rescue 1989
The Master of Mischief is planning on making Shady Glen School disappear! He has invented disappearing paint, and turned five paint brushes into robots to paint the school at midnight. The Master of Mischief himself is disguised as a robot, and it is your job to find him. Hidden throughout...
---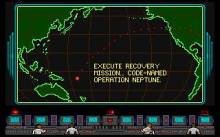 Super Solvers: Operation Neptune 1991
A crashed space capsule containing vital information from a space expedition is polluting the ocean. Your job is to pilot your submarine through an under sea maze, gather all the pieces of the fallen capsule, and uncover the mystery of the space expedition. While navigating your submarine you will frequently run...
---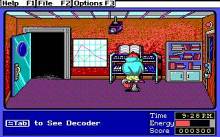 Super Solvers: Outnumbered! 1990
One of the education games aimed for older elementary students, from The Learning Company's classic Super Solver's series. The Master of Mischief is up to his old tricks and now is trying to take over the Shady Glen TV Station, with the help from his robot Tele. Now the Super Solver...
---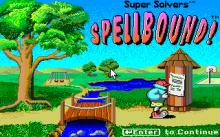 Super Solvers: Spellbound! 1991
The Master of Mischief is at it again. This time he has devised a great spelling be in which he will submit robots to win the spelling bee for him! When you first log in you will be asked to chose a category of words (Holiday, homophones, etc.). You are...
---