Educational Games #18
Search a Classic Game: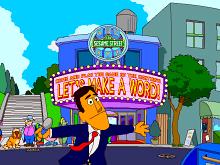 Sesame Street: Let's Make a Word! 1995
An educational game designed to help children recognize and name objects. The game has several famous characters from the Sesame Street show, including Big Bird, Elmo, Oscar the Grouch, The two headed Monster and Guy Smiley as your host. It's formatted as a game show with mini games...
---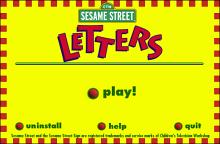 Sesame Street: Letters 1999
Sesame Street Letters is an educational CD-ROM which lays the foundation for pre-reading skills for children ages two to six. Oscar the Grouch and Telly are your hosts and introduce you to letters and phonics while also telling stories, singing, and exploring the ...
---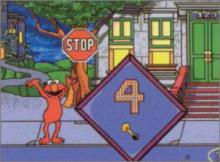 Sesame Street: Numbers 1999
Sesame Street Numbers is an educational CD-ROM which lays the foundation for pre-reading skills for children ages two to six. With Elmo as their guide, children explore the neighborhood and visit with many ...
---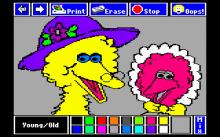 Sesame Street: Opposites Attract 1987
This computer coloring book is another part in the Electric Crayon series and it has 30 pictures of different opposites such as Above/Below, Enter/Exit, Short/Long, etc., with famous characters from Sesame Street to color. Pictures could be colored from a palette of 16 colors. A mix button would "mix" the current...
---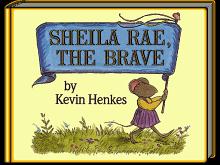 Sheila Rae the Brave 1996
Louise has a problem with her older sister, Sheila Rae. It's not that her sister ignores her or picks on her or teases her, it's that her sister is brave -- too brave. Sheila Rae claims she isn't afraid of anything and that causes her to take what seem like...
---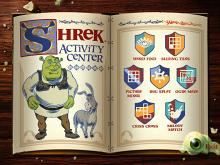 Shrek: Game Land Activity Center 2001
With just a small variety of word and puzzle games, Shrek: Game Land Activity Center may not offer much in the way of originality, but the presentation couldn't be better. Conveying the look and feel of the movie, the thematic Shrek's design and the straightforward gameplay is enjoyable and familiar....
---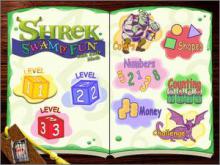 Shrek: Swamp Fun with Early Math 2002
Shrek Swamp Fun With Early Math uses the same formula as its companion game, Shrek Swamp Fun With Phonics, and offers kids an entertaining method of understanding and honing skills that range from simple addition and subtraction to basic concepts involving shapes, time, money, and fractions. Easy menu choices allow...
---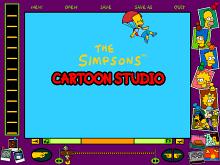 Simpsons Cartoon Studio, The 1996
Just like The American Girls Premiere, The Simpsons Cartoon Studio allows you to make your own cartoons from scratch on your computer. And like the other program, a huge number of sound and animation clips of many different characters are included to spark your ideas and get you started. Of course,...
---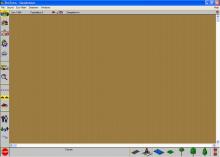 SimTown 1995
SimTown is one of several entries in the city-building simulation series, SimCity. As in prior installments, players are tasked as the mayor of a newly formed municipality, taking charge of it's expansion and success. Being aimed at a younger audience than that of the other games within the series a...
---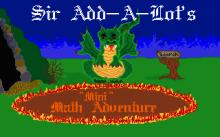 Sir AddaLot's Mini Math Adventure 1993
In the game you as a brave knight Sir AddaLot have to defeat evil dragon Scorch, who terrorize castles. To drive away dragon you must eliminate equal results of mathematical expressions, while walking from castle to castle. After freeing the land, king and queen rewards you with a fish for...
---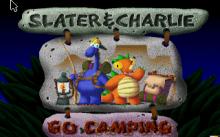 Slater & Charlie Go Camping 1993
This interactive storybook tells the tale of two friendly dinosaurs who are getting ready to go on an exciting camping trip. Gentle dialog and colorful, cartoon graphics set the tone. Each virtual page of the book features a different scene with a number of "hot spots," which children can click...
---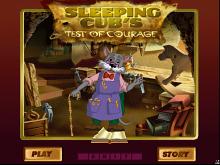 Sleeping Subs Test of Courage 1996
Magic Tales: Sleeping Cub's Test of Courage is an interactive book for children. It is based on a Native American folk tale. A boy named Sleeping Cub goes in search of the mystical elk dogs in order to help him on his quest to find the vanishing buffalo. ...
---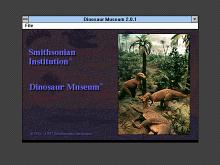 Smithsonian Institution Dinosaur Museum 1997
Dinosaur Museum is an educational game that shows you the elements of a real museum and even has pictures of exhibits in The Smithsonian Institution Museum of Washington D.C. The Menu has three areas to go to Library, Conservatory and Game Room, it also includes stuff like the top 300...
---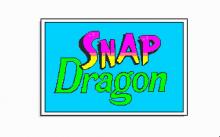 SnapDragon 1992
In this educational game you should help Snap Dragon, accompanied by his friend Teddy Bear, to make his photo album. Choosing one of the six locations (bathroom, underwater, farm, camping, bedroom, space), you should sort several items (4-10) on the screen and make a shots to add new photos to...
---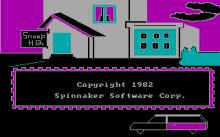 Snooper Troops 1982
The first in a series of 'edutainment' titles long before the portmanteau term was popularized by marketing executives, Snooper Troops had younger players trying to solve the mystery of "The Granite Point Ghost", an entity that is trying to scare the Kim family out of their new home. Using the SnoopNet...
---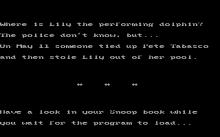 Snooper Troops 2 1982
Lily the Dolphin has been stolen from the Tobasco Aquarium. As an ace Snooper Trooper detective, it is up to you to find her. There are many suspects in the case, including a Hollywood director needing a dolphin for a role in a film, and a photographer wanting to take...
---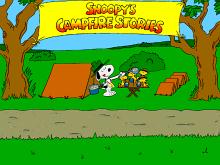 Snoopy's Campfire Stories 1996
This is a game for young children and fans of Charlie Brown & the Snoopy gang. In this game the whole gang sits around a Campfire and shares their story with each other. Afterwards they write a letter about the whole day at the camp. You will play 5 different characters...
---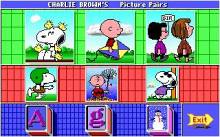 Snoopy's Game Club 1992
Snoopy's Game Club is a small collection (3 in total) of mini games for kids: SNOOPY's Animated Puzzles - are jigsaw-puzzles of animated pictures featuring Snoopy and the gang. You can choose how many pieces to break the picture in (from 4 - 64 pieces) and when completed, you will get...
---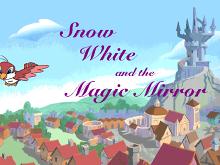 Snow White and the Magic Mirror Interactive Storybook 1995
Want to experience an absolutely horrible Disney ripoff with poor animation, horrible voice acting, and cringe worthy scenes? Then welcome to UAV storybooks. The box states: "Take a trip back in time with Interactive Storybooks and watch your child's imagination grow! Interactive Storybooks offer full-motion, full color video, exciting...
---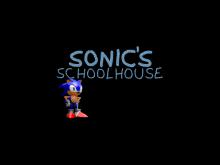 Sonic's Schoolhouse 1997
Sega's star mascot trades in his speedy sneakers for a report card in this edutainment title from Expert Software. After selecting a grade level in math and English, players must guide Sonic through a series of 3D rooms filled with blackboards and items such as balloons, letters, or numbers. Each...
---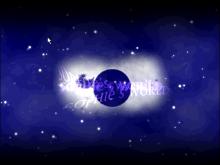 Sophie's World 1997
While philosophy may seem an intimidating subject for some children (and some adults as well), this game follows the spirit of the same-titled book by Jostein Gaarder, on which it is based. Lofty sounding concepts are presented in a familiar, real-world context, through the eyes of a girl who makes...
---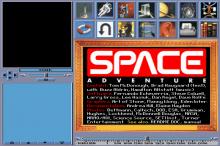 Space Adventure 1992
The universe is at your fingertips in this interactive adventure through space. Read about WWII rockets, eclipses, how humans might live in space colonies, and more. Watch Voyager flybys, Apollo launches, former President John F. Kennedy challenge America to go to the moon, computer simulations, and other videos. By clicking...
---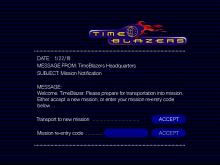 Space Station Alpha: The Encounter 1996
Time Blazers was a series of CDs for children. Students enter an abandoned alien spacecraft. By gathering clues and interacting with strange devices, students learn about science, mathematics and technology as they try to unlock the aliens' secrets. This gives an opportunity to inspire tomorrow's generation of astronauts. Mission Control...
---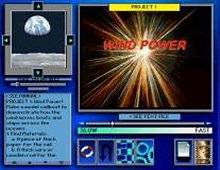 Speed 1993
This is an interactive movie straight from the IMAX movie "Speed". The film is about the never-ending quest that humans have to go faster. It starts out in prehistoric times, when all humans speed was restricted to how fast they could run. Other inventions appear and evolve, like the wheel...
---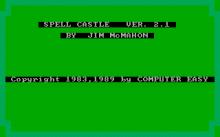 Spell Castle 1986
Spell Castle is an educational game designed to improve spelling and typing skills. During the game, words will appear from the top of a castle and float downwards. You need to type in the words correctly before they reach the bottom of the screen and destroy your drawbridge. There are...
---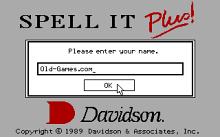 Spell It Plus! 1989
Solid edutainment program from Davidson & Associates. Design for age 9 to adult, Spell It Plus! helps students master of 1000 commonly misspelled words in a format that makes spelling so entertaining , they will want to spend hours at the computer. With five progressive learning activities, the game teaches...
---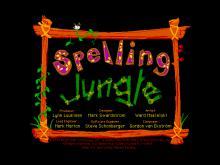 Spelling Jungle: Yobi's Basic Spelling Tricks 1993
Spelling Jungle (also known as Yobi's Basic Spelling Tricks) is an educational game with puzzle elements. The general objective of the game is to paddle a raft up a river, preventing it from flooding. The game consists of two main gameplay modes: solving a word-spelling puzzle on the "puzzle map",...
---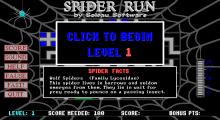 Spider Run 1995
Spider Run is a single player, shareware game for DOS that has elements of Pipe Dream in its game play. The game takes place on a grid that's six cells deep and eight cells across with the corner cells unused. Into this grid are placed web elements. These are right angle...
---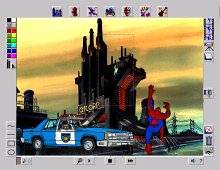 Spider-Man Cartoon Maker 1995
This is a recreational software package that allows the user to create animations with a minimal level of sophistication by utilising a library of backdrops, animations and sound effects from the 1990s Marvel Comics television series, Spider-Man: The Animated Series. The game features narration by Christopher Daniel Barnes, who plays...
---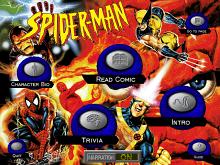 Spider-Man: Interactive CD-ROM Comic Book! 1995
Over 80 pages of authentic comic book action. Spider-Man guides you through the story. Featuring two landmark issues of Amazing Spider-Man (Green Goblin unmasked & Hobgoblin 1st appearance), digitally remastered for CD-ROM. There's an introduction by Stan Lee and a back issue reference. It also has real Marvel animation and...
---