Educational Games #11
Search a Classic Game: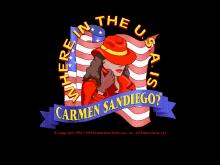 Where in The USA is Carmen Sandiego? Deluxe Edition 1994
A remake of Where in the U.S.A. is Carmen Sandiego?, this title features high-resolution graphics, digitized sound effects, and new locations. Sign your name up, then listen to the chief give you details about the suspect and the loot stolen by them, the location where the suspect was last seen, and...
---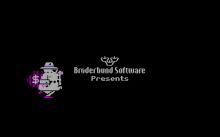 Where in the World is Carmen Sandiego? 1985
Carmen Sandiego is a master thief who leads the criminal organization V.I.L.E. This organization specializes in stealing the world's treasures without a trace. Alarmed by this, the A.C.M.E. Detective Agency makes it their personal mission to foil Carmen Sandiego's plans. Carmen Sandiego is an game that tests the player's knowledge about...
---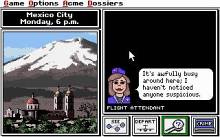 Where in The World is Carmen Sandiego? (Enhanced) 1991
You start out as a rookie detective whose job is to track down a crop of thieves stealing the world's most precious treasures. After each assignment briefing, you'll be given a deadline to capture the thief that stole the artifact using clues dealing with your knowledge of geography. Remake of...
---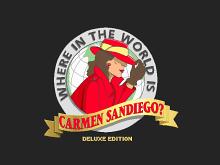 Where in the World is Carmen Sandiego? CD-ROM 1995
Despite being caught and jailed many times by skilled detectives at ACME, Carmen Sandiego seems to have more criminal lives than her cat, Carmine. Once again, she is back with another bunch of thieves to steal things that other crooks would go pale just contemplating. Who else, for example, would steal...
---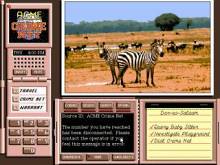 Where in The World is Carmen Sandiego? Deluxe Edition 1990
Rehash of Where in the World is Carmen Sandiego?, featuring high-resolution VGA graphics, digitized sound effects, and new locations. The life cycle is self-explanatory: sign up for a case, travel between locations questioning witnesses, obtain warrants, and make arrests, and you have approximately a week to do so. The options you...
---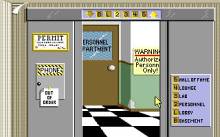 Where in Time is Carmen Sandiego? 1990
Carmen Sandiego and her gang are loose once again, and it is the players job to capture her! This time round the player not only has to find where she is, but also when she is. Traveling to various locations, they need to assemble clues by questioning witnesses and searching...
---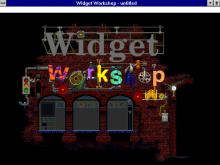 Widget Workshop 1995
Widget Workshop: The Mad Scientist's Laboratory allows kids eight and up to experiment with math and science in a fun, open-ended way. They can choose to solve puzzles included in the game or make their own widgets, which do things like making a dog bark or counting how many seconds...
---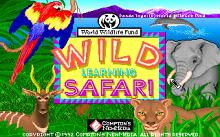 Wild Learning Safari 1992
Despite the title, Wild Learning Safari doesn't really let kids "learn" anything about wildlife, but is simply an interactive coloring book -- although an attractive one with many options. Kids can choose from a variety of animal scenes, then color the picture using the colors provided. Animals can be animated,...
---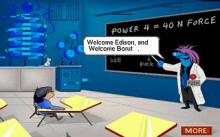 Wild Science Arcade 1993
In Wild Science Arcade, kids learn about physics by maneuvering a ball using four variable settings: gravity, friction, ball material and initial force. Although it resembles visually the classic Marble Madness, the gameplay is easier, aimed at the younger gamer. The game is divided in 5 levels, each with several rooms....
---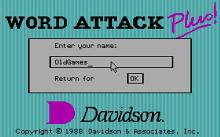 Word Attack Plus! 1988
Another excellent edutainment title from Davidson & Associates. Designed for ages 9 to adult, Word Attack Plus helps you become a better writer and speaker via a number of fun mini-games. You can build an extensive vocabulary, learn how to use words in sentence context, and learn the correct definitions....
---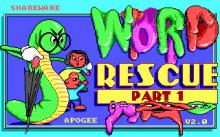 Word Rescue 1992
The Gruzzles are lazy creatures that don't know how to read. That would have been half the trouble if they didn't decide that if they can't read, no one else should be able to. They stole all the letters from all the books, and the world was left without words....
---
---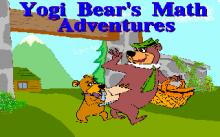 Yogi Bear's Math Adventures 1990
Yogi Bear's Math Adventures allow children to learn math using addition, subtraction, multiplication, or division. Grade levels can be selected from 1st through 6th grade. The games are timed as you work through math problems by selecting the correct answer using Yogi Bear. You select the answer by moving Yogi...
---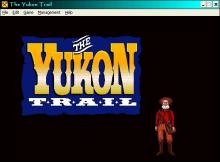 Yukon Trail, The 1994
The Yukon Gold Rush of 1897 is the subject of The Yukon Trail by the Minnesota Educational Computing Corporation. Players take the part of eager prospectors heading north from Seattle to take part in the gold rush. First, players must decide where they are heading. There are two towns players...
---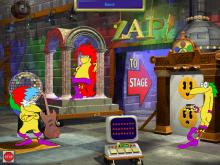 Zap! 1998

---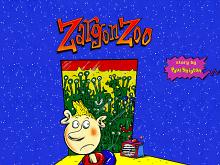 Zargon Zoo 1994
Zargon Zoo is a decent "interactive comic book" based on the children's book of the same name published by Heinemann ELT "New Wave Reader" series.Written for Level 2 (11-16 year-olds) students, the story is a fun "aliens visiting Earth" tale by Paul Shipton. In addition to digitizing the book to...
---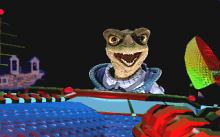 Zombie Dinos From Planet Zeltoid 1995
Innocent dinosaurs are being brought into the present in a plot to control the world. Players, with the help of Dexter the Talking Dinodroid and the Dinosaur Encyclopedia, must learn to track and identify the dinosaurs to save the Earth. Zombie Dinos from Planet Zeltoid teaches kids a great deal...
---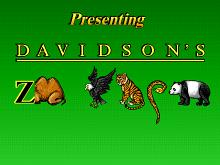 Zoo Keeper 1994
No, this is not the classic Taito game of the same name. Rather, Zoo Keeper is another excellent edutainment title from Davidson & Associates. Designed for toddlers aged 1-6, Zoo Keeper teaches kids about more than 50 different animals from aardvarks to baboons to whales and zebras. While older kids...
---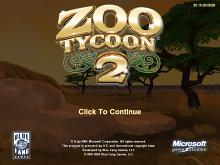 Zoo Tycoon 2 2004
Virtual zookeepers return to their computer screens, to care for exotic animals and the people who come to visit them, in Zoo Tycoon 2. With its "tycoon"-style business sim elements, its honest and detailed approach to real zoology, and some nice promotion from publishing giant Microsoft, Blue Fang's original Zoo...
---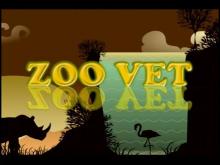 Zoo Vet 2004
Zoo Vet is all about getting close and personal with the inhabitants of a typical zoo. Unlike the Zoo Tycoon series and various knock-offs, this title isn't about watching the animals perform, or building up a successful zoo. Instead, players are asked to treat different animals at a zoo, by...
---
Educational Games:
01
&nbsp
02
&nbsp
03
&nbsp
04
&nbsp
05
&nbsp
06
&nbsp
07
&nbsp
08
&nbsp
09
&nbsp
10
&nbsp
11
&nbsp