Educational Games #5
Search a Classic Game: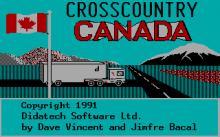 Cross Country Canada 1991
Another installment in the geographical educational Crosscountry series represents the map of Canada. Players drive an 18-wheel truck around the country picking up and delivering a variety of commodities with typed-in commands (TURN ON MOTOR, LOOK AT MAP, REST, REPAIR, GO TO GAS STATION, etc.). As players travel between the cities,...
---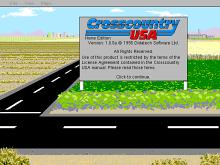 Cross Country USA 1995
Cross Country USA is yet another excellent edutainment program from Didatech, one of the most underrated education software makers today. The program gets you to pick up various commodities at different cities, and deliver them all to a final destination. In the process, you will drive through various states of...
---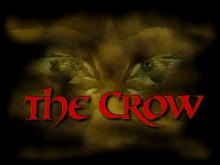 Crow, The: The Complete Interactive Collection 1996
Based on the comic book series by James O'Barr and the films The Crow and The Crow: City of Angels, this CD-ROM features behind-the-scenes footage and clips from both Crow films, interviews with cast and crew members, previously unreleased film footage and both film trailers. Includes unique and never-before-seen material,...
---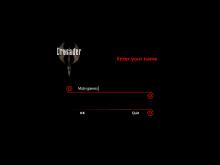 Crusader: Adventure Out of Time 1997
An historical adventure game set in the Middle Ages at the time that the Franks were beginning to be driven out of Jerusalem. The player follows the adventure of Artaud, a disgraceful French Lord, who is sent to redeem himself by traveling to the Holy Lands to escort the True...
---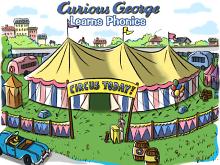 Curious George Learns Phonics 1997
Curious George, that clever, inquisitive, mischevious monkey is going to the circus, and you are invited to go along for the ride in Curious George Learns Phonics. There are 6 different phonics related games included with the CD-Rom, and although they can be accessed in any order, it is best if...
---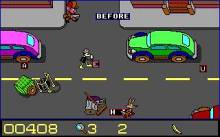 Daffy Duck 1991
Based on the famous Looney Tunes cartoon characters, the game is educational action for the kids. You are Daffy Duck, and this time you are a Private Investigator (P.I.). The letters are escaped from their words and scattered, where they want. You should find the missing letters and fill the words...
---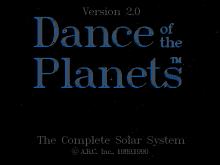 Dance of the Planet 2.0 1990
Easily the best astronomy software ever until its later versions and Maris' Redshift 3, Dance of the Planets was recommended by my astronomy professor. It's a surprisingly versatile program, given its small size, that is capable of simulating everything from lunar phases to comet paths. Animations of planets are well-done,...
---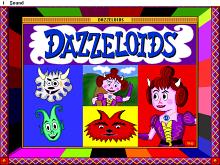 Dazzeloids 1994
Who can save the citizens of Compli City from the sinister threat of mind-numbing boredom? The Dazzeloids, of course! They are: Stinkabod Lame (daredevil, prankster, slamdancer), Yendor Talbneerg (technoid supreme), and Titan Rose (muscleman and poet). Their commander is Anne Dilly Whim, out to avenge her sister's death of boredom...
---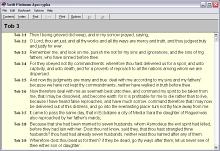 Deluxe Multimedia Bible, The 1996

---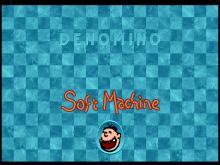 Denomino 1997
Denomino is a single player, shareware, word building game for DOS. In this game the player uses domino-like tiles to build words. Each tile contains two pairs of letters. The player makes words by positioning their tile next to an existing tile so that one or more four letter words are...
---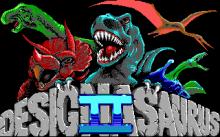 Designasaurus II 1990
Designasaurus II is an educational simulation game with action elements, playing in the far future. It enables you to create your own dinosaurs and then teleport them to different time geological time periods, in quest of hidden dinosaur geneprints. ...
---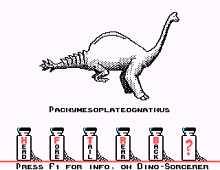 Dino-Sorcerer 1990
A fun little mix-and-match program for kids, Dino-Sorcerer is probably best remembered as one of the last games coded by John Romero before he left SoftDisk to form id Software with John and Adrian Carmack. Not really a game, Dino-Sorcerer lets you create fictional dinosaurs from various parts, e.g. tail,...
---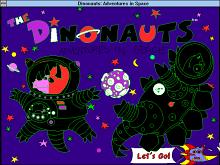 Dinonauts: Adventures in Space 1995
This involves a stalwart group of dinosaurs who travel in space looking for a new planet to inhabit. Weird? Just remember this is a kid's game so suspend your belief. I'd describe this as being something of a non-linear interactive storybook. Rather than it being read in a linear fashion,...
---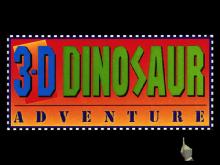 Dinosaur Adventure 1993
The Anniversary Edition is a re-release of the original game 3-D Dinosaur Adventure. New to this version is a separate disc with a small program called "Art-a-Saurus" which lets the player make pictures using paint, moving dinosaurs or non moving ones, music and lots of backgrounds to choose from. Also...
---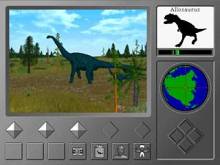 Dinosaur Safari 1996
Dinosaur Safari is designed to recreate the world that you would encounter if time travel were really possible. Instead of bringing the Dinosaurs to the modern world, Dinosaur Safari takes you to the world of the DInosaurs. Developed in collaboration with designers and scientists from the Oregon Museum of Science...
---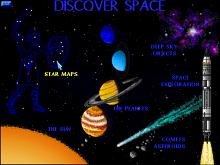 Discover Space 1992
Discover Space is an excellent desktop planetary program from Broderbund, makers of numerous prize-winning edutainment titles including the world-famous Where in [X] is Carmen Sandiego? series. Contrary to Broderbund's most other programs, Discover in Space is more of an application than an edutainment title or a game. It basically lets...
---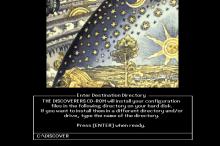 Discoverers, The 1994
The Discoverers is a multimedia interactive CD with mini-games, based on a IMAX documentary about historical figures that achieved great advances in science. The film itself is based on a book by the Pulitzer winner Daniel Boorstin, and it is included in its entirety on the CD. It can be...
---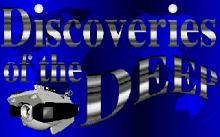 Discoveries of The Deep 1993
A pseudo-scientific adventure game. Using ships and submarines, search for lost treasure, sunken ships (including the Titanic), trenches, etc. ...
---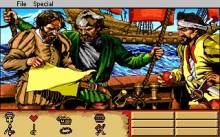 Discovering America 1994
This is an educational history game based on the Spanish exploration of America. You are placed on the shoes of a conquistador as he explores the southeastern region of North America, by selecting regions to explore from a map and picking up any gold and knowledge you find on the...
---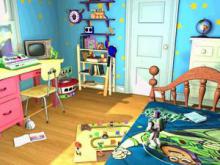 Disney Buz_: 2nd Grade 2000
As a follow up to Disney/Pixar's Buzz Lightyear 1st Grade, this game bumps the skills for each activity up a grade and provides a logical extension to the first grade level games. Once again, Woody is all but missing from the activities presented, though Jessie, Rex and Hamm fill in to...
---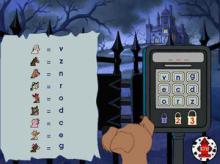 Disney's Animated Storybook: 101 Dalmatians 1997
This Disney release is an interactive storybook offering young readers a chance to improve their reading comprehension, vocabulary, and problem solving skills. Players can participate in four activities, six sing-alongs, and learn how to use a dictionary. During the game, players will join Pongo, Perdy, and their pups while matching...
---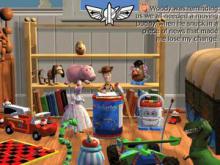 Disney's Animated Storybook: Toy Story 1996
Designed as an educational learning tool for three to eight-year-olds, Disney's Animated StoryBook: Toy Story features a rendered 3D world of the ...
---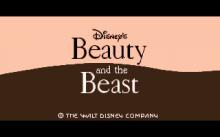 Disney's Beauty and the Beast: Be Our Guest 1992
Based on the popular animated film Beauty and the Beast, Disney's Beauty and the Beast: Be Our Guest takes place on a special day at the Beast's dark and remote castle. After years of hopeless frustration, the Beast, formerly a handsome prince, finally has a chance to break the spell...
---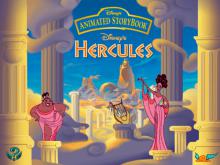 Disney's Hercules Animated Story Book 1997
Though Disney took some liberties with the story of Hercules, the animated storybook closely follows the line of the movie. Narrated by the muses and Mercury, the Messenger God, the Animated Storybook follows the story of Hercules, born to Zeus and Hera, then stolen from Mount Olympus by Hades servants,...
---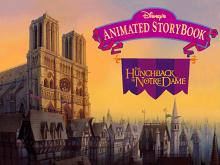 Disney's Hunchback of Notre Dame Animated Storybook 1996
Graphics: Nice, as with all Disney games. Sound: Sounds just like the movie. Enjoyment: It is enjoyable the first time through, but it's more annoying than amusing after the first time. Replay Value: Too easy games and annoying narration make this game a waste of time and money. You are unlikely to replay...
---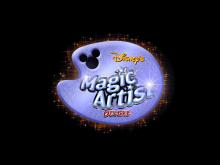 Disney's Magic Artist Deluxe 2001
Introduce a child with a creative imagination to Disney's Magic Artist Deluxe and watch the artistic sparks fly. This PC game is a virtual art studio, loaded with tools and options, that makes traditional paint, print, and color programs seem boring. A child's imagination really is the limit. Upon installation, which...
---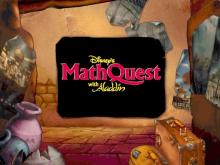 Disney's MathQuest with Aladdin 1998
Disney's Math Quest with Aladdin in an entertaining game that will teach players the fundamentals of Math so painlessly that they won't even know they are learning. Players start off in the Dungeons of Agrabah's Sultan's Palace. First, they must retrieve the chisel from the Spider's web. The Spider insists that...
---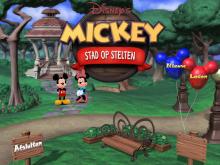 Disney's Mickey Saves the Day: 3D Adventure 2001
Play as Mickey or Minnie Mouse while exploring more than 25 locations in Mickey's hometown. Complete a wide variety of tasks, from preparing a sandwich to helping Von Drake complete his flying machine. Disney's Mickey Saves the Day features adjustable skill levels and teaches players the benefits of cooperation and...
---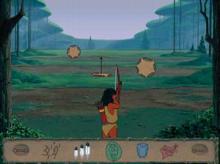 Disney's Pocahontas Animated Storybook 1995
In addition to the narrated story of Pocahontas, players can choose to have the book read to them or play within the story. In straight narration, the story runs to the end of the page and then moves on to the next without pause. In the play the story variation,...
---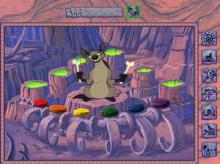 Disney's The Lion King Activity Center 1995
Disney Interactive's The Lion King Activity Center combines eight good games with coloring and some animated quicktime movies to produce a game that will enthrall fans of the movie and their parents alike. Players can choose a difficulty level of from easy to hard. Obviously, the art and paint game and...
---