Educational Games #7
Search a Classic Game: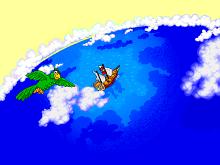 Fisher-Price Great Adventures Pirate Ship 1998
Adventure with Captain Stubbs and his crew, the cleanest bunch of pirates you will ever run across. Of course, these pirates have a problem. Captain Stubbs tore his pirate map into pieces and hid them all over the boat. Players must explore the ship by moving their mouse over various parts...
---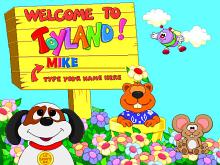 Fisher-Price Learning in Toyland 1996
Fischer-Price introduces many of their well known real-world toys in a whole new way with Learning in Toyland. Although the activities could be said to be marketing tools for the company--inevitably extending the Fischer-Price brand with this game--it is done in a tactful, totally unobtrusive manner. In fact, the clear...
---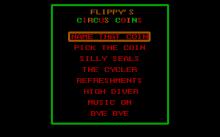 Flippy's Circus Coins 1988
This educational program, included in Big Blue Disk #26, provides several mini-games designed to teach children about change. "Name That Coin" and "Pick the Coins" simply deal with matching coins and their names. "Silly Seals" requires the player to choose coins thrown by seals in order to reach a certain...
---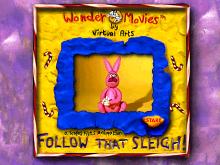 Follow That Sleigh! 1994
An interactive musical adventure. Like unwrapping a present, the magic of Wonder Movies lies in the surprise of discovery... Interactive Movie-Children interact with animated characters, control the flow of the storyline, and use decision-making skills as they encounter extraordinary situations. Music Entertainment-Kids will love groovin' with ELVIS, Santa's rockin' reindeer, and delight...
---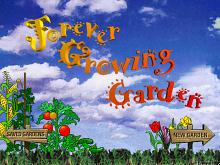 Forever Growing Garden 1993
Some hardware companies often published their own games in order to bundle them with their hardware (when they couldn't get enough big-name games to sign with them). This is one such product. Forever growing garden's gameplay consists of selecting seeds, etc. and taking care of them in order to...
---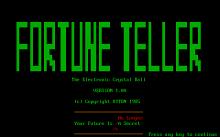 Fortune Teller 1985
One of the first - if not THE first - commercial fortune telling software for PC, Fortune Teller from Xyton Software is remarkable not only because it is old, but also because it is not based on Western astrology like most later programs. Instead, Fortune Teller is based on Hindu...
---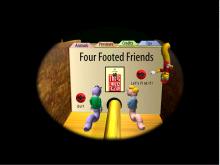 Four Footed Friends 1994
Four Footed Friends is an adaptation of the classic 1914 children's book of the same name. It contains rhymes and illustrations about animals with 40 pages in total. The characters Albert, Wendy and Pablo and guide the player through the story. Albert has interesting facts about animals, while Wendy shows...
---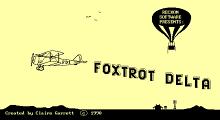 Foxtrot Delta 1990
Foxtrot Delta is a fun and unique edutainment game that teaches kids about Australia geography and history, as well as medical facts about major diseases. The game casts you as a doctor/pilot working for Australia's Royal Flying Doctor Service (RFDS), a wonderful airborne medical service founded by Reverend John Flynn...
---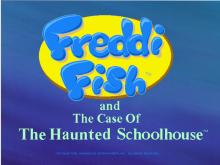 Freddi Fish 2: The Case of the Haunted Schoolhouse 1996
Freddi Fish and his friends return in Freddi Fish 2: The Case of the Haunted Schoolhouse. Someone is haunting the schoolhouse and scaring away all the guppies and taking their toys; it's up to Freddi and pals to set things right. Fresh off the missing kelp seeds case, Freddi Fish and...
---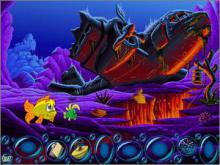 Freddi Fish 3: The Case of the Stolen Conch Shell 1995
Humongous Entertainment's Freddi Fish is back with her friend Luther for another adventure. This time, their tropical vacation is cut short when the Great Conch Shell disappears. Without it, Uncle Blenny can't open the Founder's Day festival. There are multiple suspects in Freddi Fish 3: The Case of the Stolen Conch...
---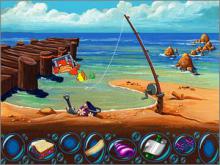 Freddi Fish and the Case of the Missing Kelp Seeds 1995
Humongous Entertainment has done it again with Freddi Fish and the Case of the Missing Kelp Seeds, an adventure game just about perfect for the 3-to-8-year-old age group it targets. The puzzles are difficult without being frustrating, and there are plenty of fun animations to watch and hot spots to...
---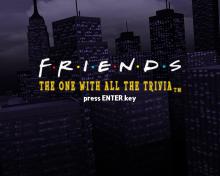 Friends: The One with All the Trivia 2005
This interactive trivia game has players taking turns demonstrating their knowledge of Friends trivia, by selecting answers to questions based on the popular NBC sitcom. The game's 3,000-plus questions are supported by more than 600 video clips taken from the series' ten seasons, and the game is hosted by recurring...
---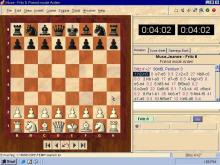 Fritz 8 2003
Including one of the strongest commercially available chess engines worldwide, Fritz 8 offers novice and expert players alike unlimited hours of enjoyment, study and competition. Whether a new player intent on learning the intricacies of this ancient strategy game or a world-renowned grandmaster using various analysis tools to sharpen skills...
---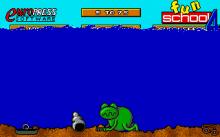 Fun School 4: for 5 to 7 Year Olds 1992
Freddy the Frog presents six games designed to help school-starting children build on their numeracy and literacy skills. The rules for each game are explained in the form of short stories. Controls primarily use the cursor keys and enter. Freddie is building a house, but can only add a log to...
---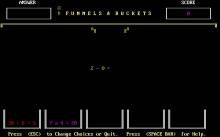 Funnels & Buckets 1984
Funnels & Buckets is a shareware math-based educational title developed and published by Data Sage. The gameplay entails popping mathematical problems before they fill one of your four buckets. If you answer the problem correctly you will be rewarded points and the equation will be eliminated. Filling the bucket with...
---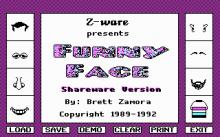 Funny Face 1990
A children's game wherein kids could make their own drawings by butting several parts of a face together. You could choose from a high amount of noses, mouths, ears and eyes, as well some haircuts. In version 2 there are double as much tiles to make faces off, as well...
---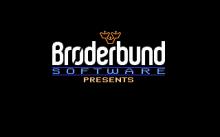 Galleons of Glory 1990
This historical simulation / adventure game recreates the voyage of Spanish explorer Magellan as he circumnavigated the world. Deal with rough seas, unreliable maps, rebellious crews, unfriendly natives, and other hazards of 14th-century voyagers. Features persons and situations based on actual history. ...
---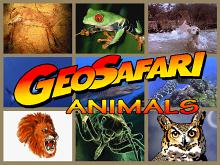 GeoSafari: Animals 1996
Geosafari: Animals is an educational game about animals for ages 8 and up. There are sixteen games available: Animal Hall of Fame, Shark!, Animals Sound Off!, Geosafari Dog Show, Skulls, Name that Bird Call, Reptiles, Micro Mysteries, Horse Round-Up, Endangered Animals, Animal Art Gallery, Whale Watch, Animal Eye-D, Weird...
---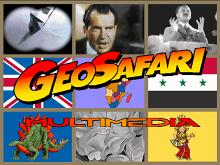 GeoSafari: Geography, History, & Science 1997
This multimedia learning game has 15 dazzling games that bring geography to life. An adventure the whole family can share. This instant-access fact finder puts lots of great information right at your fingertips. It has personalized interaction. Richie Havens, original Woodstock performer and the voice of GeoSafari, calls players by...
---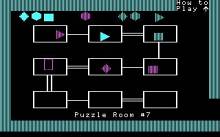 Gertrude's Secrets 1986
Gertrude's Secrets is, in brief, what you get when you take Warren Robinett's Adventure for the VCS (right down to the quacking dragon-duck!) and turn it into an educational object-sorting game for a younger audience than the earlier Robot Odyssey and Rocky's Boots. Gertrude is a benevolent goose who maintains what...
---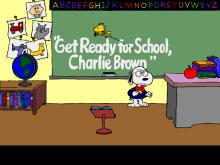 Get Ready for School, Charlie Brown! 1995
Charles Schultz's famous and lovable comic strip characters come to life as the Peanuts gang teams up to help children learn vocabulary, spelling, and reading through a variety of letter -- and word-related activities. By spending a day in the life of Charlie Brown, children can learn new words, practice...
---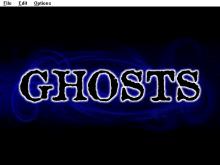 Ghosts 1995
Ahead the door of Hobbs Manor looms, dark and ominous. Move a little closer, if you dare. That doorbell beckons. Go on, press it. Your host, Dr Marcus Grimalkin (Christopher Lee); will graciously welcome you to his home, invite you to examine the evidence he has collected over the years, and...
---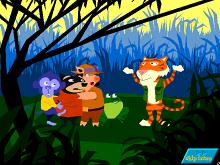 Gigglebone World Tour 1997
This is an entertaining companion to teach young children about 10 nations, including Australia, Egypt, Ghana, Peru, and Russia. ...
---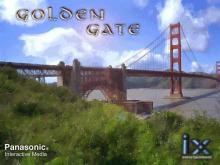 Golden Gate 1997
A treasure, lost to time, is hidden somewhere in the city of San Francisco. Hints and clues that date to the very beginnings of this city are scattered throughout its width and breadth. Only perseverance and a sharp eye will reveal the secret of its whereabouts. A mysterious box is...
---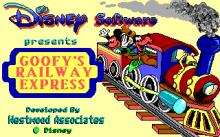 Goofy's Railway Express 1991
In Goofy's Railway Express, Goofy and Mickey are railroad conductors helping children with colors and shapes. This is done by a series of screens for young children to start visually identifying shapes and color matching while the train crosses colorful landscapes. When the train smoke stack produces colored shapes, such...
---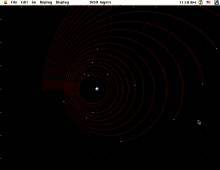 Gravitation Ltd. 1997
Gravitation Ltd. is a great edutainment software for the Macintosh, released as shareware in 1997. Billed as "solar system simulation," it can probably be more accurately described as a 2D gravity/orbital simulation. The program lets you build solar systems, gravity slingshots, or create your own asteroid belt. You can simulate...
---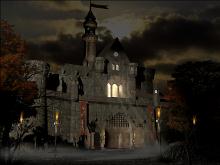 Great Myths and Legends Volume 1: Monsters and Mythical Creatures 1995
Come face to face with the terrible monsters and strange creatures of myth and legend: the Yeti, Minotaur, Loch Ness Monster, Cyclops, Leviathan, Pegasus, Golem, Unicorn, Gorgons, and Phoenix. The CD-ROM is supposed to be an authoritative look at the history and origins of these beasties. Includes: virtual 3D environments...
---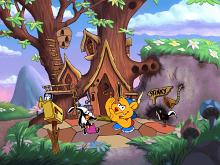 Great Word & Math Adventure, The 1996
Fasten your seatbelts for a fun and fast-paced educational ride with Lil' Howie starring Howie Mandel. This unique and unforgettable approach to learning teaches your children valuable language skills they need now. Features: Enjoy hours of fun and learning with nine interactive educational scenes; Experience more than 100 games, puzzles,...
---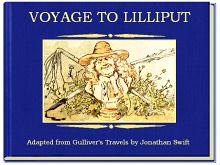 Gulliver's Voyage To Lilliput 1996
Improve your child's reading and vocabulary skills with Memorex Classic Tales, designed by child development experts. Journey back to a story that is an edited version of the great English writer Jonanthan Swift's novel. Carry on the tradition of the highly valued original tales passed from generation to generation. It...
---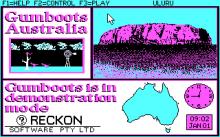 Gumboots Australia 1990
Head on down to Australia and help solve a plethora of mysteries as an investigator in Gumboots Australia. This graphic adventure game plays like a somewhat managerial click and find type of game. You start with almost no money and must travel from town to town looking for answers. Travelling...
---