Educational Games #3
Search a Classic Game: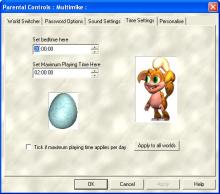 Creatures Adventures 1999
Have you ever wanted to care for a pet or a friend, but your not allowed to? Do you enjoy seeing the miracles of life, right before your eyes? Well, if you liked Catz or Dogz then you will be drawn to the premise of Creatures Adventures. In a magical world,...
---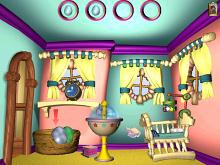 Creatures Playground 2000

---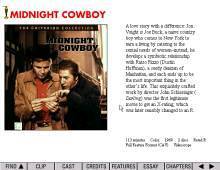 Criterion Goes to the Movies 1993
Among film connoisseurs, the name "Criterion Collection" is synonymous with "quality film releases." Founded by the same founders as Voyager Company, Criterion is dedicated to "...gathering the greatest films from around the world and publishing them in editions that offer the highest technical quality and award-winning, original supplements. Criterion began...
---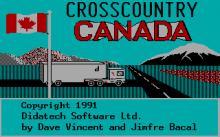 Cross Country Canada 1991
Another installment in the geographical educational Crosscountry series represents the map of Canada. Players drive an 18-wheel truck around the country picking up and delivering a variety of commodities with typed-in commands (TURN ON MOTOR, LOOK AT MAP, REST, REPAIR, GO TO GAS STATION, etc.). As players travel between the cities,...
---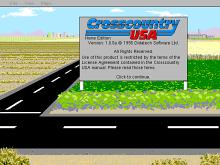 Cross Country USA 1995
Cross Country USA is yet another excellent edutainment program from Didatech, one of the most underrated education software makers today. The program gets you to pick up various commodities at different cities, and deliver them all to a final destination. In the process, you will drive through various states of...
---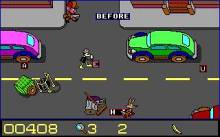 Daffy Duck 1991
Based on the famous Looney Tunes cartoon characters, the game is educational action for the kids. You are Daffy Duck, and this time you are a Private Investigator (P.I.). The letters are escaped from their words and scattered, where they want. You should find the missing letters and fill the words...
---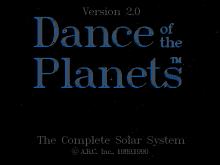 Dance of the Planet 2.0 1990
Easily the best astronomy software ever until its later versions and Maris' Redshift 3, Dance of the Planets was recommended by my astronomy professor. It's a surprisingly versatile program, given its small size, that is capable of simulating everything from lunar phases to comet paths. Animations of planets are well-done,...
---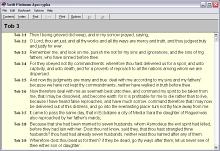 Deluxe Multimedia Bible, The 1996

---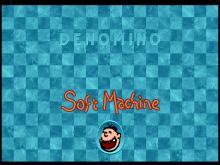 Denomino 1997
Denomino is a single player, shareware, word building game for DOS. In this game the player uses domino-like tiles to build words. Each tile contains two pairs of letters. The player makes words by positioning their tile next to an existing tile so that one or more four letter words are...
---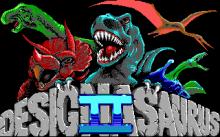 Designasaurus II 1990
Designasaurus II is an educational simulation game with action elements, playing in the far future. It enables you to create your own dinosaurs and then teleport them to different time geological time periods, in quest of hidden dinosaur geneprints. ...
---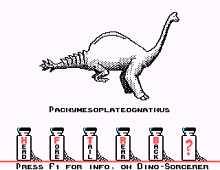 Dino-Sorcerer 1990
A fun little mix-and-match program for kids, Dino-Sorcerer is probably best remembered as one of the last games coded by John Romero before he left SoftDisk to form id Software with John and Adrian Carmack. Not really a game, Dino-Sorcerer lets you create fictional dinosaurs from various parts, e.g. tail,...
---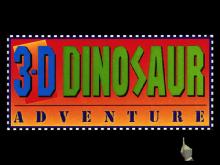 Dinosaur Adventure 1993
3-D Dinosaur Adventure is an educational game about the many types of dinosaurs from Earth's past. As the title suggests, the game has several areas that make use of the included blue-red 3-D glasses that make the dinosaurs appear to leap off the computer screen. Kids can learn using the...
---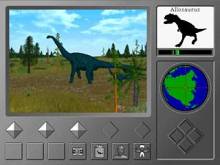 Dinosaur Safari 1996
Dinosaurs. There pretty much aint a kid around who wasn't at one point or another utterly fascinated with these giant reptiles. Of course, where children find fun, companies quickly find money. That is the usual course of things, and "dinomania" is no exception. Hence we get dinosaur movies, comic books......
---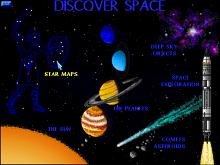 Discover Space 1992
Discover Space is an excellent desktop planetary program from Broderbund, makers of numerous prize-winning edutainment titles including the world-famous Where in [X] is Carmen Sandiego? series. Contrary to Broderbund's most other programs, Discover in Space is more of an application than an edutainment title or a game. It basically lets...
---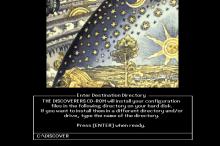 Discoverers, The 1994
The Discoverers is a multimedia interactive CD with mini-games, based on a IMAX documentary about historical figures that achieved great advances in science. The film itself is based on a book by the Pulitzer winner Daniel Boorstin, and it is included in its entirety on the CD. It can be...
---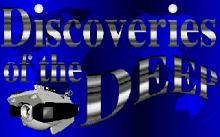 Discoveries of The Deep 1993
A pseudo-scientific adventure game. Using ships and submarines, search for lost treasure, sunken ships (including the Titanic), trenches, etc. ...
---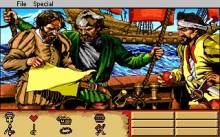 Discovering America 1994
This is an educational history game based on the Spanish exploration of America. You are placed on the shoes of a conquistador as he explores the southeastern region of North America, by selecting regions to explore from a map and picking up any gold and knowledge you find on the...
---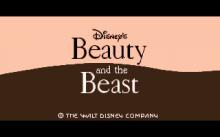 Disney's Beauty and the Beast: Be Our Guest 1992
Based on the popular animated film Beauty and the Beast, Disney's Beauty and the Beast: Be Our Guest takes place on a special day at the Beast's dark and remote castle. After years of hopeless frustration, the Beast, formerly a handsome prince, finally has a chance to break the spell...
---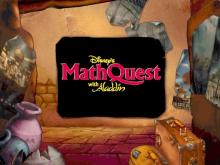 Disney's MathQuest with Aladdin 1998
While this title is several years old, it prevails because it is so well done. MathQuest with Aladdin combines an engaging storyline with outstanding mathematical logic puzzles. As children help rescue Aladdin, Jasmine, and Abu from a spell cast by an evil genie, they must travel around Agrabah and play...
---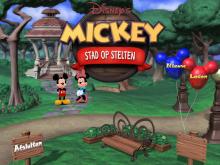 Disney's Mickey Saves the Day: 3D Adventure 2001
Play as Mickey or Minnie Mouse while exploring more than 25 locations in Mickey's hometown. Complete a wide variety of tasks, from preparing a sandwich to helping Von Drake complete his flying machine. Disney's Mickey Saves the Day features adjustable skill levels and teaches players the benefits of cooperation and...
---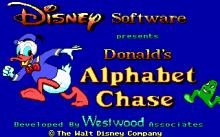 Donald's Alphabet Chase 1988
The alphabet pets have escaped from the toy box at Donald Duck's house. Players must round up all 26 letters by helping Donald search six locations around his house, including the kitchen, backyard, and living room. ...
---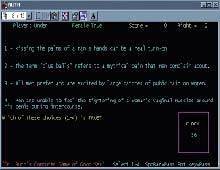 Dr Ruth's Computer Game of Good Sex 1986
A text based quiz game about human sexuality. Dr. Ruth did the questions along with her researchers. It is a time based quiz game where you have multiple choice. These are not obvious and sometimes you have to choose the only true or false answer among the four or five...
---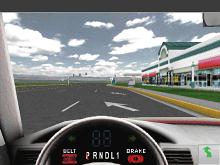 Driver's Education '98 1998
One of the last titles published under Sierra's "Discovery Series" brand, Driver's Education from Dynamix is an excellent edutainment program designed to teach youngsters the basics of safe driving: including the rules of the road, laws, spotting and understanding road signs, and safety precautions. So confident were the developers of...
---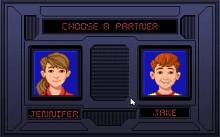 Eagle Eye Mysteries 1993
Eagle Eye Mysteries is an educational game which incorporates some unique gameplay ideas not seen in many other games. A bit like Law and Order for kids, the game has over 50 different mysteries to solve, ranging from missing items to dug up skeletons to mysterious sea monster sightings to...
---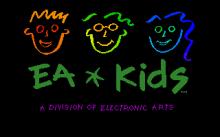 Eagle Eye Mysteries in London 1994
Eagle Eye Detective Agency is back and this time they are solving mysteries in London! Help Jake and Jennifer Eagle solve over 50 mysteries while enjoying some sight-seeing and learning about the landmarks of London. Collect clues and review them in your mini palm top-like computer, T.R.A.V.I.S (Text Retrieval And Video...
---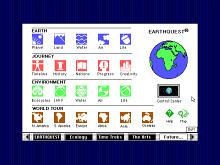 Earth Quest 1990
Part of the aborted Quest series, Earth Quest is not really a game but a very well-done reference program that packs an incredibly *huge* amount of information on a few 3.5" disks. It's one of the early, well-written "encyclopedia" programs. The interface is intuitive (for those who knows Hypercard for...
---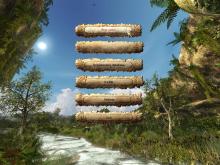 ECHO: Secrets of the Lost Cavern 2005
This unusual graphic adventure is set in a prehistoric time and casts players as a hunter-gatherer hero at the dawn of human civilization. While the point-and-click interface and inventory puzzles should be familiar to fans of the genre, players will be transported to a world not seen by human eyes...
---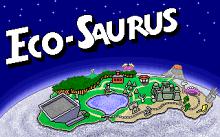 Eco-Saurus (a.k.a. Zug's Adventures on Eco-Island) 1991
Eco-Saurus is an excellent edutainment title from First Byte. Designed to teach kids about environmental conservation, you join friendly dinosaur Zug as an Environmental Conservation Official (E.C.O.) on a mission to save Eco Island and rescue his alien friend M-Kar. By conserving energy and collecting recyclable materials from local inhabitants,...
---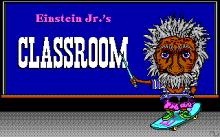 Einstein Jr.'s Classroom 1992
Einstein Jr.'s Classroom is a fun edutainment title that teaches a wide variety of subjects in easy-to-learn mini-games (although most of them are some form of quiz). Designed for age 8 and up, the program teaches math, science, history, geography, and language via 20 different interactive educational programs, each with...
---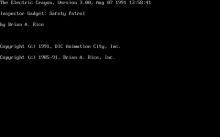 Electric Crayon 3.0: Inspector Gadget: Safety Patrol 1991
Inspector Gadget: Safety Patrol is another title in the Electric Crayon series. The game is a coloring book with 30 illustrations, with the characters of the famous TV cartoon "Inspector Gadget" that include safety education messages. There are 16 colors "in screen" for coloring the pictures, but the user has the...
---
Educational Games:
01
&nbsp
02
&nbsp
03
&nbsp
04
&nbsp
05
&nbsp
06
&nbsp
07
&nbsp
08
&nbsp
09
&nbsp
10
&nbsp
11
&nbsp