Educational Games #6
Search a Classic Game: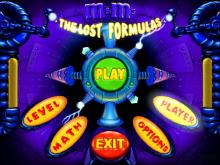 M&M's: The Lost Formulas 2000
M&M's: The Lost Formulas is an engaging game where players take on the role of Yellow, the peanut M&M. Your job is to track down the lost formulas that the M&M's Minis have stolen and hidden in the factory. Finding the hidden pieces of the formula requires breaking boxes of...
---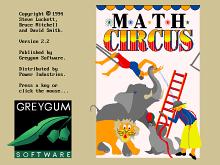 M*A*T*H*S Circus (a.k.a. Maths Circus) 1992
Definitely one of the best math titles ever made, M*A*T*H*S Circus is a collection of puzzle-like math-oriented activities for all ages. Although it may appear to be a program for young kids, don't let the circus themes fool you. The themes actually serve as clever hooks for problems and puzzles...
---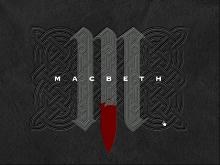 Macbeth 1995
One of the best CD-ROMs ever made and in my humble opinion the best software ever made about Shakespeare's works, Voyager's Macbeth is a masterpiece in literary CD-ROM. The CD not only includes the fully indexed and searchable text of Shakespeare's famous tragedy (based on the recently published Cambridge edition,...
---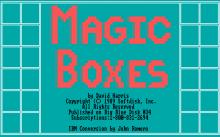 Magic Boxes 1989
A mathematical game with a twist: you are given a four by four equation lattice with the symbols and numbers missing. Your job is to fill in the squares so that all the equations across and down are correct. You have a set of numbers and symbols at the bottom...
---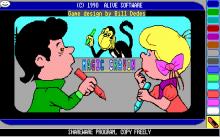 Magic Crayon 1996
Magic Crayon is a children's coloring book game where you get to color more than 30 pictures. You can color in four different parts: Shading, Cartoon Critters, Coloring Book and Learning color. In Shading you look at a picture of a animal or plant and try to see if you...
---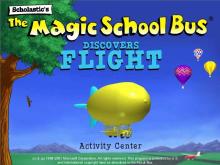 Magic School Bus Discovers Flight 2001
Children join Ms. Frizzle and her class as they field-trip to the Walkerville Air Show. Upon arrival, children explore to find four multi-level games, two interactive experiments, two creative activities, three short videos, and loads of interesting facts - all focusing on flight, animals that can fly, and aviation. The games...
---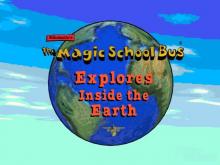 Magic School Bus Explores Inside the Earth 1996

---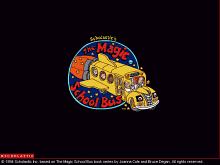 Magic School Bus Explores the Human Body 1994
This multimedia science adventure from the Microsoft Home Series in which Microsoft and Scholastic have combined to produce quality software for children is a sheer delight. Based on the Magic School Bus stories by Joanna Cole, and illustrated by Bruce Degen, it goes well beyond the electronic book. Educational and fun,...
---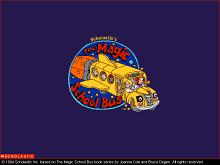 Magic School Bus Explores the Solar System 1994

---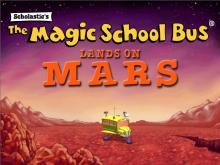 Magic School Bus Lands on Mars 2000

---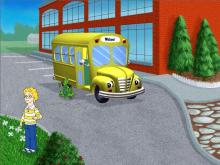 Magic School Bus Volcano Adventure 2001
Players ride with the famous Ms. Frizzle on her "Magic School Bus" as she takes her class on a fieldtrip to a Volcano Observation Station. While there, kids learn about volcanoes by exploring three experiments, four activities, three multi-leveled games, and several short videos. This interactive environment is also "erupting"...
---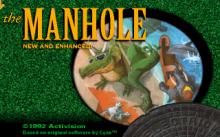 Manhole Enhanced, The 1992
The Manhole: New and Enhanced is a 256 colour graphical update to the game The Manhole with new CD audio tracks in the way of music. The gameplay and level makeup is exactly the same and it contains English as well as Japanese text. ...
---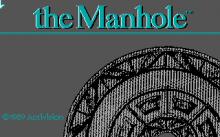 Manhole, The 1989
In the game you are a child jumped in the magical world filled with characters of Alice in Wonderland, fairy tales and Discovery channel. Clicking your mouse on some object on the screen make it do an action, which can lead you to another screen. Walking around absolutely free world,...
---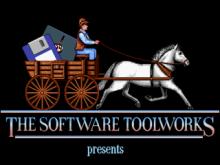 Mario is Missing 1992
Bowser, the token bad guy from the Mario Bros. series, is up to no good again in this educational game designed to teach children geography. This time he's set up his headquarters in Antarctica and created portals to 25 famous cities around the world, so that his Koopas can wreak...
---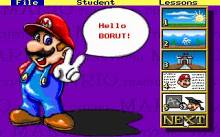 Mario Teaches Typing 1992
Mario comes to the PC, in the form of a typing tutor. In this product you get to play one of four games, of progressing difficulty (as either Mario, Luigi or the Princess): Mario's Smash & Dash: Assist your character run past a series of boxes and turtles, each labelled with a...
---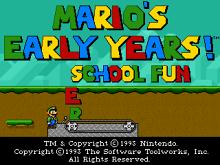 Mario's Early Years! Preschool Fun 1993
The third and last title in Software Toolworks' relatively unknown Mario Early Years! educational series, Preschool Fun is a fun game that teaches toddlers about basic concepts, such as numbers, colors, shapes, and sizes. The game features various activities starring both Mario and his brother Luigi, as well as other...
---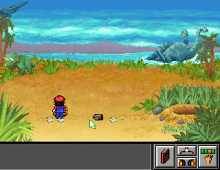 Mario's Time Machine 1993
An edutainment title starring Nintendo's best known game character and friends, Mario's Time Machine features colorful graphics, fun historical factoids from the various eras, but is ultimately bogged down with frustrating action sequences that have little educational value. In his latest evil scheme, Bowser has stolen 14 important items from...
---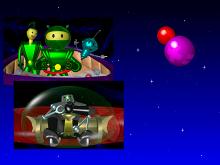 Math Blaster Episode 2: Secret of the Lost City 1995

---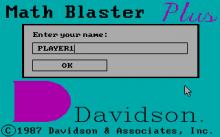 Math Blaster Plus! 1987
Turn your computer into a math tutorial with Math Blaster Plus! Designed to help children learn addition, subtraction, multiplication, division, fractions, decimals and percents, the game features more than 750 math problems (grouped into 30 stages representing various levels of difficulty) and comes equipped with an editor that lets you...
---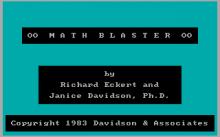 Math Blaster! 1986
An educational "action" game that can teach math to children from grades 1 through 6. Students can practice addition, subtraction, multiplication, and division. Another level, for fractions/percents/decimals contains 5 sub-levels teaching reduction of common fractions, renaming improper fractions, renaming common fractions to decimals, renaming decimals as percents, and renaming percents...
---
---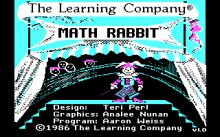 Math Rabbit 1986
Math Rabbit is an educational game for ages 5-7. Included are four games which are designed to help build math skills. ...
---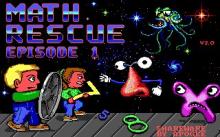 Math Rescue 1992
Sort of a sequel to Word Rescue, the mean bad aliens (I think they were aliens) Gruzzles are at it again, this time stealing the numbers of the world. An educational/side-scroller game, Math Rescue has very little gameplay differences with its predecessor, save for the fact that you now solve...
---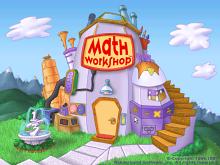 Math Workshop 1995

---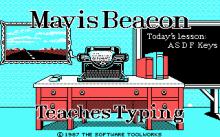 Mavis Beacon Teaches Typing 1987
Beautiful African female teacher Mavis Beacon enlists you in class to learn the touch typing. The lessons are explained on chalkboard, and you have to type the proposed words with the certain set of keys by typing them with proper fingers. The keyboard and fingers are shown as well as...
---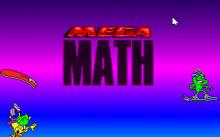 Mega Math 1992
One of the least known Sierra game ever, Mega Math is the last title in short-lived Turbo Learning series. Kids will learn simple algebra through 3 mini games, and take tests to advance to the next level. ...
---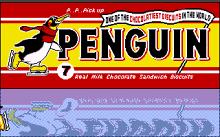 Merlin's Math 1992
Merlin's Math is a decent math program designed to teach young kids the basics of algebra. Designed mainly as a promotional product for Penguin chocolate, the game is much shorter than a typical edutainment title, although it does have enough colorful cartoons to keep kids happy while they figure out...
---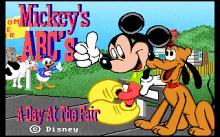 Mickey's ABC's: A Day at the Fair 1992
Mickey's ABC's: A Day at the Fair is an educational game for pre-schoolers, aimed to familiarize them with the alphabet. The game is a licensed product featuring Mickey Mouse and other Disney characters. The player has the choice between two scenarios, Mickey's home and the fair. In each of those,...
---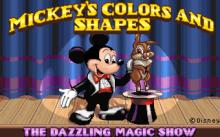 Mickey's Colors & Shapes 1991
In Mickey's Colors & Shapes he will take the role of a magician performing a magic show. The game helps young children to start visually identifying shapes and color matching, while Mickey talks and provides supportive feedback for the puzzles presented as magic. Minnie Mouse is his assistant between acts....
---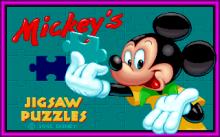 Mickey's Jigsaw Puzzles 1991
Mickey's Jigsaw Puzzles is a simple, early child development, shape-learning game for young kids. It allows the player to select from among 15 different pictures of Mickey and friends. Players can select how many pieces should the jigsaw puzzle have to allow for many different skill levels of children. Once...
---
Educational Games:
01
&nbsp
02
&nbsp
03
&nbsp
04
&nbsp
05
&nbsp
06
&nbsp
07
&nbsp
08
&nbsp
09
&nbsp
10
&nbsp
11
&nbsp