Educational Games #16
Search a Classic Game: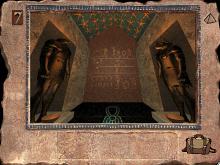 Pyramid: Challenge of the Pharaoh's Dream 1996
Pyramid: Challenge of the Pharoah's Dream is an educational game about Ancient Egypt. Your character will be guided by two of the most important gods: Anubis and Ra. The objective? Make the pharaoh's dream come true: build the pyramid for his eternal rest. In order to do this you'll have...
---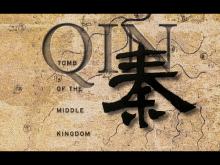 Qin: Tomb of the Middle Kingdom 1995
The game is set in China in 2010. You're part of an international group to excavate the tomb of Qin Shi Huangdi, the greatest secret of the ancient world. Somehow, you get trapped inside the tomb. ...
---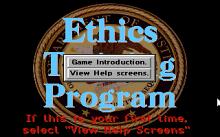 Quandaries 1998
Probably Bob Bates' most obscure "game," Quandaries is an excellent and unique edutainment titles designed to teach professional ethics to federal agents. Designed under contract for Ethics Office of the US Department of Justice, Quandaries combines Bates' expertise in storytelling and writing with DoJ's professional experience to create a very...
---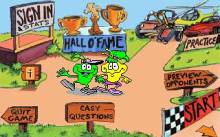 Quarky and Quaysoo's Turbo Science 1992
The indian-originated space elf Quarky O'Ghandi and his sister Quaysoo organized a team Los Turbos to beat well-known Das Liquidators, Cool City Maulers, and Valiant Cube. Answering correctly on questions, you as member of Los Turbos must earn money to move between check points, and to win a race. A...
---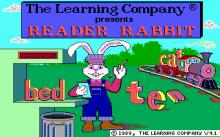 Reader Rabbit 1989
Join Reader Rabbit as he takes your child through his Fabulous Word Factory, where he will provide games that build reading, spelling and vocabulary skills. In addition to learning about words, your boy or girl will improve his or her memory, concentration and spatial awareness. Inside the factory, your child will...
---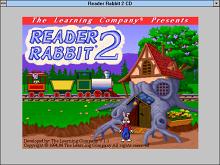 Reader Rabbit 2 1993
Reader Rabbit 2 is a solid piece of educational software which really helps younger children become better readers, although it's not without its flaws. The Learning Company obviously steeps its software in an educational -- as opposed to an edutainment -- background, which is good. Parents should know that this...
---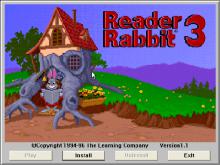 Reader Rabbit 3 1996
Reader Rabbit 3 is part of Reader Rabbit series, that is aimed at older children. When the Daily Skywriter News Company of World-ville needs some help, Reader Rabbit goes their to volunteer. In four different activities you try to match a word, or a sentence with seven word types who,...
---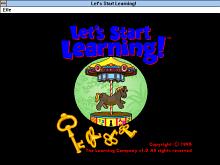 Reader Rabbit and Friends: Let's Start Learning 1997
Reader Rabbit and his friends lead preschool children through a wondrous, interactive playworld. They'll build confidence as they discover and develop learning essentials. Plus, they'll sing and dance, wiggle and giggle, and more. ABC Diner: Reader Rabbit serves up a progression of skills - from matching letters to recognizing letters...
---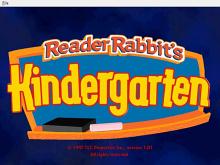 Reader Rabbit's Kindergarten 1997
The Reader Rabbit series consists of several software packages aimed at younger children, toddlers, and babies and designed to be both educational and fun. Children help Reader Rabbit prepare for a campfire party by participating in games and activities designed to develop reading, arithmetic, and basic problem solving skills. ...
---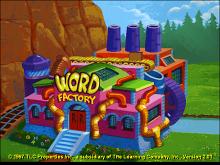 Reader Rabbit's Reading 1 1997
Reader Rabbit's Reading 1 is an updated version of the original Reader Rabbit educational game for DOS. In this edition, The Learning Company's trademark Rabbit is dismayed to learn that all the words in Wordville have been lost from the books, newspapers and letters; the player's goal is to load...
---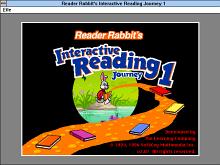 Reader Rabbit's Reading Journey 1 1996
Reader Rabbit's Interactive Reading Journey 1 is a useful program to have around the house for any parent whose child is learning how to read. While the characters, sound effects, and other multi-media aspects of the game are so-so, the amount of material is in depth and there was obviously...
---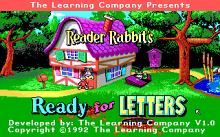 Reader Rabbit's Ready for Letters 1992
Reader Rabbit's Ready for Letters is another superb release in The Learning Company's excellent Reader Rabbit edutainment series. Tailored to pre-schoolers, this program contains six activities designed to improve kids' cognitive and early language skills. The activities include: Music Pond, in which kids must find the musicians and direct the...
---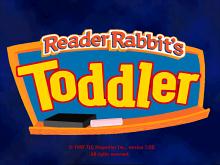 Reader Rabbit's Toddler 1997
Reader Rabbit Toddler contains both active and passive activities, so even the youngest of the 18-month to three-year-old target audience can sit on an adult's lap and enjoy the onscreen action. After a child is old enough to pick up the mouse without chewing on it, he or she can...
---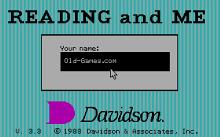 Reading and Me 1988
Reading and Me is a collection of games and activities designed for beginner readers, ages 4 to 7. The game is not as fun as Davidson's other games-- perhaps because the company is better at designing games for older kids than toddlers. Still, the lack of variety in the game...
---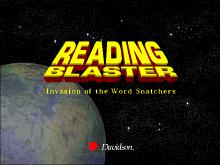 Reading Blaster: Invasion of the Word Snatchers 1994
Builds first through fourth grade reading and thinking skills! Blasternaut and his friends have finally arrived in the world of words! Reading Blaster: Invasion of the Word Snatchers brings all the learning and fun that made Math Blaster the world's best-selling math program into an exciting new reading adventure game....
---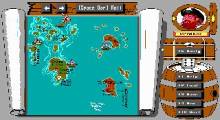 Redhook's Revenge 1993
Redhook's Revenge is a Pirate-based board game and trivia. Choose your pirate captain and then play against two other human or computer controlled players. Then roll the dice and travel the designed number of spaces over the seaways. Your objective is to reach the home port with as much booty...
---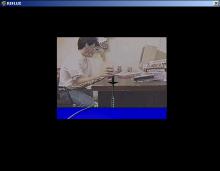 Reflux: Issue.01 - "The Becoming" 1995
Billing itself as "the world's first live-action graphic novel," Reflux: Issue.01 -- "The Becoming" is the first in a series of planned quarterly releases from Inverse Ink (though only three were released). Through 20 pages of interactive comic book action, you follow the adventures of Flux, a morphing superhero tapped...
---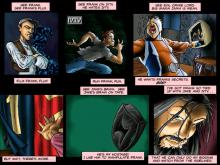 Reflux: Issue.02 - "The Threshold" 1995
The Threshold is the second installment in the Reflux series of games. It continues the story of Frank Corwin a.k.a. "Flux", who at this point is forced to leave the Hong Kong Gui virtual world and return to the real world in an attempt to escape the mobster Big Mama...
---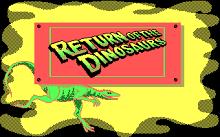 Return of The Dinosaur 1988
Return of The Dinosaur is a fun board-game style detective game designed to teach kids facts about their most favorite animals of all time. The premise is that your hometown is suddenly overrun by dinosaurs, thanks to professor T. Rex' malfunctioned time transporter. You have four days to find and...
---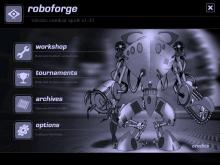 Roboforge 2001
Similar to the BattleBots competitions televised on Comedy Central, RoboForge allows players to design combat-oriented robots and enter them in online tournaments. The process of designing a robot is broken down into three stages: Construction, Training and Testing. During the Construction phase, players put together their robot piece by piece in...
---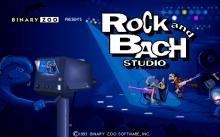 Rock & Bach Studio 1993
Rock and Bach Studio is the third game in the educational Adventures with Edison series. The game focuses on famous composers of classical music. The plot revolves around a certain studio that produces musical video clips. Accompanied by Edison, the player takes part in whole life-cycle of such a production. First...
---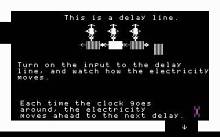 Rocky's Boots 1985
Rocky's Boots is a simple educational puzzle game where you can learn about logic circuits. You control a nondescript square, moving it about several rooms. Each room contains basic electronic parts like AND, OR and NOT gates, flip-flops, delays and clocks. You can pick these up and combine them to build...
---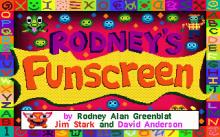 Rodney's Funscreen 1992
Rodney's Funscreen is an early children's game designed by Rodney Greenblat, later responsible for the art in the Parappa the Rapper series. The game has five activities that can be accessed directly from the main menu. The aim of these mini-games is to teach preschool kids how to use the...
---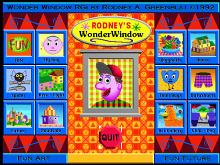 Rodney's Wonder Window 1992
A wild showcase of inventive computer art comes to your home with 23 colorful, interactive episodes canvassing digital hamsters, kissing houses, and electronic roadside attractions that will amuse and inveigle small children and sophisticated grown-ups alike. ...
---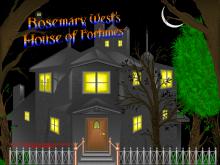 Rosemary West's House of Fortunes 1993
Visiting the House of Fortunes at night, the player registers in a book his/her arrival along with other visitors. Rosemary welcomes the player and proposes five kinds of predictions of his/her fortune in a playable, interactive manner. These are Astrology, Crystal Ball, Numerology, I Ching, and Tarot. Each room has...
---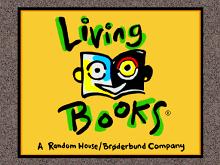 Ruff's Bone 1994
Ruff's Bone is a Living Book created by Eli Noyes, who is best known for his work for Sesame Street, Disney, Pixar, Nickelodeon, and countless others. In this story, Ruff is so excited about his bone, but when his trainer throws it in the yard, Ruff has to go look for...
---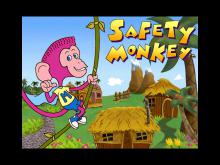 Safety Monkey 1994
Safety Monkey is an edutainment game that teaches children basic safety in a variety of locations. The child can click on certain areas of the screen to receive more information about an area or item and how to use it safely. In some scenarios the child is asked what action...
---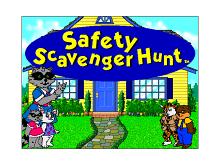 Safety Scavenger Hunt 1994
In this scavenger hunt with a twist, the animated alphabet pals learn to recognize safety hazards around the home and prevent accidents. This delightful story-game offers talking cartoons, learning activities, music, surprise click animation, and a safety guide for parents. We're delighted to introduce Amy, Zak and the Alphabet Pals,...
---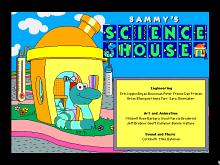 Sammy's Science House 1994
The third game in Edmark's Early Learning series, Sammy's Science House is an educational game designed for younger children to use. The interface is completely point-and-click and click & drag, and instructions are given verbally, repeatable as needed. The player is taken to the main screen where Sammy Snake sits on...
---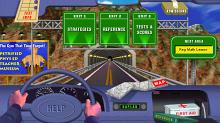 SAT Roadtrip 96 1995

---