Educational Games #10
Search a Classic Game: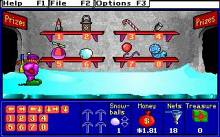 Super Solvers - Treasure MathStorm 1992
Treasure MathStorm! is an educational game designed for kids ages 6 to 8. The Master of Mischief has invented a machine that changes the weather and froze Treasure Mountain! Your goal is to restore the mountain by locating different treasures on the mountain and returning them to the castle at...
---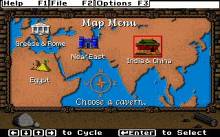 Super Solvers: Ancient Empires (a.k.a. Challenge of the Ancient Empires) 1990
As a Super Solver, your job is to recover the hidden treasures of the ancient world in 4 caverns (Greece & Rome, Egypt, India & China and Near East) to reach the fifth and final cavern where the ultimate challenge awaits you. Challenge of the Ancient Empires is a platform...
---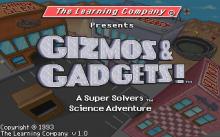 Super Solvers: Gizmos & Gadgets 1993
The object of this game is to defeat Morty Maxwell, the Master of Mischief by beating him in fifteen races. 5 of them in Automobiles, 5 in Alternate Energy vehicles, and 5 in Airplanes. Players have some leeway during the first races, but as the number of races they win climbs...
---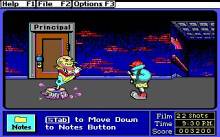 Super Solvers: Midnight Rescue 1989
The Master of Mischief is planning on making Shady Glen School disappear! He has invented disappearing paint, and turned five paint brushes into robots to paint the school at midnight. The Master of Mischief himself is disguised as a robot, and it is your job to find him. Hidden throughout...
---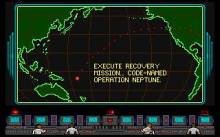 Super Solvers: Operation Neptune 1991
A crashed space capsule containing vital information from a space expedition is polluting the ocean. Your job is to pilot your submarine through an under sea maze, gather all the pieces of the fallen capsule, and uncover the mystery of the space expedition. While navigating your submarine you will frequently run...
---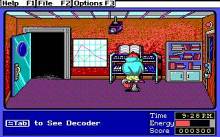 Super Solvers: Outnumbered! 1990
One of the education games aimed for older elementary students, from The Learning Company's classic Super Solver's series. The Master of Mischief is up to his old tricks and now is trying to take over the Shady Glen TV Station, with the help from his robot Tele. Now the Super Solver...
---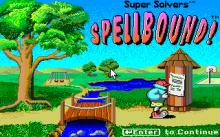 Super Solvers: Spellbound! 1991
The Master of Mischief is at it again. This time he has devised a great spelling be in which he will submit robots to win the spelling bee for him! When you first log in you will be asked to chose a category of words (Holiday, homophones, etc.).You are then...
---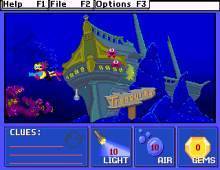 Super Solvers: Treasure Cove 1992
If your kids love the ocean or even just animals, they will love Treasure Cove!. Kids have to plug holes in the reef and find the jewels that made up Rainbow Bridge. They must reconstruct the bridge to Invention Island to bring The Master of Mischief to justice. Kids will start...
---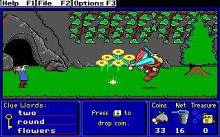 Super Solvers: Treasure Mountain 1990
Treasure Mountain is the forerunner to the popular kids game Treasure Cove. Both games pit kids against the Master of Mischief, a villain who thrives on creating what else but mischief. Players must wander through the levels of the mountain finding the elves who have a scroll in their hand. If...
---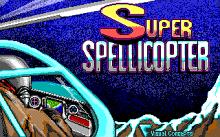 Super Spellicopter 1991
Super Spellicopter is a fun spelling game designed to help motivate kids aged 5 to 12 to become good spellers. The game expands upon the 1983 classic edutainment title, Spellicopter by DesignWare by adding several enhancements, most notably bright EGA graphics. The education is presented in a fun first-person flying simulation....
---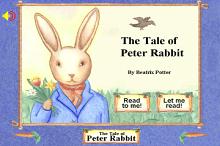 Tale of Peter Rabbit 1993
Tale of Peter Rabbit is a decent interactive storybook for kids based on a classic tale that unfortunately isn't very interactive, although it has excellent illustrations that bring the story to life. The format is familiar and simple: the game consists of several dozen "pages," each of which can be...
---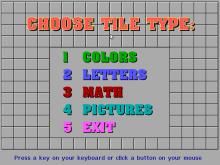 Teaching Tiles 1997
Teaching Tiles is a shareware, educational, tile matching game for DOS. The game is plated on a grid and the object is to reveal all the tiles. The player clicks on a cell and the tile is turned over revealing a colour, a letter, or a number etc depending on the...
---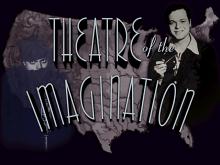 Theatre of The Imagination 1995
Yet another top-notch CD-ROM from Voyager Company, Theatre of the Imagination contains over 5 hours of audio from Orson Welles' "The Mercury Theater," undoubtedly the best "radio drama" program in the 1930s. The CD includes 15 full radio dramas spanning a wide range of themes and periods, from Shakespeare's classic...
---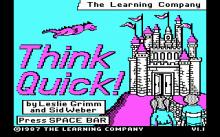 Think Quick! 1987
A dragon has taken over the Castle of Mystikar. To defeat the dragon, you must find the parts to build an enchanted knight which are spread throughout the castle. Numerous locked doors, many of which need to be opened in the proper order, block passageways. Roaming the halls are numerous...
---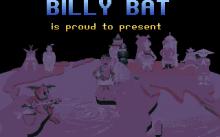 Thinking Games 2 1993
Billy Bat (odd looking bat to say the least) proudly brags that he's the fastest animal in the world. Robby the Rabbit challenges his claim with a bet to race around the world. As Robby the Rabbit races off in a cloud of dust, Billy Bat second guesses himself and...
---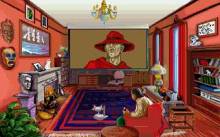 Time Riders in American History 1992
The notorious Dr. Thanatopsis Dread, to lend credibility to his bid for world domination, has employed devious means to convince the world that grand American accomplishments (1492-1905) are actually the work of his distinguished ancestors. The mysterious Benefactor has invited YOU! to join a crack team of whiz kids in...
---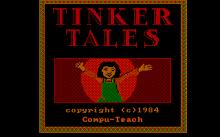 Tinker Tales 1984
One of the earliest "interactive storybook" for kids, Tinker Tales is an excellent title designed for young readers. The program contains 3 different stories, all centered around a young girl. The stories come complete with attractive pictures (albeit in CGA only) and good music. The gameplay is simple: press SPACEBAR to...
---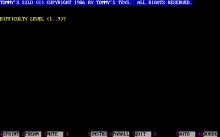 Tommy's Silo 1986
Tommy's Silo is a shareware, DOS, game that combines Missile Command style game play with a typing tutor. The game has the player being in command of a missile base somewhere in Kansas. Missiles rain down missiles onto the player. Each missile has an associated number or letter which the player...
---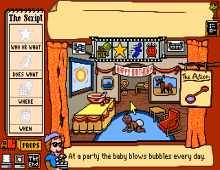 Treehouse, The 1991
The Treehouse is a game intended as a supplement to first and second grade learning. As such, it does its job fairly well. It can also be used to prepare children for some of the concepts and skills they will need in first and second grade, as long as a...
---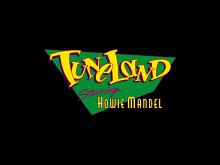 TuneLand 1994

---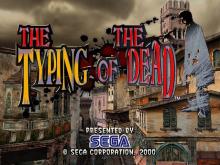 Typing of the Dead, The 2001
Typing of the Dead is essentially Sega's House of the Dead 2, a shooter released as an arcade game and then ported to the Dreamcast. Instead of shooting at zombies with a gun, though, you type them to death, which, in a strange way, makes the game more exciting than...
---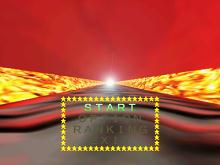 Typing Racer 1999
Typing Racer is a fun 3D racing game designed to help improve your typing in a fun and addictive way. In this "rail shooter" (i.e. you don't have control over your movement), alphabets (or numbers, depending on what you choose at start-up screen) are scattered around the course. Your objective...
---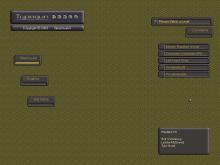 Typogun 2004
Typogun is a fun and very professional-looking freeware typing game - a rare breed. Putting a unique twist on the overhead action genre, Typogun puts you in control of a stationary ground terret that must defend itself against an onslaught of enemy units. You 'destroy' enemy units by typing the...
---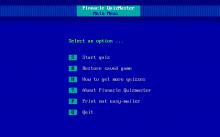 Ultra-Quiz 1992
You are invited to test your mental acumen and retention of trivial details facing up against a formidable array of 100 "fill-in-the-blank" questions pertaining to both facts literary and historical as well as deciphering codes and unraveling wordplay, with a few characters from the correct response provided to point you...
---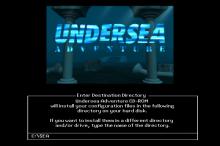 Undersea Adventure 1993
Undersea Adventure is a 2D adventure that aims to educate children on ocean life. The player explores the sea in a submarine while learning geology, marine biology, geography, oceanography, and ecology through nine mini-games and activities. The game includes hundreds of photos as well as movies of undersea life and...
---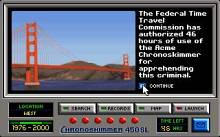 Where in America's Past is Carmen Sandiego? 1991
As an ACME Detective Agency greenhorn in the pursuit of Carmen Sandiego, you employ your Chronoskimmer 450SL to travel through time in the search of the next clue that eventually results in the recovery of the stolen item, apprehension of the theif, and the eventual capture of Carmen herself. Not much...
---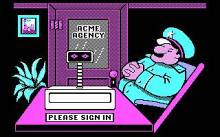 Where in Europe is Carmen Sandiego? 1988
Third in the Carmen Sandiego series, you resume your detective role in pursuit of Carmen and her gang in 34 different European nations. Comes with Rand McNally's Concise Atlas of Europe. ...
---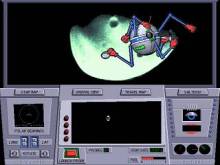 Where in Space is Carmen Sandiego? 1993
Where in Space is Carmen Sandiego uses the original formula from the first 4 games in the series (Where In The World, Where in Europe, Where In Time, Where in the USA) and extends it to our knowledge of astronomy and space. Carmen has shifted to space with her gang...
---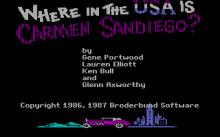 Where in the USA is Carmen Sandiego? 1986
The world's most infamous thief, Carmen Sandiego, has escaped from prison in Europe. Worse yet, word has it that she is reorganizing the Villain's International League of Evil (V.I.L.E.) right here in America! As a detective in the Acme Detective Agency, it's up to you to make sure she and...
---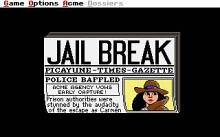 Where in The USA is Carmen Sandiego? (Enhanced) 1992
This time you continue to catch Carmen Sandiego and her american gang in the U.S.A. Breaking from jail somewhere in Europe, she comes to yankees to steal their treasures. You as ACME detective have to travel from town to town on the tail of suspect, using clues and collecting evidences,...
---
Educational Games:
01
&nbsp
02
&nbsp
03
&nbsp
04
&nbsp
05
&nbsp
06
&nbsp
07
&nbsp
08
&nbsp
09
&nbsp
10
&nbsp
11
&nbsp