Role playing Games #4
Search a Classic Game: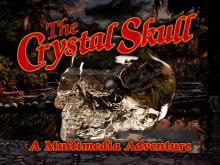 Crystal Skull, The 1996
While The Crystal Skull is an interesting game, it lacks any excitement. Moving a cursor, pointing, and then clicking is about all you do. Graphically, the playing screen only covers about 2/3 of the monitor's screen. Characters are all live-action, though some of them have been manipulated in appearance. The...
---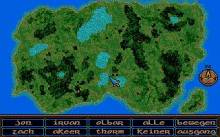 Crystals Of Arborea 1994
You have to hand it to them: bad guys are cool. I mean, who can recruit googols of henchmen to fight for their cause even if that cause is to destroy the entire world? Well, in the old days, it was normal to make plots not that complicated. In Crystals...
---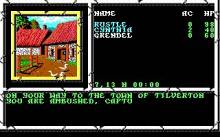 Curse of the Azure Bonds 1989
The follow-up to Pool of Radiance, Curse of the Azure Bonds continues the Advanced Dungeons & Dragons adventuring across the Forgotten Realms. After saving the city of Phlan, your party of six heroes decides to travel to Tilverton for some much needed rest and relaxation. Soon after you embark, however,...
---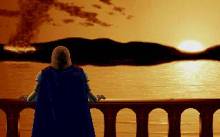 Daemonsgate 1992
When Daemonsgate was finally released after several delays in 1993, I was prepared to dislike it on principle alone -- afterall, like so many RPG fans at the time, I was desperate for a consuming, compelling and fun CRPG -- how could the designers keep us waiting like this? But,...
---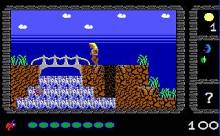 Dark Ages 1991
You are the prince and heir to the land's greatest kingdom. Garth, a wizard of immense power and greed, banished you as a child to far away while he ran the kingdom with an iron hand. As you grew, you were taught the ways of a master fighter. ...
---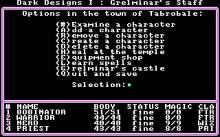 Dark Designs I: Grelminar's Staff 1991
In this fantasy role-playing game, an army of evil extra-dimensional creatures is building above the Gandolan mountains, threatening the civilized regions to the south. There is no army to defend the lands, but if a few hardy adventurers can find a magical staff in the castle of a long-dead mage...
---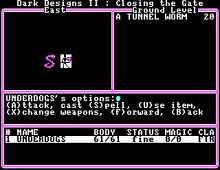 Dark Designs II: Closing The Gate 1991
Having recovered Grelminar's Staff in Dark Designs I: Grelminar's Staff, a group of adventurers must now journey to Mount Delkeina, traverse the dangerous tunnels there, defeat an evil warlord, and close the dimensional gate he is using to build an army of monsters. This sequel features the same gameplay as...
---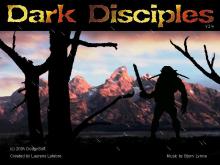 Dark Disciples 2004
Dark Disciples is a fun "lite" top-down RPG that emphasizes thieving skills over battles. You start the game as a village denizen in a typical fantasy town, going about your daily business. But it won't be long before you become a grudging new recruit in the army of Lord Saradin,...
---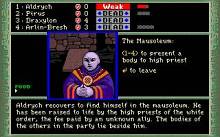 Dark Heart of Uukrul 1989
Four adventurers are sent by the Western Council to defeat out Uukrul, a great evil that once defeated the Ancients, thought to be destroyed, to possible invasion to the Western Lands. The last party sent by the council was lead by Mara, and it has been 18 months since they...
---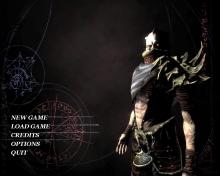 Dark Messiah: Might and Magic 2006
Ubisoft continues its resurrection of the classic 3DO series with this first-person role-playing release. Dark Messiah: Might and Magic features a campaign that begins 18 years after Heroes of Might and Magic V. Single players take the role of Sareth, to wield both might and magic against orcs, goblins, trolls,...
---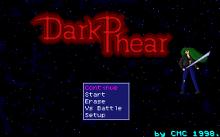 Dark Phear 2001
Dark Phear is an excellent freeware multi-character RPG created in Quick Basic. The plot is negligible, but somewhat interesting: last night you dreamt of Alicia, your long-lost love who disappeared from town ages ago. You woke up, only to find King Theos, ruler of the kingdom, cursed by an evil...
---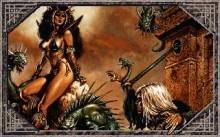 Dark Queen of Krynn, The 1992
The Dark Queen of Krynn is the last part in the Dragonlance RPG series using the standard game engine found in the Goldbox series (with slight enhancements). Evil, after failing two times before, finally tries to defeat Good and conquer the world of Krynn. This time, the Dark Queen herself will...
---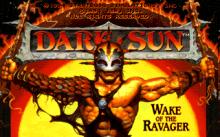 Dark Sun 2: Wake of the Ravager 1994
Dark Sun: Wake of the Ravager is the sequel to Dark Sun: Shattered Lands, the first CRPG game in the Advanced Dungeons & Dragons Dark Sun campaign setting. Wake of the Ravager incorporates some new elements introduced by the Dark Sun series to the basic AD&D rule set, as you...
---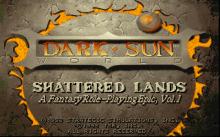 Dark Sun: Shattered Lands 1993
SSI took a giant leap technologically over their previous AD&D games with Dark Sun: Shattered Lands. However, despite being a good game, it is not as much fun as their first series that began with Pool of Radiance. Graphics are the major draw for this game. Half of the back of...
---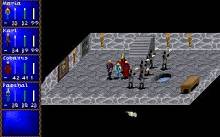 Darklands 1992
When Darklands was released in 1992, it was a cut above the usual fare found in the fantasy role-playing genre. It was ambitious in scope and teeming with detailed role-playing goodies and yet broke the mold somewhat from earlier efforts by (gasp!) not including any lengthy dungeon crawls and focusing...
---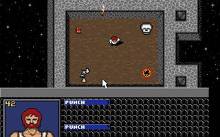 Darkspyre 1990
DarkSpyre, released in 1990, was in the forefront of the fantasy role playing genre. As such, the developer, James Namestka attempted to create a somewhat innovative game, breaking from some traditions of earlier game development. For the most part, the final product succeeded in giving the player a different type...
---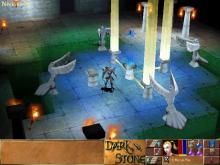 Darkstone 1999
As a computer RPG junkie, I tend to haunt my local stores often (gives my wife far too much time to shop around the mall) and have even been known to wait for them to unpack shipments received on any particular day. Normally the daily fare is predictable but once...
---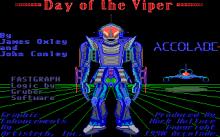 Day of the Viper 1990
The Sun League has been trying to fight back against the corrupted and oppressive Gar computer for many years. Now they have attacked a defense base. The only hope is for a Viper V droid to be sent in under your control to reactivate the planet's defenses. To do this, you...
---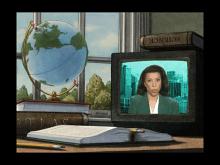 Day The World Broke, The 1998
The world is spinning out of control. Quite suddenly, it rained in the Sahara, large farm animals began floating off their ranches, a terrible forest fire broke out in the Amazon jungle, North Dakota and South Dakota switched places, and strangest of all, there were no traffic jams in Los...
---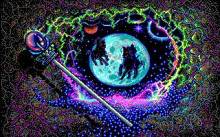 Death Knights of Krynn 1991
Advanced Dungeons & Dragons: Death Knights of Krynn picks up where the storyline of it predecessor, Champions of Krynn, ended. The party is celebrating its victory when a character who died valiantly in the first game reappears as a Death Knight riding an undead dragon. So begins another epic struggle...
---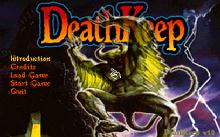 Deathkeep 1996
For many years, S.S.I. had the sole rights to the AD&D series on the desk-top computer. In the late eighties, they released some fairly popular titles, that were built on campaigns from the AD&D role playing universe. They employed a slightly modified perspective of what was available back then. The...
---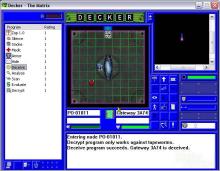 Decker 2002
Decker is a fun cyberpunk/hacking simulation set in the 22nd century, based entirely on the Cyberspace portions of Wizkid's popular Shadowrun pen & paper RPG game. Similar to Neuromancer and Uplink, you play a hacker who specializes in breaking into corporate computer systems, for which you are handsomely paid. Of...
---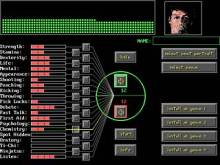 Defender of Boston 1992
Defender of Boston is a Role Playing Game where you take on the role of a Private Investigator, located in Boston in the year 1921. Your assignment is to go to an island called Rock Island to solve a mysterious disappearance of one Fred Black and an dangerous artifact described...
---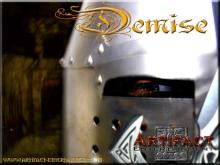 Demise: Rise of the Ku'tan 2000
Demise takes place in the city of Dejenol. First you must create a four-member-group of adventurers, choosing from 12 character classes with 9 different races. When you're done, you start slashing monsters in the nearby dungeons with no apparent reason. You play in the first- person, but the character's animation...
---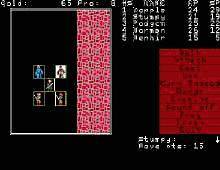 Demons Winter 1988
Despite being imprisoned within a volcano, the demon god Malifon has transformed the world into an arctic wasteland. In Demon's Winter, five adventurers embark on a treacherous quest to undo Malifon's curse and locate the spells needed to permanently end his dark influence. Choose from human, dwarf, elf, or dark...
---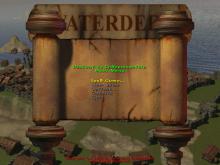 Descent to Undermountain 1998
In the city of Waterdeep, people are inexplicably disappearing. In this game, you are asked to descend into Undermountain to determine where they went. You'll explore an underground labyrinth in this Forgotten Realms (AD&D) game built with the Descent engine. Your goal is to find the eight pieces of an...
---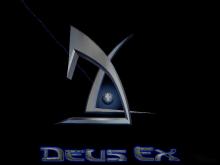 Deus Ex 2000
Deus Ex is a first-person shooter set in a dark, grim, near future. Gameplay is similar to that of Thief, with stealth being at least as important as racking up a high body count. There is no multi-player mode in the game -- it's just you against the computer. Disease ravages...
---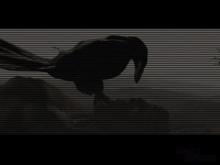 Diablo 1997
Who would have thought that a simple, point-and-click role-playing game could be so intense, or that slaying hordes of nightmarish creatures could be so addicting? Diablo quickly wins over its audience with polished gameplay, not intricate controls or a deep storyline. Blizzard's isometric-view RPG uses the most basic elements of...
---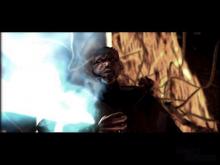 Diablo 2 2000
The original Diablo was a groundbreaking game. Not in terms of graphics, sound or even gameplay, the latter of which was essentially patterned after the coin-op classic Gauntlet. What Diablo did for the industry was revitalize a dying genre -- that of the role-playing game or RPG. Like one of...
---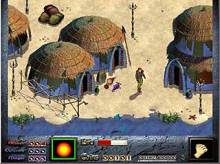 Dink Smallwood 1998
Here is Dink Smallwood, a very good RPG/Adventure game. It was made by RTsoft in 1999. It has good graphics and the sound doesn't strike any odd notes either. Another positive thing is that your adventures will often be filled with humor. You play the role of Dink, a young...
---