Role playing Games #4
Search a Classic Game: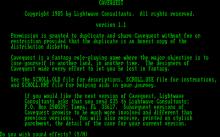 Cavequest 1985
Cavequest is an action-oriented fantasy role-playing game that does things a little differently. Zeus has chosen you to leave the Land of the Gods and become mortal on Earth. Before beginning your quest, you are given lifepoints to configure your intelligence, charisma, strength, dexterity, stamina, and wizard skills (unlike traditional...
---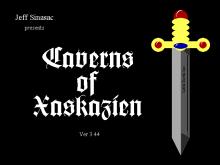 Caverns of Xaskazien 2005
Caverns of Xaskazien is a neat Windows remake (based on SDL) of an obscure but fun DOS Roguelike of the same name written by Jeff Sinasac as a shareware title. The original DOS game is a fun turn-based, tiled Roguelike that offers a decent gameplay and big bright icon graphics,...
---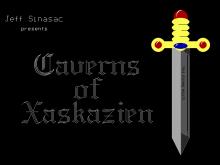 Caverns of Xaskazien 1995
A one player hack and slash role-playing game, this one depicts an adventurers struggle through thirty levels of randomly generated dungeons to confront the arch-demon, Xaskazien. ...
---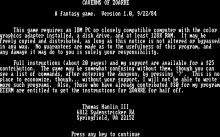 Caverns of Zoarre, The 1984
Caverns of Zoarre is a dungeon crawl role playing game similar to Telengard. You may choose to be either a fighter or a sorcerer as you explore the multi-leveled caverns for gold and treasures. Your view of the maze like caverns is top down, and only the area near you...
---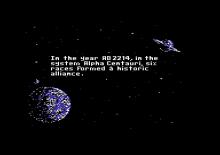 Centauri Alliance 1990
An excellent "hard" sci-fi game from the creator of legendary Bard's Tale, Centauri Alliance unfortunately remains relatively unknown-- in sharp contrast to that classic series. Calling the game "Bard's Tale in space" is not unaccurate, since Centauri Alliance is also a first-person, multi-character real-time RPG, and designer Michael Cranford evidently...
---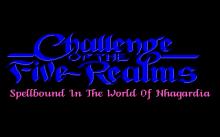 Challenge of The Five Realms 1992
The king is dead. The slimy lowlife that toasted him, Lord Grimnoth, has given you 100 days to turn over the crown of the kingdom (why he would do this after easily offing your dad is never quite explained) and you've had just about enough. So, you accept the Challenge...
---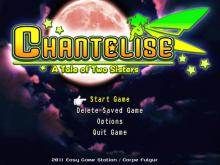 Chantelise: A Tale of Two Sisters 2011

---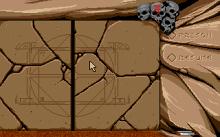 Chaos Strikes Back 2001
The sequel (Chaos Strikes Back is between Dungeon Master and Dungeon Master 2) to the great classic roleplay game Dungeon Master. Some people have regarded this as just an add on to the first Dungeon Master but really should be considered as a new game even though the developers of...
---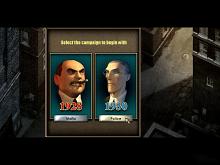 Chicago 1930 2004
In Chicago 1930, Spellbound Interactive presents a duo of tactical action-adventures through Prohibition-era Mafia mythology. Like the developer's Desperados: Wanted Dead or Alive and Robin Hood: The Legend of Sherwood, this game presents RPG-style missions in a real-time strategy context. Controlling a small squad of five characters, players must devise...
---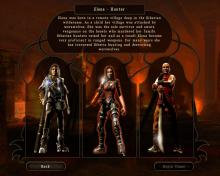 Chosen, The: Well of Souls 2006
Players must square off against armies of demons, devils, and other horrific creatures in The Chosen: Well of Souls. Set at the turn of the 19th century, gamers have to deal with a world cast into chaos by the evil sorcerer Marcus Dominus Ingens. Ingens eliminated every powerful alchemist in...
---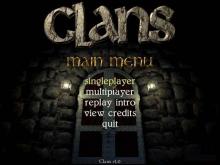 Clans 1999
The imposing castle gates loom directly in front of you. The peace and tranquility of the realm have been devastated by the return of the Demon and his dark minions. Each of the four Clans has selected the strongest, wisest and most courageous warrior to enter the Demon's multi-layered fortress...
---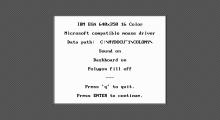 Colony, The 1988
You are a Space Marshall, investigating a distress call from the colony Delta 5-5. As you approach the planet, your ship comes in contact with a gravity well, and crash-lands. The landing drained your ship of all but minimal power, stranding you. After putting on your Power Armor, navigating the planet's surface...
---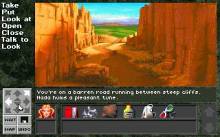 Companions of Xanth 1993
The gameplay in Companions of Xanth closely follows the book from which it is based. You assume the role of someone who has just bought a new computer game. As you begin to play it, you slowly get sucked into your computer, winding up in the world of Xanth. It...
---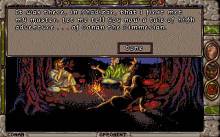 Conan The Cimmerian 1991
Conan: The Cimmerian was living happily as a blacksmith with his wife in the village of Irskuld, Cimmeria...until one fateful day. A group of horsemen raided his village... Conan was knocked unconscious, awakening only to find his wife and his friends butchered in the aftermath. Conan discovers architect of the slaughter...
---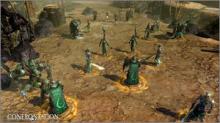 Confrontation 2012

---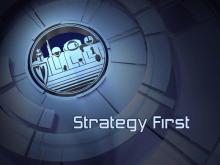 COPS 2170: The Power of Law 2004
Players take the role of rookie cop Katrin to step into the brave new world of 2170, where the power of law may be used as shield of protection or a tool of violence. Katrin comes to understand this for herself as she joins with a squad of fellow officers...
---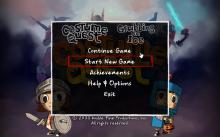 Costume Quest 2011
Players help a brother and sister defeat fiendish monsters who want to ruin Halloween in this offbeat RPG from the creator of Psychonauts and Brütal Legend. Gamers take on the role of Wren or Reynold as they go from house to house collecting candy, points, cards, battle stamps, and quest...
---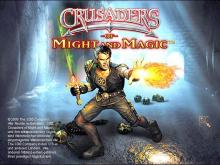 Crusaders of Might and Magic 1999
As the Might and Magic series continued expanding its horizons, Crusaders of Might and Magic attempted to saturate the series for all its worth by introducing a half action, half RPG into the mix. Borrowing from the Requiem: Avenging Angel engine, Crusaders makes use of a third-person viewpoint with the...
---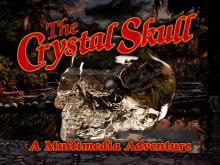 Crystal Skull, The 1996
While The Crystal Skull is an interesting game, it lacks any excitement. Moving a cursor, pointing, and then clicking is about all you do. Graphically, the playing screen only covers about 2/3 of the monitor's screen. Characters are all live-action, though some of them have been manipulated in appearance. The...
---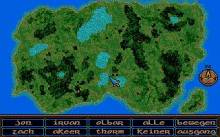 Crystals Of Arborea 1994
You have to hand it to them: bad guys are cool. I mean, who can recruit googols of henchmen to fight for their cause even if that cause is to destroy the entire world? Well, in the old days, it was normal to make plots not that complicated. In Crystals...
---
---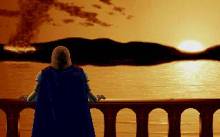 Daemonsgate 1992
When Daemonsgate was finally released after several delays in 1993, I was prepared to dislike it on principle alone -- afterall, like so many RPG fans at the time, I was desperate for a consuming, compelling and fun CRPG -- how could the designers keep us waiting like this? But,...
---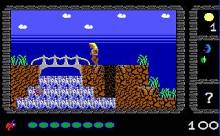 Dark Ages 1991
You are the prince and heir to the land's greatest kingdom. Garth, a wizard of immense power and greed, banished you as a child to far away while he ran the kingdom with an iron hand. As you grew, you were taught the ways of a master fighter. ...
---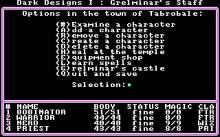 Dark Designs I: Grelminar's Staff 1991
In this fantasy role-playing game, an army of evil extra-dimensional creatures is building above the Gandolan mountains, threatening the civilized regions to the south. There is no army to defend the lands, but if a few hardy adventurers can find a magical staff in the castle of a long-dead mage...
---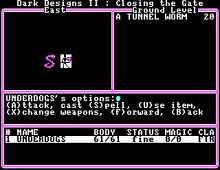 Dark Designs II: Closing The Gate 1991
Having recovered Grelminar's Staff in Dark Designs I: Grelminar's Staff, a group of adventurers must now journey to Mount Delkeina, traverse the dangerous tunnels there, defeat an evil warlord, and close the dimensional gate he is using to build an army of monsters. This sequel features the same gameplay as...
---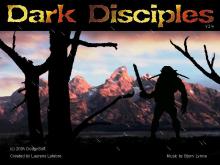 Dark Disciples 2004
Dark Disciples is a fun "lite" top-down RPG that emphasizes thieving skills over battles. You start the game as a village denizen in a typical fantasy town, going about your daily business. But it won't be long before you become a grudging new recruit in the army of Lord Saradin,...
---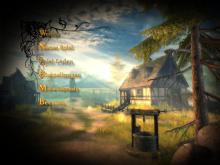 Dark Eye, The: Drakensang 2008
Germany's popular pen-and-paper role-playing game surfaces again, letting gamers visit a virtual version of Aventuria for the first time since the Realms of Arkania series graced PC screens in the mid-'90s. A single-player, squad-based action RPG in the vein of Neverwinter Nights, The Dark Eye: Drakensang begins by letting gamers...
---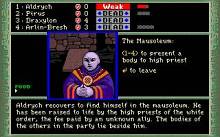 Dark Heart of Uukrul 1989
Four adventurers are sent by the Western Council to defeat out Uukrul, a great evil that once defeated the Ancients, thought to be destroyed, to possible invasion to the Western Lands. The last party sent by the council was lead by Mara, and it has been 18 months since they...
---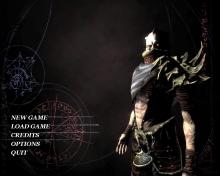 Dark Messiah: Might and Magic 2006
Ubisoft continues its resurrection of the classic 3DO series with this first-person role-playing release. Dark Messiah: Might and Magic features a campaign that begins 18 years after Heroes of Might and Magic V. Single players take the role of Sareth, to wield both might and magic against orcs, goblins, trolls,...
---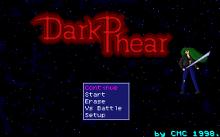 Dark Phear 2001
Dark Phear is an excellent freeware multi-character RPG created in Quick Basic. The plot is negligible, but somewhat interesting: last night you dreamt of Alicia, your long-lost love who disappeared from town ages ago. You woke up, only to find King Theos, ruler of the kingdom, cursed by an evil...
---