Arcade action Games #11
Search a Classic Game: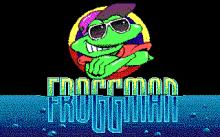 Budo: The Art of Ninja Combat! 1993
Budo: The Art of Ninja Combat! is a side-scrolling, ninja-themed action game. The protagonist has been trained for twenty years by the best Tokugawa warriors in the art of ninja combat. Now he is a Budo master, capable of inflicting on his enemies instant death or a low and hideous...
---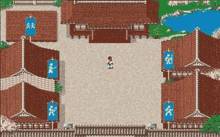 Budokan 1989
Budokan is a martial arts game covering Karate (unarmed combat), Kendo (using a wooden sword), Nunchaku (using piercing chain weapons) and Bo (using a staff). The player has a realistic range of moves and must use them wisely, as Ki (life-force) is drained for every move made, whether successful or...
---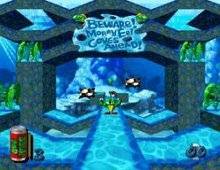 Bug! 1996
Bug! is an above-average 3D platformer from SEGA that could be much more fun. Jennifer Reitz of Accursed Toys voiced her views that are similar to mine on this marginal game: "Bug! is essentially a 3D Sonic The Hedgehog or Mario starring an insect in the title role. Game play...
---
Buggy Ranger 1990
Year 2019, in a post-apocalyptic world, we must fight versus the evil machines that destroy our planet... This is the plot of Buggy Ranger, a side-scrolling shoot'em up, very similar to the "jeep stage" of one of the most famous titles of Dinamic, Army Moves.The main difference, is that in...
---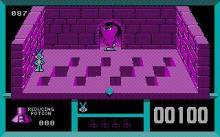 Bugs Bunny Hare-brained Adventure, The 1990
You're Bugs Bunny, the well-known hare from Warner Bros. animations. Now you're trapped in some kind of tower. Run from one room to another, avoiding creatures, who are lethal to your hare health, and collect useful items. If you're quick, you'll get away with this tower....
---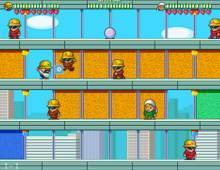 Building Panic 2001
Another excellent game from freeware developer Yamada No Ana Project, who is dedicated to producing games based around the same cast of characters, led by Doka-chan, a stubby construction worker and his friends. Like all other games from this group, the game is 100% English, boasts excellent music, offers 2-player...
---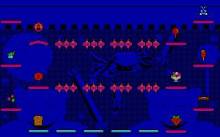 Bumpy 1992
Mixture of action and puzzle elements. Collect items by jumping back and forth between several platforms. In later levels shape and function of these platforms changes and obstacles are added....
---
Bumpy 1989
The first game in the Bumpy series is, just like its sequels, about a head that can bump a lot. You control whether the head shall bump left or right, and how far up it will bounce, in a similar fashion to Mappy. You have to move across a series...
---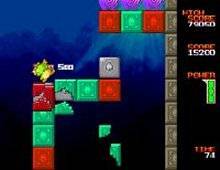 Bungaru WA 2001
"So Icy Tower has got a Japanese cousin", I first thought. But, after playing some more times, I can say that, while the basic concept is the same, the two games are very different. In Bunguru WA, you are sort of a little triton, who must jump his way to...
---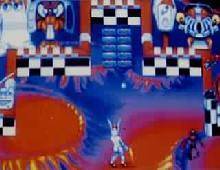 Bunny Bricks 1993
Bunny's girlfriend has been kidnapped by an ape, and 30 screens of blocks have been placed between them. Love can't climb all barriers, but a bunny skilled in baseball can smash through them, using his bat to hit each brick on each screen in turn. This sets the scene for...
---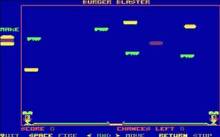 Burger Blaster 1988
Burger Blaster is an arcade shooter with a twist.Hamburger parts are flying through the sky, you must shoot them down and catch them in the correct order in order to make complete hamburgers and score points....
---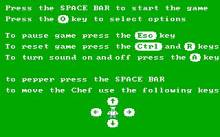 Burger Time 1982
You play as Chef Pepper and your goal is to make giant hamburgers while evil eggs, sausages and pickles chase you around the game area. To properly make a hamburger you must assemble all of the ingredients together, dropping them from higher up onto the the burger area below. To...
---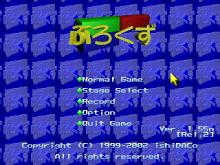 Burokuzu 2002
Burokuzu is a great freeware Breakout clone from Japan. The usual bounce-the-ball-off-the-paddle action is livened up by a number of interesting innovations. My favorite one is that you can select which power-up you want to use next - each block you destroy increases the length of that power-up's bar. When...
---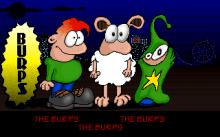 Burps, The 1993
The Burps is a former shareware, now freeware clone of Ultimate's Atic Atac, with improved graphics, sounds and new level design. As in the original 1983 game, the player selects one of three characters trapped inside a haunted castle, each with unique weapons and routes through the maze-like building.The main...
---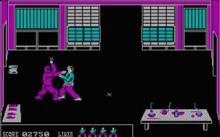 Bushido 1983
Bushido is an action fighting game set in feudal Japan - fight a multitude of enemies in a multitude of settings....
---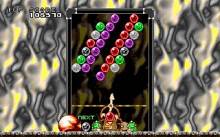 Bust a Move 1994
Bust-A-Move (also known as Puzzle Bobble) is a real-time puzzle game in which the player controls a device called "pointer" at the bottom of the screen, aiming and releasing randomly colored bubbles upwards. Depending on the aiming, the bubbles may float up directly or bounce off the walls, changing their...
---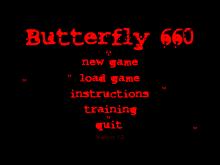 Butterfly 660 2003
Butterfly 660 is a fun freeware platformer that does what very few action games have tried to do: offer a solid storyline that develops as you play, with intriguing plot twists along the way. Unfortunately, this comes at a price of challenge - the game is very linear and easier...
---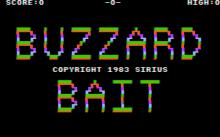 Buzzard Bait 1983
Buzzard Bait is a single screen shoot'em up where you have to protect the humans from predatory buzzards.At the beginning of each round, three pair of buzzards each go into their nests to make sweet love. As soon as they reappear from the nest an egg also emerges, which quickly...
---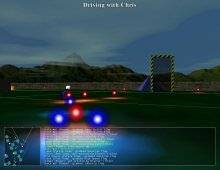 BZFlag 2002
BZFlag is a great freeware multiplayer 3D tank battle game that has one of the best "Capture the Flag" gameplay I have seen. The game was first developed in 1992 by Chris Schoeneman, a then-college student at Cornell University, for Silicon Graphics (SGI) machines. The game is now an active...
---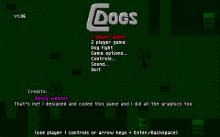 C-Dogs 2000
The sequel to Cyberdogs, C-Dogs improves the original Cyberdogs gameplay formula. The game involves you taking your character on missions which usually involve shooting anything around using a variety of weapons that can be bought before missions. Many more options are available in this version, one of the most interesting...
---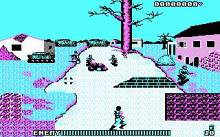 Cabal 1988
Cabal is a coin-op conversion of Capcom's arcade game. The mechanics of the game are simple: shoot everything in sight!The hero (there is a two player mode) runs back and forth along the bottom of the screen, ducking and dodging bullets and grenades from the enemy. The roll maneuver from...
---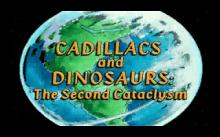 Cadillacs and Dinosaurs: The Second Cataclysm 1995
A third-person driving and shooting game, based on the comic series Xenozoic Tales by Mark Shultz. The game is a rail-shooter, similar to Rocket Science's earliest game Loadstar.You find yourself in the so-called Xenozoic Age - after a cataclysm in 2020 A.D., mankind was forced to hide beneath the surface....
---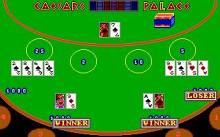 Caesar's Palace 1990
A semi-sequel to Mastertronic's earlier House of Cards and one of the first games Mastertronic released as "Virgin Mastertronic" under the new ownership of Virgin, Caesar's Palace uses basically the same engine as its predecessor. Instead of popular card parlor games, this time we get 6 of the most popular...
---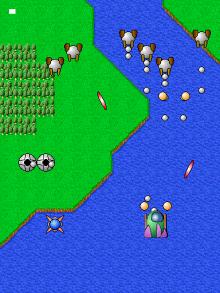 Cake Fight 1996
A cute little vertical shooter that is undoubtedly more than inspired by classic Twinbee series, so I've decided to include it as part of our "3U Games" collection. Some background for non-Japanese speakers: Twinbee is a highly successful shooter series which Konami deemed too cute to appeal to the American...
---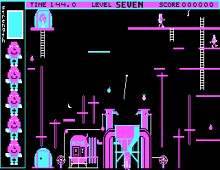 California Raisins, The 1988
You control Tiny Goodbite, one of the California Raisins. All of your friends have been captured and brought to the cereal factory, and you need to come to the rescue! In this action platform game, you need to climb and jump your way through the many floors of the factory...
---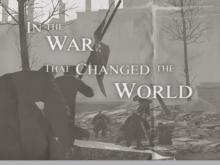 Call of Duty 2003

---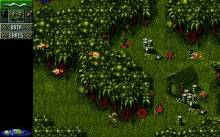 Cannon Fodder 1994
Guide a team of up to four soldiers through 72 levels of combat in this innovative top-down action/strategy hybrid, best thought of as Lemmings crossed with Commando crossed with Dune 2. The characters are controlled indirectly using the mouse, as you activate each soldier or group of them by highlighting...
---
Cannon Fodder 2 1994
After the success of Cannon Fodder, a sequel was inevitable. The basic gameplay remained the same – guide a team of soldiers through a succession of levels populated by trees, huts and lakes. The major change is that the plot involves time travel, rather than straightforward war situations, and this...
---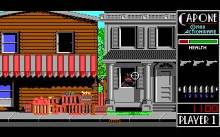 Capone 1988
This is the first light-gun game for the Commodore Amiga. The action takes place in the Capone era of 1920s Chicago. The player is a lone gunman battling Capone's men down the streets and alleys of the city. The game plays much like Operation Wolf. ...
---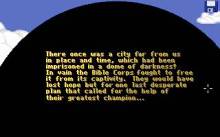 Captain Bible in the Dome of Darkness 1994
Captain Bible in the Dome of Darkness is a Christian game released in 1994, by Bridgestone. A limited version named Captain Bible: Special Edition was released for free shortly afterwards.Using the Sword of the Spirit, the Shield of Faith and the power of the Holy Word we are tasked with...
---