Arcade action Games #38
Search a Classic Game: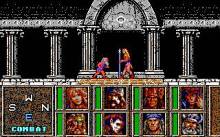 Heroes of the Lance 1989
Set in the Dragonlance world of Krynn, Heroes of the Lance has you guiding a party of eight adventurers in a quest to find the Disks of Mishakal deep within the underground ruins of Xak Tsaroth. Instead of controlling the entire party's actions at once, you guide one character at...
---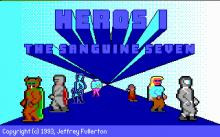 Heroes: The Sanguine Seven 1993
A jail break has occurred in the city of Megatropolis and five evil supervillains have escaped. The city's last resort is to summon a team of superheroes, each with their own strengths, weaknesses, and special abilities. The gameplay is similar to the Apogee EGA titles, like Duke Nukem and Cosmo's...
---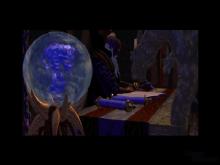 Hexen 2 1997
In Hexen II, players choose from one of four character classes (Necromancer, Assassin, Crusader, and Paladin) and begin their quest to destroy Eidolon, the lone survivor from the original Hexen. Four different lands are broken into many sublevels, each of which contain a member of the Four Horsemen, who must...
---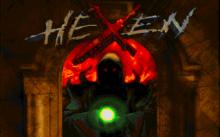 Hexen: Beyond Heretic 1995
The sequel to Heretic continues the first-person fantasy combat that distinguished its predecessor. Instead of guiding a lone protagonist, you can now choose from three distinct characters: a fighter, cleric, or mage. Each character possesses special abilities and is individually rated in four attributes: speed, armor, magic, and strength. Characters...
---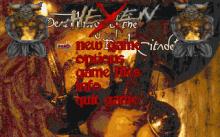 Hexen: Deathkings of the Dark Citadel 1996
Deathkings of the Dark Citadel is the official expansion pack to 1996's first-person fantasy game, Hexen, adding 20 single-player levels spread across three new hubs: Ruined Village, Blight, and Constable's Gate. Each hub features multiple levels that can be explored in any order, with the goal being to unlock the...
---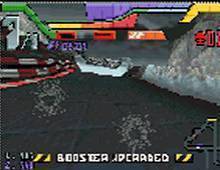 Hi Octane 1995
Developers at Bullfrog, the development house responsible for such titles as Dungeon Keeper, Magic Carpet, and Theme Hospital, are the people behind Hi-Octane, a high-speed racer set in a desolate vision of the future. Two modes of play are offered, Single Race and Championship, the latter taking players through a...
---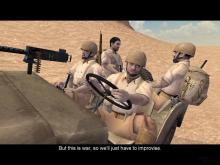 Hidden & Dangerous 2 2003
Hidden & Dangerous 2 is the stand-alone sequel to the 1999 original Hidden & Dangerous, which was extremely popular in Europe as well as in the United States. This episode puts players in the role of Lieutenant Gary Bristol, who became a member of the British Special Operation Section at...
---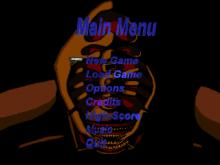 Hidden Below, The 1994
The Hidden Below ("THB") involves finding a large army of evil aliens under a factory, and sending them back to where they came from. The custom built engine used for the game, the "VR-6" engine, can be described as a hybrid of the "Wolf3D" and "Doom" engines, in some ways...
---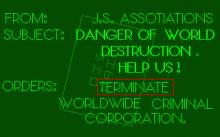 Highway Fighter 1994
Highway Fighter is a scrolling top-down shooter, where you control a car equipped with advanced weaponry, sent out to destroy a world-threatening criminal organization. Each level is a long, winding road along which the car drives, facing various enemy vehicles coming at him from the opposite direction. Close contact with...
---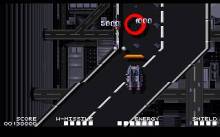 Highway Hunter 1995
Top-down arcade shooter. You are in a powerful car in which you must travel the roads and shoot your enemies. There are many upgrades for you to find to help make you stronger and fire more powerful shots. ...
---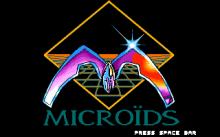 Highway Patrol II 1990
In Highway Patrol II, players assume the role of a police officer trying to capture runaway felons before they reach the county border. Players begin by choosing a target villain, with tougher ones earning a bigger bonus, and making it easier to achieve promotions. Gameplay is from the officer's viewpoint,...
---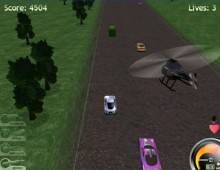 Highway Pursuit (a.k.a. Spy Hunter Remake) 2003
Highway Pursuit is a great arcade-style game that takes its inspiration from a number of classic games, but plays most like Midway's classic Spy Hunter - so much so that I have decided to assign this an 'alternate name' for the game, so that anyone looking for Spy Hunter on...
---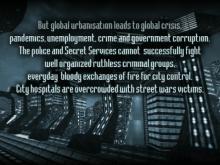 Hired Team: Trial GOLD 2001
The near future offers a world of endless, sprawling cities. Hired Team: Trial -- Gold is set in the year 2064, when the technological revolution has influenced society such that nearly all of Earth's people live deep in the uninterrupted metropolis that now covers all the land. A new underworld...
---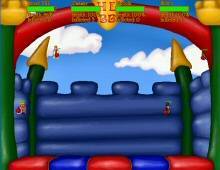 Historical League of Bouncy Boxing, The 2005
A clever and skillful use of the Adventure Game Studio adventure game engine, The Historical League of Bouncy Boxing is a cool multiplayer beat 'em up that plays like a cross between The Ancient Art of War and Little Fighter games (although admittedly much more limited and less fun than...
---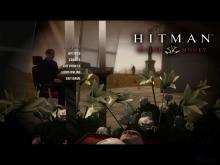 Hitman: Blood Money 2006
Good news for contract killer fans: Hitman: Blood Money is the second best game in the series, behind only Hitman 2, and not by much at all. While the second Hitman title had better character development, Blood Money has larger and more varied missions. Though you don't need to have...
---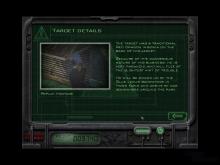 Hitman: Codename 47 2000
In the tradition of stealth- and strategy-dependant first-person shooters like the Thief games and Deus Ex comes Hitman: Codename 47. The game features custom first and third-person views on the action, making it easier for the player to see and account for everything in the character's way as he attempts...
---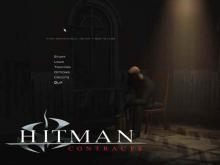 Hitman: Contracts 2004
Resume the role of cold contract killer Agent 47 and arm yourself for new ventures of meticulous planning and expert execution. Following the breakthrough success of the PC original Codename 47 and the mainstream popularity of its cross-platform sequel Silent Assassin, this third title in the Hitman series is designed...
---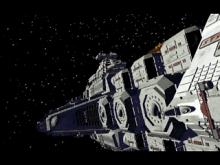 Hive, The 1995
The Hive is a fast action-arcade game from Trimark Interactive. A long time ago, the Ancients engineered a mutant race called Hivasects, capable of producing a highly poisonous bio-toxin. The substance was so toxic that it caused the extinction of the Ancients, and it is now feared that the recent...
---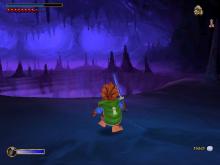 Hobbit, The 2003
J.R.R. Tolkien's first published novel is the subject of this home computer release, which follows the adventures of Bilbo Baggins as he stumbles upon The One Ring. The action takes place from a third-person perspective as players guide Baggins around a 3D-modeled Middle Earth. The Hobbit is Texas-based developer Inevitable...
---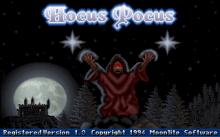 Hocus Pocus 1994
Hocus Pocus, our hero, is a young magician who aspires to earn a seat on the Council of Wizards, and marry young Popopa. The head of that august organization, Terexin, insists that before either event occurs, Hocus must first prove his worthiness by passing four arduous tests: Time Tripping, Warped...
---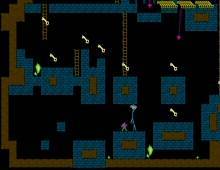 Holotz's Castle 2004
Holotz's Castle is a neat Lode Runner-style game that combines the key-collecting, hole-hopping fun of Lode Runner with an interesting plot that features some funny dialogues and interesting NPCs. Your goal in this 2D side-scroller is to find and collect all the keys on each level and make it to...
---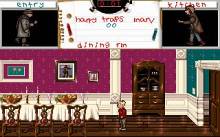 Home Alone 1991
This is a platform game based on the movie "Home Alone". Kevin's family went on vacation, but they forgot about him, so now he's home alone. Now there are two burglars who want to break into the house. Kevin has to prevent the burglars from kidnapping him, by riddling the...
---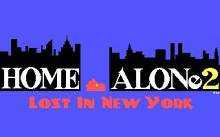 Home Alone 2: Lost in New York 1992
The sequel to Home Alone.As in the film, this time Kevin McCallister is lost in New York and must avoid the criminals Harry and Marv through 4 levels of gameplay.This version comes con a set of weapons to use against the thugs like the super somersault or the punch gun. ...
---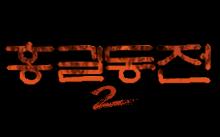 Hong Gildong-jeon 2 1995
Hong Gildong-jeon 2 is a follow-up to Hong Gildong-jeon. Like its predecessor, it is based on the classic Korean tale of a boy who is persecuted by his own family and grows up to become a noble-hearted bandit and a hero. Unlike the first game, it is an interactive cartoon...
---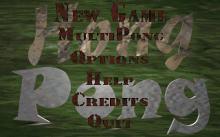 Hong Pong 1998
Hong Pong is a Pong variant set in five different war zones (including one hidden) and with tanks instead of paddles. Played with two tanks, one on each side of the screen, players need to prevent a spinning nuke from touching their side of the screen, while shooting missiles at...
---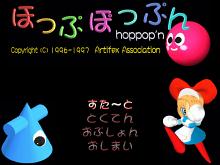 Hoppop'n 1998
Hoppop'n is a cute and unique anime action game that is strangely addictive despite repetitive gameplay and level design. From the review at Otaku World: "This is one of those strange games that seem to only originate in Japan. It's an action game: you use the arrow keys to move around...
---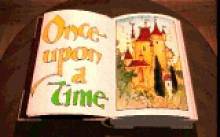 Horde, The 1994
You are Chauncey, a serving lad who saves his monarch from choking on his meal. The King rewards you with his magical sword, Grimthwacker, and a village, and the mission to go forth and prosper by felling waves of Hordlings, who are bent on eating everything in the province. The...
---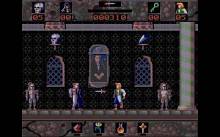 Horror Zombies from The Crypt 1990
Horror Zombies from the Crypt pays homage to the horror genre of the 1950's by creating Count Frederick Valdemar (our hero of the game), the gothic mansion he enters, and the creatures he is going to meet there like vampires, zombies, ghouls and many other scary things that cinema fans...
---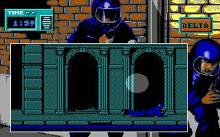 Hostage: Rescue Mission (a.k.a. Hostages) 1989
Terrorists have overrun an embassy and hold the people inside as hostages. You control six counter-terrorists whose mission is to eliminate the terrorists. In the first part of the game, you have to bring three men into position so they can snipe the building. The second part involves entering the...
---
Hotshot 1989
A simple two-player game released to much marketing fanfare, Hotshot places you and another player (either another person or an AI robot) in an arena split down the middle into two save for a hole about half the screen's height for the ball to travel through, with a series of...
---