Arcade action Games #47
Search a Classic Game: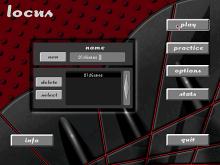 Locus 1995
Locus is an enjoyable game in the Here's-a-sport-I-made-up tradition. Part demolition derby and part hockey/basketball, its rules are simple but the gameplay is actually quite challenging and enjoyable. You ride around in a sled inside an arena. Two other sleds the same color as you are on your team while there...
---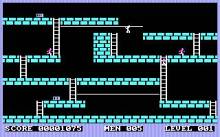 Lode Runner 1983
The Bungeling Empire has stolen a huge cache of gold from its rightful owners, and your mission is to infiltrate its treasury and recapture it. This entails progressing through 150 screens of platforms, ladders and ropes. The Empire has sent robotic guards down to protect the gold, and contact with any...
---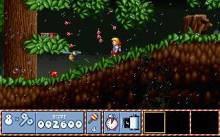 Lollypop 1994
Sweet she is and sweets she wants. Young Lolly wakes up and has an incredibly appetite for candy. For chocolate, and for caramel and gingerbread, and for cookies and crisps and marshmallows and lemonade and bubblegum and jelly bears and ice and cream and sugar frosted chocolate bombs. All right,...
---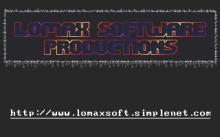 Lomax Boulders 1996
Lomax Boulders is a game akin to the basic game-play of Boulder Dash.The story behind the game is that Logan Maxwell, (hero, explorer and of course fearless), heard about a thousand year old puzzle deep in the South of Africa. After studying long and hard, he found the secret, and...
---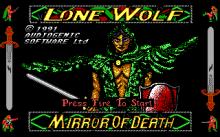 Lone Wolf - The Mirror of Death (a.k.a. Tower of Fear) 1991
In this out-of-canon adventure of gamebook hero Kai Master Lone Wolf, the player controls the dashing adventurer scaling the interior of warlock Gorazh's sinister magic tower Kazan-Gor -- an inverted pyramid, broadening as it gets higher -- in pursuit of a Lorestone of Nyxator located at the very top. ...
---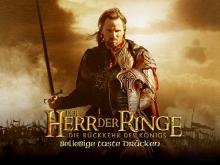 Lord of the Rings, The: The Return of the King 2003
Electronic Arts continues their exclusive relationship with the cinematic versions of J.R.R. Tolkien's famous trilogy with the release of The Lord of the Rings: Return of the King. In this combat game based on the third film by Peter Jackson, players will fight legions of orcs and other creatures from...
---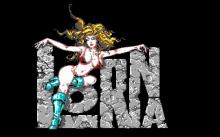 Lorna 1990
Lorna is the typical sexy heroine who fights against the foreign aliens in a distant place.This game follows the standard style of "go ahead and kill all anything that interpose on your way", those "friends" that will want to complicate your existence will be a varied mutant monsters, and, to...
---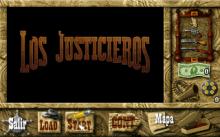 Los Justicieros 1996
West life is nothing easy. Especially if we consider that in most of the towns exists a series of people who suffer from two defects: avarice and presumption. This is the case of the Zorton Brothers, two gunmen and real bad guys who think that they are the center...
---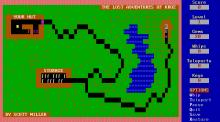 Lost Adventures of Kroz 1990
This larger than usual Kroz game (75 levels worth) has the same elements that were present in the previous installments: monsters, puzzles and plenty of levels. ...
---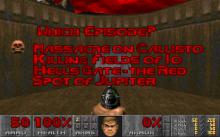 Lost Episodes of Doom, The 1995
The Lost Episodes of Doom is a book/disk package. The book provides a detailed guide of the 24 new levels with stories that are a crucial element to this game. Created by Christen Klie and Robert Carter with Jonathan Mendoza, the author of The Official DOOM Survivor's Strategies and Secrets.There...
---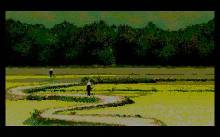 Lost Patrol, The 1991
You and your squad are on their way back from R&R in Saigon to your operations base when Viet Cong guerillas force your helicopter to crash land in the Central Highlands of Vietnam. It's now your responsibility to lead the remaining survivors to the nearest U.S. base, evading or facing...
---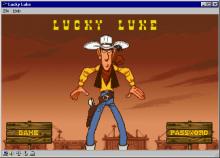 Lucky Luke 1997
Based on the famous comics series about good cowboy Lucky Luke.In the game you as Lucky Luke have to arrest four Dalton brothers - Averell, William, Jack, and Joe. On your mission you will progress from level to level shooting bad cowboys, jail-breakers, and bad Indians with your revolver; collecting...
---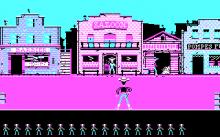 Lucky Luke (1987) 1987
This multi-genre game is based on the famous comics series about Lucky Luke, a good cowboy who draws his gun and shoots quicker than his shadow.It was decided to construct a railway line to connect the East and West of the United States. Two companies argued about the establishment of...
---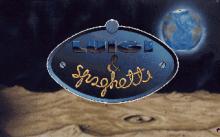 Luigi & Spaghetti 1992
Aliens invade the earth and capture all the heroes who could defend us. With the modern weapons that they have, the aliens work to eradicate all lifeforms. In this moment, Luigi and his pet Spaghetti (a worm) decide to liberate all the heroes.You take control of Luigi, and Spaghetti will...
---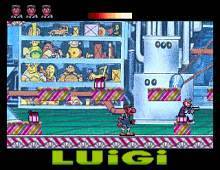 Luigi en Circusland 1994
Luigi en Circusland is the sequel to Luigi & Spaghetti, but this second unofficial outing of Mario's brother is basically a level modification of its predecessor, with little changes respecting the gameplay, sound or graphic appearance. The only notorious one would be that this time you won't count with Spaghetti's...
---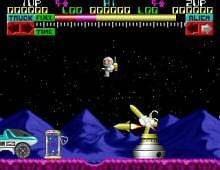 Lunar Jetman 2003
Lunar Jetman is a superb Windows conversion of the 1983 Spectrum classic of the same name, released by Ultimate Play the Game as sequel to their earlier hit Jetpac. Freestyle Freeware says it all about this neat game in an excellent review and gameplay overview: "As with other RetroSpec remakes,...
---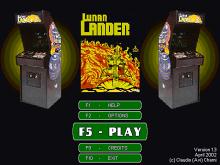 Lunar Lander 2002
Lunar Lander is an amazingly faithful remake of Atari's classic game of the same name, which was in turn based on Lander, an oldie freeware BASIC game designed by Leo Michels and popularized by David Ahl's BASIC programming book. As pilot of a lunar lander, your goal is to land...
---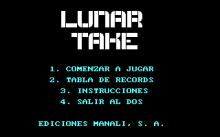 Lunar Take 1989
Similar to other games like Lunar Lander or Rocket Lander, in Lunar Take the player must land a space craft in a land platform on the moon's surface.The player must be careful with the meteors, clouds of acid, enemies and mountains. And, also, the space craft has a limited amount...
---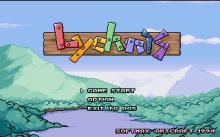 Lychnis 1994
Hundred years ago, a fearsome dragon nearly destroyed the entire world, but was stopped and sealed by Prince Grinstain of Bamas and the Royal Princess Respina of Pars, who used magical Hartinum equipment to defeat it. However, a malevolent sorcerer named Sakiski has appeared in the land of Laurasia, using...
---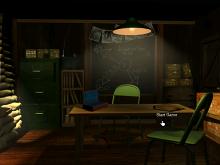 M.I.A.: Missing In Action 1998
M.I.A. gives players a chance to fly helicopters and other craft during the Vietnam War. Available choppers include the AH-1 Cobra, OH-6 Loach, the HH-53 (the "Jolly"), the M113 APC, the H-21 (the "Shawnee"), UH-1 Gunship (the "Huey"), and the ACH-47A Gunship (the "Chinook"). Players will navigate 26 missions, experience...
---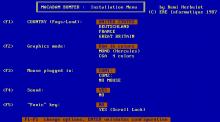 Macadam Bumper (a.k.a. Pinball Wizard) 1987
A single classical-style pinball table is provided in this simulation. A table editor is also provided - this allows you to choose a shape for the table and arrange the component parts as you wish. Up to four players can take it in turns, each with five balls in turn....
---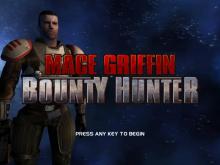 Mace Griffin: Bounty Hunter 2003
Blending ground-based shooting with outer space combat, Mace Griffin Bounty Hunter is a sci-fi adventure starring a former Special Ops Ranger called Mace Griffin. After being framed and imprisoned for the murder of his brothers-in-arms, Griffin returns to society as a bounty hunter who has vowed to find out who...
---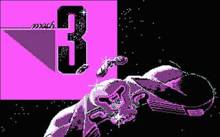 Mach 3 1987
Kill all the enemies, avoid the mines, and travel between distinct worlds to kill the evil mastermind in this behind-the-hero view shooter. ...
---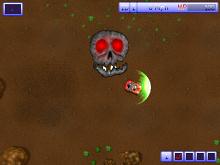 Machines of Destruction 2004
Machines of Destruction is a very fun - but also very difficult - arcade/racing gem from Fallen Angel Industries. Best played in multiplayer mode, the game, in the developer's words, is "...a mixture of racing through a circuit and wasting your opponents with a combination of the guns mounted on...
---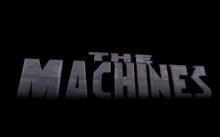 Machines, The 1995
Universal Warrior (or The Machines, as is the official title of the PC version) is a top-down maze shooter in the vein of Gauntlet and Alien Breed, with added economic elements. The game alternates between equipment management and the actual in-level action, in which a remote-controlled robot runs through...
---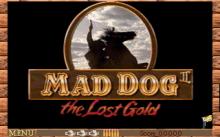 Mad Dog II: The Lost Gold 1994
The sequel to American Laser Game's original Mad Dog McCree, with pretty much the same gameplay and motion capture graphics. This PC conversion seems to have been tweaked a bit to be more stable than the original Mad Dog. There's also somewhat limited replay value as you can choose from...
---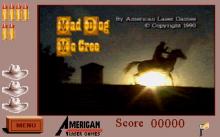 Mad Dog McCree 1993
In all honesty, Mad Dog McCree should have been left back in the arcades. While the arcade game was pretty nice looking, featuring stunning FMV (especially considering that in time period it came out in, FMV was a very new technology) and fast and furious arcade shooting, this PC version...
---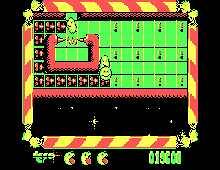 Mad Mix (a.k.a. Pepsi Challenge, The) 1988
Mad Mix is a Pac-Man variant, with a typical bird's eye view for each level and pellets you must eat in order to get to the next stages. Navigate the maze you're trapped in and gobble up food while trying to avoid the ghosts that are chasing you.As a Pac-Man...
---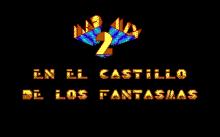 Mad Mix 2 1990
Peace had arrived finally at "Cocovillage" thanks to the good work made by Mad Mix, who had become the worthy successor of his grandfather. But the nightmare had still not finished, because a few miles away, in the town of his cousin Ope, "Cococastle" (a place crowned by a phantasmagoric...
---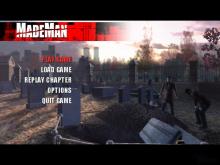 Made Man: Confessions of the Family Blood 2006
Made Man is a Mafia-centric third-person shooter from the developers at Silverback Studios. Gamers guide young mobster Joey Verola through three decades of his life, beginning with a tour of duty in Vietnam, then back to life in the streets of Brooklyn in the 1970s and '80s. As the game...
---