Arcade action Games #90
Search a Classic Game: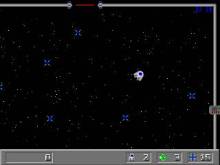 XQuest 1994
XQuest is a Crystal Quest variant, where you pilot a little spaceship and collect gems. The game is mouse controlled, but you don't control the ship directly. Rather, you thrust the ship in any direction and it retains its inertia.Once you collect all the gems, the exit at the top...
---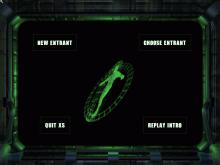 XS 1996
Xs is mainly a first person combat simulator with some between-mission segments to rearm and recover from the previous round of combat. During the pre-battle stages, the player can review his/her score card and change weapons. It also gives players a chance to look over the profiles of the competition....
---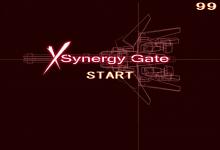 XSynergy Gate 2002
XSynergy Gate is an outstanding 3D shooter from Sexy Death Entertainment, makers of Die Slave. The game is a vertical shooter that boasts excellent production values, jaw-dropping graphics (especially if you have a 3D card), lots of cool weapons and power-ups, and very good ship designs, all rendered in full...
---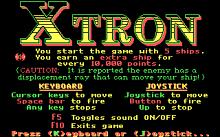 Xtron 1991
Xtron is a dead average Space Invaders clone by Keypunch - one of the first commercial clones of its kind. Nothing more to say, really -- if you like Space Invaders, this is a competent clone that will give you the same gameplay, although not necessarily addictiveness: the gameplay is...
---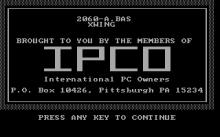 Xwing Fighter 1982
In XWing Fighter you need to pilot an X Wing aircraft in an attack on the Death Star, re-enacting the scene from the first Star Wars movie. There is a small unshielded exhaust port which you must hit directly with a torpedo. As you approach the death star numerous imperial...
---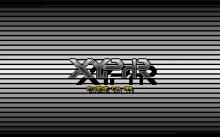 Xyphr 1991
Xyphr is a sci-fi shooter reminiscent of Space Harrier. The player controls a space craft from a third-person perspective, adjusting the altitude while automatically moving through pseudo-3D environments. The gameplay is rather simple: many hostile ships and other enemies are there to stop the hero, and constantly shooting at them...
---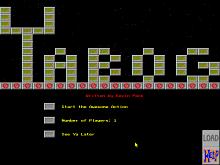 Yabog 1995

---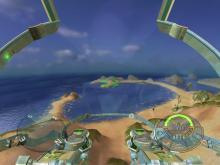 Yager 2003
This action-oriented flight combat sim puts players in the cockpit of the futuristic fighter ship Sagittarius, to defend Earth from a deadly threat. Controls are fast and forgiving, as one might expect from a high-tech craft, and players are encouraged to use the terrain to their advantage -- flying low...
---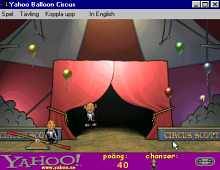 Yahoo! Balloon Circus 2001
Yahoo! Balloon Circus is yet another small, fun freeware gem from promotional game developer E-Game. Once again, the ties between the product the game promote and the game itself are quite ingeniously presented: remember those colorful balloons on Yahoo!'s homepage? Well, here they are as objects of destruction in this...
---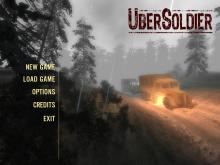 ÜberSoldier 2005
ÜberSoldier is a first-person shooter starring a German soldier killed in World War II, whose corpse is reanimated as a result of a Nazi experiment. Enraged by your zombified state, you will go on a 12-mission rampage against the Third Reich. Sixteen authentic WWII weapons are at your disposal, including...
---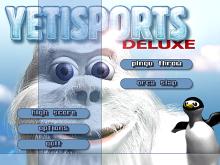 Yetisports Deluxe 2004

---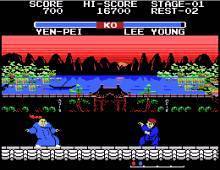 Yie Ar Kung-Fu II 1985
Yie Ar Kung-Fu II is a superior sequel to Yie Ar Kung-Fu, one of the first really addictive beat 'em up games. In this second game, Konami adds plenty of new enemies, levels, and attack moves. Although the game is decidedly much more difficult than the first game, it more...
---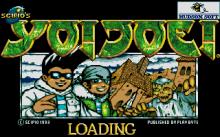 Yo! Joe! 1993
Graffiti artists live a hard life. Joe and Nat are always on the run, trying to escape New York's police. When they reach a mysterious castle, there's no way of knowing they're in deep trouble already.Yo! Joe! Beat the Ghosts is a platform game featuring two characters. The protagonists can...
---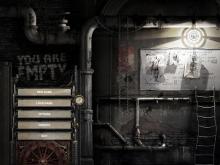 You Are Empty 2006
Taking place in an alternate history version of a 1950s' Soviet Union, You Are Empty is a first-person shooter featuring mutants, zombies, and other monsters. Humanity has all been wiped out thanks to an experiment gone awry, one that attempted to create a powerful race of genetically enhanced soldiers and...
---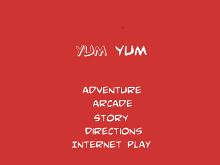 Yum Yum 2005
Yum Yum is a fun and original shooter that fans of abstract shooters should take a look, even when it is too short and too easy.The review at Game Maker Games has the lowdown: "Ambiance. Has a nice ring, doesn't it? Ambiance is the one word I get when I play...
---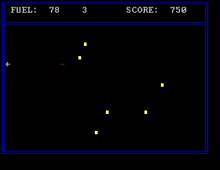 Zap'em 1982
Zap'em is a very lackluster "old skool" shooter from IBM coded in BASIC - one of their most disappointing releases. The description from MobyGames goes as follows: "Zap'em is an action game for one player. You control a spaceship on the left side of the screen which is capable of...
---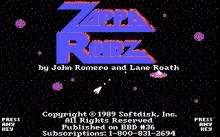 Zappa Roidz 1989
In Zappa Roidz you fly around in a space ship and you have to shoot all the asteroids and aliens you encounter. When you shoot a large asteroid it will break into smaller asteroids that you also have to shoot. On a map you can see where all the asteroids...
---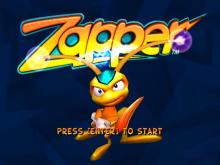 Zapper: One Wicked Cricket! 2002
Zapper is a quick-hopping cricket on a dangerous mission to save his brother. His game, developed for the PS2, Xbox, GameCube, and Game Boy Advance, as well as the PC, features six worlds of platform-jumping challenges. Unlike many of the platformer heroes who came before him, Zapper has the ability...
---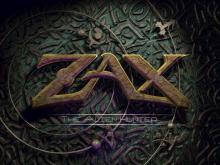 Zax: The Alien Hunter 2001
Billing itself as a blend of Quake and Diablo, Zax: Alien Hunter is an isometric-perspective shooter offering 22 related adventures set across hundreds of diverse and challenging game maps in seven different environments. The game is designed to combine the fast, action-oriented elements of first-person shooter with the third-person intimacy...
---
Zaxxon 1984
Zaxxon for the PC retains a bit of the same gameplay that made it memorable in the Arcade but loses out in the graphics and sound department. It's an acceptable alternative but not a particularly good one. Because the game is limited to CGA graphics, you only see four colors throughout...
---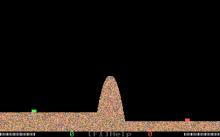 Zee Artillery 1999
Zee Artillery puts the player in control of a stationary tank, with the objective of firing at the opponent's tank until it is destroyed. The game is played in real time, i.e. the player and the AI do not take turns when firing at each other. The player is able...
---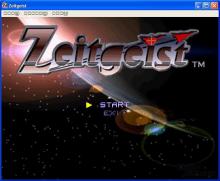 Zeitgeist (a.k.a. Jupiter Strike) 1996
Defend Earth from invading galactic enemies in Zeitgeist for the PC. Players experience six outer space environments including asteroids, planets, moons, and battleships. Featuring a tracking lock-on laser, the game is designed as a flight sim, allowing you to control the most powerful spaceships in the galaxy. ...
---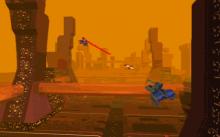 Zephyr 1994
Zephyr is a futuristic game that combines elements of first-person shooting and racing, set in outer space. The premise of the game is that on the 24th century mankind has overpopulated earth and is forced to settle on different worlds around the galaxy looking for resources and space. The world...
---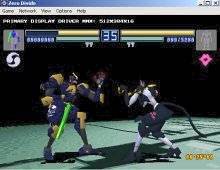 Zero Divide 1996
In Zero Divide, you play as a computer caretaker who must fight off members from the group XTAL and crash the system before the time runs out and critical information is leaked to the world. You go up against ten fighters and two hidden bosses with a variety of moves...
---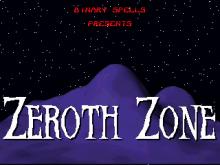 Zeroth Zone 1999
Zeroth Zone is a Scramble variant. Your goal is to get your spaceship across 6 zones (starting with zone 5). On the way, you encounter missiles that should be avoided or destroyed, and you have to watch out: you do not want to bump into walls or to run out...
---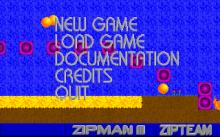 Zipman III 1994
Zipman III is a fairly simple platform game. The player controls a tiny red creature, whose objective is to get through each of the levels by running and jumping while avoiding various enemies and obstacles. The protagonist is defenseless and has to escape from enemies, unable to engage them in...
---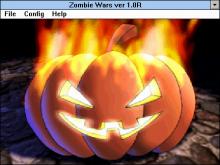 Zombie Wars 1996
Zombie Wars is the superior and little-known sequel to classic shareware platformer Halloween Harry (a.k.a. Alien Carnage) published by Apogee. The plot picks up where the first game left off: the gang of aliens who call themselves the Non Human Alliance (NHA) has kidnapped one of Earth's greatest scientific minds...
---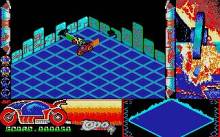 Zona 0 1991
A directly TRON-inspired (though unlicensed) variety of the snake game, Zona 0 puts the player in control of a "light cycle" that zooms across an enclosed grid with other bikes, each leaving impassable lines in their wake. As the play field gets cluttered up with these trails, it gets more...
---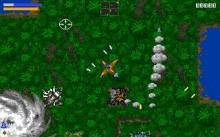 Zone 66 1993
A pilot is warned by a mysterious stranger that something terrible is about to happen in his town. Rushing home, the pilot discovers that his wife and baby daughter were murdered. The stranger who tried to warn the pilot is gravely wounded; however, before dying, he passes some information to...
---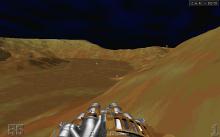 Zone of Artificial Resources 1997
Z.A.R. concerns a fully automatic factory, run by a computer. Not unexpectedly, as in most shooter scenarios, things go wrong when control over it is attempted and the computer gets angry and puts all robots and rockets which are produced in Z.A.R. in the service of his bad creator. On...
---